Summary
Moboboro used to be the best app to transfer files between phones and computers. It was an ideal tool for transferring personal files like music, videos, and many more. However, it has limitations, and users aren't quite satisfied with it. First, Moborobo doesn't allow you to transfer vital data such as call logs, books, or notes.
Besides, some lag issues make the process quite slow. Its limited features are also a major concern, leading to many people seeking the Moborobo alternative app. This post will take you through the best Moborobo alternative apps to transfer files between computers and phones.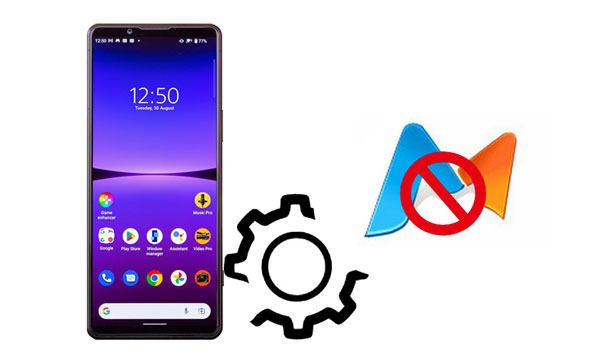 Part 1: Necessity of Getting a Moborobo Alternative
Is a Moborobo alternative a necessity? As you know, Moborobo does not meet the requirements of everyone, and therefore, people have been looking for Moborobo alternatives. Moboboro is a good app, but it has its limitations that can't be overlooked by many. Here are reasons why a Moborobo alternative is necessary;
A Moborobo alternative will allow you to transfer all types of files between a phone device and a computer.
It also has unlimited features like previewing images
No lag issues are experienced when you use the Moborobo alternative.
Part 2: Powerful Alternatives to Moborobo
Now, some people are always in search of a Moborobo alternative that can help them manage their phone data. Below are the best Moborobo alternatives you can use.
2.1 Samsung Messages Backup
Samsung Messages Backup is an all-in-one extraordinary Moborobo alternative for PC/Mac. It not only allows you to transfer files from a computer to a phone but also from phone to PC. It has been created specifically for file sharing, because you can preview your files before the transmission, and it has one-click backup and restoration features.
Without a doubt, it is the best choice for people who are looking for a Moborobo alternative as it provides them with multiple the necessary features for management. You can reply to text messages, edit contacts, create groups/playlists/albums, uninstall unwanted apps and other files, etc.
Highlights of this alternative to Moborobo:
- Selective data transfer between your Android device and computer.
- Recognize more than one Android phone and tablet.
- One click to back up Android data to a computer, and restore the backups to any Android mobile device without effort.
- Supports most Android OSes, including Android OS 4.0 and upper.
- Compatible with Mac & Windows,
- USB and Wi-Fi connections are supported.
Popular aspects:
- Fast and secure data transfer.
- You can transfer your data selectively or at once.
- List detailed files on the interface for your choice.
- Manage your Android files with editing, deleting, exporting, moving, copying, and more.
Unpopular aspects:
- Registration is necessary if you want to use all features.
Download this Android data management tool below.
How to use the practical Moborobo alternative:
Step 1. Launch the Software on Your Computer
The first step is to download, install then launch the program on the computer. You will then see the toolbox displayed on the main interface. Enter the "Android Assistant" module to get into the program.
Step 2. Connect your Android Phone to the PC
Connect your Android phone to the computer with a USB cable. Once done, enable USB debugging for the program to recognize your device.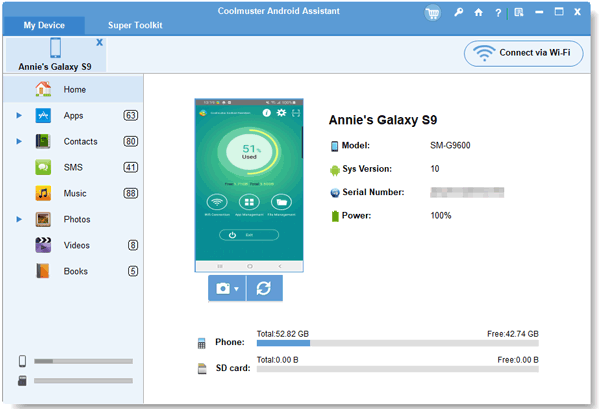 Step 3. Manage Your Data
After connected, you will see the main interface displayed on the screen. You may now select the file type from the left panel and manage the data using the top menu.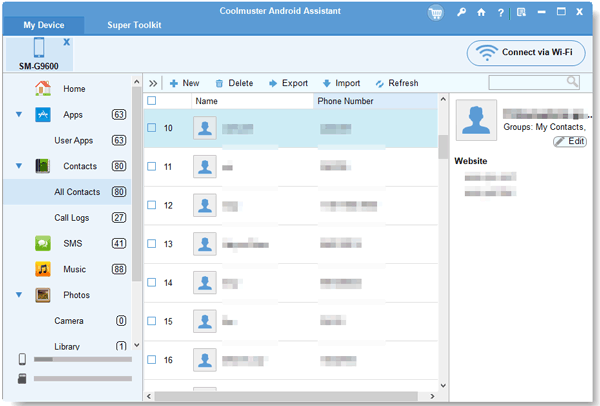 Read also: If you also want a Google Photos alternative to manage your images and videos, open this guide to get 9 tools.
2.2 AirMore
This wireless cross-platform app is one of the best Moborobo alternatives. It can allow you to transfer data from Android and iOS devices to the computer and vice versa. What sets AirMore apart is its way of handling things more stylishly with only an internet connection. It doesn't require a USB connection.
Provided your phone and computer are on the same network; you can manage your data without lagging. AirMore can transfer videos, music, documents, etc., between phone devices and computers.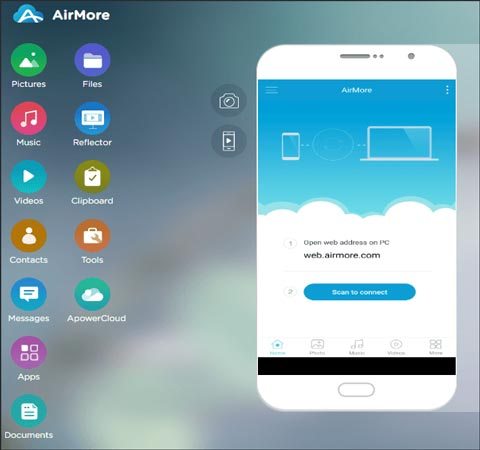 Popular Aspects:
- Free and no size limitation
- Easier to use for starters
- Compatible with Mac, Windows, Android, and iOS devices
- No USB cable is required.
Unpopular Aspects:
- Need an internet connection for it to operate.
- Large files take a longer time to transfer.
See more: 9 Best Android Backup Software for PC: Details You May Not Know
2.3 Droid Explorer
Droid Explorer is the go-to app if you are looking for a Moborobo alternative that can operate on rooted apps for Android gadgets. This app allows you to transfer files directly from a computer to a mobile phone without any hassle. It has been created to solve the problem related to backups and data management. Droid Explorer is known to conduct basic tasks.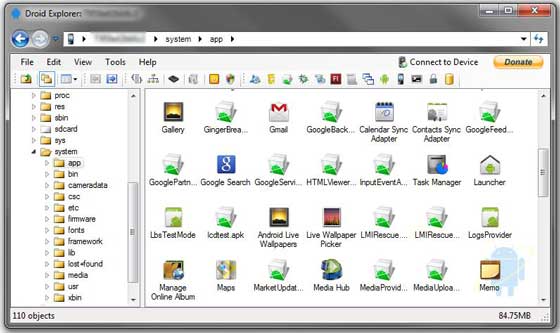 Popular Aspects:
- Fast drag and drop files between Android phone and computer.
- Allow you to manage APK files.
Unpopular Aspects:
- Mainly conducts basic tasks.
- The interface is old-fashioned.
Maybe you need: How can you fast uninstall apps on Android from a computer? Let's follow these simple steps.
2.4 SnapPea
If you want a simple yet handy Moborobo alternative, Snapea is here for you. The popularity of this program is, without a doubt, a fact that it allows users to manage as many files as they want, as long as the application supports them. You can copy any file from your computer to your phone using this program and then manage them from there too. It is very easy to use. Its other capabilities are restoring data, data backup, etc.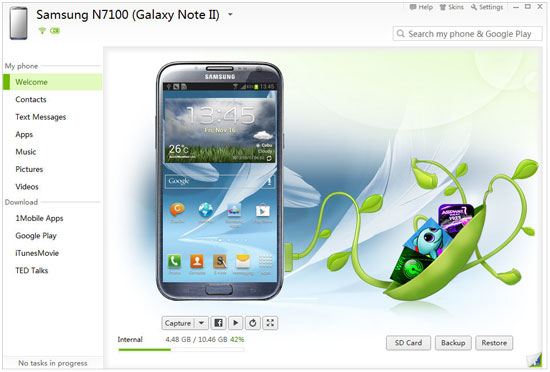 Popular Aspects:
- Easier to manage files.
- Install or uninstall applications in batches.
- Import songs from iTunes easily.
- You can browse Play Store and other sites from the app.
Unpopular Aspects:
- You cannot customize sites in a slider.
- No backup feature.
Guess you like: Want to back up your Android contacts to a MacBook? If so, you can use these methods.
2.5 AirDroid
AirDroid is a powerful Moborobo alternative app that is here to get the job done. This app allows you to transfer, sync, or access files on your phone from a PC and vice versa. The good this about this app is that it's easier to manage your texts directly from the computer. It has a nice user interface, and it is very efficient.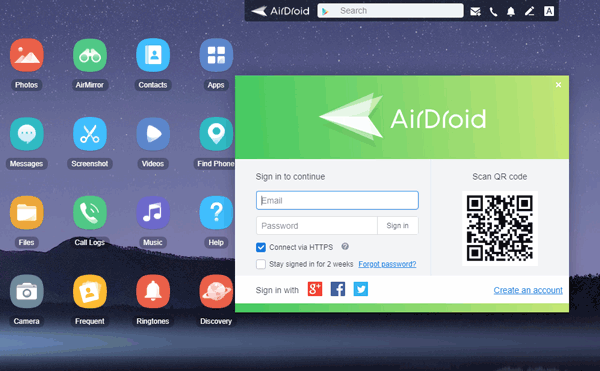 Popular Aspects:
- You can manage texts directly from your computer.
- Only a one-signup process.
- Secure encryption to protect your connected devices.
Unpopular Aspects:
- You need a premium version to access other features.
2.6 MOBILedit
This popular 3-in-1 app is a superb Moborobo alternative that allows you to easily transfer files, photos, and videos from computers to phones and vice versa. It's an app that allows you to control the device from the computer. The good thing about MOBILedit is that it supports a wide range of Android and iOS devices and PCs.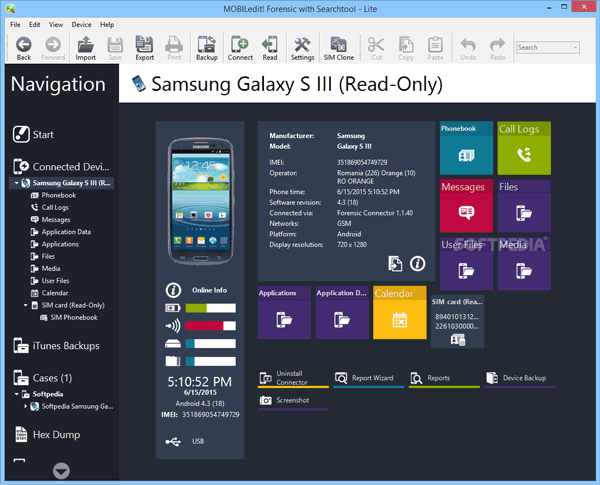 Popular Aspects:
- Support many phones and platforms.
- Back up and transfer your data with the app.
- Attractive interface.
Unpopular Aspects:
- Quite costly.
2.7 Android File Transfer
An excellent Moborobo Alternative app that can view and transfer data between Android devices and Mac computers. With this app, you can view, copy, move or delete any file on your Android phone or tablet. The Moborobo Alternative has a wide range of features. It can share files between Android and PC, Transfer contacts, SMS, media files, and more.
Popular Aspects:
- Transfer your files easily.
- Allow you to access your Android files on Mac via USB.
Unpopular Aspects:
- Cannot work on PC.
- Support USB transfer only.
- No management features.
2.8 XePlayer
XePlayer is a free Moborobo alternative that effectively allows you to manage your data on a PC. It is an app created for people who wish to manage their data accurately and smoothly. The app can manage a wide range of data such as audio, video, picture, and even phone call logs with great accuracy.
XePlayer has a user-friendly interface that allows you to operate it without difficulty. It also offers storage management so that you can access your files anywhere and anytime, whenever you want them, no matter how far. The app features hardware acceleration, so expect it to operate faster. It even has Google PlayStore integrated.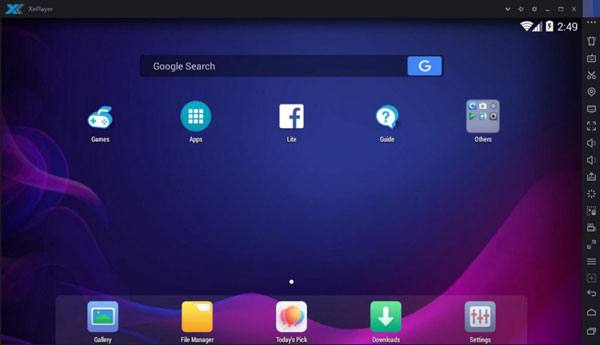 Popular Aspects:
- Free to use.
- Hardware acceleration for faster speeds.
Unpopular Aspects:
- Operate more efficiently on powerful computers
Final Thoughts
If you are an Android user, you know that sometimes Moborobo fails to work as expected due to one reason or another. Fortunately, you now have 8 Moborobo alternatives that can help you manage your data effectively without any issues. From them, Samsung Messages Backup is at the front. With its wide range of features, you'll be able to manage your data with ease, and you can back up Android data to a computer at once with no quality damage.
Related Articles
4 Effective Ways to Back Up SD Card on Android [Best Guide]
Wonder How to Back Up Android to Mac? Here Are 6 Ideal Answers!
12 Great Apps to Transfer Data from Android to Android [One-stop Transfer]
Android PC Suite: 5 Best Software for Android Files Transfer & Management
Best Transfer - Transfer Files from Android to PC Using USB Cable in 6 Ways
The Best Tutorial about Mi PC Suite [4 Great Alternative]