Summary
If you've just bought your HP computer, would you want to save your pictures there? Saving photos to a laptop helps create more storage space on the iPhone device and prevents data loss. You never know when your phone may run into a problem, so it's good to always be prepared.
As they say, it's better to be safe than sorry. If you also want to view your pictures on a larger screen, you should resort to importing your images to a laptop. But is it possible to transfer photos from an iPhone to an HP laptop? Let's see.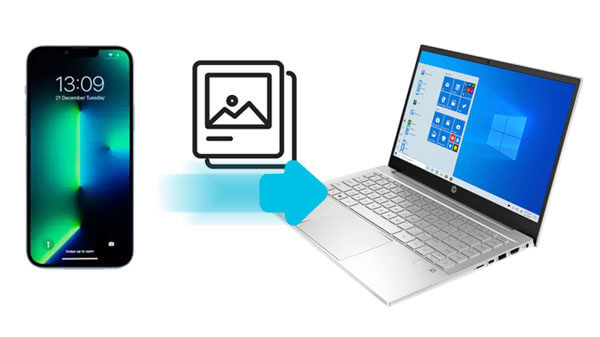 Part 1: How to Import Photos from iPhone to HP Laptop in 1 Click
If you have already consumed your phone's storage, you must import your pictures to another storage, like a laptop. This iPhone Data Assistant software is a powerful tool you can't miss to make the transfer process easier and faster. With it, you can seamlessly copy your images from iOS to HP. It also allows you to transfer large videos, contacts, messages, and many more to a laptop without a hitch.
Moreover, you can manage your iOS contacts freely on your laptop by adding, editing, deleting, grouping, etc. Plus, you can back up your iPhone photos, cameral Roll, call history, SMS, and more, to the iTunes default backup folder on your laptop. If needed, you can restore the backup data from the default folder to your iOS device.
Key Highlights of this iOS data transfer software:
- List your photos and albums on the interface for your preview.
- Allow you to selectively transfer photos from an iPhone to a laptop.
- Help you delete those unwanted pictures with ease.
- Support multiple file types on iOS devices.
- Work for most iOS devices, including iPhone 14 Pro/14 Pro Max/14 Plus/14, iPhone 13/12/11/X/8/7, iPad Pro, iPad Air, iPad mini, and more.
Download this software below.

How to Import pictures from iPhone to an HP computer in 1 click:
Step 1. Launch the iOS Software
After installing the software on your PC, please launch it, and connect your iPhone to the PC via an Apple cable.
Step 2. Make the Program Recognize Your iPhone
If prompted, click "Trust" on the phone. Once the software recognizes your phone, you'll see your phone's information displayed on the screen.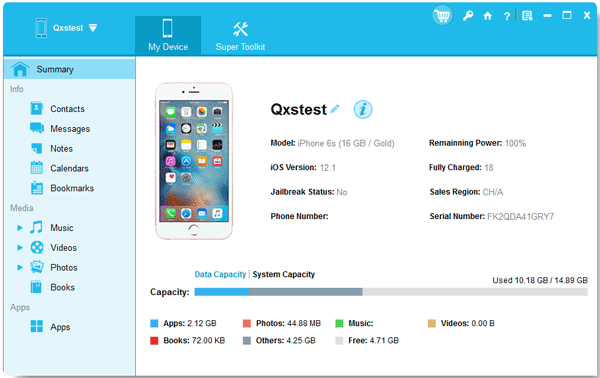 Step 3. Import Photos from iPhone to Laptop
Select the "Photos" option from the panel's left section, preview them, and tick the specific pictures you like to send from the interface. Once done, click "Export" to transfer them to the HP laptop from the iPhone.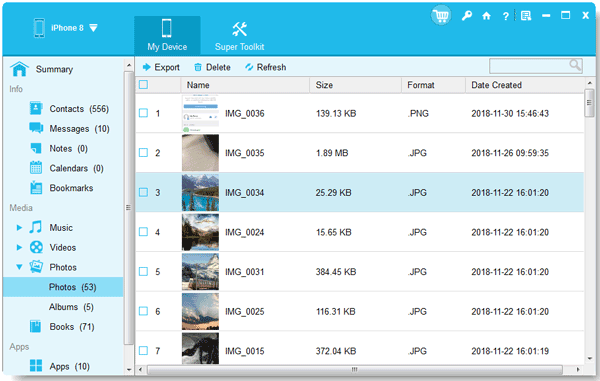 Bonus: You can also transfer your iOS pictures to a flash drive with these easy methods.
Part 2: How to Transfer Photos from iPhone to HP Laptop via Photos App
Photos App is a workable solution to help you import pictures from the iPhone to the HP laptop. It is an in-built photos manager in Windows 8, 10, and 11. Note that you have to use a good working USB for the process to be successful. To start, do this:
Step 1: Connect iPhone to the HP computer. Click "Trust" on the iPhone when prompted to trust the computer.
Step 2: Go to the HP laptop, click the "Start" icon and look for the Photos app. Then click "Import" and choose the "From a USB device" option.
Step 3: Wait for some time for the app to load the photos on the iPhone. Now select to import all pictures or specific photos from the iPhone device to the HP computer.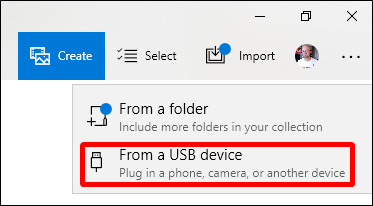 Read also:
If you plan to move iPhone photos to an Android device, don't miss this full guide.
Is it difficult to export messages from an iPhone to a PC? Actually, it is not. Open the link, and you will know why.
Part 3: How to Transfer All Photos from iPhone to HP Laptop via AutoPlay
Autoplay is also a great feature that enables you to take only images from the Camera Roll. You can use it to transfer all pictures from the iPhone to the HP laptop. But, using this feature, you can't transfer pictures in HEIC format across devices. So, you have to convert them to JPG. Here is how to use AutoPlay to transfer all pictures to an HP PC:
Step 1: Use a USB cable to connect the iPhone to the HP laptop, and AutoPlay will appear automatically.
Step 2: Choose the "Import pictures and videos" option from the iPhone and all pictures from the Camera Roll computer.
Step 3: You may decide to open the device to see the files and transfer the Camera Roll pictures selectively to the laptop.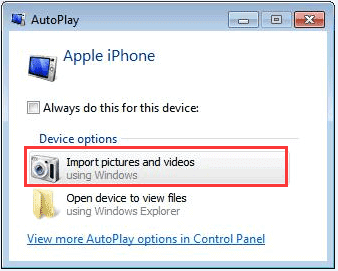 Further reading: What about moving photos from a MacBook to an Android phone? Actually, it is still straightforward.
Part 4: How to Get Photos Off iPhone Onto HP Laptop via iTunes
iTunes is an iOS device manager developed by Apple to help iPhone users share files across devices. This is a classic app for data management and Transfer. But, you can't access or view the synced files. Get your photos off your iPhone onto your HP computer by doing this:
Step 1: Download, then install iTunes on the HP laptop and open it. Then use a USB cord to connect your iPhone to your computer.
Step 2: Click on the device button from the iTunes window, tap the "Photos" option from the left sidebar, and tick on "Sync Photos". Then select the "Sync Pictures From" option.
Step 3: Select "All/Selected folders" and tap "Apply" to remove pictures from the iPhone device to the computer. Lastly, click "Done".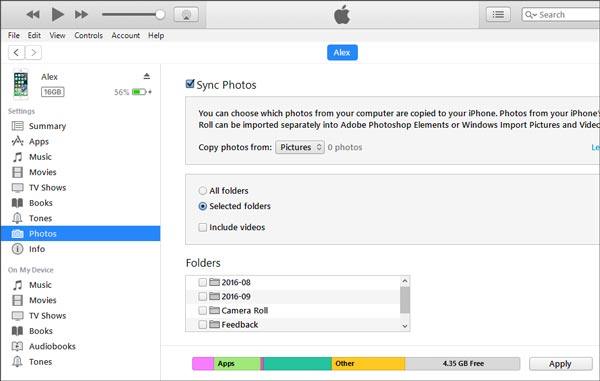 Learn more: It is simple to restore photos from Mi Cloud, because this guide will give you a hand.
Part 5: How to Download Pictures from iPhone to HP Computer via iCloud
iCloud is another powerful app for iPhone users to get photos off the phone onto an HP computer. But, you have to switch on iCloud from your device to get all photos stored and make them accessible from any PC with the latest versions. Here is how to download photos from the iPhone to an HP computer with iCloud:
Step 1: Navigate to "Settings" on the iPhone and click "iCloud" to choose "Photos".
Step 2: Enable the "iCloud Photo Library" option and "My Photo Stream" to allow photos to be uploaded to iCloud automatically.
Step 3: Go to your PC, and sign into the iCloud account. Choose the photos you wish to get. Then click "Download" to copy photos to HP.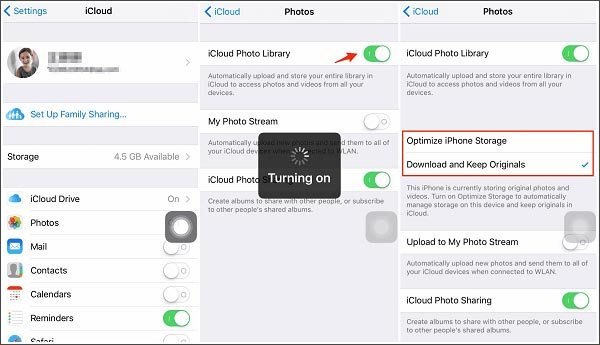 Part 6: How to Transfer Videos from iPhone to HP Laptop via Google Drive
Google Drive is another online storage and synchronization app that offers all kinds of files, including videos, photos, and even music. It is one of the most popular cloud services to store, share, edit and sync files between different devices.
The most useful thing about it is its seamless file transfer feature, allowing you to easily move any file between computers. Since Google Drive is compatible with the iPhone, you may use it to transfer videos from the iPhone to the HP laptop. Follow the steps below:
Step 1: Download Google Drive and install it on iPhone. Open it, then sign into your Google account.
Step 2: Click on the "+" icon and proceed to the "Upload" option. Then tap on the "Photos & Videos" option and choose the videos you want to send.
Step 3: Go to the Google Drive site on your computer, and download your videos. By the way, please make sure the network is stable.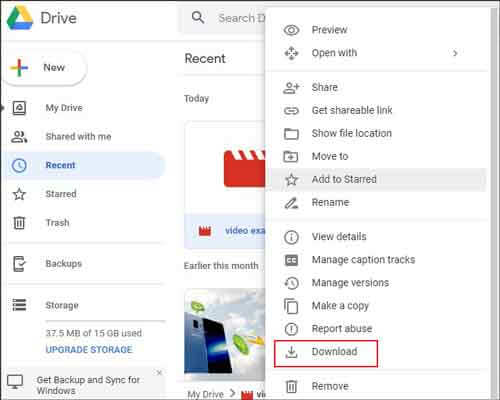 Part 7: How to Send Photos from iPhone to HP Computer via Bluetooth
Bluetooth is another great way to transfer any file between two devices. It is based on wireless technology and can be used to transfer photos from the iPhone to your HP computer. The use of Bluetooth is quite simple and requires no installation on the computer.
You must connect both devices using Bluetooth, choose the files you want to transfer, and press sends or Start Transfer. Here are the steps to send photos from iPhone to any HP laptop using Bluetooth:
Step 1: Open Bluetooth on your iPhone by swiping down from the top of your iPhone's screen to get the notifications panel. Then go to "Start" > "Settings" > "Devices" to enable Bluetooth on the HP PC.
Step 2: Search for available devices, and connect to your iPhone on the list.
Step 3: With your iPhone and HP laptop connected, open the "Photos" app on your iPhone and select files to transfer. Click the "Share" and "Bluetooth" buttons to send the photos to the computer. Then do not forget to accept the files on the HP computer.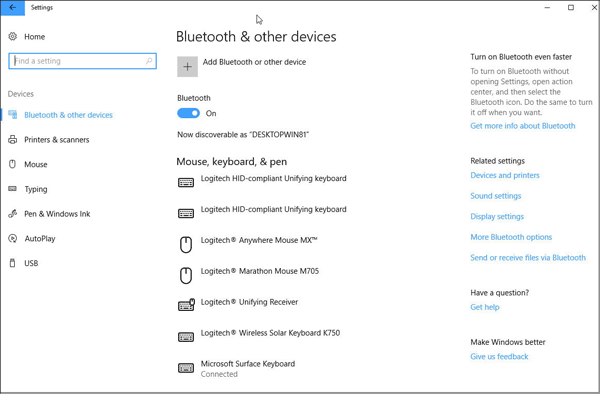 Bonus: Can You AirDrop Files from iPhone to HP Laptop?
No, you can't send files to your HP computer using AirDrop from iPhone. Airdrop is a wireless service that is only available on Apple devices, and you cannot find AirDrop on a Windows laptop. So, you can only transfer files through AirDrop on devices like iPhone, iPad, and Mac laptops.
Conclusion
You now know the best and easier ways to upload pictures to an HP computer. With a good data management program like the iOS data assistant in Part 1, you can transfer photos and other file types from an iPhone to your HP computer without overwriting your existing files. Why not try it?
Related Articles
How to Recover Photos from Secure Folder on Samsung | Effective Skills
How to Transfer Photos from Android to PC Windows 10 [Handy Guide]
[5 Best Ways] How to Transfer Music from iPhone to Android in Ease
6 Methods on How to Transfer Contacts from iPhone to Android [You'd Better Know]
Is iPhone Migration Not Working? Work It Out Immediately
Solved: Transfer Data from Broken iPhone to New iPhone | 4 Solutions