Summary
OPPO smartphone is famous for the ultra-thin design and excellent camera. People love taking photos and videos with OPPO phones. It's easy to delete pictures or other files from OPPO by accident, which has become common in life and work. If you want to get your deleted data back, please check this OPPO data recovery tutorial.
It displays 4 effective approaches for recovering OPPO data. You can save your deleted data probably if new data don't overwrite it.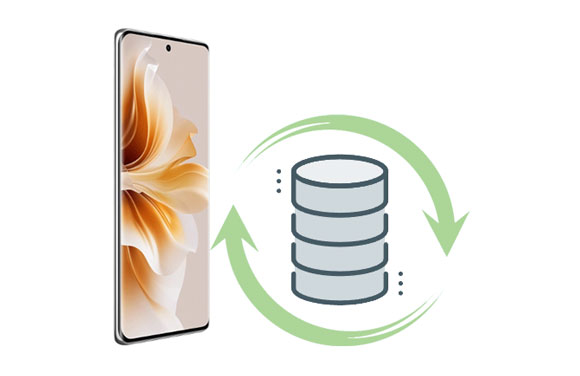 Part 1: Common Data Loss Cases in Daily Life
Besides deleting data by mistake, multiple scenarios can lead to data loss as follows.
* Bugs in the firmware or software will modify, delete, or corrupt data.
* Physical damage to the smartphone will possibly cause file loss, so please put your OPPO phone in a secure place.
* Viruses and malware is also another main reason that results in losing files. Please be careful about downloading apps.
* Doing the factory reset without backup. Thus, you'd better back up the Android phone before the factory reset.
Part 2: Recover Deleted Files with OPPO Data Recovery Software
This OPPO data recovery software - Samsung Data Recovery, is fully capable of recovering contacts, photos, text messages and more data types. It can scan almost all deleted files from the OPPO cell phone and allows you to select them on the interface. In a nutshell, it will help you recover deleted files from OPPO effortlessly.
Main characteristics and highlights of this OPPO data recovery program:
* Recover videos, documents, music, call logs, contacts, etc., from OPPO without backup.
* Support to retrieve deleted files on other brands of Android phones.
* Retrieve deleted files from SD cards fast.
* Quick Scan and Deep Scan meet different requirements.
* Allow you to preview existing and deleted files on the interface before recovery.
* Transfer existing and deleted files from OPPO to the computer for backup.
Moreover, it works with various OPPO phones and other Android devices, such as OPPO Reno 4 Pro/Reno 4/Reno 3 Pro/Reno2 F/Reno2 Z, OPPO A73/A15/A93/A33/A93/A92, OPPO Find X2 Pro/Find X2/Find X/K3, Samsung Galaxy S23/S22/S21/S20/S10/S9, HTC U20/U12 Life/U12+/U11, Google, OnePlus, Huawei, Vivo, ZTE, Xiaomi, HTC, Motorola, and so on.
Download the OPPO file recovery software for free below.
Here's how to recover deleted photos in OPPO F11 without backup:
Step 1. Install the Program on Computer
Please download and install the recovery program on the desktop.
Step 2. Connect OPPO to Computer
- Launch it and connect your OPPO phone to the computer with a USB cable. After enabling the USB debugging mode on OPPO, it will recognize your phone immediately.
- To let it scan out the deleted photos, please select the "Photos" or "Select All" option and click the "Next" icon.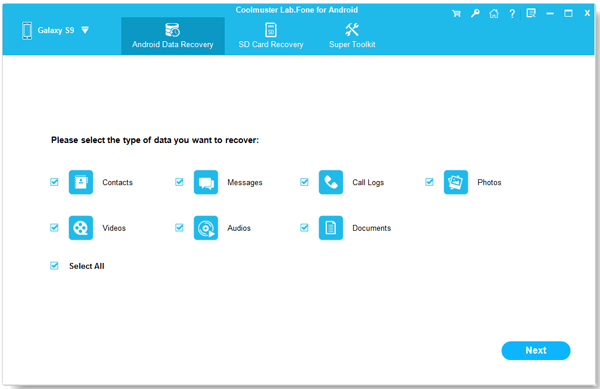 Step 3. Recover OPPO Data
- Choose a scanning mode on the interface and tap the "Continue" button. If you stored the deleted files in the external storage space, you could recover them without root.
- You will see the deleted files on the window. Please pick out what you want and click the "Recover" icon to begin the recovery process.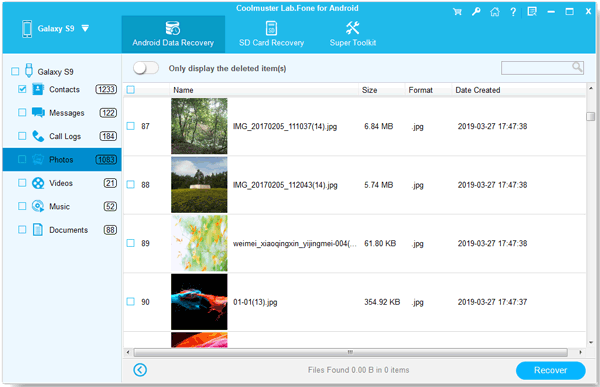 Read also: Want to back up and restore OPPO data in 1 click? Here are 3 tips which you can choose.
Part 3: Restore OPPO Data with Google Drive
If you have a good habit of backing up files on Google Drive, you can breezily restore your deleted files to your OPPO phone without a computer. It makes sense within 30 days. Instead, if you deleted them over 30 days, you can't restore them from the Drive. Without further ado, hurry to restore your OPPO data with Google Drive.
How to recover deleted files from the OPPO phone without a computer:
Step 1. Run Google Drive
Please directly open your Google Drive on the OPPO smartphone.
Step 2. Sign In with Google Account
Please sign in with your Google account that you backed up your deleted data.
Step 3. Restore Data from Trash Folder
You can navigate to deleted files by clicking the "Menu" > "Trash" feature. Then select the deleted files you want to retrieve and tap the "Restore" icon. You will regain them on the OPPO handset.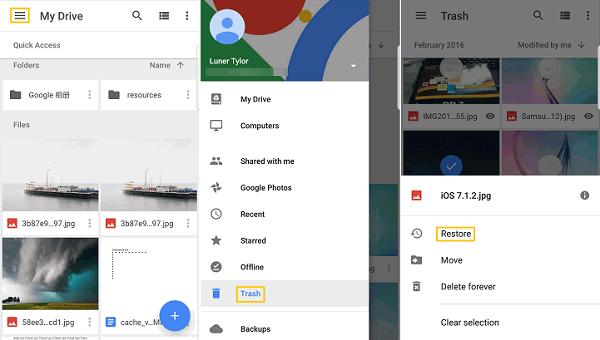 Further reading: How to transfer data from Samsung to OPPO? Don't worry. You can quickly achieve it with these 5 practical ways.
Part 4: Restore OPPO Files via OPPO Cloud Recovery
Many OPPO users know OPPO Cloud that it offers 5 GB of free cloud storage to store notes, photos, videos, contacts, and more. And users can upgrade the plan conveniently. As long as you enable the OPPO Cloud backup on your OPPO device, you can restore deleted data from it at any time.
Here's how to restore SMS in OPPO via OPPO Cloud Recovery:
Step 1. Go to Settings
Please enter the Settings app, swipe down the screen, and select the "OPPO Cloud" option.
Step 2. Log In with OPPO ID
Now, log in with the OPPO ID that you have backed up data.
Step 3. Restore the Backup Files
You can see your backup SMS on the screen. Please select and download it for restoration. You can get the deleted SMS on the OPPO phone again.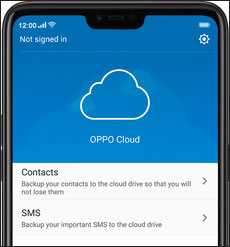 Conclusion
It is simple to perform OPPO data recovery with these helpful solutions above. And the OPPO recovery tool - Samsung Data Recovery, can find your deleted files from OPPO without backup. Thus, there is no pressure to recover OPPO data. Anyway, be careful to keep your essential data from losing with a backup. Then you won't spend time on data recovery.
Related Articles
Oppo File Transfer: How to Transfer File from Oppo Mobile to PC? (Top 7 Ways in 2023)
Checklist on How to Transfer Contacts from Samsung to OPPO? (6 Easy Ways)
How to Back Up and Restore Android Phone/Tablet on Computer? (5 Ways)
6 Ways to Transfer Files from Android to PC via WiFi [Full Guide]
Phone Memory Recovery for Android: How to Recover Data from Phone Memory? (Internal & External)
Recover Deleted Documents on Android: Vital Tips and 4 Recovery Tools