Summary
OPPO phones are popular due to their sophisticated design and the beautiful pictures and videos they capture. This is the perfect all-in-one device, capable of handling calls, texts, and internet activities like streaming, browsing, and uploading images and videos. However, it can bring errors due to accidental deletion.
So, have you experienced losing your memorable videos? If you've backed them up, then recovering them will be easy. You just have to restore it from the backup file. But sometimes we forget to back up our videos and lose everything. Luckily, there's a way to restore deleted videos. This post will tell you how to restore permanently deleted videos in OPPO.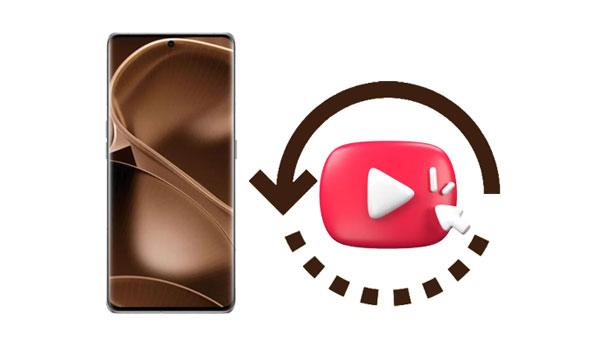 Part 1: Reasons for Data Loss and Deletion on OPPO
Deleting by accident: Accidental deletion of data is one of the most common causes of losing data on our Oppo devices. For instance, you may be scrolling through your device, and you end up clicking the wrong button. Besides, you may not fully understand how the system works.
Malware attack: When a virus enters the device, it can corrupt the important files, causing serious damage. The corrupted files will no longer be accessible.
Software bugs: Sometimes, software bugs may also be responsible for data loss from your device. The bugs may present in the outdated system of your device.
Factory resetting your device: As you know, a factory reset wipes all data from the device. Thus, when you factory reset your OPPO, all the data available will be wiped out.
Formatting the SD Card: If you must format the SD card inserted in the OPPO for whatever reason, like glitches or malfunctions, you may lose your entire data from SD memory.
Other reasons: There are other causes of file deletion in OPPO devices. It can be due to being locked out of your device when you forget passwords, a broken screen, system crashing, black screen errors, and ROM flashing.
So, can you recover permanently deleted videos? Yes. Below are the best ways to restore permanently deleted OPPO photos.
Read more: How to Transfer Data from OPPO to Vivo: 5 Easy Methods Can Help You
Part 2: How to Restore Deleted Videos in OPPO Without Backup?
If you experience data loss on your OPPO phone, like videos, don't panic. You still have the opportunity to restore all of your lost information with ease. No matter what caused the deletion or how much data was accidentally deleted, recovery is always possible and stress-free with this OPPO recovery software - Samsung Data Recovery.
This software effectively recovers deleted files from most Android devices, so you can use it to recover deleted videos from your OPPO phone. But please note that it cannot recover those permanently deleted data, which means those overwritten files. Besides, you can use it to get back deleted videos from an SD card. As for existing video files, you can transfer them to your computer for backup.
Highlights of this OPPO recovery program:
- Easily recover deleted videos from Android internal memory.
- Besides videos, it can retrieve deleted photos, contacts, call logs, SMS, and more.
- Fast scan your videos and other data from your OPPO device.
- List your deleted and existing files on the interface, and enable you to transfer OPPO files to a computer.
- Effectively restore deleted media files from Android micro memory cards.
- It doesn't require rooting your device when recovering files from external storage.
- Support Android 4.0 and upper, including OPPO A1/A1x/A78/A56, OPPO Find X6 Pro/Find X6/X5/Find X3/Find X2/Find X, Samsung, LG, Vivo, Xiaomi, etc.
Download this video recovery software.
How can I recover my deleted videos from OPPO? Here's the guide:
Step 1. Install the Recovery Software
Install the software on the computer and launch it. Then connect the OPPO smartphone to the PC via a USB cable, after which you'll be guided through the instructions to make it recognized by the tool.
Step 2. Choose the Videos Option
The main interface will appear on your screen after a successful connection. Choose the "Videos" option and hit "Next" to scan the files.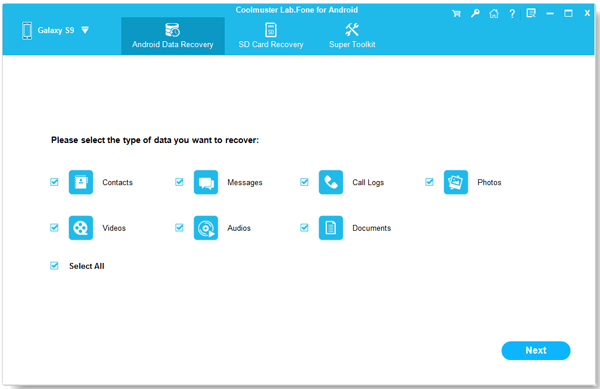 Step 3. Get Back Deleted Videos from OPPO
- Choose a scanning mode and click "Continue". After quickly scanning your files, you'll see all deleted as well as existing videos on the screen.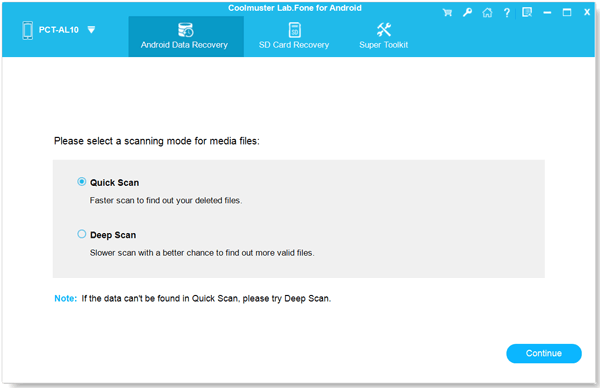 - Before beginning recovery, choose only to display the items that have been deleted for more efficient retrieval; when ready, select all desired files, then click "Recover" at the bottom of the screen to restore them onto your computer.
Read also: How to Transfer Data from iPhone to OPPO Expediently | List 5 Ways to Help You
Part 3: How Can I Recover My Permanently Deleted Videos from OPPO with Backup?
After losing essential data on an OPPO phone, users often prefer to restore it directly from the device instead of a computer. Thankfully, this is quite simple. If you had already backed up OPPO with cloud service before any data loss occurred, you only need to log into that account on your device and restore what was lost using the backup file.
3.1 Get Back Permanently Deleted Videos from Local Backup
Do you wish to get your lost videos back from OPPO hassle-free? You can recover the files from the local backup if you've made one. You can quickly restore it if you already have a backup copy of the videos. Simply follow these easy steps, and you'll be on your way:
Step 1: Open the OPPO, navigate to "Settings", and tap "Additional settings". From there, choose the option for "Back up and reset", followed by selecting the choice for "Back up & restore" > "Local backup".
Step 2: All stored files will be shown; look at your backup data and choose the video data you wish to retrieve.
Step 3: Now start restoring the files. Wait for it to finish; all your erased files will be recovered to your OPPO device.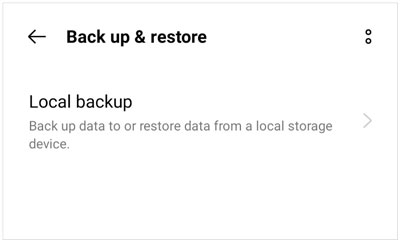 Keep your device on and never turn it off to ensure a successful restoration process. By recovering the local backup data, you can retrieve all of the necessary items like photos, videos, and applications and restore settings.
3.2 Retrieve Permanently Deleted OPPO Videos Using OPPO Cloud
Are you looking for a straightforward way to recover deleted OPPO videos? If you've already registered your OPPO with cloud and linked it to the same cloud account, you can use the OPPO Cloud to save and restore your files.
Step 1: Head to your device's "Settings" application and select "OPPO Cloud Backup" from the menu. Activate this feature to ensure that all data is automatically backed-up. Click "Back Up Now" to back up all files to OPPO Cloud.
Step 2: Set up an account associated with the Cloud on an OPPO device, and you'll be prompted to restore data from the files you backed up. Alternatively, log into OPPO Cloud for a straightforward restoring process.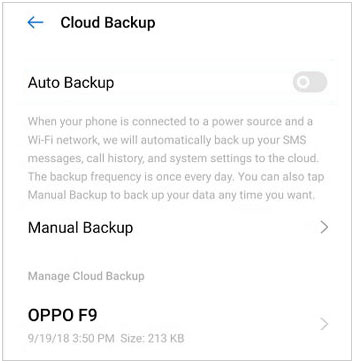 Learn more: Want to transfer videos between Android devices? Open this guide to get practical methods.
3.3 Restore Permanently Deleted Videos in OPPO Device from the Google Photos
If you've synced your data to the Google Photos application, the easiest way to recover your permanently deleted OPPO videos is by using Google's app. All it takes are a few taps, and you can redownload photos/videos that were previously lost. This method can save you time. To recover OPPO videos that were permanently deleted, follow the below steps for restoration:
Step 1: Launch the Google Photos application on your OPPO.
Step 2: Log in to the app using the same login credentials you used for data synchronization. Browse the folder in the application and locate those videos you wish to get back. Press on the "Download" tab.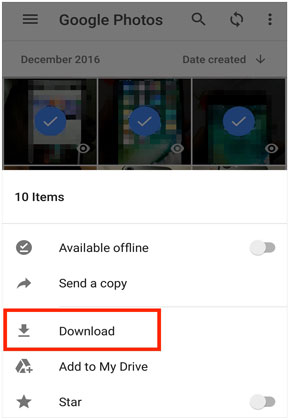 3.4 Restore Deleted OPPO Videos Using Google Drive
If you've synced the OPPO phone with Google Drive before data deletion, recovering the lost content will be a breeze. Here are a few simple steps on how to do it:
Step 1: Log into your Google account on the OPPO phone's Google Drive application to access your backed-up files. Simply enter your email address and passcode.
Step 2: Once successfully logged in, check the backup data.
Step 3: Select any file that needs to be restored and then download it directly onto the OPPO phone.
These methods only work when you back up your files. So, the issue comes when you need to recover the files, but you don't have a backup. You can count on Coolmuster Lab.Fone for Android to recover files from an OPPO without backup.
Further reading: Can you send videos from Android to an iPad? If you have trouble with it, please utilize these 6 approaches.
Part 4: Can I Restore Videos That Were Permanently Deleted Using Recently Deleted?
The Recently Deleted folder normally keeps those files you've deleted for some time, then permanently deletes them. Usually, the files are kept for 30 days. After this period elapses, your files will be deleted permanently. Restoring videos via Recently Deleted is kind of restoring deleted files like an offline backup made right after deleting the files.
It's straightforward to use, but it has one caveat, it only works if the video hasn't gone past its temporary backup window, which is usually 30 days. If the device experienced video deletion recently before 30 days, you could restore them with these steps:
Step 1: Take your device and open the Photos app and proceed to the albums section.
Step 2: Afterward, head to the album "Recently deleted" and find the video files you've deleted that need restoration. You can restore as many videos and pictures as you desire; simply select them, click "Restore", and wait as they download into your phone's offline storage.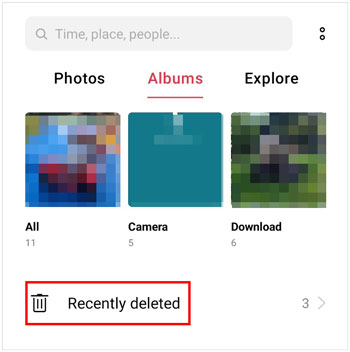 All selected videos will be recovered to the original place they were on your phone. They'll be removed from their deleted album once you recover them.
Bonus Tip: Back Up OPPO Data Regularly
If important videos or pictures have been deleted from your OPPO device, it may be difficult to recover them. Fortunately, solutions are available if you're looking for a way to recover deleted video files on OPPO. To prevent data loss in the future, make sure to back up your device regularly using either local or cloud storage systems. You can also back up and restore your OPPO data on a computer. This will give you peace of mind knowing that your important files are safe and secure should anything happen.
Conclusion
In short, the best way to recover deleted videos from OPPO is to use the recovery software - Samsung Data Recovery. It is the most reliable and effective software that can easily detect and restore deleted videos and other files on your Android. Also, remember that it's always important to make regular data backups secure and safe storage. When you do that, you will have no stress about losing your essential files.
Related Articles
6 Ways to Transfer Videos from PC to Android Seamlessly
Great Guide - How to Transfer Videos from Android to Mac in 6 Methods
Expertly Transfer Large Videos from iPhone to PC in 7 Ways (Newest)
How to Retrieve Deleted Videos on Samsung: 4 Dependable Solutions
How to Recover Deleted Photos from Private Safe on OPPO with Ease [Solved]
Checklist on How to Transfer Contacts from Samsung to OPPO?