Summary
In the digital era, losing documents on Android becomes common that almost everyone encounters. However, you need to tolerate the heart-broken feeling and search for effective methods to recover deleted documents on Android. What a pain.
Anyway, this post might be your saver, which will offer the necessary tips about deleted documents and 4 recovery solutions with detailed steps. It's believed that you would find the practical approach here.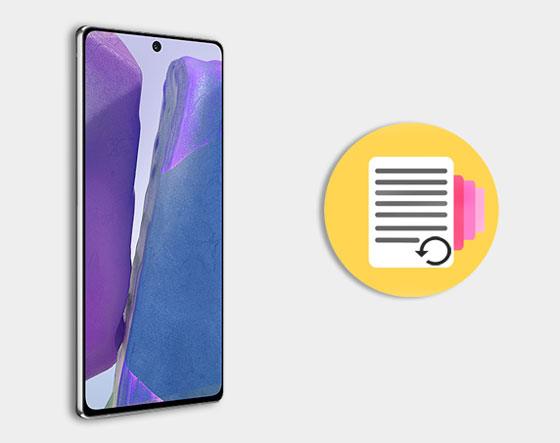 Part 1: Vital Tips on Deleted Documents
This section will answer three questions that most people ask. After reading, you will understand the essential information of the deleted documents.
1. Can a deleted document be recovered?
In most situations, you can recover deleted documents unless the new data overwrite them.
2. Where do deleted documents go on the Android phone?
The deleted documents are still on the Android phone's internal memory, although you can't see it. However, its space will be marked empty, so that new data can replace it at any time.
3. How to perform before recovering?
To protect the deleted documents from overwriting, you need to turn off the network and Bluetooth and switch on the Airplane Mode. It is better to use another phone before recovering.
Part 2: How to Recover Deleted Documents on Android via a Computer
You can recover word Documents on Android via a computer because of using a desktop Android recovery app - Samsung Data Recovery. It is capable of retrieving deleted word documents and other lost files on Android. Helpfully, it can not only recover data from Android internal storage but also the external SD card.
Hallmarks and highlights of this document recovery software
- Support to recover deleted documents in multiple formats, such as DOC, DOCX, EPUB, PDF, XLSX, etc.
- Selectively recover deleted documents, contacts, call logs, text messages, photos from Android internal memory and the SIM card.
- Preview and select the deleted documents, videos, music, and photos from the SD card to recover.
- Back up the deleted and existing data from your Android device to the computer.
- Offer the Quick Scan and Deep Scan modes to you.
Noticeably, it works for most Android phones and tablets, such as the popular brands and models as Samsung Note 20/Note 10/Note 9/Note 8/Note 7, Samsung Galaxy Tab S/Galaxy Tab 4/Galaxy Tab S5e/Galaxy Tab S6, LG G9/G8/G7/G6, ZTE Axon 10 Pro/Axon 9 Pro/Blade 10/Blade 20, Motorola, Huawei, Sony, OnePlus, Xiaomi, and so on.
Download it for free to have a try.
2.1 Recovering Deleted Documents from Android Internal Memory
If you stored the deleted documents on Android internal memory originally, you can follow the guide below to recover them effortlessly.
Step 1: Connect Your Android Phone to the PC
If you have download and install the program on your computer, please launch it and connect the Android phone to the computer via a USB cable. Then make sure it has detected your device.
Step 2: Choose Data Types and Scanning Modes
Then you can check the "Documents" option and tap on the "Next" icon to enter the next page. Here, please select one scanning mode.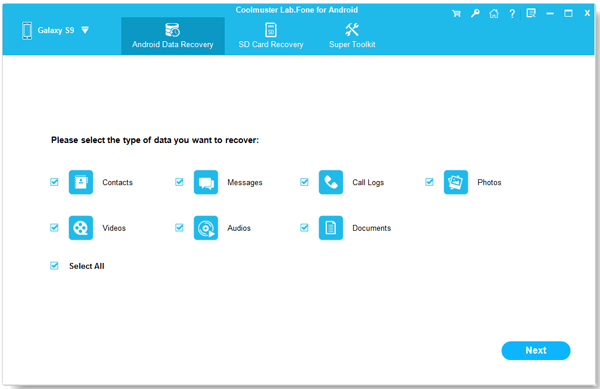 Step 3: Recover Deleted Documents on Android
Next, you can see the deleted documents scanned out on the interface. Make a selection on them and tap on the "Recover" icon to begin the retrieval process.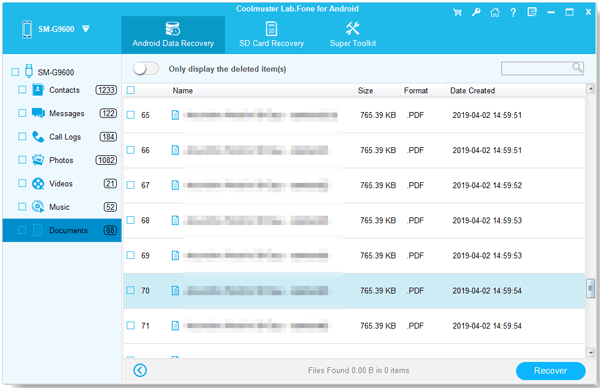 Tips: Learn 3 wonderful ways here, and you can efficiently recover deleted files from the Android phone.
2.2 Recovering Deleted Word Documents from Android External Storage
As an integrated recovery program, this document recovery software does well in retrieving deleted word documents from Android external storage without root. Follow the guide and you will regain your documents.
Step 1: Choose the SD Card Recovery Tab
When you run the software, please tap on the "SD Card Recovery" icon on the top. Then you are required to insert your SD card to the computer with a card reader.
Step 2: Check Your SD Card
Next, it will detect your card in no time. Please tap on the "Next" button. Then tick off your card and hit the "Next" again to begin scanning.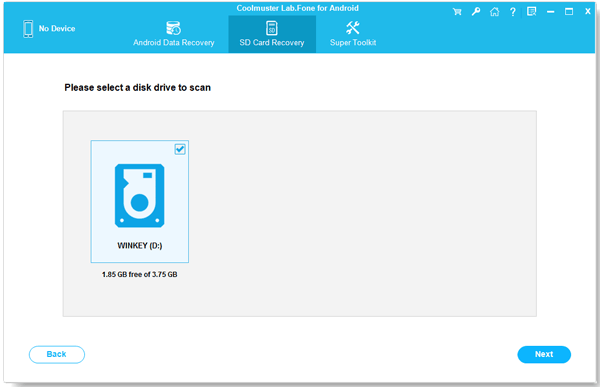 Step 3: Select Documents to Recover
After that, please tap the "Documents" category to view your deleted files on the page. You can click the "Recover" feature to recover your deleted documents without hassle.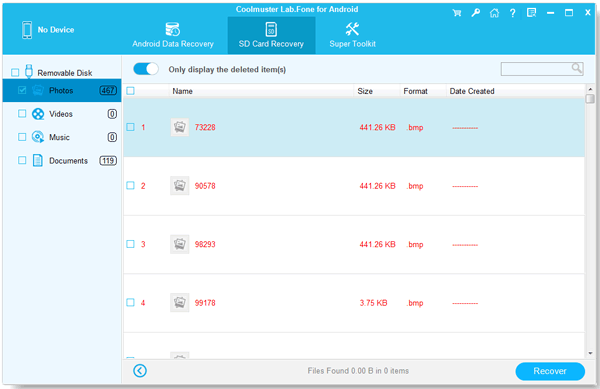 Read also: Is there a tool of SIM card data recovery for Android? Check the post out to get useful tips.
Part 3: How to Recover Deleted Word Documents on Android without a Computer
When it's not convenient for you to use a computer, how to get deleted files back on Android? Don't panic. Here are 3 different tools you can choose to achieve your aim.
3.1 Restoring Deleted Word Documents via Google Drive
Perhaps you have added your Google account on the Android and turn on the backup feature. In this way, you have the possibility of restoring deleted word documents from Google Drive.
Step 1: Download Google Drive
Above all, please download the app on your Android handset.
Step 2: Log In with Google Account
To restore deleted documents, please log in to the Drive with your Google account storing your deleted documents.
Step 3: Find the Deleted Documents to Restore
Tap on the "Settings" icon like three lines and choose the "Trash" option on the sidebar. As you enter it, please navigate to the desired document and select it. At last, hit the "Restore" button to get it back.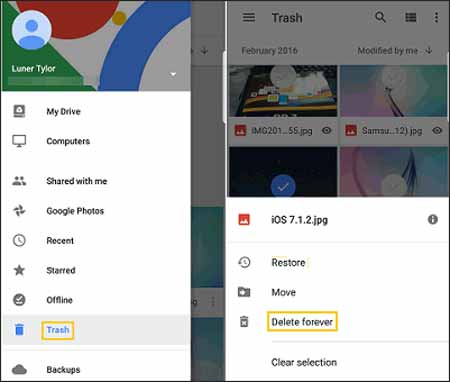 Maybe you need: Wonder how to recover deleted messages from Android phones? Here are 4 convenient solutions for your inference.
3.2 Retrieving Deleted Word Documents with Undeleter Recover Files & Data
This application can help you scan for and recover kinds of deleted files from memory cards and internal memory on a rooted device. It supports various types of files, like DOCX, ODP, ZIP, and more, so there is no doubt that it can recover your deleted documents on Android.
Step 1: Install the App
Download and install the Undeleter Recover Files & Data from the app store.
Step 2: Wait for Scanning
Then open the app on the screen and grant it to access your phone. It will quickly scan out all kinds of data.
Step 3: Retrieve Deleted Documents on Android
Once done, please go to the "DOCUMENTS" module to preview and select what you want to recover. Tapping on the "Restore" icon, you will recover your deleted documents soon.
Further reading: Before selling or giving your old Samsung phone away, you'd better delete documents and other data in advance to protect your private information.
3.3 Getting Deleted Files Back on Android via All Deleted Files Recovery App
This File Recovery can assists you with retrieving the deleted photos, archives, documents, and more, with a high success rate. Directly installing it on the Android phone, you can make use of it effortlessly.
Step 1: Install the File Recovery App
You can directly download and install the All Deleted Files Recovery App from Google Play. After successfully installing, enter the app.
Step 2: Allow It to Scan Your Files
When it asks for a grant, please tap on the "Allow" option if you want to continue. Then it will start scanning the deleted documents and other data types.
Step 3: Recover Deleted Word Documents
Once finished, please press the "Documents" icon, and then you can check the wanted ones to recover them.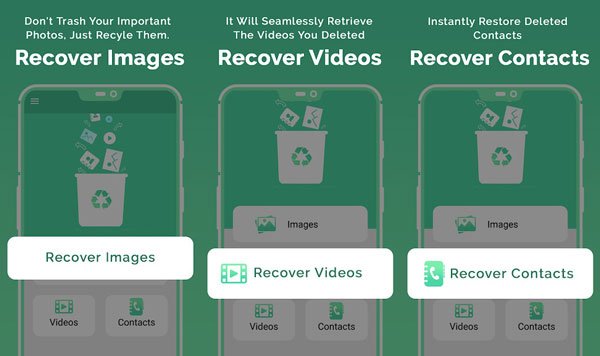 Wrapping Up
So which methods do you want to use for recovery? If you are fond of a professional recovery program, you can try Samsung Data Recovery. It can find and recover deleted documents on Android in an easy way and no backup needed. Thanks for reading and welcome to drop a line in the comment area. We will answer it as soon as possible.
Related Articles
Best Ways to Recover Deleted Contacts from Android Phone in 2023
[Incredibly Easy] Recover Deleted Photos on Android with 3 Effective Methods
Ultimate Recovery: Recover Deleted Videos on Android Device Efficiently
Motorola Android Phone Recovery - Top 5 Applicable Apps
How to Recover Deleted Documents from LG?
4 Proven Ways on How to Transfer Photos from Computer to Android (Step-by-step)