"Does Android have a recycle bin or are deleted files permanently deleted?" - A question from quora.com, looking for an effective way to recover deleted folder on Android.
People sometimes lose their precious data on mobile phones with defferent reasons. Such operations, like deleting files accidentally and formatting Micro SD card without backup first, can generally cause an unpleasant experience.
We sort these reason as below:
1. Users' careless operations.
2. Operating system (OS) is damaged.
3. Virus and malware attacks.
4. Restart your phone while OS crash.
5. Restore factory settings without backup.
6. Suddenly pull out SD card from Android phone, which causes file system corruption.
Obviously, you can hardly protect your Android phone from files loss as so many accidents are difficult to prevent, even though using your Android phone in a correct way. That is a good idea to search assistance from Android data recovery.
Part 1. Restore Android Deleted Folder with Professional Samsung Data Recovery
Samsung Data Recovery is one of the best professional Android data recovery tools. With it, you can restore Android deleted files, lost and formatted data. Accessing to Micro SD card, SIM card and internal storage, this program can retrieve all kinds of data.
Main Features of Samsung Data Recovery:
1. Retrieve music, videos and pictures from SD card without loss.
2. Restore call logs, contacts and text messages from internal storage and SIM card.
3. Scan all retrievable contacts and text messages.
4. Backup contacts and text messages no matter if they were deleted.
Notice that the following reason can cause a recovery failure:
1. Have not rooted your phone. You need to root your Android phone at first, otherwise, it can not work.
2. The data was deleted some time ago, and the operating system has re-used that space on the hard drive for new data, overwriting the original.
3. The data was recently deleted but the phone has still been used heavily, and the new data has already overwritten the original.
So if the data was deleted by accident unfortunately, you would better keep its original state to increase the possibility of recovery by this way.
You can complete the recovery process in several steps:
Step 1. Download and install the correct version of Samsung Data Recovery, here are two free trails for Windows/ Mac.
Step 2. Run the program, connect your Android phone to computer via a USB cable. Please enable USB debugging according to the prompts.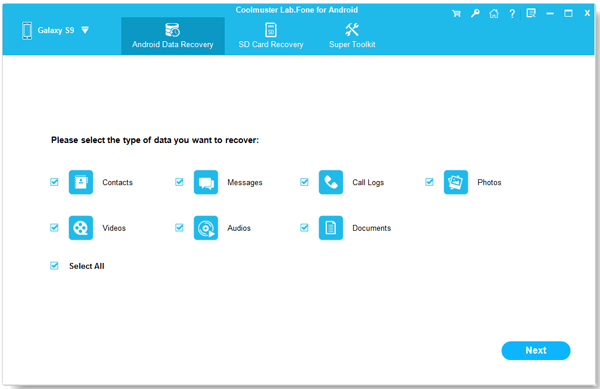 Step 3. Pre-view all restorable data on computer, the deleted ones are in red. Turn "Only display the deleted item(s)" on, click "Recover" on the bottom right, choose a local folder on computer to store the exported files.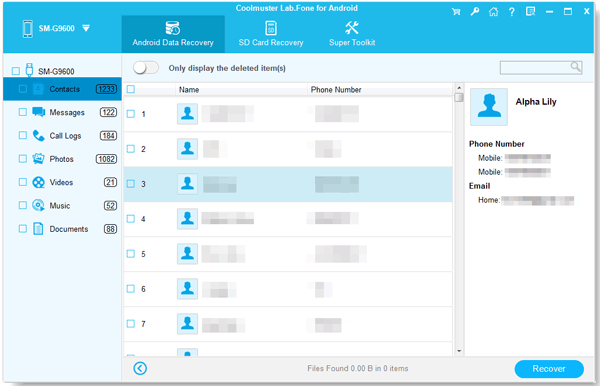 The program supports all Android phones with operating system version from 2.0 to 11, such as Samsung Galaxy S21/S20/S10/S9+/ S9/ Galaxy Note9/ Note8, HTC U12+/ U11 EYEs, Motorola z3/ z2 play/ e5 plus, LG Q7+/ Q6, SONY Xperia XZ2 Premium/ Xperia XZ2 and so on.
Part 2. Recover Deleted Folder on Android with Google Drive
Google Drive, offers 15 GB free storage space, is a hot cloud storage for personal use. You can backup pictures, videos and documents to it and get your files back on your smart phones, tablets, and computer anywhere.
It also supports data sharing by inviting others to check, download and deal with files, instead of sending an Email. Please notice that Google Drive sets access levels for visitors to use these files, so it is safe.
Here are two situations about deleted data recovery on Android with Google Drive.
1. Before the folders are permanently deleted, Google Drive will keep them in your Trash for 30 days, see how to navigate:
Step 1. Download, install and launch Google Drive on your Android phone, click "Trash" on the menu.
Step 2. Select the deleted items you want to recover and click "Restore" to get them back.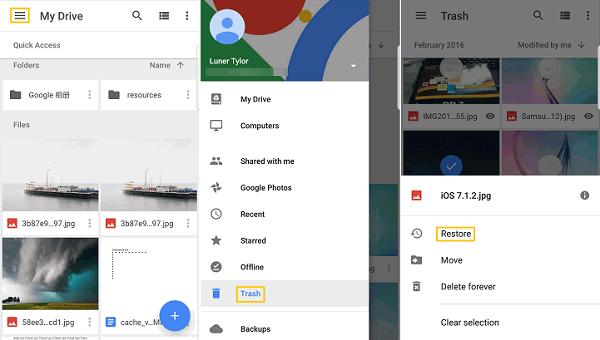 2. Ask Administrator to retrieve permanently deleted folders.
If your Google account is associate with firm, school or group, you can ask administrator to recover the files you deleted permanently from your Google Drive and Trash. Only within 25 days does this way work. Administrator can do as follows:
Step 1. Log into Gmail> Management Settings.
Step 2. Find out the user's profile.
Step 3. Click "Restore Data" on the menu and select files to restore.
See more: How to Retrieve Deleted Kik Messages on Android without Trouble
Part 3. Recover Deleted Folder on Android with Third Party Apps
Dumpster
Dumpster is an app designed to recover Android deleted files, such as apps, videos, music and photos. Once you downloaded this program, it backups your deleted data automatically. Like a recycle bin, you can retrieve deleted files at once. With cloud storage, it can also free up internal space of Android phones by transferring files to it. Free, but with ads and purchases in it.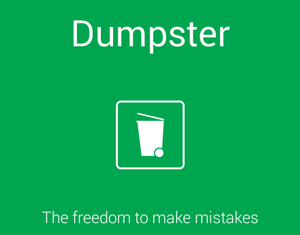 Recycle Bin
Recycle Bin on Android phones plays the same role as that one on computer. Once activated by one click, the deleted files appear in the app can be restored or deleted permanently. You can retrieve videos and pictures without loss. The program can run in the background when you restart your phone. With ads in it.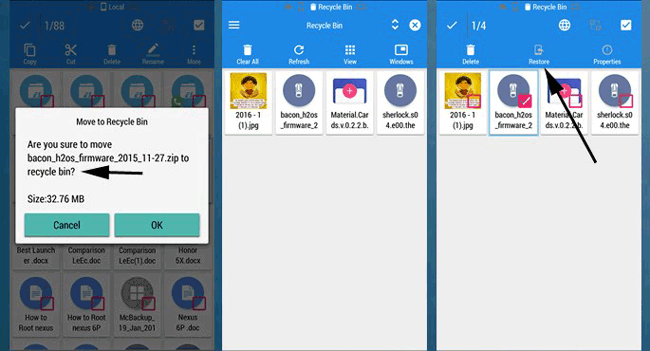 DigDeep Image Recovery
DigDeep Image Recovery app can scan both internal storage and SD card. With its user friendly interface, you can easily restore all the images types like jpg, jepg, png and so on. What's more, you don not need to root your phone. Please notice that this app is not a recycle bin, it may recover pictures even have been deleted before the app's installation. With ads in it.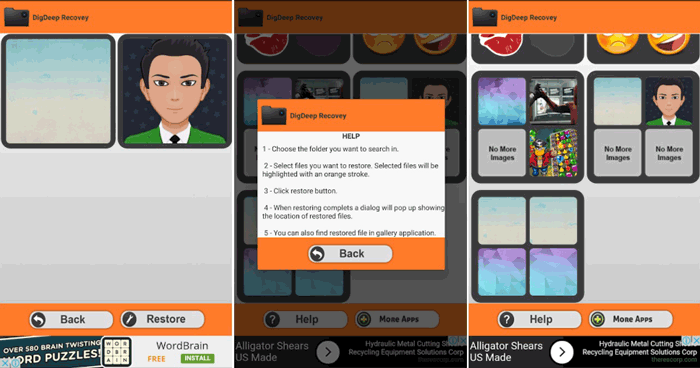 Related Articles:
3 Best Sony Xperia Data Recovery Solutions to Recover Your Deleted Files
How to Recover Deleted Photos from SD Card?
How to Retrieve Contacts from SIM Card with 3 Methods [Proven]
How to Recover Lost Data on Android Internal Memory