Summary
Many unexpected events might happen on the Samsung phone and lead to videos loss in our lives, such as the following situations.
"Is there any way I can do to recover lost videos from Samsung Galaxy after flashing ROM? Please do me a favor. I forgot to keep a backup of them before that."
"After system crashes, I reset my phone back to the factory default settings. Then the whole files were deleted from my Samsung phone. So how to retrieve deleted videos on Samsung? Can you help me?"
Fortunately, the lost videos can be recovered in many cases. What's more, with the help of these 4 reliable methods below, it will be simple to retrieve your deleted videos. Let's check it out.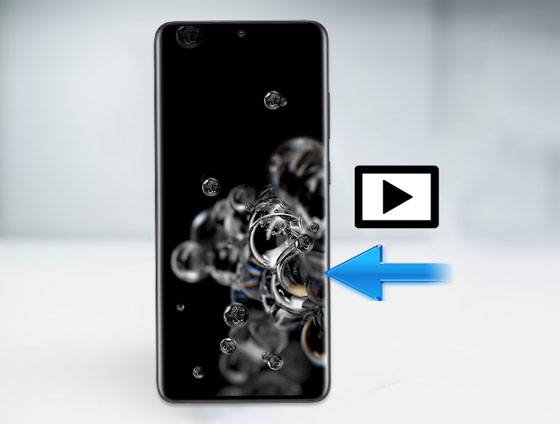 Part 1: How to Retrieve Deleted Videos on Samsung from the Recycle Bin
How do I recover deleted videos from my Samsung phone for free? In fact, there is a Recycle bin on the Samsung phone to store the deleted videos and pictures, which is a built-in feature of most Samsung smartphones. Therefore, you can check for it and recover your deleted video on Samsung directly. Generally, it will retain the deleted files for 15 days.
How to restore deleted videos from Samsung recycle bin:
Step 1. Go to Photos App
Please tap on the Gallery app on your Samsung phone and click the three-dots icon on the upper right.
Step 2. Enter Recycle Bin
Then choose the "Recycle Bin" option on the screen and you can see your deleted videos here.
Step 3: Retrieve the Videos
Now, touch the videos you want to restore for seconds to select them. Finally, click the "Restore" button. The deleted videos will return quickly.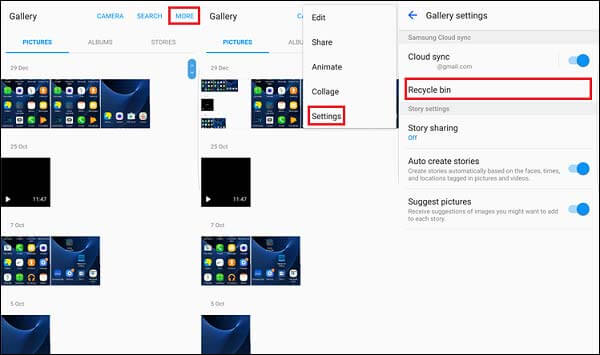 Further reading:
To keep the videos without loss, you'd better transfer videos from Android to the PC. Get these 6 helpful methods to have a fast transfer.
Wonder how to unlock a Samsung tablet without losing data? You can read this article to check the solutions.
Part 2: How to Recover Deleted Videos from Samsung Galaxy via Samsung Cloud
If you have backed up your videos to Samsung Cloud before deleting, the recovery will become easier. You can recover deleted videos on Samsung S8/S9/S10/S20, etc. without trouble because you can regain them from the backup at any time. Surely, Samsung Cloud works for multiple files, such as contacts, images, music, messages, and so on. In a word, it is a convenient restoration tool.
How to retrieve deleted videos on Samsung Galaxy S7 using Samsung Cloud:
Step 1. Get Into the Settings App
First of all, please open the Settings app on your Samsung Galaxy phone. Then click the "Samsung Cloud" option.
Step 2. Select Data for Retrieving
Next, tap on the "Backup and restore" > "Restore data" feature. At present, you can tick the "Videos" option off on the screen.
Step 3. Retrieve Deleted Videos from Samsung Cloud
At last, hit on the "RESTORE NOW" icon at the bottom and you will undelete the videos.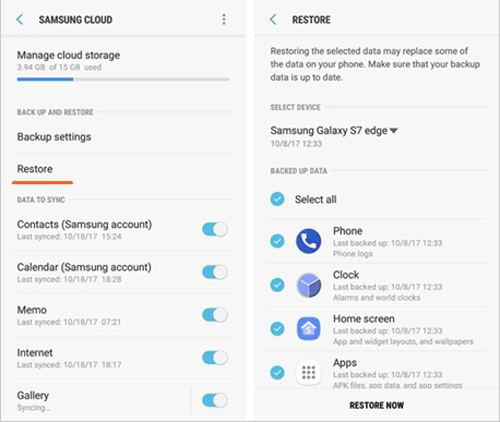 Read also:
Have no idea to transfer videos from iPhone to Android? Luckily, you can achieve it soon with these tips.
What is Samsung Odin Mode? How to exist Odin Mode if the device is stuck on it? If needed, please click this post.
Part 3: How to Retrieve Deleted Videos on Samsung Galaxy Using Google Photos
"Can I recover deleted videos from my Samsung using Google Photos?" Some users ask this question. In fact, it is probable to retrieve it from Google Photos, if you have uploaded your video to Google Photos or deleted it less than 60 days. You just need to log in with the identical Google account.
How to retrieve deleted videos on Samsung Galaxy S6 via Google Photos:
Step 1. Launch Google Photos
From the beginning, please launch the app on your Samsung cell phone. If you uninstalled it, please download and install it again.
Step 2. Log In and Go to the Trash
After that, please log in with the Google account that you backed up the videos. Then tap on the three-line button on the top left and you can see the "Trash" option. Tap on it directly.
Step 3. Retrieve Deleted Videos
To retrieve the videos, please select the desired videos and hit on the "Restore" icon on the upper to begin the process.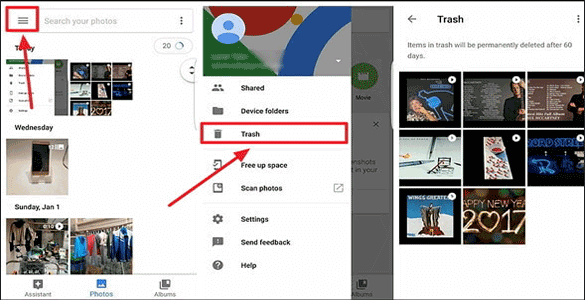 Further reading:
Here are 4 easy ways to recover deleted messages from Samsung phones for your inference. If needed, please have a look.
If you intend to recover photos from your Samsung Secure Folder, you'll need this useful tutorial.
Part 4: How to Recover Deleted Video on Samsung without Backup via Samsung Video Recovery
Using the professional Samsung video recovery - Samsung Data Recovery, you can get your deleted videos back without backup. Moreover, it's capable of recovering contacts, messages, and more. Despite recovering from SD cards or internal memory of Android phones, it can perform well.
Key features of Samsung Data Recovery:
- Recover data from Samsung internal storage, containing text messages, photos, call logs, documents and contact lists.
- Recover deleted videos, music, pictures, and more from the Samsung external storage space without root.
- Support to preview and select the deleted and existing files before recovery.
- Allow you to transfer all the data from Samsung devices to computers.
- Widely compatible with almost all the Samsung phones/tablets as well as other Android devices, like Samsung Galaxy S20/S10/S9/S8/S7/S6/S5, Samsung Note 20/Note 10/Note 9/Note 8/Note 7, Samsung Galaxy Tab S/Galaxy Tab 4/Galaxy Tab S5e, Sony, Motorola, Huawei, Xiaomi, OPPO, Vivo, OnePlus, Google, ZTE, etc.
By the way, it scans your data out simply after getting your permission and obey strictly the legal privacy policy. Thus, you can use it without worry.
Download the video recovery software for free below.
How to recover deleted videos on Samsung without backup:
Step 1. Install the Recovery Program
Please download and install this recovery software on the computer and run it on the desktop.
Step 2. Preview and Select Deleted Videos
- Then connect the Samsung device to the computer with a USB cable. Once connected, check the "Videos" option on the interface and tap on the "Next" icon.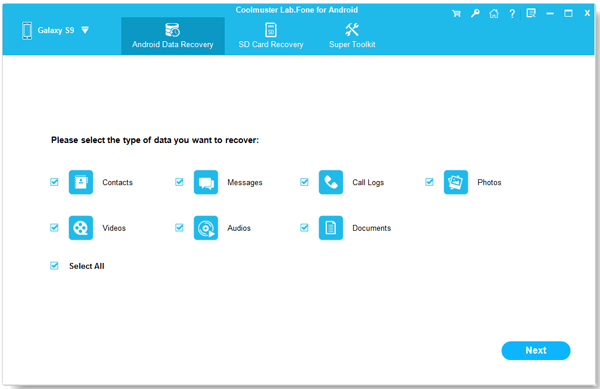 - After you choose a scanning mode, it will begin to scan your videos out, including internal memory and the inserted SD card. You can pick out the deleted videos in red on the page.
Step 3. Recover Deleted Videos from Samsung
In the end, tap on the "Recover" icon at the bottom right to start recovering videos. After a while, the deleted videos are recovered on the computer.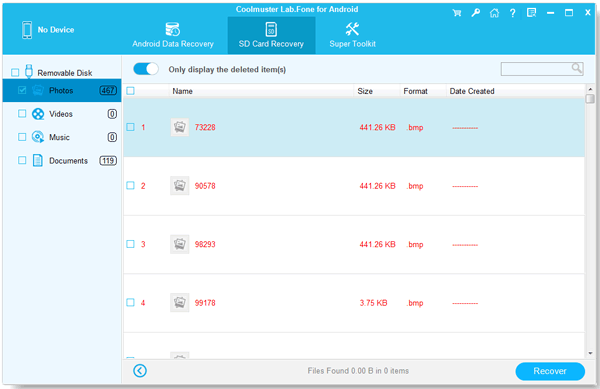 Check if you need: What can you do when you lose your valuable videos on Android? Is it possible to recover it? Calm down. You still have opportunity to get it back with the help of a professional Android video recovery app.
Final Words
Now, 4 fabulous recovery methods are in your hands and you can easily work out the problem of how to retrieve deleted videos on Samsung with them. Furthermore, Samsung Data Recovery can recover the videos on Samsung without backup. If you have other video recovery suggestions or queries, please drop them in the comment zone. It is glad to answer you.
Related Articles
Samsung Tablet Data Recovery - 3 Best Ways to Recover Deleted Data on Samsung Tablet
Samsung Smart Switch Alternative: 6 Equivalents Worth Pursuing
[Updated Tutorial] How to Transfer Contacts from Samsung to Samsung?
Great Guide - How to Transfer Videos from Android to Mac in 6 Methods
How to Transfer Videos between Phone and Computer in 6 Easy Ways
How to Transfer Text Messages from Samsung Galaxy to PC [4 Methods]