Summary
Accidentally broke the screen of your Samsung phone? How to get data off the Samsung phone with the broken screen? In this case, please let broken Samsung data recovery methods help you, which can recover data from the damaged phone. Conveniently, each method contains the detailed guide so that you can follow it to retrieve data without trouble.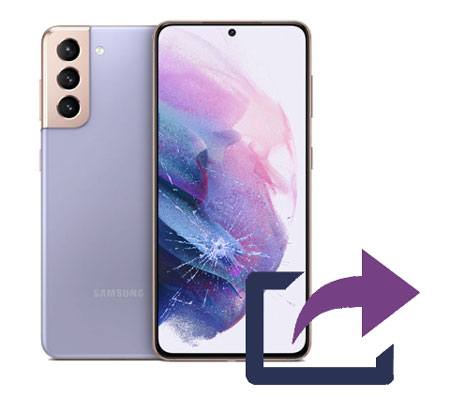 Part 1: Recover Data with Broken Samsung Data Recovery Software (without Backup)
How to get pictures off a broken Samsung phone? Don't worry. This Broken Android Data Extraction software can perform Samsung data recovery with the broken screen. Besides, it can also retrieve messages, call history, contacts, and more from the Samsung device. Although your phone is frozen, crashed, black-screen, etc., it can help you extract data.
Currently, this program only supports Samsung devices in the mode of Broken Android Data Extraction, but it will be compatible with more Android phones soon. It is compatible with Samsung Galaxy S6/S5/S4, Samsung Galaxy Note 5/Note 4/Note 3, Samsung Galaxy Tab Pro 10.1.
Main features and advantages of this Samsung recovery tool:
- Quickly get different kinds of data off a broken Samsung phone, such as photos, videos, audios, WhatsApp files, SMS.
- Retrieve data from the phone internal storage and the SD card.
- Only extract your data without damage.
Download the Samsung data extraction program for free below.

Here's how to recover data from the broken Samsung phone:
Step 1. Download the Software
Please download and install it on the Windows computer, and connect your Samsung device to the computer with a USB cable.
Step 2. Confirm Your Device Information
- Launch the program and choose the "Broken Android Data Extraction" tab on the left side. Then click the "Start" icon and select your device name and model. Tap the "Confirm" button.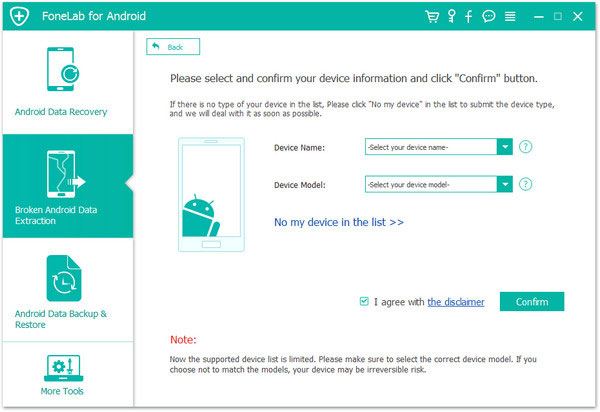 - Follow the guide to enter the download mode, and tap the "Start" icon.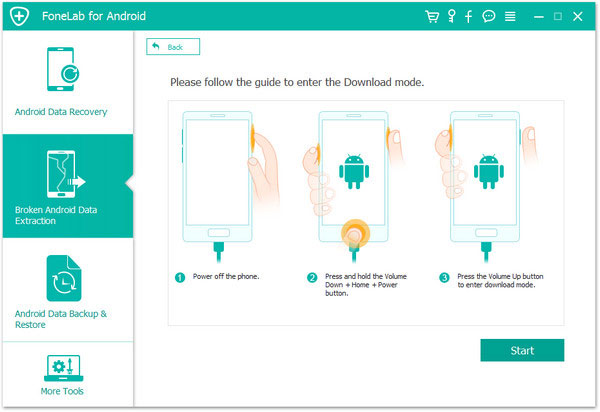 Step 3. Get Data Off the Broken Phone
After the program finishes scanning data, you can view and select your Samsung files. Finally, tap the "Recover" icon to initiate the recovery process.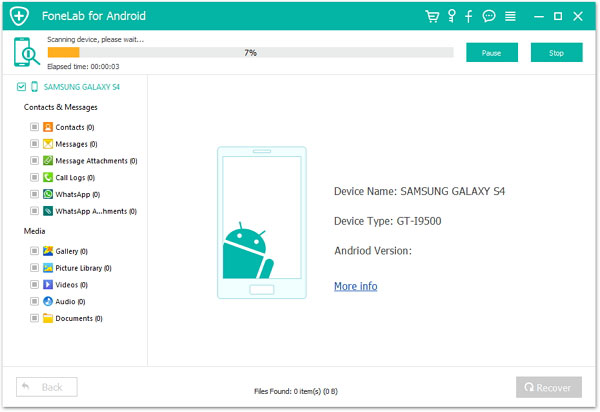 Bonus: These 3 tips can recover deleted contacts from the Samsung phone. If needed, please click the link.
Part 2: Recover Data from Samsung with Broken Screen Using Samsung Cloud
Have you backed up your Samsung data to Samsung Cloud? If yes, that's great. You can restore data from Samsung with the broken screen using Samsung Cloud. However, if you haven't backed up your data before breaking the phone, you cann't restore data from Samsung Cloud.
Guide on how to recover data from S8 with the broken screen via Samsung Cloud:
Step 1. Log In with Your Samsung Account
Please log in with your Samsung account on another intact Samsung handset. You can open the Settings app and click the "Cloud and accounts" > "Accounts" option to add your Samsung account.
Step 2. Go to Samsung Cloud
On the "Cloud and accounts" screen, you can tap the "Samsung Cloud" option.
Step 3. Restore Data from Samsung Cloud
- After entering your Samsung Cloud, please click the "Restore" icon. Then select the broken Samsung phone you want to restore from and pick the desired backed up data.
- Next, press the "RESTORE NOW" button. It will restore the selected files to your device soon.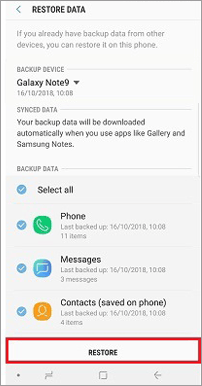 Read also: This article of Samsung SD card data recovery will tell you proven ways to recover data on your SD card.
Part 3: Recover Data from Broken Samsung via Google Account
The next Galaxy S7 broken screen data recovery tool is the Google account. Similar to Samsung Cloud, it can restore the backup data from Google cloud space with your Google account. Therefore, it cannot work if you haven't uploaded files to your Google account.
Here's how to restore files from Samsung Galaxy S7 using the Google account:
Step 1. Add Your Google Account
- Please add the Google account that you backed up the data of the broken Galaxy S7 to another mobile phone. Go to Settings, and choose the "Accounts and backup" > "Accounts" > "Add account" > "Google" option.
- Then type the information of your Google account.
Step 2. Sync Data to the Current Device
- To restore the data from the broken phone to the current device, please click the Google account you added just now, and tap the three-dot icon on the upper right.
- Click the "Sync Now" button to begin the restoration procedure.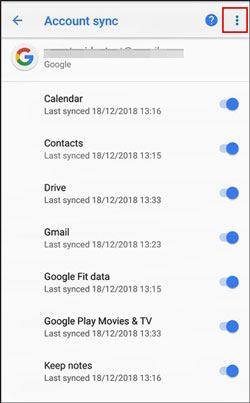 Further reading: how to one-click to back up and restore Samsung data? Please don't miss these 3 easy approaches.
Part 4: Get Files Off a Broken Phone Using Mouse and OTG Adaptor
Does the operating system your broken Samsung phone still work? Sometimes the display screen is broken but you can access your phone with a mouse and an OTG cable. Then you can transfer the data from the damaged device to a cloud storage space.
Tutorial on how to get files off a broken phone with a mouse and an OTG adaptor:
Step 1. Connect the Mouse to the Broken Phone
Please use an OTG adaptor to connect the mouse to the broken cell phone. Then unlock the phone.
Step 2. Transfer Files to Another Device
Next, enable Bluetooth and transfer files to another available device via Bluetooth. You can also download Google Drive to upload files.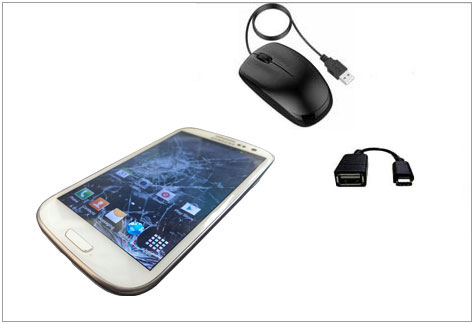 Maybe you need: Still struggling with how to transfer music from the iPod to the Samsung Phone? You can now use these 5 solutions to easily transfer music.
Part 5: Retrieve Data from Broken Samsung Phone via Samsung Smart Switch
Samsung Smart Switch is a useful data recovery program. As long as you back up your data to the computer with Smart Switch, you can restore data to any other Samsung phones and tablets with it. Additionally, you can select data types on the interface.
Steps on how to get data back via Smart Switch:
Step 1. Download the Software
Please download it from the Samsung website. If you have installed it on your computer, please skip to the next step.
Step 2. Link Samsung to PC
Link the Samsung phone you intend to restore data to the computer with USB. Then run the program and it will detect your phone.
Step 3. Restore Data
- To restore data to the phone, please tap the "Restore" > "Select your backup data" option. And you can select what you want on the interface.
- After selection, tap the "OK" and "Restore" buttons. It will help you transfer the backup data to the Samsung device.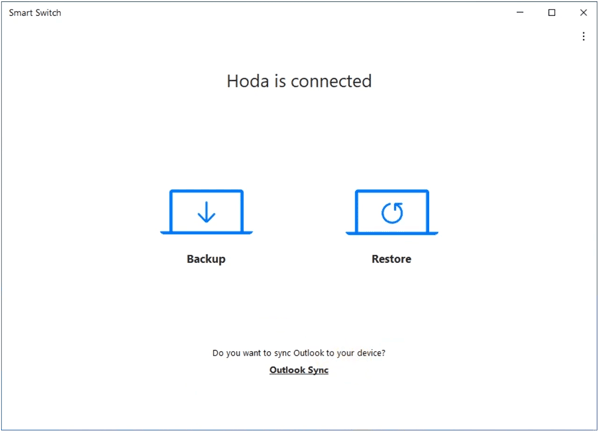 You might like: Want to get a Samsung Smart Switch alternative? Here are 6 helpful replacements for your inference.
Part 6: Get Data Off Samsung Phone with Broken Screen via Find My Mobile
If you haven't backed up your Samsung data to Samsung Cloud but you have enabled the remote control feature on the broken smartphone, you can back up your data with Find My Mobile. It has a remote backup function so that you can extract data without using the phone.
Here's how to get Samsung files off with the broken screen using Find My Mobile:
Step 1. Browse Find My Mobile Webpage
Please open the Find My Mobile webpage on the computer.
Step 2. Sign In with Samsung Account
Click the "Sign in" button to sign in to your Samsung account attached to the broken phone.
Step 3. Back Up Data
After that, please click the "Back up" feature and select the content you want to back up to the Samsung Cloud. Then hit on the "BACK UP" button. It will transfer the selected files to Samsung Cloud.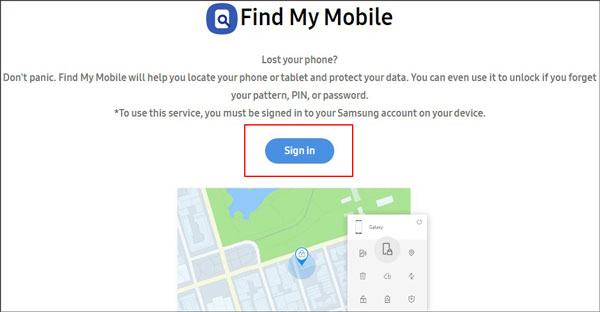 Tips: Please make sure your Samsung Cloud has sufficient storage space to store your files. If not, you can upgrade your Samsung Cloud's plan in advance.
Conclusion
Now 6 broken Samsung data recovery tools have been introduced above. It is believed that they can assist you in retrieving data on the broken Samsung phone. If your Samsung device is compatible with this Data Extraction program, you can efficiently get most data from the phone with it.
Related Articles
[Updated in 2021] How to Transfer Contacts from Samsung to Samsung?
How to Transfer Videos between Phone and Computer in 6 Easy Ways
How to Transfer Data from Samsung to Xiaomi Phone? 4 Efficient Ways Here
How to Back Up Note 8 without Effort? Get Help with These 5 Useful Ways
How to Quickly Transfer Data from OnePlus to Samsung: 4 Best Ways You Can Try
How to Back Up Samsung to PC Easily? - 7 Ways You Can't Miss