It is common for us to forget saving some important contact numbers after making calls. If you wipe call logs on your Samsung Galaxy by accident, what can you do next? How to retrieve deleted call logs on Samsung?
To resolve the problem, we check the reasons for Samsung call logs loss and what we need to do first. Then, you can select one method as you need to find deleted history on Samsung phone.
What Causes Samsung Call Logs Loss?
Firstly, let us check the common reasons that lead to Samsung call logs loss.
A cell phone normally is able to store up to 1,000 mobile phone numbers at a time. Once the data overloads, you can not save one more piece of contact number to your Samsung phone. In some cases, you may fail to save the call logs to the contacts without any prompt and remove them out of your phone. So you had better manage your Samsung phone from time to time.
Besides, human error, malware, and virus, factory reset and Android software update can also cause data loss. What's more, you can even lose all the call logs if you lose your phone.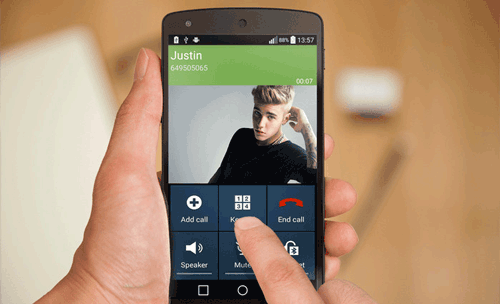 What Can You Do First When Samsung Call Logs Lost by Accident?
On Samsung phone, call logs, contacts, text messages are stored in the internal memory or SIM card. If you delete call history on Samsung, the data will not disappear from your cell phone at once. It still retains in an invisible format in the internal memory till new data is written in.
If the unexpected thing happens, you should not use your Samsung Galaxy anymore. Please turn off the networks to avoid automatic update and protect your memory card from physical damage. Remember that anything you should do is to avoid bringing new data to your cell phone.
Once the new data is brought in and covers the original one, you lose the chance to retrieve deleted call history on Samsung.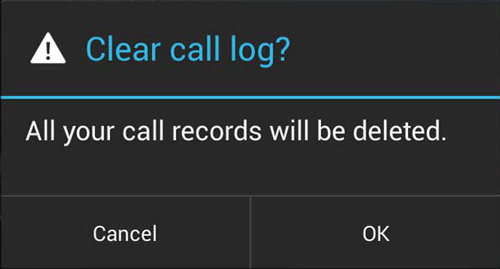 How to Retrieve Deleted Call Logs on Samsung with Powerful Samsung Data Recovery (without Backup)?
If you delete call history on your Samsung Galaxy without backup, you can use Samsung Call Logs Recovery - Samsung Data Recovery to retrieve deleted call logs on Samsung, including the incoming and outgoing.
Samsung Data Recovery is a professional software for Android data recovery. It can recover deleted files to your Samsung without any data loss. The supported files include call logs, contacts, text messages, media files, and documents.
Key features of Samsung Data Recovery:
- Restore call logs, contacts and text messages from internal storage and SIM card (root required).
- Retrieve music, videos, pictures, and documents from SD card without a loss (without root).
- Scan all retrievable contacts and text messages.
- Backup contacts and text message no matter if they were deleted.
You can start a free trial of this program:
Notice: You need to root your Android phone at first, otherwise, it can not recover data from SIM card or internal storage.
Step 1. You can launch the program and connect your Samsung to the computer via a USB cable under the Android Data Recovery mode. You need to enable USB debugging on your Samsung if required. Once your device is detected, you enter the main interface.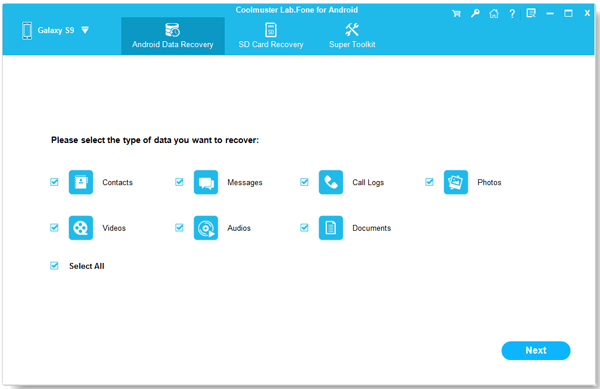 Step 2. Click Next, you can see all the recoverable files which are sorted in the folders on the left panel. Please go to Call Logs folder and you can see that the deleted call logs are marked in red.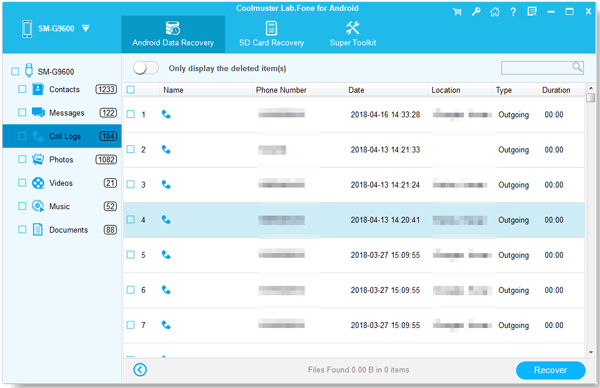 Step 3. Now, you can preview the detailed information including the people's name, phone number, date, outgoing or incoming and the duration. Then, please choose your wanted items and simply tap on Recover. The call history you recovered will be saved to the local folder on your computer.
The program supports Samsung Galaxy Samsung S10+/ S10/ S10e/ S9+/ S9/ S8+/ S8/ S7/ S6/ S5, Samsung Galaxy Note9/ Note8/ Note7/ Note6/ Note5/ Note4, Samsung Galaxy A9/ A8/ A7/ A6 and other Android brands, such as Xiaomi, Huawei, HTC, LG, etc.
Samsung Data Recovery mentioned above is designed to recover Android data in normal situations. However, some users break their screens down and want to retrieve data from broken Samsung. If needed, you can open this link to learn more.
How to Retrieve Deleted Phone Calls on Samsung from Samsung Cloud (with Backup)?
To retrieve deleted phone calls on Samsung from Samsung Cloud, you need to have a Samsung cloud at first. You can create one on your Samsung Galaxy. Then, you need to back up your call history to the cloud account before deleting the call logs.
Notice: If you have not backed up your call logs to the cloud, then you can not use this way to find the deleted call history back. Alternatively, you can use Samsung Data Recovery to restore the call logs on Samsung without backups.
See how to retrieve call logs from Samsung Cloud:
Step 1. Please go to Settings > Accounts > Samsung account > Restore.
Step 2. You can select what you want to recover from the list. Please select Call logs, tap on RESTORE NOW. The deleted call logs will be restored to your Samsung Galaxy.
Remember that the retrieved call logs will wipe and cover the existing ones. You had better back up the call logs that you want to keep on your Samsung Galaxy. Otherwise, you have a risk to lose your recent call history.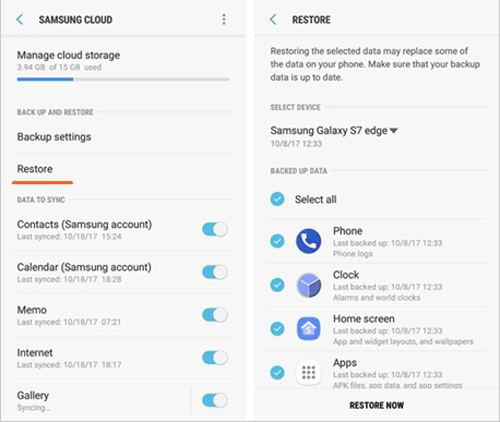 Recover Deleted Call Logs on Samsung via Free Apps
Here are some free apps designed to help users manage their call logs. With these apps, you can check the deleted call logs and get them back to your Samsung Galaxy. We recommend two of them, hoping that will be helpful.
It is a call logs manager allows you to keep the past 1000 days call logs. You can easily find and restore the deleted call history on Samsung from the category, including the incoming, outgoing and missed numbers.
Some other features are offered to make quick management, such as View SMS History, Export to excel, Add Fake Call, Auto Delete Call Log and so on. This all-in-one app is worth to try.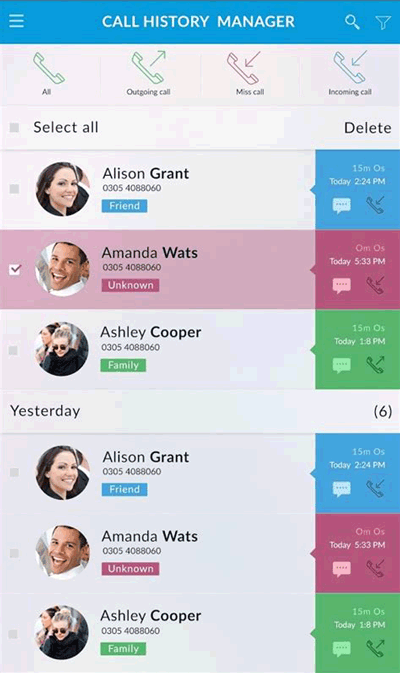 Call Log Monitor is a simple app to manage your Samsung call logs and export them to PDF. The exported PDF can be saved to email or any other cloud location. The app offers daily call history statistics for you, so it is suitable for business work.
However, this app is more likely for management instead of a backup & recovery tool. You need to export the call logs to PDF from time to time. Its paid version supports SMS backup, but the app has been taken off the Google Play.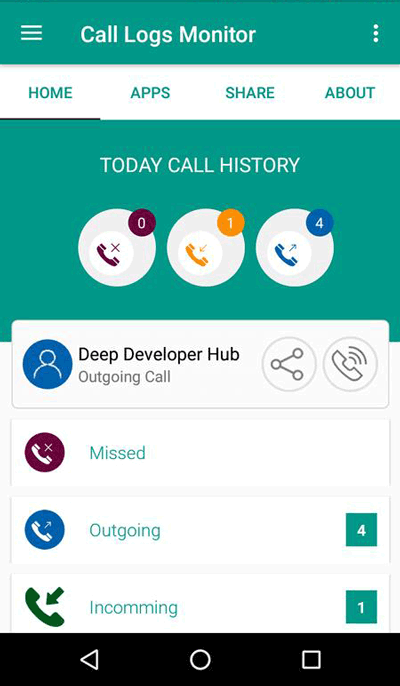 Recover Deleted Call Logs on Samsung from Carrier Online Service (Broken Screen or Phone Loss)
You can view the last call logs by logging into your carrier account and get them back. If you lose your phone or break down your phone screen, you can use this way to do the first aid.
However, it has limitations. Firstly, if you want to recover many call logs in batches, it is not so convenient because it does not support to download or sync directly to your phone. Secondly, Verison Wireless online service does not allow you to view your local calls (learn how to check call logs from broken Samsung phone online).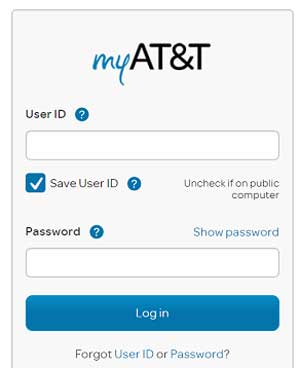 Kindly Remind:
To protect call logs or other important files, you had better back up your Samsung phone frequently at the daily time. We recommend an all-round Android data manager - Samsung Messages Backup for you. You can manage all your Samsung files on the computer and backup & restore all the files with one click.
Related Articles:
Recover Lost Call Logs from Android Phone
Guide to View Call Logs on Android Phone in All Situations
How to Recover Call Logs from Broken Android
How to Restore Contacts from Broken Android Phone?
One-stop Solution to Backup & Restore Samsung Phones