Summary
Samsung phones have an excellent call log feature that allows their users to monitor all the received and dialed calls. As a smartphone user, you can agree that losing an important call history is common. For example, you might mistakenly delete your call logs while reorganizing the call history, or the data can be formatted because of a phone software complication.
Call logs are essential because they carry a lot of important and unsaved phone numbers. When they are accidentally lost/deleted, users desperately look for ways to recover deleted call history on Samsung devices. As a result, we have prepared the guide with functional methods.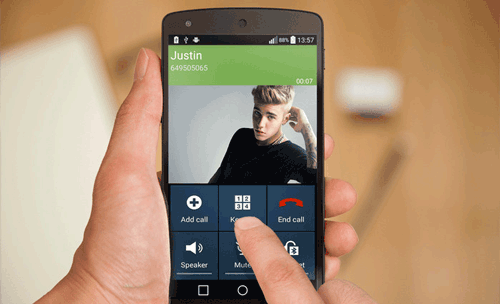 Part 1: Can I Find Deleted Calls on My Samsung Galaxy?
Of course yes. Samsung phones are programmed to store contacts, call history, and messages in their internal memory. If your Samsung device's call logs get accidentally deleted, the data is not permanently deleted from the device.
It remains in the phone in a covert format and is stored in the device's internal memory until new data is recorded. Therefore, if your call logs get erased, you should avoid using your Samsung device and switch off the networks to prevent any automatic upgrade that could overwrite the call history.
You can restore deleted call logs on your Samsung devices using various techniques. Though it might seem like the call history data is permanently deleted, it still exists in the phone's memory and can be restored.
Part 2: How to Restore Deleted Call History on Samsung [7 Reliable Methods]
You can recover your Samsung device's deleted call logs using various techniques. Below are some methods of recovering deleted call logs:
Method 1. How to Recover Deleted Call History on Samsung Using a Professional Tool
Did you delete your Samsung device's call logs accidentally? You can easily retrieve your Samsung's deleted call logs, especially if you have backed up your data. However, recovering your Samsung's deleted call logs is quite hard if you do not have a backup. The only way of recovering deleted call logs without a backup is by using a professional data recovery tool.
Samsung Data Recovery is a powerful data recovery program that you can use to get back your lost call logs. This popular data recovery application not only recovers data from your Samsung device's internal memory but also from an external SD card and SIM card. It works natively on all Samsung devices and supports different data formats, such as messages, contacts, call logs, documents, images, etc.
Key features of this Samsung recovery software:
- Enable its users to recover deleted call logs from Samsung mobile devices without backup.
- Easily recover deleted SMS, videos, photos, documents, contacts, music, and more as well.
- Support Samsung SD card recovery.
- Have the highest data recovery success rate.
- Allow users to preview phone calls before recovering them.
- Work natively on more than 6000 Android gadgets, including those Android tablet with the availability of cellular capabilities.
Download Samsung Data Recovery.
Let's learn how to retrieve deleted call logs on Samsung devices via this software:
Step 1. Install the Recovery Software
Download the recovery program package and install it on your computer. Then select the "Android Recovery" option from the available choices.
Step 2. Select Data Type and Scanning Mode
- Use a USB cord to link the phone to the PC and enable debugging mode on your Samsung phone. Then the connection will be successful. Please check the "Call Logs" option, and click "Next".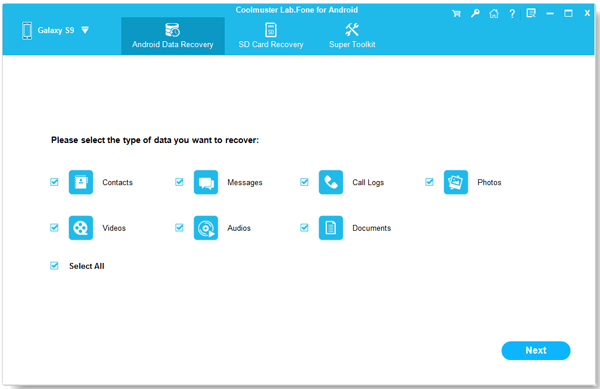 - Select a scanning mode. By the way, the "Deep Scan" mode can find more deleted calls.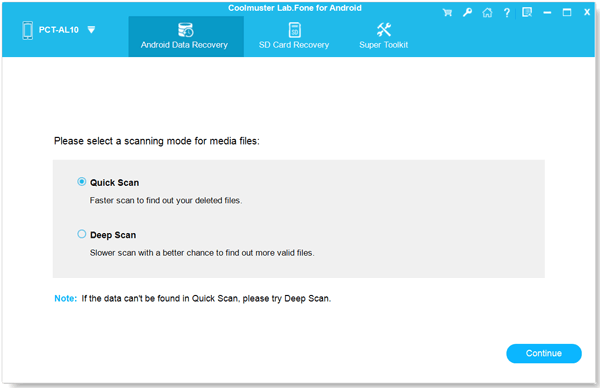 Step 3. Fast Recover Deleted Calls from Samsung
- There is a reminder if your device isn't rooted, and you can open the guide it gives to root your device. If you don't want to do this, click "Continue".
- Select the call logs you need on the interface, and click "Recover" to save them directly. Then you can open the file to access your calls.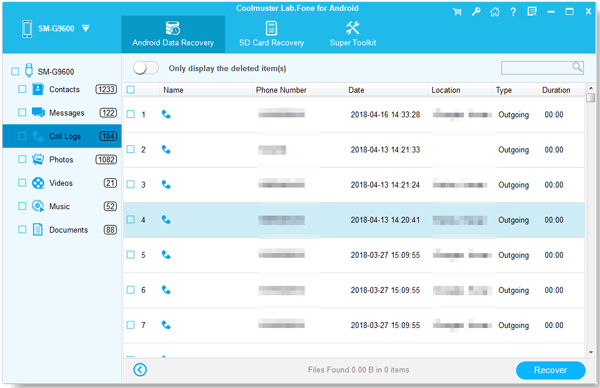 Guess you need: Want to back up your Android data to an SD card? Then you can utilize these 4 ways.
Method 2. How to Retrieve Deleted Call Log on Samsung Without PC via Samsung Cloud Backup
Like other smartphone models, Samsung gives its users an in-built backup feature called Samsung Cloud. This feature enables its users to back up and retrieve data in case of any unexpected occurrence. If you have backed up your information to Samsung Cloud and your call history gets mistakenly formatted, you can retrieve them from the Samsung Cloud backup.
Below is a step-by-step guide on how to recover erased call logs from Samsung Cloud backup:
Step 1: Open the "Settings" app on your Samsung device.
Step 2: Click the "Accounts and backup" button and choose the "Backup and restore" option.
Step 3: Tap on the "Restore data" option located below the Samsung account.
Step 4: Choose "Call Logs" and click the "Restore" option.
Maybe you like: 4 Ways to Transfer Contacts from Samsung to Computer in 2023
Method 3. How to Retrieve Deleted Phone Calls on Samsung via SMS Backup and Restore
Using Gmail cannot restore your deleted data now because there is no contacts feature on the menu anymore. This function only works in that old days. But you can use another method, which is also related to your Google backup and Google account, but you also need SMS Backup and Restore. Before considering this method, ensure your Samsung phone is synced to your Google Drive.
Follow the guide elaborated below to restore removed call logs on Samsung using this app:
Step 1: Install SMS Backup and Restore on your Samsung phone, and open it.
Step 2: Tap the menu icon on the upper left, and choose "Restore". In this situation, please select "GOOGLE DRIVE LOCATION".
Step 3: Log in with your Gmail address and passwords, and click the target backup file. Finally, click "RESTORE" > "OK" > "YES" to gain your call logs again.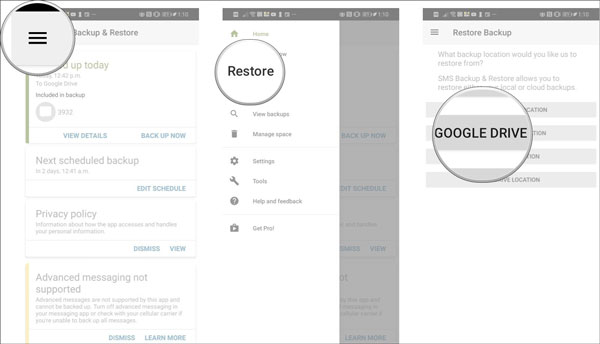 Method 4. How to Restore Lost Call History Through Samsung Smart Switch
Samsung created the Smart Switch application to enable users to transfer data between devices. However, you can also use the application to backup and restore data. If you have already backed up your data on Smart Switch, you can use the PC version of the application to restore your lost call history. Follow the steps below to retrieve your call logs using Smart Switch:
Step 1: Launch the Smart Switch application on your PC, and use a USB cable to link your PC and Samsung device.
Step 2: After the PC detects your Samsung phone, tap the "Restore" > "Select your backup data" icon. Then choose the "Call log" option.
Step 3: Hit "OK" and "Restore" to begin the recovery.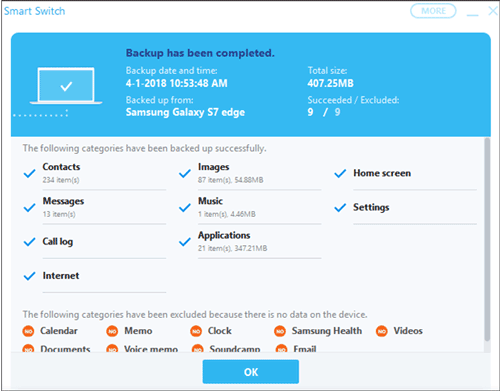 Open it if needed: Screen Mirroring on Samsung: Mirror Samsung to TV or PC
Method 5. How to Get Deleted Call History from Google Drive
If you have set your device to back up its data to Google Drive automatically, you can effortlessly restore the deleted call history using Google Drive Backup. However, you will need to reset your Samsung device first.
Here's how to restore deleted call history from the Google Drive backup on Samsung:
Step 1: On your Samsung device, open the "Settings" application, tap on the "Accounts and backup" button, hit on the "Backup and restore" option, and confirm that you have backed up your phone to Google Drive.
Step 2: Next, go to the "General management" screen, tap on the "Reset" button, and hit the "Factory data reset" option.
Step 3: After setting up your device, sign into the Google account used to back up your data.
Step 4: When the "Choose a backup to restore" option appears on the screen, choose the backup containing your call history.
Step 5: Wait a few minutes, and the deleted call history will be restored to your Samsung.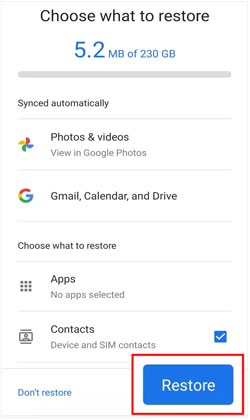 Method 6. How to Restore Deleted Call History on Samsung via Undeleter App
Looking for another way to retrieve deleted call logs on Samsung without a PC? You can use the Undeleter app to recover back your call history. However, you must root your Samsung to use this method.
Below are the simple steps for using the Undeleter app to recover lost call logs:
Step 1: Move to Play Store, and download and install the Undeleter app.
Step 2: Grant the application the necessary permission. The application will begin to test for root access. Hit on the "Next" button to move to the next step.
Step 3: Now select the "App data" menu and hit on the "Call logs" menu item.
Conclusion
The above-discussed methods will help you recover your Samsung device's deleted call logs. However, for an easy data recovery process, Samsung Data Recovery is a nice option because it can recover your info without backup. Besides, it supports not only call logs but also contacts, SMS, documents, pictures, and more.
Related Articles
Call Log Backup and Restore with 4 Advanced Methods [Full Guide]
[3 Detailed Tips] How to Print Call Log from Android Effortlessly
How to Transfer Call Logs from Android to Android? 4 Ways Offered Here
How to Transfer Call Logs from Android to PC: 3 Helpful Tips Introduced for You
How to Recover Photos from Secure Folder on Samsung | Effective Skills
How to Transfer Videos between Samsung Phone and Computer in 6 Easy Ways