Summary
It would be a panic when you lost important data on your Samsung tablet, especially it was related to your work or study. Sometimes it would cause serious loss. But when you could get the 3 best Samsung tablet data recovery methods from this article, you won't feel terrible again when losing the vital files. Before the recovery, you need to stop using this Samsung tablet and recover the deleted data as soon as possible. Then you could get it back probably.
Part 1: How to Recover Deleted Files from Samsung Tablet (Professional)
To recover deleted files from a professional app is the best choice. This Samsung Tablet Data Recovery - Samsung Data Recovery, is a reliable application for you. It can recover multiple data quickly, and contains a variety of types. So, this is why it is reliable.
Key features and strengths of the Samsung Tablet Data Recovery:
1. Recover deleted data from Samsung tablet with ease.
2. Besides Samsung tablet, it supports Samsung Galaxy recovery as well.
3. Wide coverage of the data, so you can recover deleted photos, call logs, text messages, contacts, music, videos, documents, etc.
4. You can use this app to back up the data from Samsung tablet and Samsung phone to the computer.
5. Using a USB cable, you can make a stable connection between the Samsung tablet and the PC.
6. As long as downloading the Mac version, it works with Mac computer effectively.
7. It is appropriate for the most of Samsung tablet and Samsung phone, such as Samsung Galaxy Tab S/Galaxy Tab 4/Galaxy Tab S5e/Galaxy Tab S6/Galaxy Tab A/Galaxy Tab A 8,0/Galaxy Tab A 10.1/Galaxy Book S/Galaxy View2, Samsung Galaxy S20/S10/S9/S8/S7/S6/S5, Samsung Note 10+/Note 10/Note 9/Note 8/Note 7, Samsung A50/A10e/A20, and more.
8. Support many other Android phone, like Sony Xperia 1 II/Xperia 1/Xperia 5, HTC Wildfire R70/Wildfire X/Desire 19s, Motorola Moto G Powerful/Razr/E6/E6 Play/E5G8 Play/G8 Plus/One Zoom, Huawei, Vivo, OPPO, Xiaomi, and so on.
Download this Samsung Data Recovery app for free below.
Tutorial on how to recover deleted data from Samsung tablet:
Step 1. Preparing Work
Firstly, you need to download and install this Samsung tablet recovery app on the computer. Then install it and run the program.
Step 2: Connect Samsung Tablet to Computer
Secondly, please connect your Samsung tablet to the computer using a USB cable. And you need to enable USB debugging on the tablet. The software will check your device fast.
Step 3: Recover Data on Samsung Tablet
- After connected, types of the data from your Samsung tablet is displayed on the screen, please tap on the "Next" icon and choose one mode of the scan.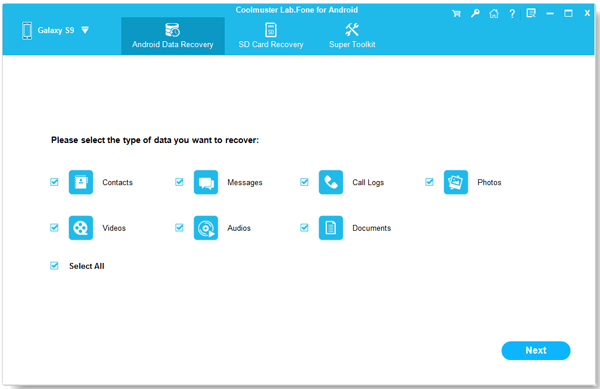 - Once completed, you can see the list on the left which is containing the content of the Samsung tablet. Clicking on one of them, you can make a selection on the deleted data. Tap on the "Recover" button finally. The deleted data will be recovered on the Samsung tablet.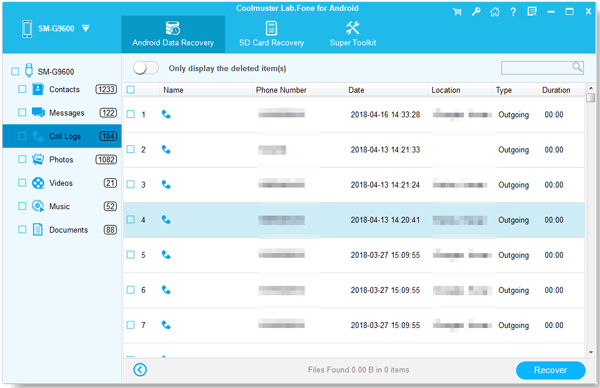 See also:
It is a pain when losing the memorable photos from Samsung phone, and you need to restore lost photos from Samsung immediately. That is the best moment to recover them.
Click here, and you can get useful solutions to fix a hanging Samsung phone.
Part 2: How to Retrieve Deleted Files on Samsung Tablet with Google Drive
Google users can upload sorts of files to Google Drive which is highly compatible with different formats of data. That is good news. However, you maybe find that you lose your files on Google Drive from time to time. It is supposed that you put them to the trash bin but you have forgotten it completely. If you are in this situation, you can get the tips to recover the deleted files in this part.
Bonus: If you have deleted the files over 60 days, you can't retrieve them in this way because Google Drive saves your deleted files for 60 days only.
Guide on how to restore deleted files on Samsung tablet via Google Drive:
Step 1: Install Google Drive
Above all, check your tablet to confirm whether you delete Google Drive and make the Samsung tablet connected to WiFi. If you deleted Google Drive, please download and install Google Drive from Google Play.
Step 2: Sign in to Google Drive
Touch the Drive icon and you need to sign in with your Google account that you deleted files last time.
Step 3: Restore Files from Trash
- When signing in, you need to tap on the "Menu" icon on the upper left and it is three horizontal lines. Then hit the "Trash" option on the list and you can see the deleted files on the screen.
- Now choose the deleted files which you want and click the "Restore" icon. Wait for a while, you can regain the deleted files on the Samsung tablet.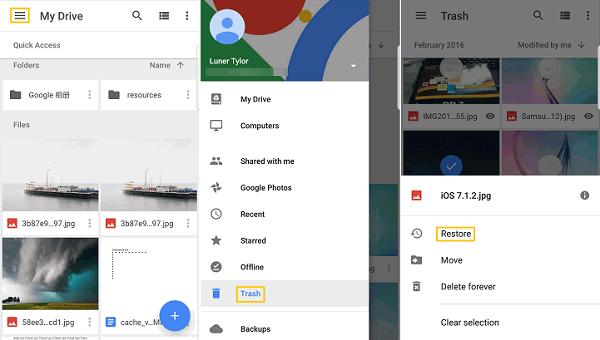 Read also: When you would like to save the new number from the call logs but you deleted it by the wrong tap, how to retrieve deleted call logs on Samsung quickly? Let's have a try with these 4 ways.
Part 3: How to Recover Deleted Data on Samsung Tablet Using the USB Cable
Using a USB cable can recover deleted data on Samsung tablet in reality. But it is not valid on Contacts, call history, or text messages. Actually, after you back up the media files from Samsung tablet to the computer, even though you deleted these files on Samsung tablet completely, you can recover them from the computer to the Samsung tablet with the USB cable breezily.
Here's how to recover deleted media data on Samsung tablet using a USB cable:
Step 1: Connect Samsung Tablet to the PC
In the beginning, please connect Samsung tablet to the PC with a USB cable. If prompted, you'd better tap on the "Allow" option on the tablet.
Step 2: Open the Folder of Samsung
Then double-click to enter the "This PC" icon. Under the "Devices and drives", you can see your Samsung device, and then enter it.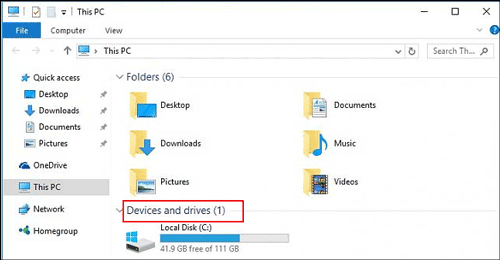 Step 3: Find the Files to Restore
- On the computer, navigate to the folder which stores the backup files, and then touch on one file and right-click the mouse. Next, choose the "Copy" option on the little window.
- Once done, go to the Samsung tablet folder, and then paste the copied file there. You will restore the file on the Samsung tablet in minutes.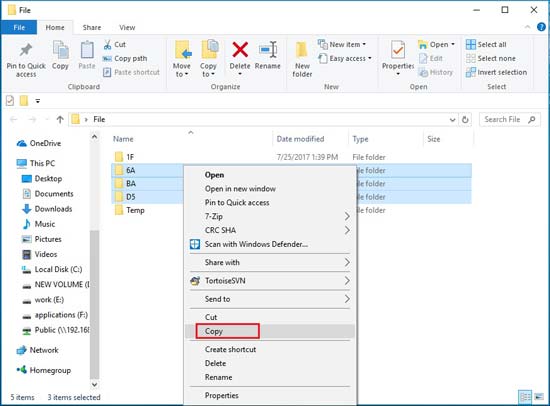 How to prevent the loss of data from Samsung tablet?
In our daily lives, many people suffer from losing data from the mobile devices, such as mobile phone and tablet which includes Samsung tablet. The reasons are factory reset, wrong tap, operating system update, etc. We can't count the cases, but we can do something to lessen.
On one hand, do a regular backup on the computer. This way is for media files.
On the other hand, you can download a professional Samsung file manager to manage your call logs, SMS, contacts and other data which is not easy to backup using a USB cable.
With these two ways, you will keep your data safe and won't lose them facilely.
Conclusion
It is so hard for us to find out 3 tips about Samsung tablet data recovery, and we hope that you can get one useful method from this article. As a mature Samsung tablet recovery app - Samsung Data Recovery, it will offer the services with expertise after you download it. Why don't you have a try with this software?
Related Articles
How to Recover Lost Data from Samsung Micro SD Card
Samsung File Transfer for Mac - How to Transfer Samsung Files on Mac?
How to Connect Samsung Phone to PC in 2021? - 5 Easy Ways
Samsung Data Transfer - How to Transfer Data from Samsung to Another Smart Device?
4 Practical Methods: Transfer Data from Samsung to Huawei Quickly
Excellent Guide on How to Wipe a Samsung Phone Completely and Fast