Summary
How to retrieve deleted photos on Samsung Galaxy? Bulks of people have deleted their memorable photos by mistakes. For example, when you buy a new Samsung phone, you transfer the pictures from the old phone to new one, but all of sudden, the photos are lost and you can't find them anywhere on both two Samsung phones as the result of incorrect operating step but you have no notice. Even you have tried out many different ways which did not manage. Today, you won't be in despair because you can gain 4 practical solutions in this article.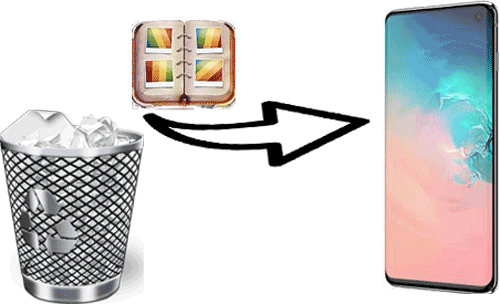 Extra: Why I Can Recover Deleted Photos on Samsung Galaxy
As we all know, if we delete a photo on Samsung phone, we won't see it on our device. However, magically, we can recover deleted pictures on Samsung with the professional recovering apps. How can they do? If you know the secret, you will not be surprised.
It is clear that there are two locations on Samsung Galaxy to keep data -- internal storage and SD card. When we delete the photos from these two parts, they are not wiped entirely. That is, the deleted photos still exist in our storage space.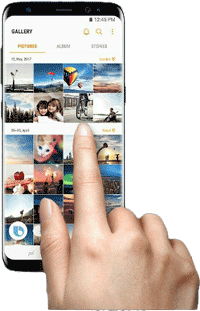 Then when the deleted photos will disappear completely?
Although the deleted photos still occupy the space, but the space will be used anytime. For example, as we install new apps, take new photos, even store new contacts, these new and useful data will take place the space of these deleted photos, which means that new data will overwrite the deleted photos.
And that is the reason we shouldn't use the phone before recovery.
Watch out if you need to recover deleted photos or other data.
First of all, if you want to recover the deleted photos, please turn off mobile data, Bluetooth and Wi-Fi, put your Samsung phone aside.
Don't add or delete any data before you recover the deleted photos, because maybe the operation will overwrite the deleted pictures and lead to be unrecoverable.
In a word, stop using your Samsung Galaxy until you finish retrieving.
Part 1: How to Retrieve Deleted Photos on Samsung with Samsung Galaxy Photo Recovery
If you are going to give up your memorable and valuable photos, please stop the thought. Because you can get first aid with Samsung Galaxy Photo Recovery -- Samsung Data Recovery. This application not only can help you recover deleted photos from Galaxy S6, but also your multiple lost data can be retrieved from Samsung phone. Besides, you are able to preview and back up the data from Samsung to computer.
Key Features & Highlights of Samsung Galaxy Photo Recovery:
1. Recover deleted photos from Samsung Galaxy S10/S9/S8/S7/S6/S5 breezily.
2. Strongly, recover deleted files and other lost data such as videos, audios, documents, call history and more from internal memory card and SIM card.
3. You can preview the existing and lost contacts, call logs and messages with this software clearly.
4. Back up your important files from your Samsung device to computer.
5. Simple and smooth operation for you with the detailed hints on Samsung Galaxy Photo Recovery.
Powerfully, Samsung Galaxy Photo Recovery are compatible with Samsung Galaxy S10/S10+/S10e/S9+/S9/S8+/S8/S7/S6/S5/S4, Samsung Galaxy Note 9/Note 9 Plus/Note 8/Note 7/Note 6/Note 5/Note 4, Samsung Galaxy A9/A8/A7/A5, Samsung Galaxy J3/J3 Pro, and etc. Additionally, it supports most brands of Android phone, like HTC, Motorola, Nokia, OPPO, Xiaomi, Vivo and so on. By the way, as long as the operation system of your phone is above 4.2, the app will work.
Download Samsung Galaxy Photo Recovery and have a try.
Here are the steps of using Samsung Galaxy Photo Recovery
Step 1. Download and Install the Right Version
First of all, you need to download and install Samsung Galaxy Photo Recovery with the correct version on your computer.
Please tap on "Android Recovery" module to access Coolmuster Lab.Fone for Android and manage Android data with it. Conveniently, as installing, you can follow the hints on pop-up window.
Step 2. Launch the App and Insert SD Card into PC
In this step, click "SD Card Recovery" on the top menu bar firstly. Secondly, insert your SD card into computer via an SD card reader and click "Next".
After that, the app will start to recognize your SD card.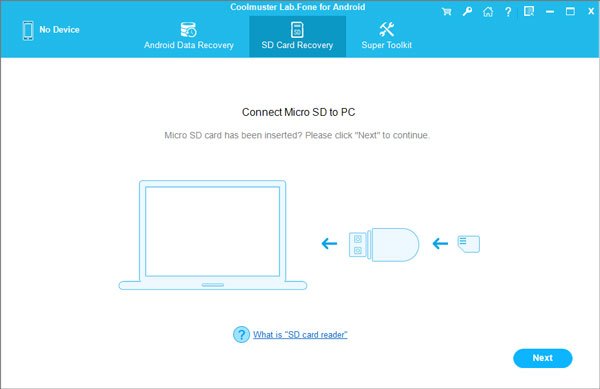 Step 3. Retrieve Deleted Photos from SD Card
Now, your SD card will be displayed on Samsung Galaxy Photo Recovery as below.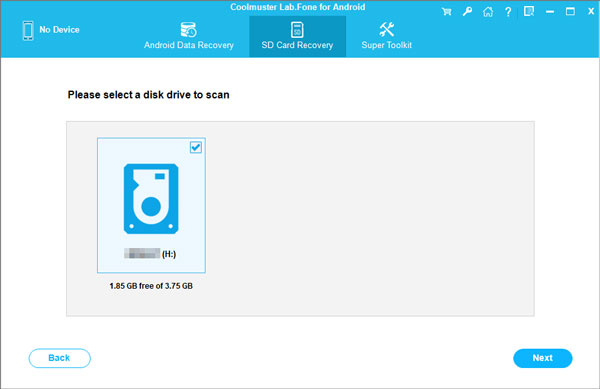 The app will scan your SD card fast, and you will see a list of data, click "Photos" option. Your recoverable photos will appear on the right.
Finally, you can select the deleted photos by ticking the small box before the photos. After selecting, tap on "Recover". The recovering process will be end in a while.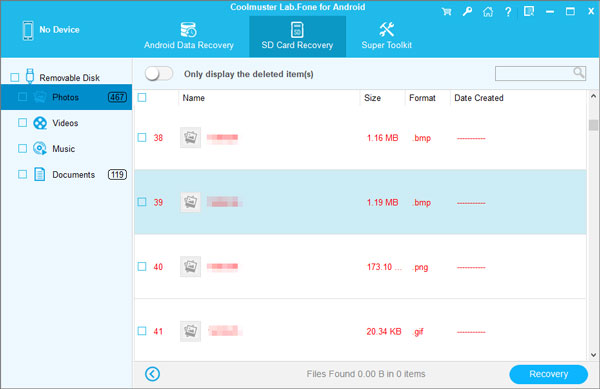 Tips: In this way, you can recover deleted photos without root.
Part 2: How to Recover Deleted Photos from Samsung via Samsung Cloud
Samsung Cloud is an official app which can help you restore the lost data including photos in time. You can get 15G free space in it. However, you need to back up your photos to Samsung Cloud in advance, if you haven't, you can't regain deleted photos with Samsung Cloud. How to recover deleted photos from Samsung Galaxy S5 or other versions?
Here's how:
Step 1. Go to Samsung Cloud on Samsung Galaxy
From the beginning, open your Settings on Samsung device. Then scroll down and click "Cloud and accounts" or "Accounts and back up". You will see "Samsung Cloud" here.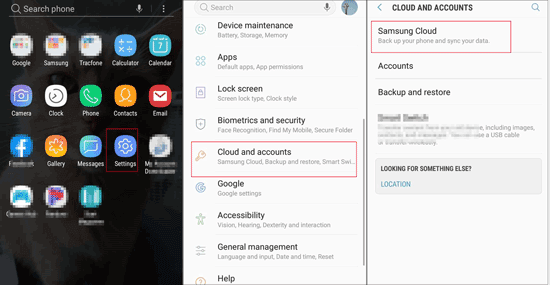 Step 2. Enter Gallery
After clicking "Samsung Cloud", you can see the option of "Restore data", click it and then tap on "Gallery". That means that you will retrieve your pictures only.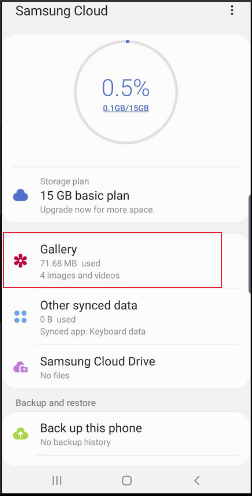 Step 3. Sync the Photos
Then tap on "Sync" icon on your Samsung phone. In the end, your photos which backed up before will be retrieved to your Samsung Galaxy.
Part 3: How to Retrieve Deleted Photos on Samsung with Google Photos
To recover deleted photos from Galaxy S7, you have tried more than hundreds of solutions but they can't satisfy you. How about Google Photos? It adapts to Samsung Galaxy perfectly. You can back up your photos before deleting, and you will be worry-free about retrieving deleted photos. But you should pay attention to the limitation of Google Photos which free space is 5.1GB.
Here's how to do:
Step 1. Download Google Photos
Firstly, if you don't have installed the app before, please download Google Photos on your Samsung Galaxy and install it. Then you will see windmill-like icon on your desktop of your phone.
Step 2. Open the App
Next, open the app and you need to sign in with your Google account. If needed, you can create Google account on the first page.
Step 3. Select Photos to Restore
When you launch the app, you will find the photos that you backed up before, so you can select a photo and click it.
Step 4. Retrieve the Photos
After open the photo, tap on "More" icon on the top right and choose "Save to device" option. When finishing saving, you will not see this option in the menu.
Step 5. Restore from Trash of Google Photos
If you have deleted your backup photos on Google Photos, they will be all in the Trash of the app. Click "Trash" option on the left.
Touch and hold the photo you want to restore, then click "Restore" at the bottom of the photo.
Attention: If you move your pictures to Trash, it will be saved for 60 days in it. When it is more than 60 days, your pictures will be deleted permanently.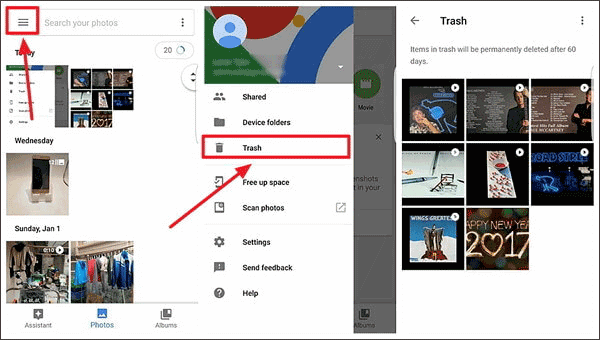 Tips: How to recover deleted photos without computer?
Part 4: How to Recover Deleted Photos from Samsung Galaxy Using Dropbox
Dropbox is a useful tool for people who need to back up. You can find your deleted photos from Dropbox because you have back up them to the app. If not, this app will not work for you. And your photos will be saved in the folder of Deleted Files for 30 days. Once more than 30 days, they will be lost forever. Next, I will show you how to recover deleted photos from Samsung Galaxy S6 with Dropbox.
Here's the using guide:
Step 1. Download Dropbox
With the start, you need to download and install Dropbox mobile app on your Samsung device. You can download it in its official website.
Step 2. Sign in Dropbox
Now, please use your account of Dropbox to sign in. Or you can create one on the first interface.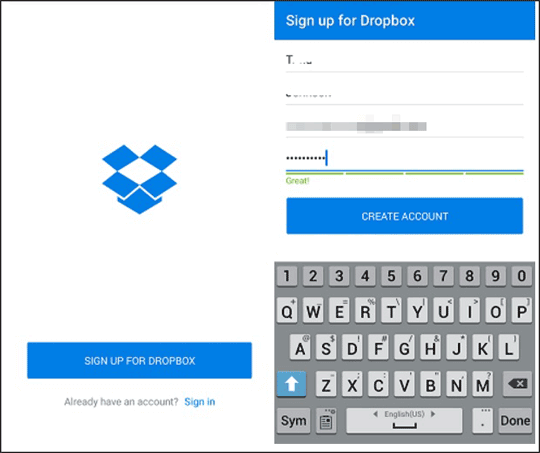 Step 3. Go to Photos
After you sign in it successfully, click on Menu button which is three-lines-like, then you can see "Photos" folder here.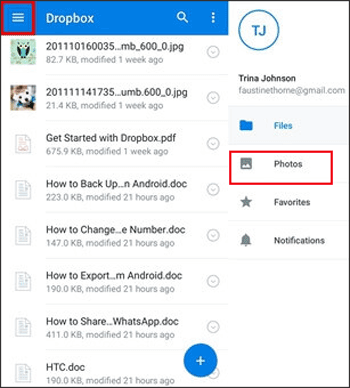 Step 4. Select and Export Photos
As entering the folder, you need to select your photos that you want to restore.
There is a three-dots icon on the right of the photos, Then choose "Export" option and click on "Save to device". Finally, you will restore the photos from Dropbox to Samsung Galaxy.
Step 5. Restore from Deleted Files
When you move your backup photos to Deleted Files, then how to retrieve them? It's easy. Go to Files and choose Deleted Files, here are all your deleted files containing deleted photos.
Then select the photos here and click on "Restore". The process is over.
Bonus to Keep you away from Deleting Important Photos
Although Samsung Galaxy Photo Recovery is powerful to retrieve deleted photos, it is vital for you to protect your important photos.
Here are the ways to avoid losing your precious photos:
1. Turn on auto-backup on Samsung Galaxy all the time.
2. Not only save the photos in internal storage of Samsung device, but also back up to another place such as hard disk, SD card or upload to a storage app.
3. If you would like to back up to app or hard disk, you can choose your PC or laptop as the location. It is really convenient for everybody. (See how to transfer photos between Samsung and computer.)
Conclusion
If you have read the article, the answer about how to retrieve deleted photos on Samsung phone will be in your mind. The importance of saving memorable photos is evidently, we ought to take actions to prevent deletion of our photos. We hope the methods mentioned above are practical for you. In addition, mountains of people praise Samsung Galaxy Photo Recovery -- Samsung Data Recovery. By the way, it is thankful to write down your reviews on comment part.
Related Articles
How to Recover Deleted Data from Samsung Tablet
How to Recover Lost Data from Samsung Micro SD Card
How Can I Recover Deleted Pictures on Android Phone
Retrieve Photos/Videos from Samsung Galaxy S8
Recover Samsung Data after Factory Reset
How to Recover Lost Photos from Google Nexus 7