Summary: To backup and restore Samsung devices, it can be extremely easy as long as you have the full guide on how to backup and restore Samsung phones with different methods, thus you won't need to worry about data lost or backup recovery any more. Let's see how to make it together in this article.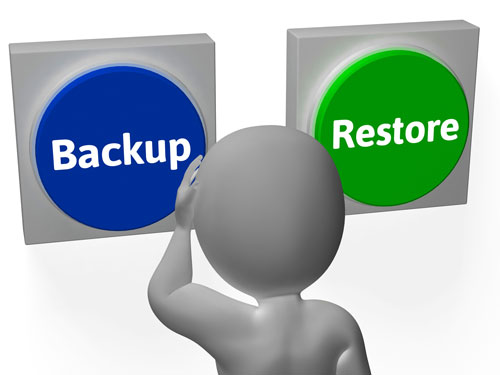 The Samsung mobile device today is not a single device used to make dialing calls or text messages, which also allows you to freely take photos or videos whenever you want or need, surf on the internet to go online shopping or browse news and do many other things. And with time passing by, more and more various files will be saved on your Samsung device, like contacts, messages, home-made videos, precious photos and many more.
Therefore, you are suggested to backup important files from Samsung phones. On one hand, you can save these vital files as a backup in case of sudden data losses; on the other hand, you can then delete these backed up files from your phone so as to free up more space.
Part 1. Two Ways to Backup & Restore Samsung Phone with Samsung Data Manager
Samsung Data Manager - Backup and Restore Samsung Data with Ease
Here, you can't miss this Samsung Data Manager (Windows/Mac), which offers you two ways to backup and restore data for Samsung devices: selectively backup and restore Samsung data with Export & Import features, and quickly backup and restore Samsung files with One-click Backup & Restore features.
Way 1 - Export & Import: With the Export feature, Samsung Data Manager allows you to backup anything as you wanted from Samsung phones to the computer after previewing, including files saved in the internal memory like contacts, messages and call logs, and files saved in the external SD card like music, photos, videos, movies, music videos, books, audiobooks, apps, and etc. In addition, with the Import feature, you can also use this software to sync files from the computer to Samsung devices if needed and wanted.
Way 2 - One-click Backup & Restore: More conveniently, with the One-click Backup & Restore feature, you can quickly backup everything you need from Samsung to computer with one click, and also restore the backup files to Samsung device with one click. Also you can choose the files type you want to backup or restore before backing up or restoring. And you are free to create multiple backup files for one Samsung phone while you are free to restore any backup files to any Android phone, too. Most importantly, while restoring backup file to Samsung phone, it won't delete the existing data on your Samsung device unlike the built-in Backup & Restore feature of Samsung phone. That's cool, right?
What's more, this software is fully compatible with all brands of Android devices, including Samsung, Motorola, Sony, Huawei, HTC, LG, ZTE, OPPO, Meizu, and many more. For Samsung phones, it supports Samsung Galaxy S9+/S9/S8+/S8/S7/S6/S5/S4, Samsung Galaxy Note 8/Note 7/Note 6/Note 5/Note 4, Samsung J3/J3 Pro, Samsung Galaxy A9/A8/A7/A5 and etc.
Now, you can easily back up Samsung phone data and restore files to Samsung after you have backed up files from Samsung to the computer! Below are the free trial versions of this software! Want to give it a try by yourself? The following parts will show you how to backup and restore Samsung data with the two ways offered by Samsung Data Manager.
Way 1: Selectively Backup & Restore Samsung Phones with Export & Import Features
With the Import and Export feature, you can selectively backup and restore the Samsung data you want for your device after preview and selection. You can refer to the instructions as below to backup or restore your device.
Step 1. To start with, open the installed Samsung Data Manager on the computer and then get your Samsung devices connected to the computer via the USB cord. For the first time you connect your Samsung phone to this program, you might need to follow the onscreen prompt to enable USB debugging on your phone. Thus the program will be able to detect your phone and next time the program will automatically recognize your phone.
Step 2. After enabling USB debugging on your phone, this software will automatically detect and connect your Samsung device. Then you can see the below interface with your phone information and different files types.
Now, you can enter the different file folders on the left panel such as "Apps", "Music", "Photos", "Videos", "Books", "SMS", "Contacts", "Call Logs", etc. to preview more detailed information as wanted on the right window.
Step 3. While previewing, you can tick out the files you want to backup to the computer. Then just click on "Export" option to transfer files from Samsung phone to the computer as a backup. When you unfortunately lose important files from Samsung devices, you can easily restore Samsung device from the phone backup by clicking "Import" option.
You May Also Like:
How to Backup Samsung Galaxy S9/S8/S7 on Computer?
[Solved] How to Recover Samsung Data without USB Debugging
Way 2: How to Selectively Backup & Restore Samsung Data with 1-Click
With the 1 Click Backup & Restore feature, this Samsung Data Manager also allows you to backup all data with one click and restore data to any Android phone like Samsung from previous backup file with one click. Also you can choose the file types that you want to backup or restore for your Samsung phone. Thus you don't need to back up or retrieve Samsung files one by one.
Step 1. After connecting your Samsung phone to computer with a USB cable, please go to "Super Toolkit" section on the Samsung Data Manager. Then you might choose "Backup" or "Restore" option to move according to your needs.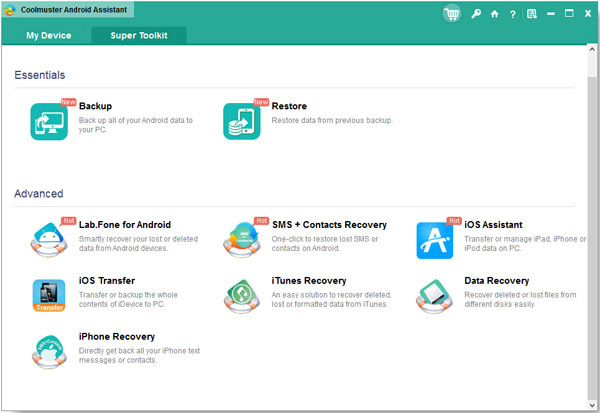 Step 2. Select "Backup" option if you want to back up your Samsung data, then please choose the contents you want to backup like contacts, apps, messages, photos and etc., choose an output location on computer to save your Samsung backups, and click "Back Up" button to save the selected on the destination.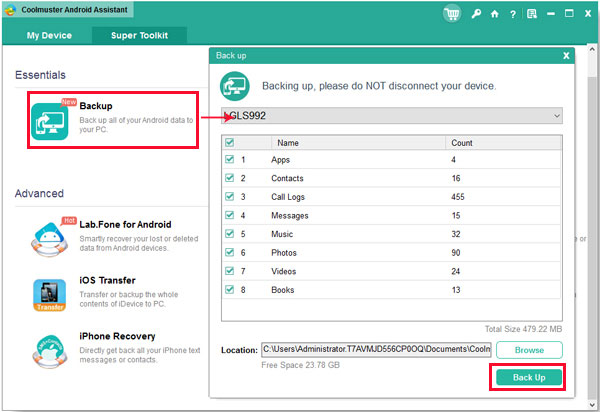 Step 3. Choose "Restore" option if you want to restore backup file to your Samsung phone. Then simply select a backup file you want to restore from the backup list, and make sure you have chosen your Samsung phone from the drop-down list. Now, please hit "Restore" button to restore the selected files to the connected Samsung phone immediately.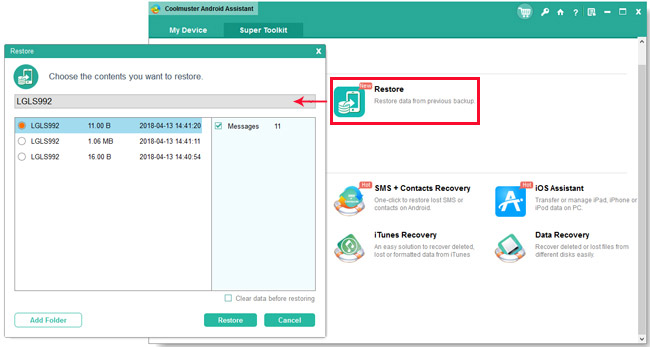 Part 2. How to Backup and Restore All Samsung Files via Samsung Account
Samsung comes with the backup and restore feature, which allows you to back up and restore all Samsung data directly on your Samsung device. This seems convenient, however, restoring the selected data from backup will delete some files from your device. So please make sure the backup file that you are going to restore is up to date, or backup Samsung data on computer instead.
Now, let's see how to backup and restore Samsung via Samsung account together.
Step 1. Unlock your Samsung phone, open Settings app and tap "Backup and reset" option.
Step 2. To back up Samsung, please tap "Back up my data" option. The you might be asked to sign in to your account, simply tap "SIGN IN" to log into your Samsung account or tap "CREATE ACCOUNT" option to create one Samsung account before logging in.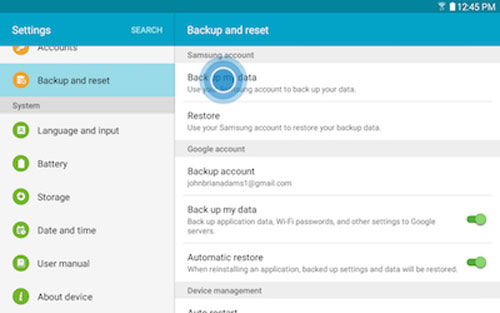 Step 3. Now, please select the content(s) that you want to backup under the section of "Content to back up".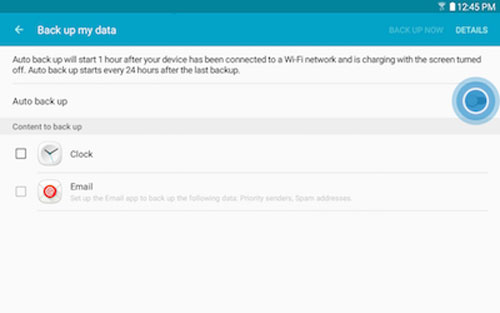 Here you can turn on "Auto back up" option if needed, this will backup or restore the My Profile section in the Contacts app.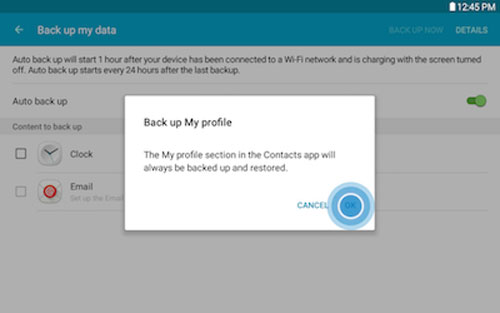 Step 4. Then please tap "BACK UP NOW" option on the top to start backing up the selected contents and wait till it completes.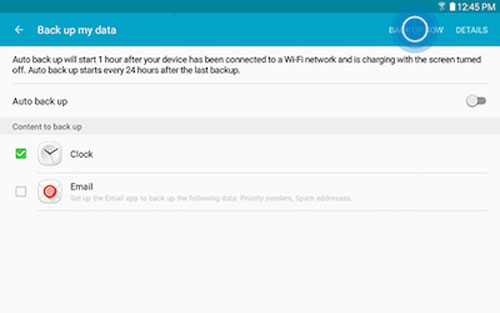 Step 5. To restore backups to Samsung, please tap "Restore" option from page of "Settings" > "Backup and reset".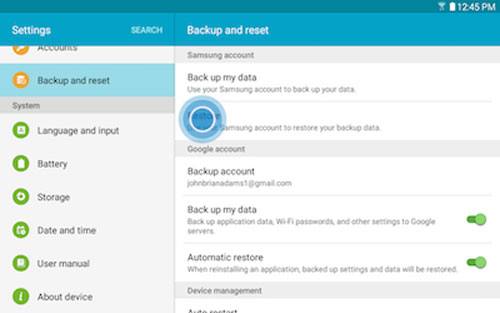 Step 6. Now, please choose the content(s) you want to restore, and tap "RESTORE NOW" option to start restoring files to Samsung device.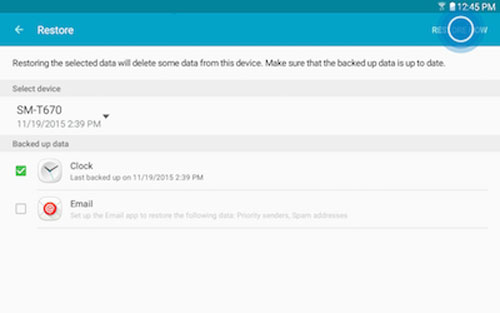 Words in the End:
Now, you have 3 different ways to backup and restore Samsung phone. You can choose one of them to backup or restore files for Samsung phone or any Android phones. Personally, I think that, with this Samsung Data Manager, Samsung backup & restore cannot be easier! So if this is exactly what you are looking for, then why are you still hesitating?
Related Articles:
Backup & Restore Samsung Galaxy with Kies
Best Alternative to Samsung Kies
How to Backup Samsung Galaxy to Cloud?
How to Transfer Data from Samsung SD Card to Computer?
How to Backup Samsung Media to PC/Mac?
Data Recovery on Samsung Touch Screen Cannot Be Used