Summary
Do you own a Samsung Galaxy phone? If so, then know this is among the best gadgets you can have. The best thing with this phone is that you can use the Samsung Kies tool to not only transfer files but also back up and restore them.
Samsung Kies provides access to all files and media on the phone. Besides, it enables one to easily and quickly create backups and restore them to your desired location or device.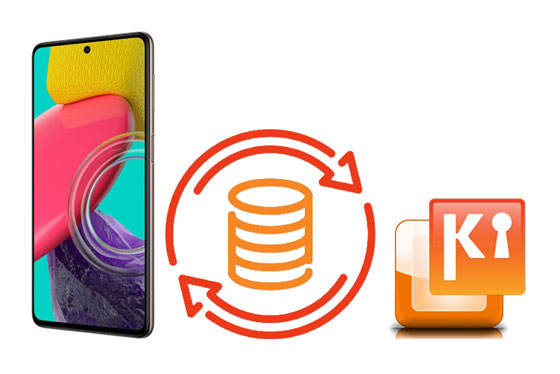 Part 1: Back Up and Restore with Samsung Kies
Samsung Kies is an app used on a computer to replace the Windows Mobile Device Centre. It may synchronize movies, images, contacts, music, and many more. So, users may download the software and sync it directly to their devices. As such, you can back up your data and restore the backup data to your phone using the Samsung Kies.
1.1 How to Back up Using Samsung Kies
Samsung Kies is a superb tool that gives you the opportunity of backing up your data for future use. So, with this software, you are sure to have your data safe and sound without worrying about it getting lost. You may back up almost every piece of data on your phone with this tool. Here is how to back up with Samsung Kies;
Step 1. Launch Samsung Kies and Connect the Samsung Gadget
Launch the Kies on the computer and connect your Samsung device to the computer using a USB cable. Once the program recognizes the phone, select "Backup & Restore" and click "Data Backup".
Step 2. Choose Data to Back Up
- As per your need, tick the files you wish to backup from the pop-up window displayed. Or, you may check the "Select all items" button to choose all. Once done, tap on the "Backup" option to automatically backup the data.
- Ensure you keep the Samsung gadget connected, then wait for the process to finish. Once done, tap the "Complete" tab.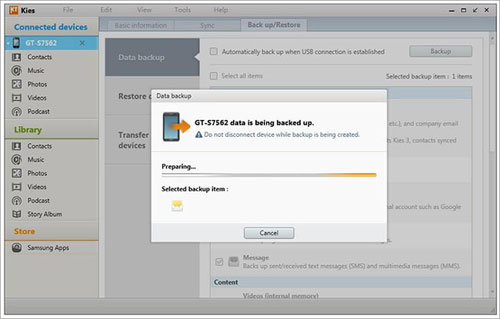 See more: If you want to transfer your Samsung contacts to your computer, click this link.
1.2 How to Use Samsung Kies to Restore Backup to Different Phones
Besides backup, Samsung Kies can restore your backup files to your Samsung devices. But please note that it cannot work on other Android devices except Samsung.
Step 1. Select the Backup Files
- Run the Samsung Kies on the laptop, then connect your Android device. Tap on the "Backup & Restore" icon and select the "Restore Data" option.
- Click the "Select folder" button from the window displayed to choose and load the previous backup file.
Step 2. Restore Data to Your Samsung Device
Once choosing the backup file, the software will extract the backup file automatically. Choose the data to restore and tap "Restore" to get the data to your phone.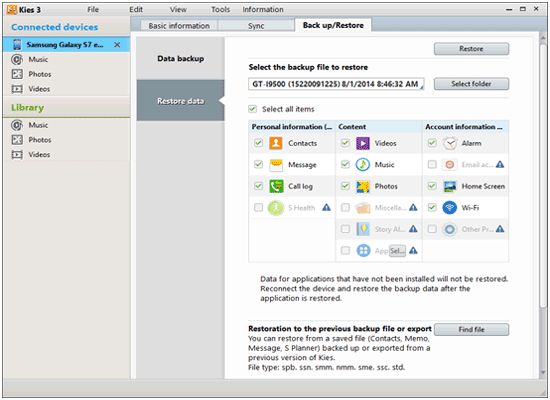 Bonus: Want to find a powerful Samsung Kies alternative? Then you can take a look at these suggestions.
Part 2: Back Up and Restore with Samsung Backup and Restore
Are you looking for an easy solution that can help you backup your data and, at the same time, restore it seamlessly? Then Samsung Backup and Restore is the tool to go for. This software is mainly designed to assist Android users in backing up and restoring their data in a quicker and simpler way.
Samsung Backup and Restore covers varied files and data, including call logs, photos, videos, music, messages, apps, and documents. This tool is highly compatible with many Android phones, including Huawei, Samsung, HTC, Sony, ZTE, Oppo, LG, and many more. Surely, you shouldn't miss out on using this software.
Download the backup and restore software.
2.1 How to Back up Android Device to Computer with 1 Click
Step 1. Run the Samsung Backup and Restore Software
After successfully installing the software, please connect your device to the computer with a data cable. Enable the USB debugging mode on the Android device. Then you will see the homepage as below.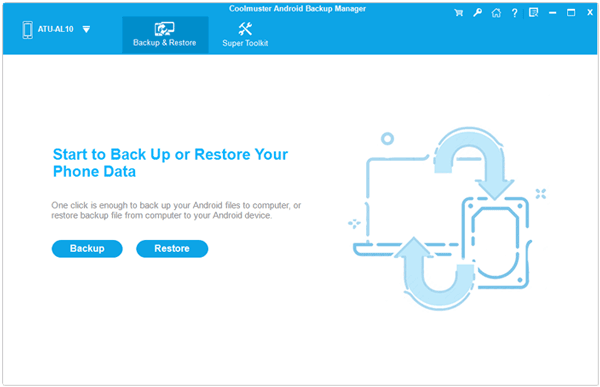 Step 2. Back Up Files to the Computer
Tap the "Backup" button and choose the content you wish to backup. Once done, select the location to store the backups on your computer and tap the "Back Up" icon to back up your Android data.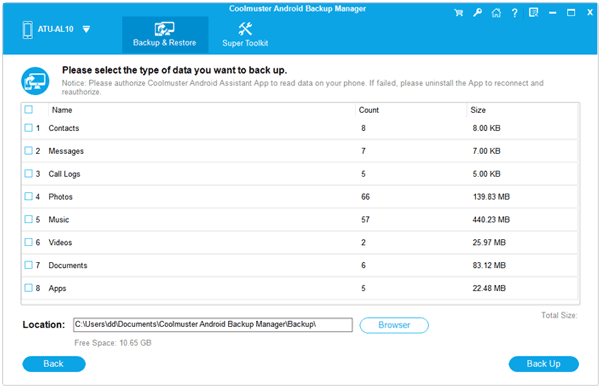 You might like:
HTC Backup and Restore: Back Up and Restore HTC Data in 4 Reliable Ways
How to Transfer SMS from Samsung Galaxy to Computer Effectively?
2.2 How to Restore Backup from Computer to Different Android Phones
After backing up your data successfully, let's see now how to restore your data to a different Android phone.
Step 1. Make a Connection
Run the software on the computer. A window will be displayed, and then connect an Android phone to your computer.
Step 2: Restore Data from Computer to the Phone
Choose the "Restore" option, and select a backup file you want to restore. Then tick the file types, and tap the "Restore" button. Wait for some time for the process to finish.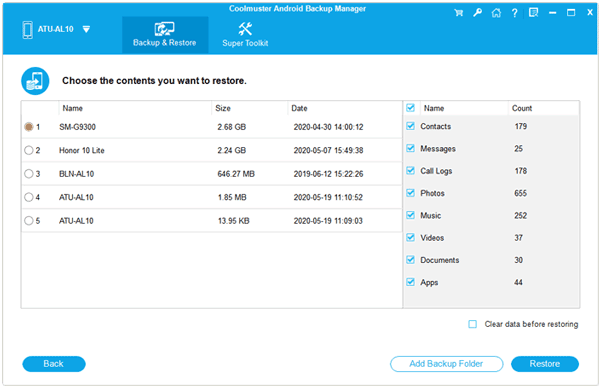 Conclusion
There you have it. You now know how to back up data with Samsung Kies and also restore the data. Simple right? I know. So, with the backup Samsung Kies, no more worries about data loss. Besides, you will be able to ensure your data is safe, and if at some point in time you wish to restore the data to a different phone, Samsung Backup and Restore is there to help. This software can work for more Android devices.
Related Articles
Samsung Tablet Data Recovery - 3 Best Ways to Recover Deleted Data on Samsung Tablet
[Updated] How to Transfer Contacts from Samsung to Samsung?
Samsung Smart Switch Alternative: 6 Equivalents Worth Pursuing
[Proven] 4 Helpful Tips on Samsung Kies for Windows 10
How to Back Up Galaxy S7 Easily? Have a Look at These 4 Effective Ways
ZTE Backup and Restore: 4 Fast Backup and Restore Ways You Can Choose