Summary
Are you intending to switch to a new Android phone? That's fantastic. You can use your awesome cellphone with an advanced operating system and powerful CPU. But please do not forget your important data on the old Android phone, such as contacts, photos, SMS, and more. Thus, this article will teach you how to switch Android phones effortlessly. You can refer to the 4 methods in the following.
By the way, you will learn what to do before switching Android phones at first, and then get the detailed guide on data transfer.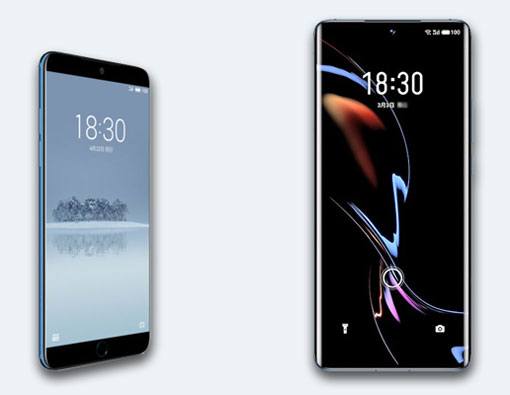 Tips: Things to Do before Switching Phones
Before switching Android phones, you'd better back up the data on the old device. Backup can avoid losing data effectively. Then fully charge both Android phones, and unlock them. What's more, please do not erase your old phone until you complete the data transfer.
Part 1: How to Switch to a New Android Phone via Android Data Transfer? (Efficiently)
How can you quickly switch to a new Android phone? Please don't miss this Android data transfer tool - Samsung Data Transfer. It can copy almost all files to your new Android phone in 1 click, including contacts, SMS, apps, music, photos, etc. To some extent, It is the easiest way to swap Android phones. Also, it can transfer data from iOS to Android without trouble.
With this Android transfer software, you can:
- Move photos, videos, documents, call logs, contacts, text messages, and more from Android to Android with original quality and formats.
- Connect your Android phones to your computer via USB cables or Wi-Fi.
- Freely select file types on the interface before copying data.
- Swiftly move data from iOS to Android and vice versa.
- Move calendars, contacts, books, bookmarks, and notes from one iOS device to another.
Moreover, it is highly compatible with many Android and iOS devices. For instance, it can work for Samsung Galaxy A7/Tab S7/Tab S7 FE/Tab A 8.4/Tab S6/Tab S, HTC Wildfire E3/Wildfire E2/Wildfire E1 lite, ZTE Axon 30 Ultra/Axon 30 Pro/S30/nubia Z30 Pro, iPhone 12/11/X/XS/8/7, iPad, iPod Touch, and so on.
Download the Android data transfer software for free below.
Guide on changing Android phones in 1 click:
Step 1. Launch the App
Please install the transfer software on your computer, and launch it on the desktop.
Step 2. Connect Android Phones to Computer
Use USB cables to connect your Android phones to the computer, and enable USB debugging mode on both smartphones.
Step 3. Migrate Android Data to the New Phone
- Once connected, please select the data types you want on the panel, and click the "Start Copy" icon to begin swapping phones.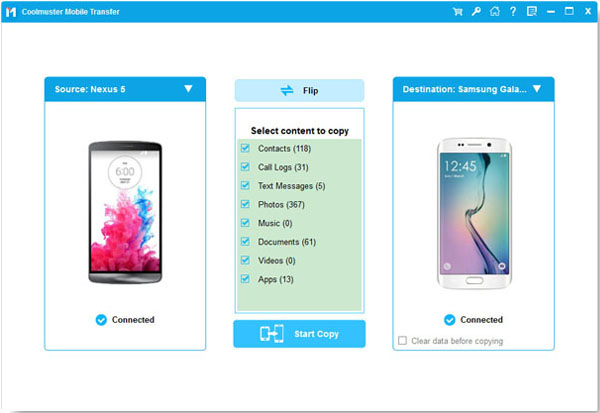 - After you finished, you can view the data on your new Android phone.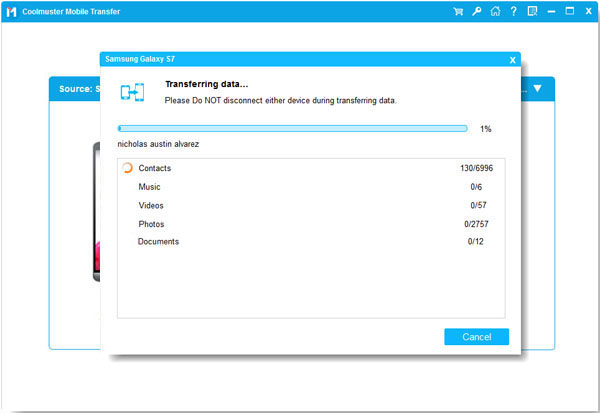 Bonus: Got a brand new iPhone 12? It's cool! More surprisingly, you can swiftly move files from an iPhone to another without iCloud.
Part 2: How Do You Change Phones via Google Drive?
How do you change phones wirelessly? In general, you can choose to use Google Drive. As long as you have a Google account, you can back up your Android data to your Google Drive via a network. You can install Google Drive on your phone for uploading files, or you can directly switch on Google backup the mobile phone for data synchronization.
Tutorial on migrating Android phones via Google Drive:
Step 1. Back Up Files to Google Drive
- Please open the Settings app on your old Android phone, and tap the "System" > "Backup" option. Then turn on the "Back up to Google Drive" icon.
- Next, click the "Accounts" > "Add account" option to enter your Google account. It will begin to back up your data to Google Drive.
Step 2. Sync Data to New Android Phone
Now go to Settings on your new phone, and add the same Google account to it. Then enable the Google backup feature. Next, tap the account, and click the "Sync now" icon to transfer the backup data to your new device.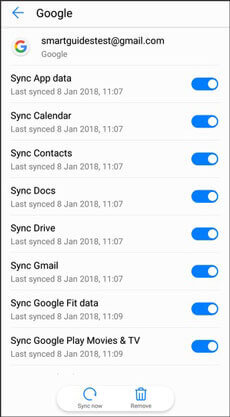 Read also: Want to keep your important text messages forever? It's easy. You can now transfer SMS from Android to a computer without effort.
Part 3: How to Switch to a New Phone via USB Cables Manually?
If you don't want to use any application to move Android data to the new phone, you can use USB cables to transmit data manually. In this way, you can copy your media files, but you can't directly import your contacts, text messages, and call history to your new Android phone.
Steps on manually migrating Android phones via data cables:
Step 1. Connect Smartphones to the Computer
Please link both Android phones to the computer via data cables, and choose the "MTP" option if prompted.
Step 2. Manually Select Data
Launch This PC, choose and open your old Android phone. Then select the files you want, and right-click the mouse to choose the "Copy" option.
Step 3. Transfer Your Old Phone Data to Another Phone
Access your new phone on the computer, and open a folder. Next, paste the copied files onto the folder. Once done, you will finish swapping phones.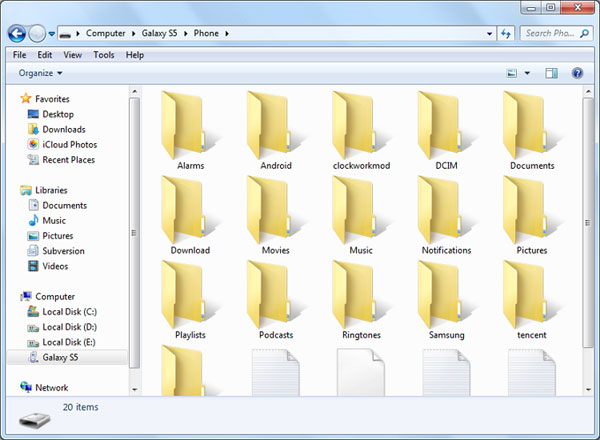 Further reading: Deleted important data from your Android phone? Please use these methods to recover the deleted data immediately.
Part 4: How to Transfer Data to a New Android Phone with Manufacturer Transfer Apps?
How to switch phones and keep everything? Actually, You can also utilize a manufacturer transfer app. To attract more users, most mobile phone manufacturers have developed their own transfer apps, such as Samsung Smart Switch, OnePlus Switch, LG Mobile Switch, Huawei Phone Clone, etc.
That means you can use the transfer app created by the brand of your new Android device to move data. Besides, operation steps vary from app to app. Thus, if you need an accurate guide, please visit their official website to get help.
Here's how to transfer files to a new Android phone via a manufacturer transfer app:
Step 1. Download the App
- In general, you can directly find the app on your new phone without download. For example, Smart Switch is a pre-installed app, and you can find it on Settings.
- But you need to download it from Google Play or its official website to your old Android phone.
Step 2. Make a Connection
Run the application, and confirm which device is the sender and which device is the receiver. Then you are required to connect your old phone to the new phone via a cable or a network.
Step 3. Switch Data to the New Phone
Finally, you can choose what you want to send, and start transferring data to the new device.

Conclusion
You have learned all methods on how to switch Android phones from the previous sections. So, it is time to transfer data to your new phone. If you want to make it in 1 click, please try this Android file transfer software - Samsung Data Transfer. It can move all kinds of data types at once. Additionally, we would be grateful if you share other practical transfer methods with us in the comments part.
Related Articles
How to Remove Duplicate Contacts in Android Quickly | 5 Ways [Updated]
[Fast Transfer] How to Transfer Your Photos from iPhone to Android Effectively?
How to Transfer Contacts from Android to Android? [Effective]
SIM Card Data Recovery: Recover SIM Card Data on Android (3 Ways)
Transfer Music from Mac to Android -- 5 Simple Ways Enough
Wonder How to Back Up Android to Mac? Here Are 6 Ideal Answers!