Why Set Up Some Sort of Lock Security on Your Android Lock Screen Pattern?
Before we talk about what to do if we forget Android lock screen pattern, we list some cases for the reason why people set up some sorts of lock security on your Android lock screen pattern.
Case 1 - When you have sensitive information and files in your android phone and you would dread someone viewing them. The android lock screen pattern ensures that you are the only person who can access the files.
Case 2 - When you want to personalize your phone. This is a personal device and you can have all the settings personalized.
Case 3 - To identify with other android touch screen owners. Some people fancy drawing the pattern as they unlock the phone and may do it for fun and simply because it is trending.
Case 4 - To keep boundaries from those around you and want to use your phone.
What to Do If You Forget Your Android Lock Screen Pattern?
If you forget the lock screen pattern, password or pin on your Android devices, then you cannot use the phone to communicate then it becomes irrelevant. However, this does not mean you through your android phone away. There are a number of ways to access your phone.
Solution 1. Using your Google account
If you have a Google account, you can simply tap on the "forget password" to enter your Google username and password. Just follow the steps and you will recover any password to access back to your phone.
Solution 2. Perform a factory reset
If the above solution doesn't work for you, you have to try another solution - restore factory settings. Just power off your device, then hold down the Volume Down key and the Power/Lock key at the same time. Tap on the "Factory Reset" option using your volume keys.
Solution 3. Using Google's Android Device Manager
If you have the Android Device Manager enabled, you can go to its website using another device. For this purpose though, you will need your Google Account details. Once you've logged in, select your device and click on 'erase'. You will gain access back to your phone, but your memory will be erased.
Additional: Backup Android Data with Android Assistant
Why not keep a backup of your Android data in case of data loss problem? Coolmuster Android Assistant is your ideal Android data backup tool which supports backing up and restoring up 7+ types of data including contacts, text messages, photos, videos, music, apps, documents, etc. between your Android device and computer. It also allows you to download and install your favorite apps. You can also be able to enjoy your favorite music, video, and photos from any point as you can transfer them to the favorite location of your computer. The program is compatible with all Android brands, including Samsung, HTC, LG, Sony, Motorola, ZTE, Huawei, etc.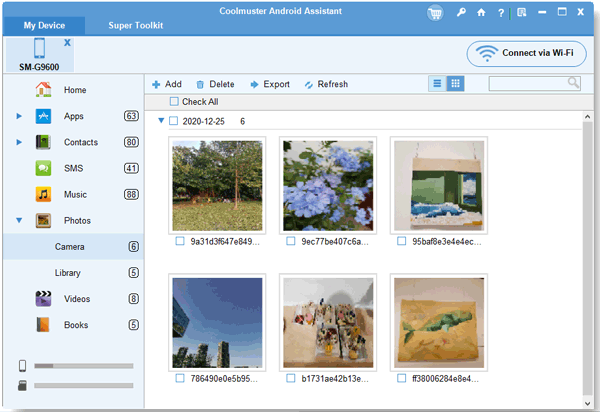 Related Article:
Transfer Text Messages from HTC Phone to Computer
Transfer Contacts from HTC Mobile Phone to Computer