Summary
Have you stored contacts, photos, messages, and more on your Galaxy S4? Yes? And you set a PIN code to secure your personal data? If you have already leave your Galaxy phone alone for a long time, it is not strange to forget the PIN code.
If you face this situation, please let this article help you. There is no doubt that you can unlock your phone, since it will tell you how to unlock Galaxy S4 PIN code with 5 methods.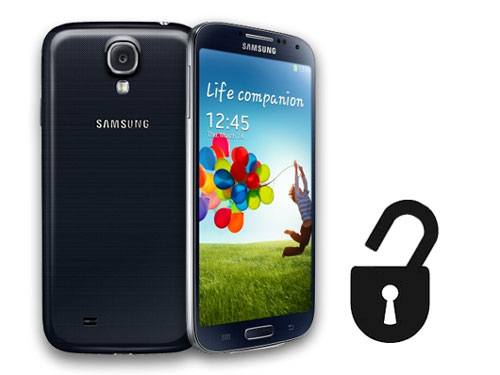 Part 1: How to Unlock Galaxy S4 PIN Code via Galaxy Unlock Software (Fast)
Have you locked out of Galaxy S4 and forgotten the PIN code? Forgetting the PIN code means losing all data from the phone? Chill, buddy. If you use this Galaxy Unlock Software, you can remove the PIN code without losing files. It can also unlock the password, fingerprint, and pattern, and no skills required. With the simple steps, you can unlock your Galaxy phone.
Main features of this Galaxy S4 unlocking program:
- Get rid of the lock screen of your Galaxy S4 without data loss.
- Remove 4 types of locks without hassle.
- Support you to bypass LG phones without deleting your files.
- Highly compatible with most popular Android devices, such as Samsung Galaxy S21/S20/S10/S9/8, LG G8/G7/G6/G5, Xiaomi Mi 11/Mi 10/Mi 9/Mi 8, OnePlus, Motorola, Sony, ZTE, Google, Huawei, OPPO, Vivo, and so on.
Download the Galaxy Screen Unlock software for free below.

Guide on How to unlock Samsung Galaxy S4 without password via this utility:
Step 1: Install the Software
Please download and install the software on your Windows computer. Then launch it, choose the "Unlock" module, and connect the Galaxy S4 to the computer via USB.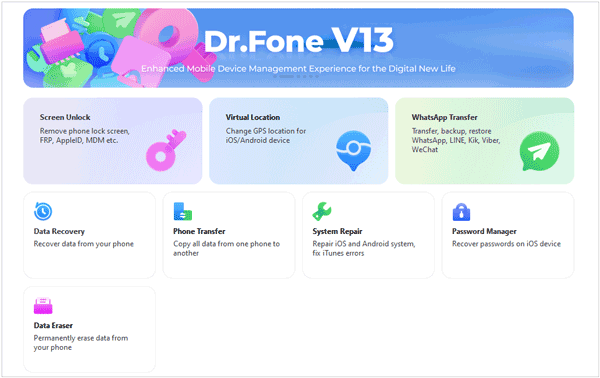 Step 2. Enter Recovery Mode
Select your device model from the list on the interface, and tap the "Next" icon. Next, follow the on-screen guide to get your Galaxy phone into the Download Mode. It will download the recovery package.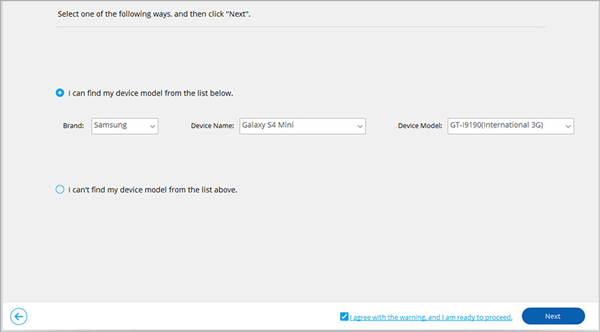 Step 3. Unlock Samsung Galaxy S4
After that, tap the "Remove Now" button to begin the unlocking procedure. As it is over, you can access your phone without the PIN code.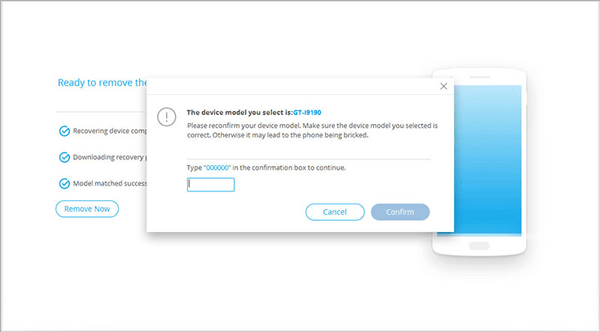 Bonus: Looking for ways to transfer text messages from the Samsung phone to the PC? You are in the right place. Check it out and you will get 4 powerful ways.
Part 2: How to Unlock Samsung Galaxy S4 PIN Code Using the Hard Reset
Forgot the password on Galaxy S4? Have you tried the hard reset? It is a useful function on almost all Galaxy smartphones. Therefore, you can unlock your Samsung Galaxy S4 in this way. However, you will lose all the data after resetting your phone. If you want to get the deleted files back, perhaps you can recover data with a professional recovery program.
Here's how to unlock the Samsung Galaxy S4 PIN code via a hard reset:
Step 1. Remove the SD Card
If you insert an SD card into the phone, please remove it now. And power off your Galaxy S4.
Step 2. Enter the Recovery Mode
Hold the "Power" and "Volume Up" buttons simultaneously till the Android mascot shows up.
Step 3. Reset Your Galaxy S4
Use the Volume buttons to choose the "Wipe data/factory reset" option, and tap the Power button for confirmation. Next, select the "Yes" and "Reboot system now" options. It will eliminate the PIN code from your Galaxy device.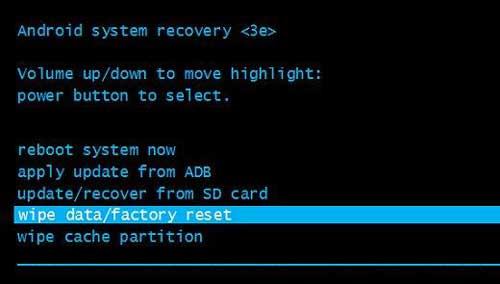 Read also: This article concentrates on how to recover deleted contacts from the Samsung phone. If necessary, please take a look.
Part 3: How to Unlock Samsung Galaxy S4 Lock Screen with Find My Mobile
Find My Mobile is for all Samsung users, supporting you to unlock the Samsung Galaxy S4 remotely. Moreover, it will not wipe your files. Additionally, its major features contain locating, locking, wiping, and ringing the Samsung phone. It is so excellent, right? But it only works as you have signed in with your Samsung account on its website and your handset.
Tutorial on how to unlock Samsung Galaxy S4 lock screen using Find My Mobile:
Step 1: Browse the Webpage
Please open the Find My Mobile Website on your computer, and tap the "Sign in" icon to enter your Samsung account attached to your Galaxy S4.
Step 2: Unlock Galaxy S4
Click the "Unlock" icon twice, and type your Samsung account and password. A few seconds later, it will unlock your Galaxy S4 successfully.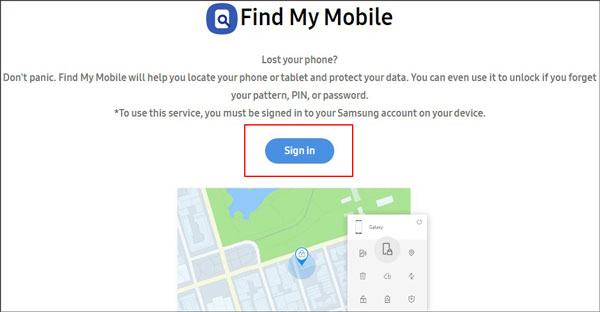 Further reading: Are you worried about your lost photos? Take it easy. You can now restore lost photos from Samsung via these 4 solutions.
Part 4: How to Unlock Galaxy S4 Password with Find My Device
Forgot PIN on Galaxy S4 and the password of your Samsung account? Don't worry. You still have another way to remove your lock from the cellphone, which is Find My Device. As long as you have added your Google account on the phone and known the password, you can get help from this section.
Steps on how to unlock Galaxy S4 Password via Find My Device:
Step 1: Open Find My Device
Please open the Find My Device webpage on your PC, and log in with your Google account.
Step 2. Erase Your Galaxy S4
- You will see your Galaxy S4 on the interface. To remove the locking screen, please tap the "ERASE DEVICE" option. Then, type your Gmail address and the password again.
- Next, choose the "Erase" option to begin erasing all files and settings on your smartphone. Once finished, you can enter your phone without a PIN code.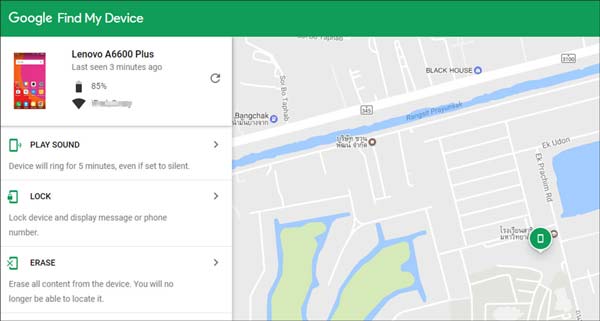 Maybe you need: Planning to back up the Samsung Galaxy S7? Now you can finish the backup with ease if you get these ways.
Part 5: How to Bypass Galaxy S4 Lock Screen by Dialing the Special Number
Dialing a special number can be helpful to bypass your Galaxy S4 lock screen, but it is not as reliable as the previous methods, and operation is slightly complex. If your Galaxy phone is important to you, you'd better not use this method.
Here's how to bypass your Galaxy S4 by dialing a number:
Step 1: Go to the ServiceMode Menu
Launch the dialer and enter "#27663368378#". You will get the "ServiceMode" screen. If this number doesn't work, please type "#0011#" instead.
Step 2: Select the Debug Screen
- Click the "Menu" > "Back" icon. Then tap the "Menu" icon again, and press the "Key Input" option. Now enter "1" and click the "OK" option.
- Next, you will see the UMTS MAIN MENU screen. Please hit the "[1]DEBUG SCREEN" > "[6]PHONE CONTROL" > "[6]NETWORK LOCK" > "[3]PERSO SHA256 OFF" icon.
Step 3: Remove the Lock Screen on Galaxy S4
Go back to the MAIN MENU screen, and select the "[6]COMMON" > "[6]NV REBUILD" > "[4] Restore Back-up" option. Your Samsung S4 will reboot immediately. After it is over, your phone will be unlocked.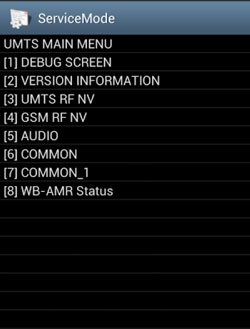 You might like: Is there a Samsung manager that can organize your Samsung data without hassle? Yes! Please don't miss this post.
Extra: How to Change SIM PIN on Galaxy S4
Want to change your SIM PIN on the Galaxy S4? Well, please don't miss the extra tips here.
Go to Settings, and tap the "More" > "Security" > "Set up SIM card lock" option.
Then click the "Lock SIM card" icon to choose the Check box and enable the SIM card lock.
Tap the "Change SIM PIN" option, enter the current SIM PIN, and tap on OK.
Type your new SIM PIN twice and click OK. You will change your SIM PIN.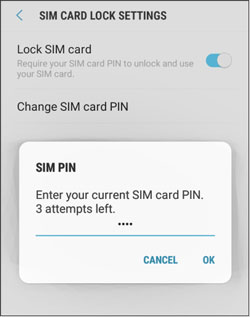 Bonus: With these 5 methods, you can also unlock Galaxy S5 without hassle.
Conclusion
Is this post help you solve the problem of how to unlock the Galaxy S4 PIN code? Have you used the Galaxy Unlock program? It can remove your lock from the phone without wiping files. That's why more and more people select this approach. Anyway, hopefully, these unlocking methods will meet your requirements.
Related Articles
Back Up Galaxy S10 - 6 Methods on Samsung Backup and Restore
Solved: Where is Samsung Galaxy Recycle Bin and How to Recover Deleted Files? (2021)
How to Retrieve Deleted Call Logs on Samsung Galaxy? - 4 Methods
How Do I Back Up Photos on My Samsung Galaxy? [6 Ways in 2021]
How to Back Up Samsung Galaxy S8 in 6 Different Ways?
Samsung Galaxy Recovery - How to Recover Deleted Files from Samsung Galaxy in 2021?