Summary
How to delete bookmarks on Android phone? When browsing webpage on Android phone, many people usually add some bookmarks to make it easy to find the webpage later. However, the bookmarks on Android device could become needless after some time. So how to delete bookmarks on Android phone? Let's see how to solve this problem together.
Method 1. Remove Bookmarks on Android Phone One by One
You might have added bookmarks on different websites, such as Google, Wikipedia, Amazon, Facebook, Twitter, BBC, Yahoo, Baidu and etc. Don't worry, you can delete them from your Android phone. But you can only delete one single bookmark on Android phone at one time. Let's how to make it.
Step 1. Launch the Web browser that contains the unwanted bookmarks on your Android phone.
Step 2. Locate the bookmarks on the Web browser. On most Web browsers like FireFox or Google, simply tap the address bar and select "Bookmarks" tab.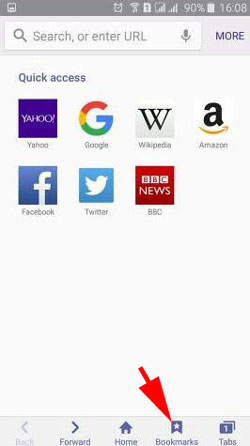 Step 3. Choose one unwanted bookmarks from the list, then press and hold the bookmark for a while.
Step 4. On the pop up menus, please choose "Delete bookmark" option to remove it from your Android device.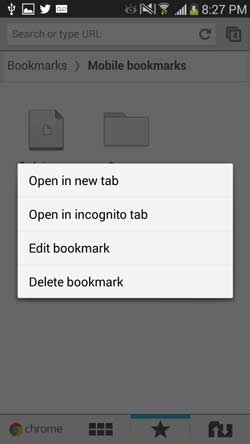 Step 5. Repeat the above steps to delete another bookmark from your Android device.
You May Like: How to Delete Contacts on Android Devices
Method 2. Delete Bookmarks on Android Device Effectively
In order to effectively delete bookmarks on Android device, it is recommended to have the professional Android Bookmarks Cleaner (Windows/Mac) - Samsung Eraser at hand. With it, you can delete all bookmarks from your Android phone at a time, including the bookmarks from all browsers like Google, Wikipedia, Amazon, Facebook, Twitter, BBC, Yahoo, Baidu, etc.
Besides Android bookmarks, you can also delete the other Android data, such as photos, videos, contacts, text messages (SMS), call history, search history, notes, documents and etc. And it is fully compatible with all Android devices, including Samsung, Huawei, LG, HTC, Sony, Motorola, ZTE, OPPO and etc.
Now, please download this Android cleaner in Windows or Mac version on your computer as below to easily delete Android bookmarks.
[User Guide] Steps to Delete Android Bookmarks safely:
Tips: Before going further, please remember to backup your Android data at first, avoiding losing data you need.
Step 1. Run the cleaner software on your computer after downloading and installing, and link your Android phone to computer with a USB cable. To successfully detect your device, please enable the USB debugging mode on Android.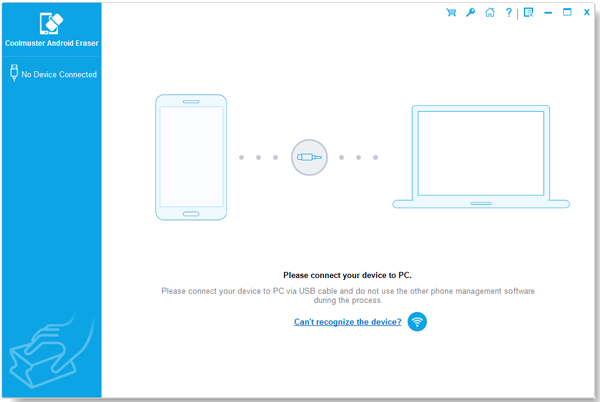 Step 2. When the program detects and recognize your Android device successfully, please tap the "Erase" icon.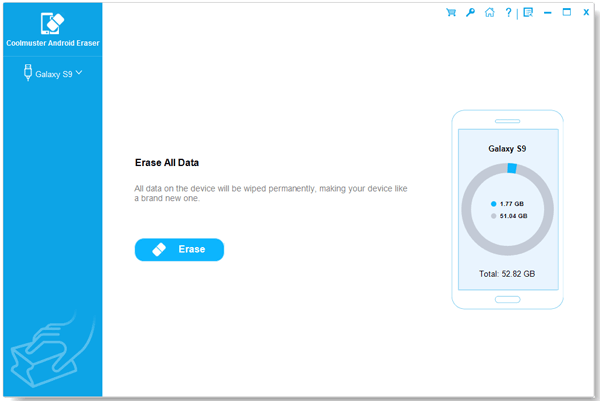 Next, please click the "Medium" icon to choose an erasing level from the interface, and hit the "OK" icon.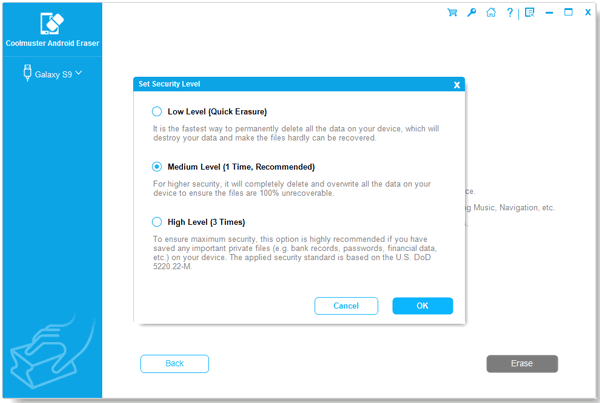 Step 3. To delete bookmarks on Android phone, please type the "delete" word into the blank, and click the "Erase" button at the bottom right. Then tap the "Yes" on your Android phone for confirmation. The software will start to delete all data from your Android device, including the bookmarks on Android.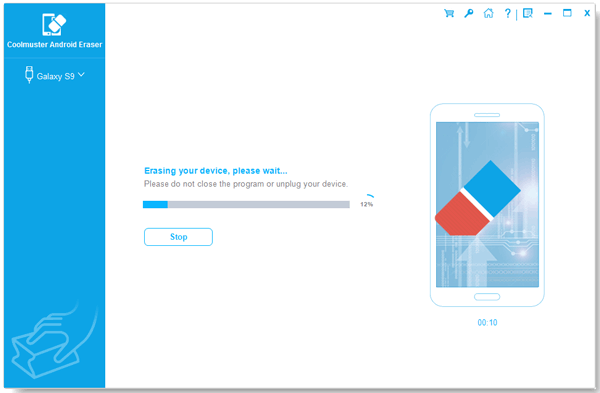 Well, the whole process is done. Se easy! If you need to restore your data to your Android device, please check the user guide on how to backup and restore Android device.
Conclusion
Now, the description of these two methods of deleting bookmarks on Android is complete. You can freely choose one to remove your bookmarks securely. Certainly, the bookmark cleaner - Samsung Eraser is more efficiently than the manual method. Download it, then you can wipe your Android files thoroughly.
Related Article:
How to Delete Backup on Android Phone Completely [Fixed]
How to Permanently Erase Data on Samsung without Restore
How to Transfer Contacts from iPhone to Android [6 Ways You'd Better Know]
How to Permanently Delete Deleted Text Messages on Samsung | 3 Efficient Ways Here