Summary
Sometimes, we need to delete useless text messages to free up space on the mobile phone. And when we intend to sell our old phone, we would delete all the data, including text messages. However, the manual deletion is not thorough. If someone else wants to steal your information purposely, your SMS would be recovered possibly.
Therefore, we will talk about how to permanently delete deleted text messages on Samsung in the following. After knowing that, you will clean up your Samsung device completely and trade your old phone securely.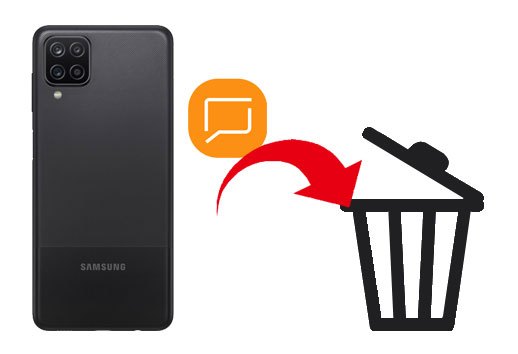 Part 1: How to Permanently Delete Deleted Text Messages on Samsung (Completely)
"How to permanently delete items on S4? I have a new phone now and want to sell the old one. But I really worry about leaking my private information. What am I going to do?" Actually, plenty of people have encountered a similar problem like that. If you also want to know the answer, please pay attention to this section.
To permanently delete text messages on Samsung Galaxy, Samsung Eraser offers you 3 security levels. The High level will erase your Samsung phone 3 times. All the Samsung text messages will be cleared up without recovery.
Key features and advantages of Samsung Eraser:
- Thoroughly delete text messages within simple clicks.
- Support to quickly wipe out videos, music, contacts, call logs, photos, Gmail accounts, passwords, books, user names, etc.
- Delete not only the existing data but also the deleted files on your Samsung device.
- USB and Wi-Fi connections are available.
Furthermore, it is compatible with a wide range of Samsung devices and other brands of Android phones and tablets, such as Samsung Galaxy S20/S10/S9/S8/S7/S6/S5/S4, Samsung Note 20/Note 10/Note 9/Note 8/Note 7, Samsung A71/A70/A51/A50/A31/A31s, Samsung Galaxy Tab S/Galaxy Tab 4/Galaxy Tab S5e/Galaxy Tab S6/Galaxy Tab A/Galaxy Tab A 8.0, OnePlus Nord/8 Pro/8T/8/7T Pro/7T/7 Pro/7, Sony, Huawei, Xiaomi, OPPO, Vivo, Google, ZTE, LG, and more.
Download the Samsung Eraser for free below.
How to permanently delete text messages on Samsung Galaxy S7 with Samsung Eraser:
Step 1. Download the Software on the Computer
Please download and install it on the computer. Then open it and connect your Samsung Galaxy phone to the computer with a USB cable. You will get the below interface.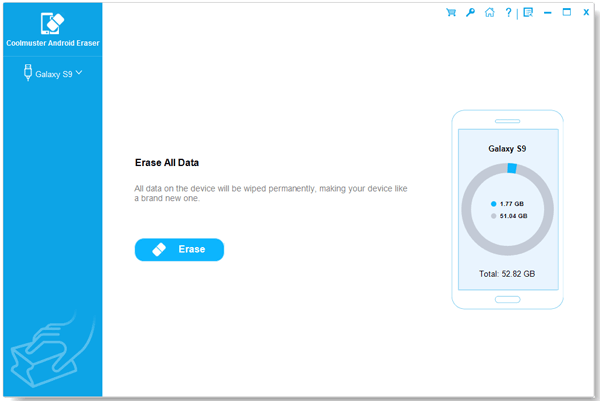 Step 2. Set Up Security Level for Erasing
Once connected, please tap the "Erase" icon to choose the security level on the interface. Then type the "delete" word for confirmation.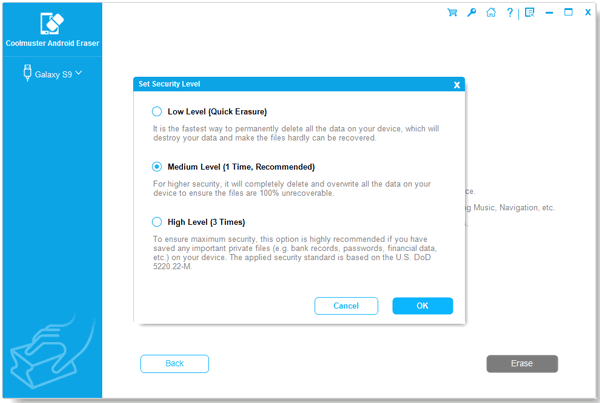 Step 3. Erase Samsung SMS and Other Data
To start the erasing process, please hit the "Yes" option on your Samsung device. Please wait for a while, and it will erase all text messages and other Samsung data without the restoration.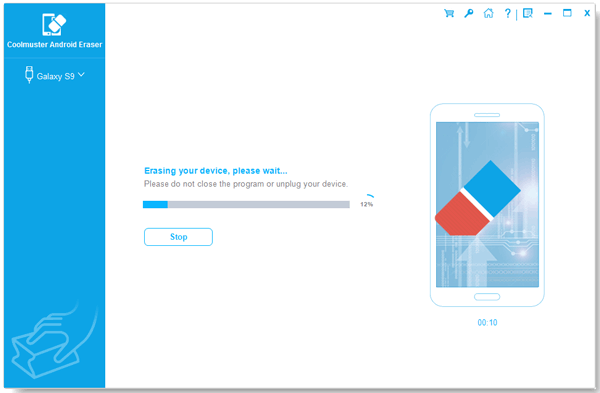 Tips: To prevent wiping helpful data by mistake, please back up your Samsung data before erasing it.
Part 2: How to Delete Text Messages on Samsung Galaxy with Factory Reset
Maybe you want to release storage space on your Samsung phone by deleting text messages. In this way, the factory reset is a nice choice. It is a built-in feature on your handset so that you can directly implement it on the device. Please note that it is possible to retrieve your text messages on the Samsung Galaxy phone.
How to delete text messages on Samsung S8 with the factory reset:
Step 1. Turn off Samsung Smartphone
Please turn off your Samsung cell phone first and hold down the "Power" button.
Step 2. Enter Recovery Mode
Then press the "Volume Up," "Bixby," and "Power" keys together for seconds. You will see the Samsung logo. Please wait for seconds. You will enter the Recovery Mode.
Step 3. Initiate the Factory Reset
- Please select the "Wipe data/factory reset" option using the "Volume" buttons. And you can confirm the operation by pressing the "Power" button.
- At last, please select the "Yes -- delete all user data" option on the screen. Once done, you can reboot your Samsung phone.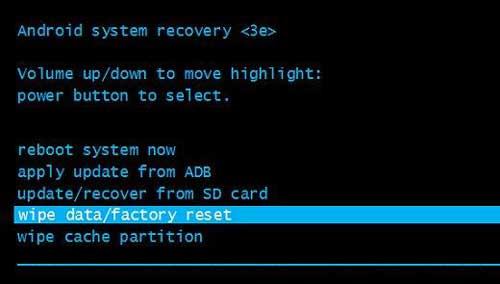 Read also: To save some specific information for legal purposes, it is vital to know how to print out text messages from Samsung Galaxy. Check this post, and you will get 3 effective ways.
Part 3: How to Delete Text Messages on Samsung Phone Manually (Recoverable)
If you just want to delete multiple text messages on the Samsung phone, you can manually delete it. You will find it easy to operate, but it is time-consuming to delete groups of messages by hand. More importantly, your text messages won't be deleted permanently in this way.
How to remove text messages on the Samsung phone manually:
Step 1. Launch Messages App
Please unlock your phone and enter the Messages app.
Step 2. Select Messages for Deletion
- To remove the whole conversation, please long-press the conversation, and tap the "DELETE" icon on the top.
- To eliminate specific text messages, you need to click the conversation and select the desired text messages by long-pressing. Then you can delete them with ease.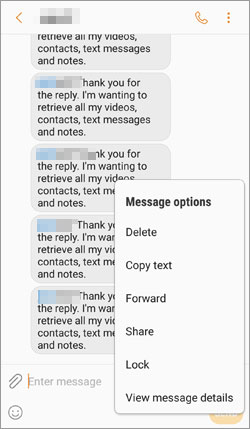 Conclusion
These 3 ways mentioned above can help you delete text messages, but only the Samsung Eraser can permanently delete Samsung text messages without recovery, including the existing and deleted messages. It is recommended that you choose it to erase your Samsung SMS if you plan to trade or donate your handset. It can protect your important information from leakage.
If you have further queries about the topic, please drop us a line in the comment zone. We will respond to you soon. Thanks for reading.
Related Articles
How to Transfer Text Messages from LG Phone to Computer with 4 Ways [Updated]
How to Transfer Text Messages from Samsung Galaxy to PC [4 Methods]
How to Transfer Text Messages from Android to Android? [4 Easy Ways]
Android SMS Manager: How to Manage Messages on Android with 3 Practical Methods
Samsung Contacts Recovery - How to Recover Deleted Contacts from My Samsung Galaxy Phone?
How to Back Up Note 8 without Effort? Get Help with These 5 Useful Ways