As mobile phone is becoming smarter and smarter, it helps simplify plenty of matters in our life. It has been the most popular smart phone all around the world because of its slick user experience and numerous of applications. However, it doesn't mean that we are able to operate our Android phone without any problem. If you have hundreds of contacts stored on your Android phone, it may be a little inconvenient to manage these contacts if the contact list is a mess. So it will be helpful if you have an Android contacts editor to help you edit, add and delete contacts on your Android phones.
The Best Android Contacts Editor You'll Need:
Under such circumstances, here I'd like to recommend you this Coolmuster Android Contacts Editor (Windows/Mac), which enables you to modify Android contacts information on computer without any hassle. Let's take a look at what kinds of Android contacts managing skills we can enjoy from this Android contacts editor:
- Delete needless and duplicate Android contacts on computer (see the guide - delete contacts on Android).
- Add new contacts to Android phone from computer.
- Export contacts from Android phone to computer for backup (see the guide - transfer Android contacts to computer).
- Import vCard files (VCF contacts) and restore contacts from backup files in .json and .bak.
What's more, this Android Contacts Editor can also act as a Media + SMS + Apps assistant. With it, you can backup and restore SMS, photos, videos, music, delete data and send group messages and text to anyone as you want on computer. This tool is quite functional, if you want to know more features about it, you'd better try it by yourself.
Here are free trial versions for the Windows and Mac versions of the Android Contacts Editor, you can choose to download the right version according to your computer system. Then follow the next guide to see how to edit Android contacts on computer by using it.
You May Also Like: One Click to Transfer Files from Android to Android
Steps to Edit Android Contacts on Computer with Android Contacts Editor
Note: As this guide will take the Windows version as an example, Mac user can download the right version and act as the similar steps to open it on Mac computer.
Step 1. Connect Android Phone to PC and Open the Program
After downloading and installing the Android Contacts Editor on your computer, please double click to run it. Then link your Android mobile phone to computer via a USB cable or WiFi. It will be detected by the program and soon you will get an interface as shown.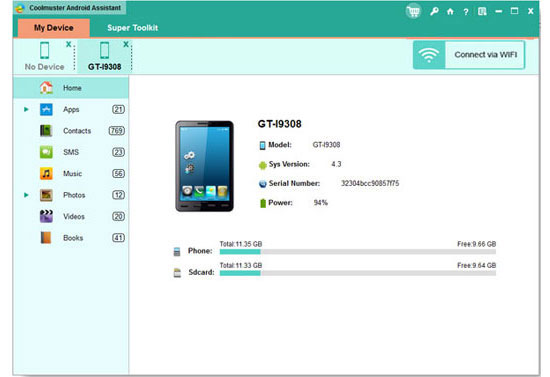 Step 2. Freely Edit Android Contacts on PC
Now you are able to preview every detail of your contacts list by enterring the "Contacts" folder from the left panel. All contacts on the Android phone will be scanned out and arranged one by one on the right.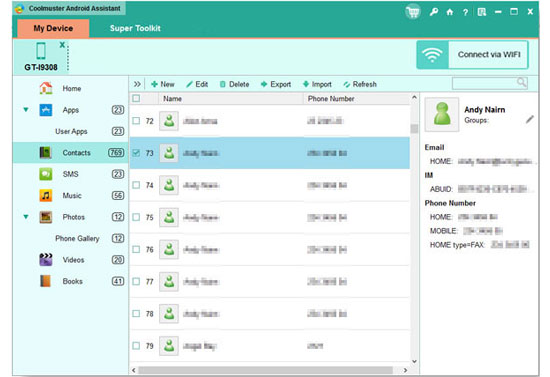 Now, you can begin with the contacts editing process:
New - You can add new contacts to your Android phone by choosing New option from the top menu.
Edit - Select a contact and click Edit, then you will be able to modify contact information on computer directly.
Delete - Select the contacts you don't need and click Delete, you can erase useless and duplicate contacts from your Android phone.
Export - Select the contacts you want and click Export, you can transfer them to computer for backup.
Import - Click the Import button, you can import VCF contacts files to Android and restore contacts from backup files.
Related Article:
How to Transfer Contacts from Samsung to Computer
How to Read Android Text Messages on Computer