Summary
You can not only back up your Android contacts as a VCF file, but also import VCF to Android at any time. Particularly, when you get a new Android phone, you would like to input the VCF file to the new phone. Even though you want to import the vCard to an Android device that doesn't support VCF, you can still make it with the following approaches.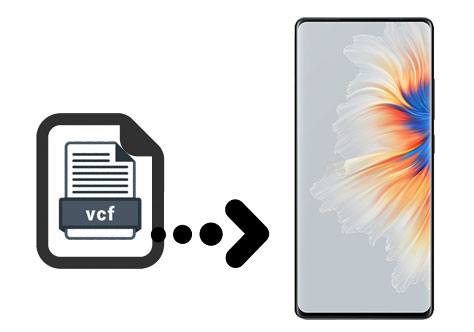 Tip1: What is a vCard file?
vCard, also named VCF, is a file format to save phone contacts. You can also regard it as a electronic business cards. In general, it contains phone numbers, email addresses, groups, names, etc. Besides, a VCF file can be used for importing and exporting contacts.
Tip 2: Where to put VCF file in Android?
After you export your contacts to a VCF file, you can go to the file manager directly search for it. If you cannot find it, you can check whether there is a contact folder. But if it is transferred from another device, you need to navigate to the app folder. For example, you send it via Bluetooth; you can go to the Bluetooth folder to find it.
Part 1: How to Import VCF to Android in 1 Click via Android Contact Manager
Is there an Android contact manager that can import vCard to Android in 1 click? Sure, Samsung Messages Backup is a safe and efficient contacts transfer tool, so you can use it to quickly import and export your Android contacts. Conveniently, you can select the contacts you want before exporting them, and back up all contacts to your computer at once.
Key features of this contact manager:
- Help you import VCF files to your Android device without a hitch.
- Allow you to import contacts from Outlook and the previous backup files, including BAK, JSON, XML file formats.
- Support you to manage your Android contacts on the desktop, like adding, deleting, and editing.
- Back up and restore Android contacts at a time.
- Enable you to preview and select contacts on the interface before importing.
- You can also use it to transfer text messages, call logs, photos, videos, music, apps, and documents between Android and a computer.
Surprisingly, this program works for most Android phones and tablets, including Xiaomi Mix 4/Mix 3/Mix 2s/Mix 2/11 Ultra/10s/10, Samsung Galaxy S21 Ultra/S21/S20/S10, Samsung tablets, Sony Xperia 1 III/1 II/5 III/5 II, Google, OnePlus, Honor, ZTE, and more.
Download the Android contact importer tool for free below.
Guide on how to import vCard to Android via this software:
1. Install the Software
After downloading it on your computer, please double-click the package for installation.
2. Connect Android to Computer
Then use a data cable to connect your Android phone to the computer, and enable the USB debugging mode on the phone. Please don't forget to select the "File Transfer" option on Android if prompted.
3. Swiftly Import VCF to Android
- Please choose the "Contacts" category on the left panel.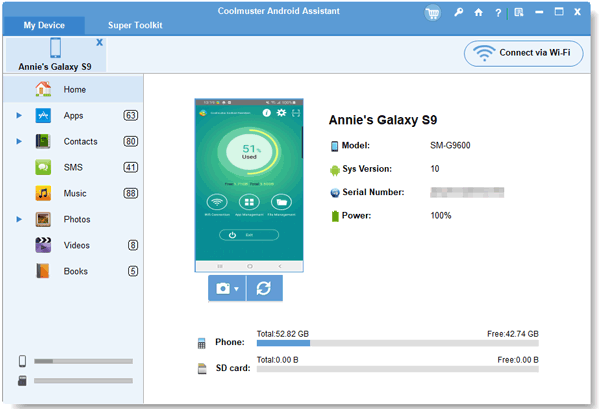 - Then tap the "Import" icon to select your VCF file. Finally, click the "Open" icon to import it to your Android device.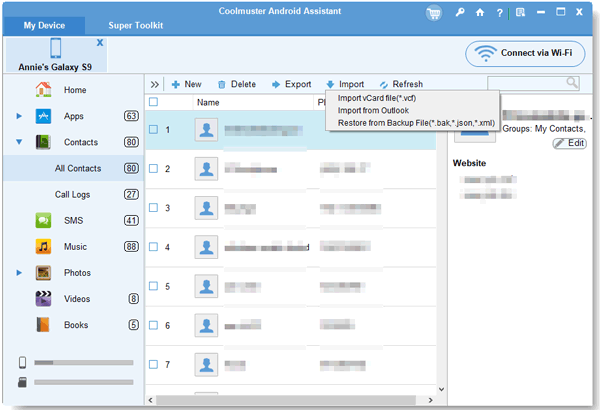 Bonus:
How to completely delete your Android contacts? Here are 5 tips for your reference.
Click this link to easily cast your Android phone to the PC running Windows 10 OS.
Part 2: How to Import Contacts from VCF File to Android via Google Contacts
What if the built-in Contacts app is broken? How can you import contacts from a VCF file to Android? In this case, you can replace it with Google Contacts. It is a secure contacts app for Android users, supporting users to back up contacts to Google cloud space and access the backup contacts on any device. Of course, you can disable the automatic backup feature if you don't like it.
Here's how to copy a VCF file to Android via Google Contacts:
1. Download Google Contacts
To start with, please download and install this app on your Android phone. Then run it on your phone.
2. Import Contacts from a VCF File
Tap the "Menu" icon on the top left, and select the "Settings" > "Import" option. Next, click the ".vcf file" icon to find your VCF file to import. Once done, you can check the contacts on the app.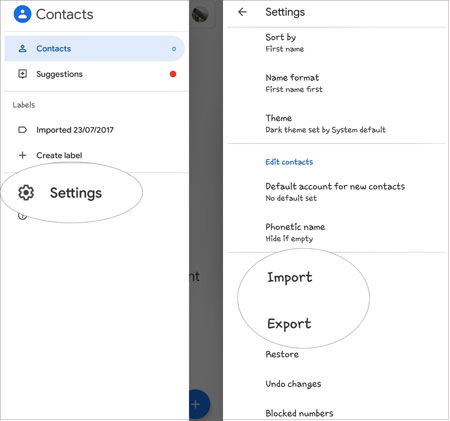 Read also:
Wonder where contacts are stored on your Android device? Take a look at this article, and you will know the answer.
There is no doubt that you can move your phone number to your new iPhone. Let's check it out.
Part 3: How to Import vCard to Android via VcF File Contact Import
Another practical application is VcF File Contact Import. You can import hundreds of contacts from vCard files seamlessly. What's more, you can edit your contacts with multiple details, such as photos, names, location, email, accounts, notes, etc.
Here's how to put your VCF file to Android via this Contact Import app:
1. Open the App
You can install this app from Google Play, and then open it on your Android mobile device.
2. Choose Your VCF File
- Please allow it to access your Android phone. After it scans out the VCF files on the screen, you can pick the file you desire to import.
- Next, you can view your contacts on the Android phone.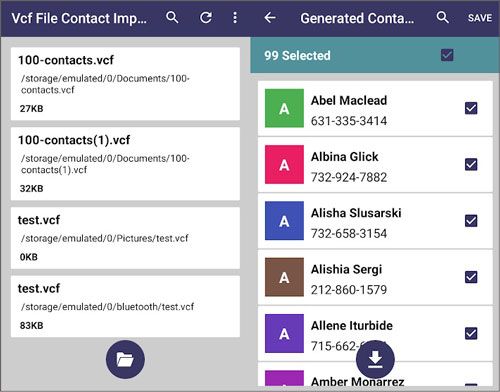 Further reading: How to move your iPad contacts to Android effortlessly? Check it out.
Part 4: How to Import Contacts from VCF to Android via Contacts App
Currently, most Android phones and tablets support manual contact import, so that you can utilize the Contacts app to import contacts from VCF files. Detailed operation steps are different from one device to another, but you can still use the guide below.
Here's how to manually import contacts from a VCF file to an Android phone:
1. Open Contacts App
Unlock your Android phone, and go to the Contacts app. Then hit the menu icon on the upper.
2. Find the Import Option
Scroll down the list, and tap the "Manage contacts" > "Import or export contacts" > "Import" option.
3. Select VCF File
You can now select the VCF file you want from the internal storage. After that, it will import the contacts from the file.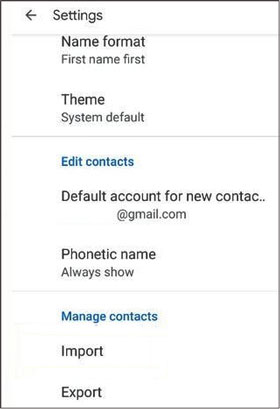 Wrapping Up
Undoubtedly, these 4 methods enable you to import VCF to Android smoothly. But if you want a comprehensive Android contact manager, you can choose Samsung Messages Backup. This software can import your Android contacts from VCF files and manage your contacts with several powerful features. With it, you can also back up and restore your contacts without hassle.
Related Articles
How to Back Up Android Phone before Rooting With Ease | Check the Full Guide
How to Switch Android Phones without Losing Any Data [Comprehensive Guide
[9 Options]Best Video Recovery App for Android: Easily Recover Android Videos
How to Back Up and Restore Contacts on Android Phone/Tablet [4 Methods]
How to Transfer Contacts from Android to Outlook via 3 Essential Ways
Android Contacts Disappeared: Here's the Full Guide to Recover the Contacts