Location:
Home
>
Resources
> View/Check Samsung Text Messages on PC
View/Read Android Text Messages on Computer
I always need to constantly works on a computer for more than 6 hours a day, but in many situations, my friends or colleague may send messages to ask some technical problem or other things that I need to reply them immediately. I feel it is really troublesome to switch device, especially when my phone in a place far away from me. Thus, does anybody know how to view Samsung text messages on my desktop PC?
In many circumstances, you may wish to read or view Android text conversation on your computer directly, right? But you also find that you have no right to do it with a simple USB cable, then what will you do? How to reach your goal? No one will deny that Android phone plays a significant role in human communication and connecting people to digital entertainment. And it also improved lots in security and privacy protect aspect. So when you're simply connecting your Samsung, HTC or LG phones to your computer, perhaps you can't see nothing at all. Don't too nervous about this situation, here is a solution for your reference.
To read or reply Android text messages on your computer, you need the help of the Samsung Messages Backup software software. With it, you can directly send or reply messages using your keyboards via a simple USB cable. And if you want to view your text conversation later, you can export and save these messages on your computer in readable format with one simple click by using this powerful program.
Now, keep reading to following contents to learn the detailed steps.
How to Read Samsung Text Conversation on Your Personal PC Directly?
This program supports almost all brands of Android phones, but here we want to take the Samsung mobile phone as an example. If you're a owner of HTC, Motorola, LG, etc. cell phone, you can follow the same steps to view your text conversation as you like.
Step 1. Run the Program and Enable USB Debugging
Assume that your Samsung phone is connected to the computer and the program is also installed. Then directly run the program and then you'll find that it require you to open the USB debugging and install USB driver on your device. Just follow it to open and install the necessary tools. (Please rest assure that the driver is 100% clean and small, which will not bring any damage to your mobile phone). When your device is recognized by the program, you'll see the detailed information about your device will be shown in the main interface.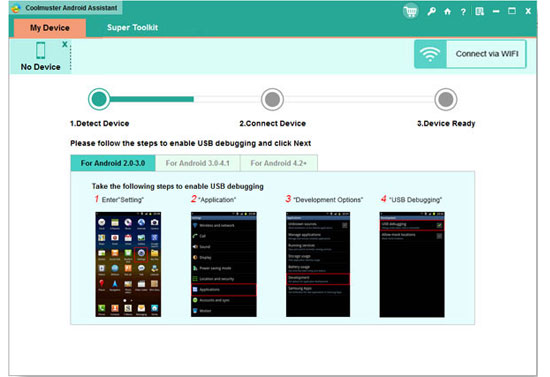 Step 2. Read or Reply Messages on the Program Directly
Text messages are divided into "Contacts" category, so just click them and choose "All SMS" or "Inbox", then you can view your received messages on the program directly. Just hit "Send" button, then you can send or reply messages to your colleague or friends on computer as you like.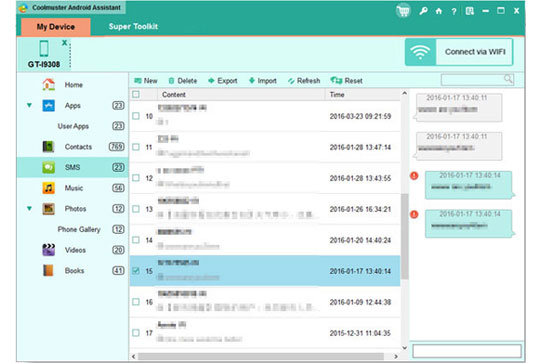 If you want to view the whole text conversation on your computer without the program, you can click "Backup" button to export all messages on your Android phone to computer in CSV format. After that, you can directly open the file and read the conversation without connecting your device to PC as you like.
Related Article:
How to Print Out Text Messages from Samsung Galaxy Note
Tips to Transfer SMS Messages from Samsung Galaxy Note to PC