Summary
A lock screen on any phone is an essential component invented to safeguard your data and provide you with some privacy. But, when you find yourself not remembering the Pattern, Password, or PIN of your HTC cell phone, then you might get frustrated. The lock screen security is usually made hard to crack.
So, how to unlock an HTC phone if you forgot the password? This shouldn't make you worry when you forget the PIN of your HTC phone. You may apply numerous techniques to remove any security on your device. Plus, we wish you have backed up your important data, since unlocking a phone will wipe all your phone data.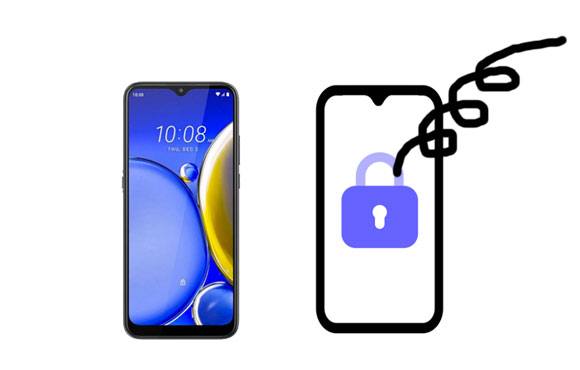 Way 1. How to Unlock HTC Phone Forgot Password with Android Unlock
Do you want an easy method to unlock your HTC phone lock screen? Then the HTC Unlock software is your ideal tool to achieve that. When using this tool, you will find that it's less complicated. It's specially made to easily unlock any locked Android phone with a high success rate. It's also compatible with Samsung, LG, and other Android devices.
The best thing about this tool is that it can unlock all types of lock screens on HTC, including passwords, passcodes, PINs, fingerprints, and face ID. It's also safe and secure so, no need to worry about your information being leaked. Besides, it can unlock Samsung and LG mobile devices without losing data.
Download this HTC Android Screen Unlock software for free.

To know how to unlock the HTC phone pattern lock if forgotten using this software, do the following:
Step 1. Launch This Software on Your Computer
First, download, install, and launch the program on your computer; then, choose "Screen Unlock" and connect your HTC phone to the computer via USB.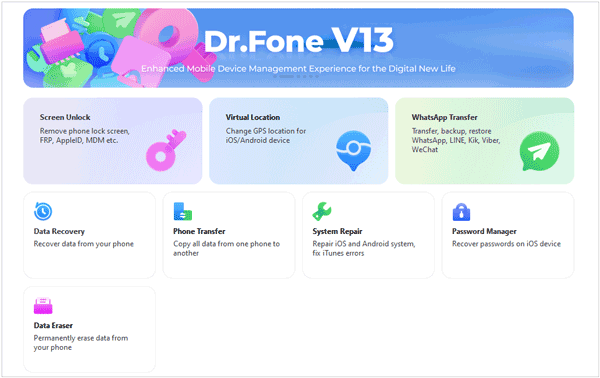 Step 2. Choose the Right Information Regarding Your Device
Tap the "Unlock Android Screen" option, and ensure you choose the brand and model of your Android device. Then tap "Next".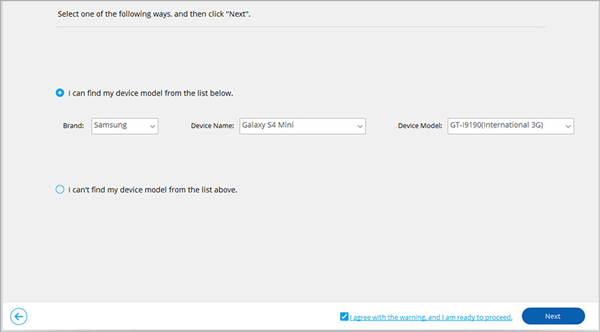 Step 3: Enter the Download Mode to Remove Your Password Lock
Please follow the guide on the interface to enter the download mode, and wait for the unlock process to finish.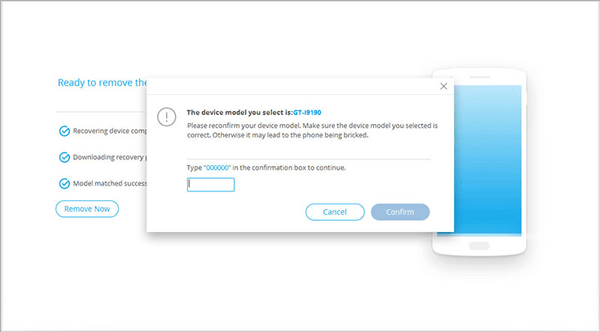 Bonus: Looking for a way to copy your Samsung contacts to your HTC phone? If so, please don't miss this full guide.
Way 2. How to Unlock HTC Pattern Lock If Forgotten with Google Account
Whenever you purchase an HTC phone, you should set it with a Google account. This is very important since a Google account is a must for any HTC that requires the screen to be unlocked. Without it, you will only have the option of factory resetting, which might delete all of your data.
To begin removing your HTC lock via Google account, follow the steps below:
Step 1. Use the PIN or Pattern Lock Five Times
Attempting to unlock the HTC phone five times will help you bypass the lock screen. After that, your phone will provide you with an option of the "Forgot Password" or "Forgot pattern".
Step 2. Click the Forgot Password Icon
After entering your PIN or pattern five times, the phone will open Google log-in screen. You should log into the Google account on your HTC phone to be unlocked. Use the same name and password while logging in.
Step 3. Set Your New Password for the HTC Smartphone
Once you are logged into your Google account, go to the settings app, then security, and choose to lock your phone using a new pattern, password, or PIN. You can now use the new security feature to access your phone.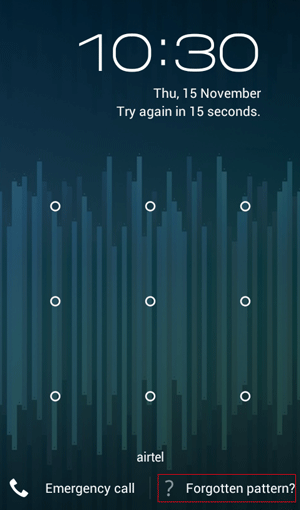 Read also: You can transfer data from your HTC phone to Mac for backup. Then you will protect your data from losing.
Way 3. How to Remove Screen Lock on HTC via Factory Reset
If all other methods fail, you may opt for factory resetting as your last resort. Factory resetting is a great way of removing your HTC screen lock. Note that this method will erase all of your data, so be prepared to lose your precious data. So, if you don't want to lose your data, then don't factory reset your phone.
To open a locked HTC phone via factory reset, do the following:
Step 1. Switch the HTC Phone Off
Long press the phone's power button till you see the power menu. Then switch off your phone. If it's frozen, remove the battery and replace it again to power it down.
Step 2. Open the HTC Recovery Menu
Do this by long-pressing both the Volume Down and Power buttons of the phone simultaneously. This might take approximately 30 seconds for your Recovery Menu to show.
Step 3. Begin the Factory Reset
Go to your recovery menu with the help of a volume down button on the phone. To begin factory resetting, choose the "Wipe data/factory reset" option and confirm it by pressing the Power button.
Step 4. Set Up the HTC Phone
The process will delete all of your phone's data, including the screen lock. After you are done with factory resetting, you should set it up. You will set a new lock screen and download other things on your HTC phone.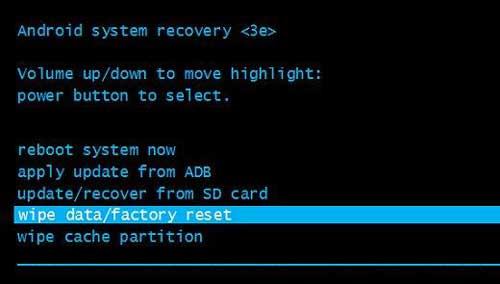 Further reading: Want a useful HTC Sync Manager alternative? Please refer to these 5 options in this article.
Way 4. How to Bypass HTC Pattern Lock via Find My Device
In all of your HTC devices, you can also use Google Find My Device, to unlock the phone. All you need to recover your gadget is to turn it on and ensure that it's connected to the internet. And this account is added to your locked HTC device. After that, you may then log in to your Google account using another device to erase your HTC phone's lock screen.
Use the below steps to unlock the HTC phone via Find My Device:
Step 1. Turn on the HTC Phone
To use Find My Device, you must have a Google account switched on and connected to the internet. This will enable the Find My Device app to find your HTC phone and make the required changes.
Step 2. Log in to Android Device Manager
Go to Find My Device on another mobile device or a computer, then enter the google account credentials to log in. This will enable the tool to begin searching the phone.
Step 3: Erase the Lock from HTC
After the Android Device manager finds the phones, you'll have three options to manipulate your phone. Tap the "ERASE DEVICE" option to remove the lock from your HTC phone.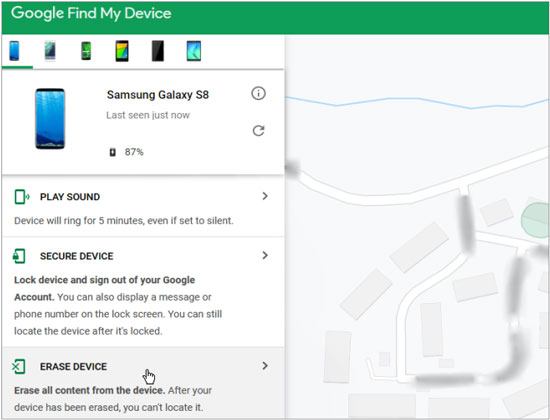 Way 5. How to Open A Locked HTC Phone with ADB
Another great option you may use to open your locked HTC device is to use the ADB (Android Debug Bridge). ADB bypasses all of HTC phones lock screens, but it's time-consuming and complicated compared to other methods.
Here is how to bypass HTC pattern lock via ADB:
Step 1. Download SDK Manager
To use ADB on your computer to unlock your HTC phone, please download the SDK Manager on your computer by visiting the https://developer.android.com/studio/command-line/adb.html.
Step 2. Connect Your HTC Phone to the Computer
Launch the installer and download the important packages on your computer. Connect your phone to the computer using a USB cable.
Step 3. Enable USB Debugging
Then navigate to "Settings" and to "About Phone" on HTC, and then click "Build Number" and enter it for 7 times and enable the developer route on the HTC.
Choose "Developer Options" and switch on "USB debugging". Join the HTC device to the system and open the command prompt in the installation directory of the ADB.
Step 4. Unlock HTC via ADB
Then type in the "adb shell rm /data/system/gesture.key" command and press the "Enter" key. Lastly, restart the HTC phone and access it.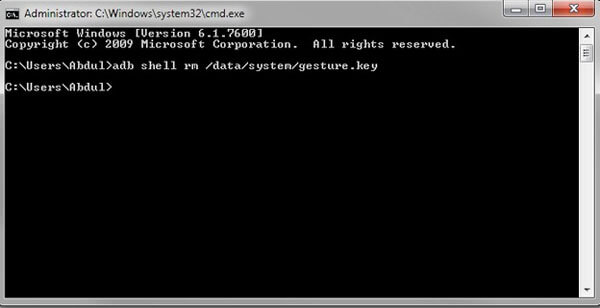 Bottom Line
It can really be an annoying scenario if you encounter a lock screen problem; either you forgot and can't seem to remember your password, or your phone's touch isn't responding. Luckily, this guide has taken you through the best ways to tackle the issue. Remember, to fast unlock your HTC phone without a password, you can use HTC Screen Unlock. This software can remove all kinds of locks on your HTC Android phone.
Related Articles
How to Transfer Text Messages from HTC to Computer in 4 Valid Ways
8 Ways about How to Transfer Photos from HTC to PC (Quick & Simple)
HTC to HTC Transfer - Move Your HTC Data to Another Deftly [4 Ways]
[Solved] Bypass Android Lock Screen without Google Account with 5 Ways
Top 5 Ways to Bypass Samsung Lock Screen without Losing Data
How to Reset Android Phone When Locked? Achieve It with 5 Effortless Solutions