Summary
Switch to a new Huawei Mate P40 Pro? Nice! In fact, Huawei mobile phones draw many HTC users in. After switching the phone, it's time to transfer data from HTC to Huawei. Undeniably, if you don't have an appropriate solution, you cannot make the transfer easy.
That's why we are meeting here. This article has summarized 4 transfer ways to help you move data quickly. You can get them below without hassle.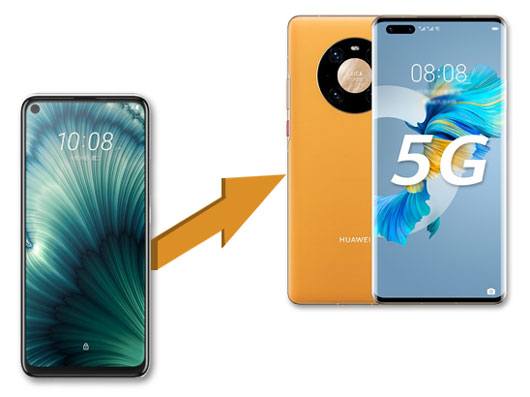 Part 1: How to Transfer Data from HTC to Huawei with Data Transfer (1 Click)
This 1-click data transfer tool, Samsung Data Transfer, can transfer contacts, apps, text messages, music, and more, from HTC to Huawei at once. It's straightforward to operate with user-friendly interfaces. Also, you can select your desired data types freely on it. The data will migrate to your new phone fast.
Main features and highlights of this data transfer tool:
- Easily move data from HTC to Huawei, like videos, photos, documents, and so on.
- Transfer photos, contacts, etc., from an iPhone to Huawei.
- Allow you to clear data before copying on the target phone.
- Besides USB connections, you can connect two Android devices via Wi-Fi.
- Support to send data between iOS, and other brands of Android devices, such as Samsung Galaxy S20/S10/S9/S8/S7, Sony Xperia 5 II/Xperia 5/Xperia 1 II/ Xperia 1, LG K62/K52/K42/K71, iPhone 12 Pro/12/11/X/8, iPad, iPod, Google, OnePlus, ZTE, and so on.
Download the HTC to Huawei transfer software for free below.
Here's how to transfer data from HTC to Huawei in 1 tap:
Step 1. Install the Transfer Software
Please directly install it on your computer after downloading.
Step 2. Connect Mobile Phones to PC
Use USB cables to connect your HTC and Huawei phones to the computer. Enable the USB debugging mode on them. Then the program will recognize them in no time.
Step 3. Select Data Types for Transfer
- Finally, you can select the file types you want in the interface and tap the "Start Copy" icon to begin the transfer.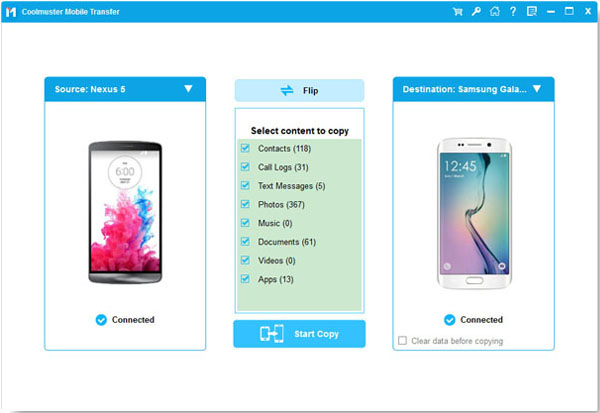 - After a few minutes, you can finish the data migration.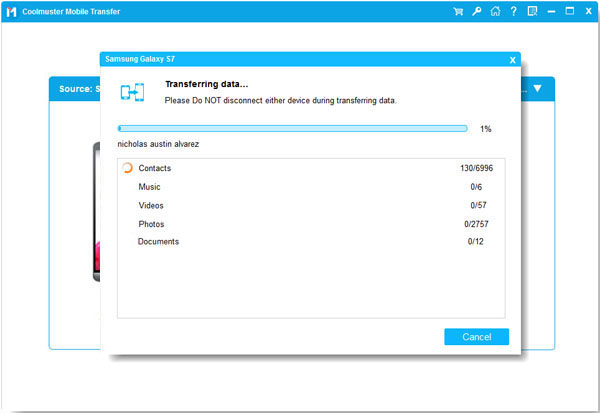 Tips:
Will Smart Switch work with Huawei? Actually, Smart Switch is useful when the target device is Samsung. So, you can transfer data from Huawei to Samsung with it.
Want to unlock your HTC phone but you forgot the password? Don't fret. You can use these methods to remove the lock screen.
Part 2: How Do I Transfer Data from HTC to Huawei with Phone Clone?
Phone Clone also can copy data onto the Huawei handset without trouble. Besides media files, it can help you transfer notes, calendars, recordings, and more from HTC to Huawei. Also, it is compatible with Android 4.4 and upper. However, it requires the destination device is Huawei.
How do I transfer data from HTC to Huawei P30 with Phone Clone:
Step 1. Download Phone Clone
Download and install this application on both mobile phones from the app store.
Step 2. Launch the App and Connect the Phones
Run it on 2 cell phones, choose the "This is the new phone" on Huawei and "This is the old phone" on HTC. Next, make your old phone scan the new phone's QR code for connection.
Step 3. Pick and Transfer Data
Please select data by category on the HTC phone and start moving data by hitting the "TRANSFER" icon at the bottom.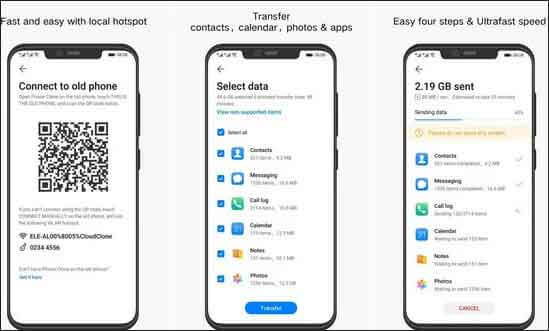 Maybe you need: You can make the Huawei to Mac transfer come true with these 5 authoritative solutions.
Part 3: How to Transfer Contacts from HTC to Huawei via SIM Card
If you want to transfer HTC contacts to the Huawei device only, please pay attention to this section. You can make full use of your SIM card. Magical, right? But it's the truth. As long as your contacts are less than 500, you can achieve the migration at a time.
Guide on how to transfer contacts from HTC to Huawei via a SIM card:
Step 1. Export Contacts from HTC to the SIM Card
Open the Contacts app on HTC and tap the "Manage contacts" > "Import/Export contacts" > "Export to SIM card" option.
Step 2. Select Contacts
You can now select contacts you desire to transfer on HTC and move them to the SIM card.
Step 3. Import Contacts to Huawei
Enter the Huawei Contacts app and tap the "Menu" icon at the top. Then select the "Settings" > "Import/Export" > "Import from SIM" > "Select all" > "Import" > "Phone" feature. The contacts are on your Huawei phone now.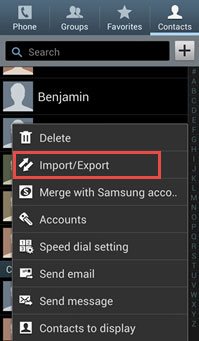 Further reading: Want to back up your Huawei phone? Try these 4 approaches here. They will give you support.
Part 4: How to Transfer Files from HTC to Huawei via Google Drive
Using Google cloud storage is another helpful way to transfer files from HTC to Huawei. You can upload your HTC files to Google Drive with 15 GB of free storage space. What's more, it's convenient to upgrade the plan to widen the space. Simply put, you can sync HTC files to Huawei with Google Drive without effort.
Tutorial on how to synchronize files from HTC to Huawei via Google Drive:
Step 1. Sign in to Google Drive
Sign in with your Google account on the Drive after downloading and installing it on both devices.
Step 2. Upload HTC Files to Drive
On the HTC phone, please tap the "Plus" and "Upload" icons. You can directly select files from the HTC smartphone and transfer them to the Drive via the network.
Step 3. Login with the Same Account on Huawei
Go to Google Drive on Huawei and log in with the same account. You can view the HTC files on it and download them to your Huawei device.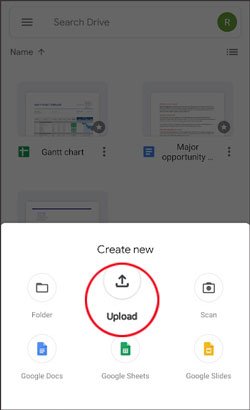 See also: Where can you find your lost data on Huawei? Don't worry. Here are 3 ways that can recover lost data from Huawei.

Multiple useful transfer tools by different manufacturers
Beside Phone Clone, there are multiple transfer tools provided by different manufacturers as follows:
1. HTC Transfer Tool
2. Samsung Smart Switch
3. Xiaomi Mi Mover
4. LG Mobile Switch
5. Sony Xperia Transfer
6. OnePlus Switch
Conclusion
This article has introduced 4 practical ways to transfer data from HTC to Huawei above as well as several nice tips. It's believed that you can work out this problem breezily. Moreover, the efficient tool - Samsung Data Transfer can assist you in copying files in 1 click. Wish you to have the most time-saving transfer.
Related Articles
How to Transfer Files Between Huawei and Computer? (2 Ways)
Transfer Contacts from Samsung to Huawei in 4 Valid Ways
5 Practical HTC Sync Manager Alternatives [Worth Getting to Know]
8 Ways about How to Transfer Photos from HTC to PC (Quick & Simple)
[Latest Guide] Rapidly Transfer HTC to iPhone with 4 Reliable Ways
How to Transfer Text Messages from HTC to PC [3 Ways]