Summary
"Hi, my internal storage is running out of memory, so I have bought an SD card, but it doesn't seem like I can move any app to SD! I tried to do it with two methods - first through Settings > Apps > App name > Storage, but no option to move there. And, also with the second method, which is AppMgr III - every time I'm trying to move the app, I got the error at Step 2. I have enabled the developer's options, but still, nothing is there. Any ideas on how to move apps to SD card on Huawei P10 Lite?"
To make the phone run more smoothly, you may move the apps from your phone, which comes with the expandable storage feature, to the SD card to enlarge the internal memory storage. If your Huawei phone runs out of storage and supports an SD card, you can refer to the following easy ways to fast move apps to an SD card on Huawei.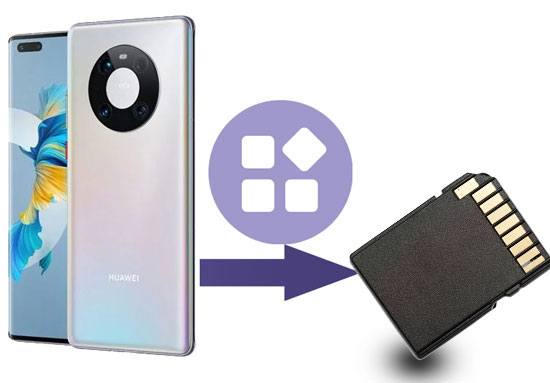 Part 1. What You Show Know before Moving Apps to SD Card from Huawei
Most smartphones nowadays provide large storage without supporting the expandable storage compatibility, and only a few smartphone manufacturers still allow you to expand storage to an SD card. Usually, these smartphones feature limited storage space. In other words, not all Huawei phones let you move apps to an SD card to free up the storage.
What devices will support to move apps to SD card? Some users who use Huawei P9 complain recently complain that no option in Settings is offered to migrate, but it is accessible on Huawei P8 Lite with Android 6. Why? According to Huawei Community, the SD card option has been removed to ensure the system performance and data security since Android 6.0 or EMUI 4.0. As a result, if you did not update your old Huawei phone to Android 7.0 or EMUI 4.0, you can still move apps from Huawei to an SD card.
Another concern is the apps that are movable to an SD card. Generally, you cannot move the pre-installed systematic apps provided by the manufacturer or your service supplier, including Calendar, Calculator, Date, Time, Weather widgets, Notes, and any other pre-installed apps. However, you can freely move the apps installed by yourself to the SD card.
Part 2. How to Move Apps to SD Card on Android Phone?
Do you want to manually move apps to SD card one by one or use a professional app to move them in batches? Well, I guess the latter one. In this part, we will cover both ways. You can find the smart way below.
2.1 How to Move Apps to SD Card on Huawei P8 Lite via Managing Apps or Formatting the SD Card as Internal
Follow these steps to move Huawei P8 Lite apps to an SD card:
Managing apps on your Huawei phone:
On your Huawei device, go to Settings and navigate to Apps or Application Manager.
Tap any app you want to move and click Storage > Change > Move to SD card > Hit Move. If you cannot see Change, the app may not be movable.
Formatting the SD card as Internal:
Open Settings, select the Storage option from your Huawei phone and tap your SD card.
Click the three dots at the upper-right corner, choose Storage Settings, and click Format as Internal.
Hit Erase & Format and tap Move now.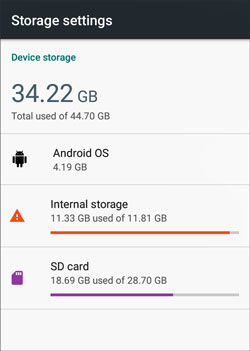 If you, however, cannot move apps to the SD card on a Huawei device, don't panic! You still get another way. Continue reading the ultimate way below to move bulky apps to the SD card.
2.2 How to Move Apps to SD Card from Huawei Using Android Assistant
This Android file manager - Samsung Messages Backup, is the ultimate way to move apps to SD card on Huawei devices. You can export user apps, contacts, call logs, SMS, music, photos, etc., to your computer or a USB drive in one click and import contacts, call logs, SMS, music, and other files from the computer to your phone easily. Besides, you can also back up, restore, and manage your Huawei data on a computer as well.
The highlights of Android Assistant:
* Transfer music, videos, photos, apps, contacts, SMS, call logs, etc., between your phone and your computer.
* One-click to back up and restore the overall Android phone's data on PC with the original data quality.
* Install, export, and uninstall user apps.
* Send and reply to text messages on your computer.
* Add, delete, and edit contacts on a computer.
* Easy to use, highly secure, fast, user-friendly, and intelligent.
* Support to preview the details and select the apps you want.
* Widely compatible with all phones running Android 4.0 and later versions, such as Huawei P8/P9/P10/P8 Lite/P9 Lite/P10 Lite, Samsung, Sony, HTC, Google, Motorola, Xiaomi, etc.
How to Move apps to SD card on Huawei MediaPad T3? Repeat the easy steps below:
Step 1. Install the Program
Install Android Assistant on your computer and run it. Then select the Android Assistant module from the toolbox.
Step 2. Connect Huawei Device with the SD Card to the Computer
Connect the Huawei phone plugged into the SD card to the computer with a USB cable, and enable the USB debugging on the phone. After that, this program will automatically detect your Huawei device. Once done, you will see your device's main information on this program.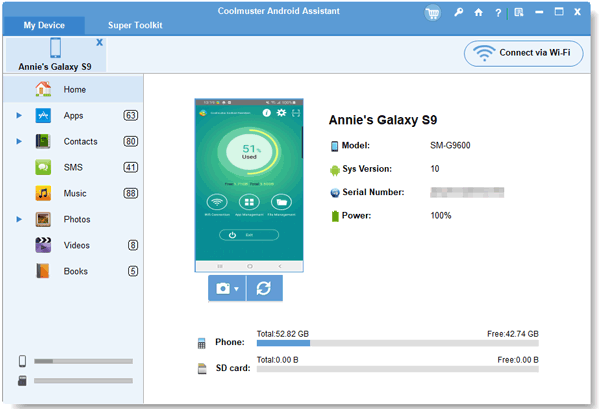 Step 3. Transfer Apps to SD Card
Choose Apps from the left panel, tick the apps you want to move to the SD card, and hit the Export button on the top menu. From here, you can choose the SD card as the destination device to be exported to.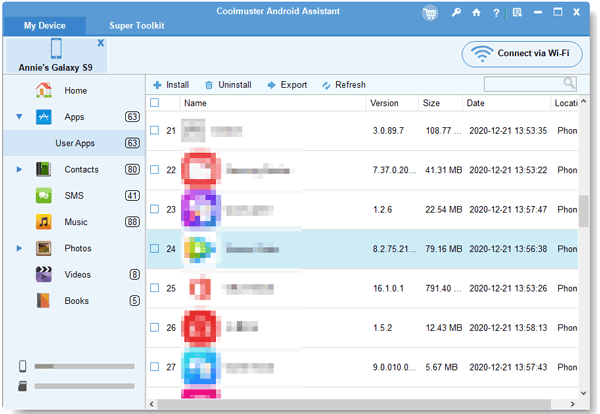 Read also: What if you deleted significant files on the Samsung SD card wrongly? Don't worry. You can get help from this Samsung SD card recovery.
Extra Bonus: Back Up Apps from Huawei to Computer
People who intend to switch to a new phone can back up their user apps to a computer, saving you much time.
Android Backup and Restore is a professional app to help you back up everything on your Android phone or tablet. With this app, you can back up and restore the overall Huawei data to your PC in one click, including contacts, photos, videos, documents, music, etc. If you want to back up apps, you can select the app you want and back up it to your computer. It's easy to use, simple interface, fast, and widely compatible with most Huawei devices.
Here is how:
Step 1. Download the Backup and Restore Software
Download this backup manager on your computer and click the Android Backup & Restore mode to enter in.
Step 2. Link Huawei to Computer
Connect your Huawei phone to the computer with a USB cable. Once the program recognizes your phone, it will display the following interface.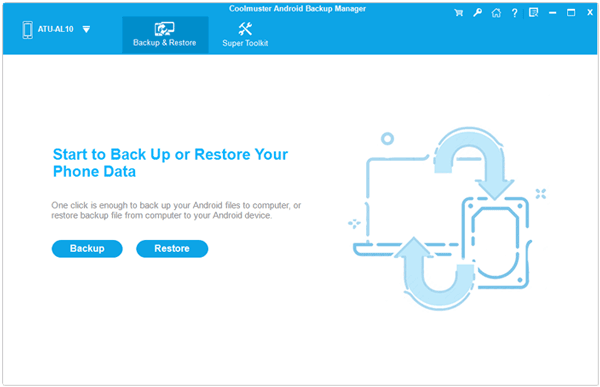 Step 3. Back Up Apps from Huawei to Computer
To back up apps from Huawei phone to computer. You can click Backup from the home interface, check Apps from the list, and tap the Back Up button below to start the backup process.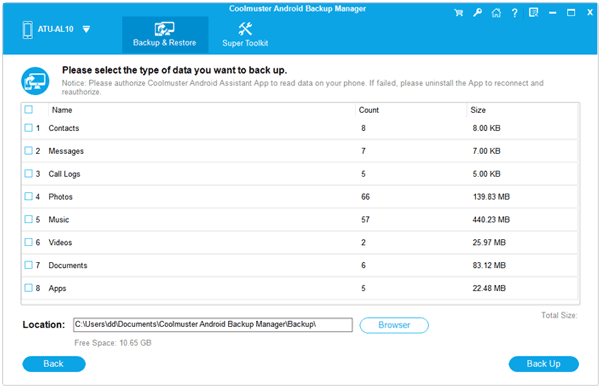 Further reading: How to back up Samsung photos breezily? Here are 6 practical tips for your inference.
Final Thoughts
It is a bit hassle to move apps to an SD card from your Huawei phone. As you can see, managing apps from Settings or format the SD card as internal is cumbersome and boring, as you have to move apps one by one. What's worse, it may not work on your phone if some options are not available. Samsung Messages Backup does not have this problem. As long as your Huawei device runs Android 4.0 and up, and supports an SD card, you can easily and safely move apps to an SD card from a Huawei phone. If you do not know how to move apps to an SD card on a Huawei device, you can refer to our guide above.
Of course, if you need to back up some apps to your computer, you can use Samsung Backup and Restore to do it quickly. Let's stop here. If you need help when using, you can tell us in the comments.
Related Articles:
How to Transfer Android Apps to SD Card?
How to Transfer Files Between Huawei and Computer? (2 Ways)
How to Transfer Apps from Android to Another Android?
[Can't-Miss!] How to Transfer WhatsApp Messages from Android to Android in 2019?
How to Transfer Data from Samsung SD Card to Computer?
Huawei Backup -- 4 Powerful Methods to Back Up Your Huawei Data