What Is A .bak File?
BAK is a file extension for a specific file format, which is generally used as a backup file or a copy of another file. Well, you should know .doc stands for Word documents and .xls is excel spreadsheet format. It is for the same reason that .bak stands for backup file. So, if you want to know where to look on someone else's computer to see if their information is already backed up, you may want to look in their desktop or laptop computer to obtain this information.
BAK file can be created by many programs, such as Android Manager, Phone Transfer and so forth. With the use of these software applications and the files that they create, the user will be able to see a .bak file on their computer that houses a copy of the information.
How to Open & Preview Backup File with BAK Format?
Now that BAK file is possibly generated by Android Manager or transfer tool, so, If you want to see the information in a .bak file extension, you can use the same software to open and preview the .bak file. For instance, if the .bak file was created when they user used the Android Manager, the file will need to be moved to the Android Manager before it can be reviewed by the user.
Ok, here in this article, we will show you how to use the Android Manager program to help you open or preview the BAK file. It is a safe and easy-to-use Android data manager provides Android users with the convenient Android data managing, backup & restore solutions. First of all, you should download a suitable version according to your computer's operation system.
Step 1. Simply run the Android Manager after you installed it, connect your Android device to the computer with USB cable. And you now can see the primary window of program. Just click "Super Toolkit" from the top menu.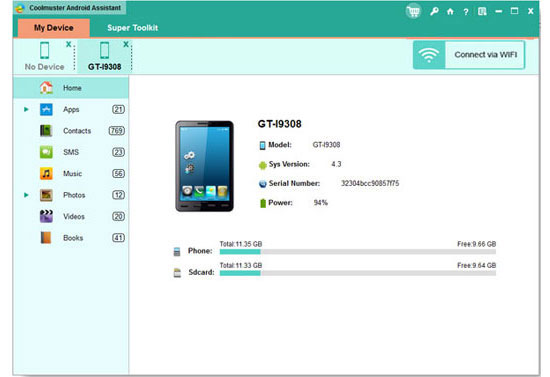 Step 2. Click "Restore" option in the main screen, browse your computer drive to locate the BAK backup file you want to preview and select "View" button to preview them before restoring. (This function will come soon.)
Step 3. You can even click "Restore" button to save the BAK backup file to your Android device.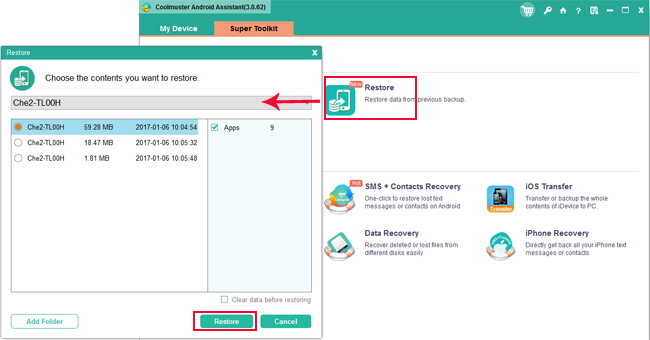 Related Article:
Transfer Text Messages from HTC Phone to Computer
Transfer Contacts from HTC Mobile Phone to Computer