Summary
Chat a lot with WeChat? Then it will generate many data on your mobile phone, such as messages, photos, documents, videos, and so on. And there will be more and more data on your phone. For this useful and memorable data, how do you deal with it? Most users think that it is necessary to back up WeChat to PC.
Undeniably, the backup can protect your WeChat data from wrong deletion and other accidents. If you wonder some useful tips about WeChat backup, you will need the 3 methods in the following.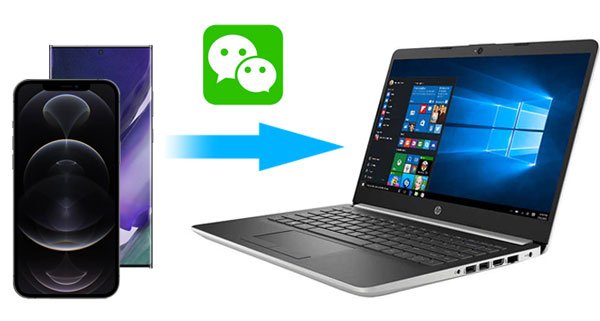 Part 1: How to Back Up WeChat to PC with WeChat Backup Tool (for iOS)?
Want to back up WeChat messages to PC without hassle? This WeChat Backup software is an excellent assistant, helping you transfer voice, text chat history, images, videos, stickers, and more to the computer. Besides backup, it can also quickly restore WeChat to your smartphone. But please note that this tool can only back up WeChat for iOS at present.
Main features of this WeChat backup program:
- Back up WeChat history to PC in 1 click.
- Allow you to view the backup files on the PC, and restore backups to the mobile phone.
- Support to back up WhatsApp, LINE, Kik, and Viber.
- Transfer WhatsApp chats from Android to iOS and vice versa.
- Fast detect and recognize your device.
- Widely compatible with Android and iOS devices, like Samsung A72/A71/A70/A52/A51/A50, Sony Xperia 5 II/Xperia 5/Xperia 1 II/ Xperia 1, LG Q92 5G/Q52/Q31, Huawei, Google, iPhone 12 Pro/12/11/X/XS, iPad Pro, iPad Air 2, iPad Air, and the like.
Download the WeChat backup program for free below.
Here's how to back up WeChat on PC with this tool:
Step 1. Install the Backup Program
First of all, please download and install the backup software on your PC.
Step 2. Connect the Phone to PC
Run the program and connect your handset to the PC via USB. Then choose the "WhatsApp Transfer" and the "WeChat" option.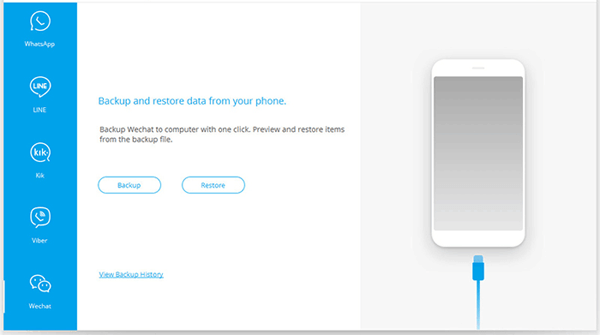 Step 3. Back Up WeChat Chat History to PC
Click the "Backup" icon to begin the process. After that, you can check the WeChat history on the computer.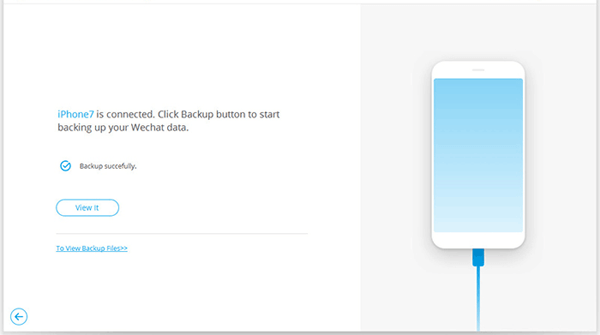 Tips:
How to restore WeChat to PC in 1 click? That's easy. After choosing the "WeChat" option, and you can restore the WeChat backup to your phone by tapping the "Restore" button.
If needed, please click this link to transfer and view Viber chat history on a PC.
Part 2: How to Sync WeChat Messages to PC via iTunes (for iOS)?
If you use an iPhone or iPad and intend to sync WeChat messages to the PC, you can choose to use iTunes. As we know, iTunes can back up almost all iOS data to the computer. Thus, it also works for WeChat backup. However, it is a bit complicated to search for WeChat backup data from groups of backup files.
Guide on how to back up WeChat chat history to the PC via iTunes:
Step 1. Connect Your Mobile Device to PC
Please use a data cable to link your mobile phone to the PC. Then iTunes will detect your phone automatically.
Step 2. Back Up Data to PC
Once connected, please tap the device icon, and choose the "Summary" option. Next, check the "This computer" option, and hit the "Back Up Now" button. It will back up your WeChat and other files to the PC.
Step 3. Find WeChat Backup Files
After finishing the data transfer, please navigate to the iTunes backup folder, and look for the WeChat data.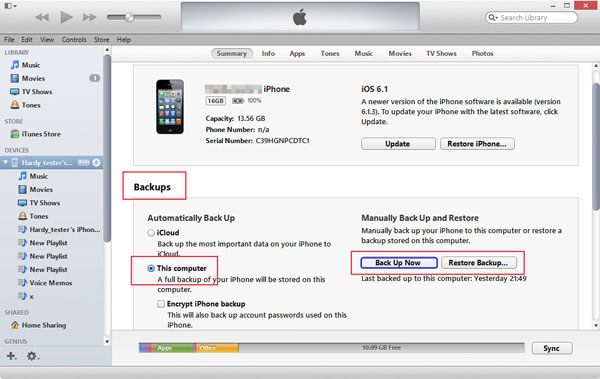 Read also:
These 4 easy ways can help you transfer text messages from Android to Android without a hitch. Let's take a look.
This guide will teach you to spoof your location on Snapchat in easy ways. Let's check it out.
Part 3: How to Back Up WeChat on PC via the Backup Feature (for Android and iOS)?
There is a built-in feature on WeChat to back up chat history to the PC. And it not only works on WeChat Client but also WeChat webpage. If your Android OS is lower than Android 6.3.31, please update the OS at first for the successful WeChat backup.
Steps on how to download WeChat chat history to PC with the backup feature:
Step 1. Log In to WeChat
Please log in to your WeChat account on your cellphone and the PC. And make sure both devices are connected to the same Wi-Fi network.
Step 2. Select WeChat Chats
To back up your WeChat data, please tap the icon on the bottom left, and click the "Backup and Restore" icon. Then click the "Backup All" or the "Select Chat History" option on your phone.
Step 3. Transfer WeChat Data to Computer
After confirming your choice, it will immediately back up your chat history to the PC.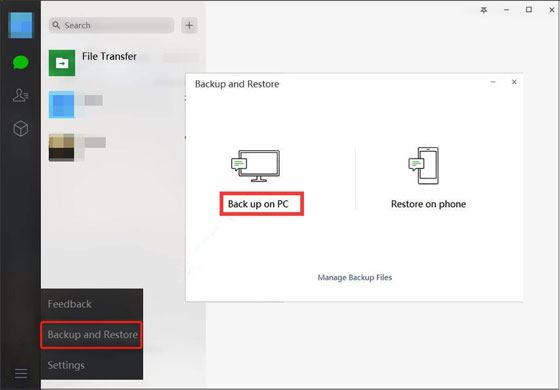 See also: How to easily restore WeChat history to your phone? If needed, you can choose the "Restore on phone" option after hitting the "Backup and Restore" icon.
Extra: How Do I Transfer My WeChat Chat History to a New Phone?
Get a new smartphone and want to transfer your WeChat history to the new phone? Don't panic. Whether your mobile phone is Android OS or iOS OS, you can make it without trouble. Let's get started.
Ensure both your mobile phones connect to the same network.
Click "Me" > "Settings" > "Chats" > "Backup & Migrate Chats" > "Migrate Chats to Another Device" option on the old phone.
Click the "Select Chat History" icon to pick what you want. After that, hit the "Done" icon, and use your new phone to scan the on-screen QR code. The data will be sent to your new phone.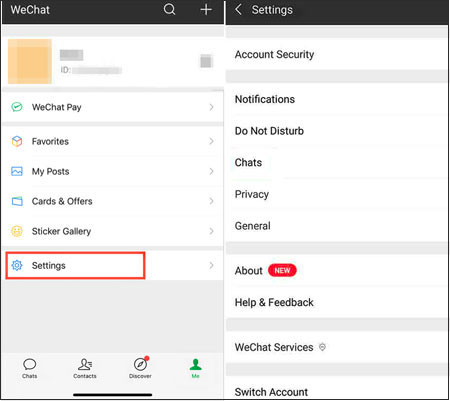 Bonus:
If needed, you can effortlessly back up Android contacts to Mac with these 3 approaches.
You can also fake your Twitter location to protect your privacy without a hitch.
Final Words
With these 3 solutions mentioned above, it is simple to complete the WeChat backup to PC. Please take action to protect your WeChat messages and files without delay. Furthermore, this WeChat Backup tool can efficiently back up all texts and attachments from your phone to the computer. With such a handy tool, you can back up your chats at any time.
Related Articles
OPPO Backup and Restore with 3 Useful Guides (Make It Faster)
How to Recover Deleted Photos from SD Card on Android Phone with or without Backup? (2021 Updated)
Sony Backup and Restore: How to Back Up and Restore Sony Xperia in 3 Easy Ways?
How to Transfer Files from PC to Android Phone without USB [5 Handy Solutions]
Android SMS Manager: How to Manage Messages on Android with 3 Practical Methods
Manage Android with 5 Best iTunes Alternative for Android [Updated]