Summary
"I am trying to clone my Honor 8 to my new P20 Pro, but once it starts the cloning process, it just exits for no reason. I really can't find any info on how to solve this, anyone had this happened before?" This is a query from an anonymous Huawei user. Huawei Phone Clone is a data transfer app which transfers data from old phone to Huawei phone and is loved by many users. However, when you encounter Phone Clone not working problem, you may hope to find the most suitable Phone Clone troubleshooting.
Well, this article simply concentrates on this. No matter the Phone Clone keeps disconnecting or Phone Clone is not transferring, you will always find the best solution here.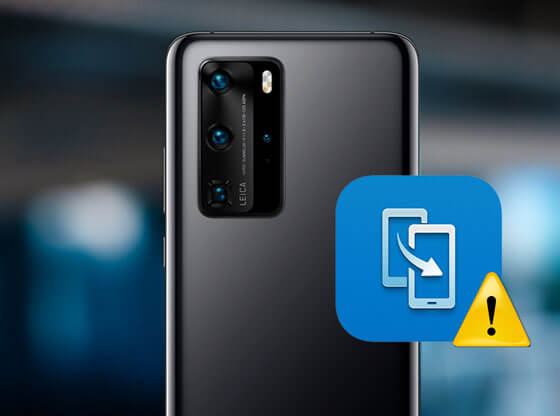 Part 1. A Brief Overview of Huawei Phone Clone
Huawei Phone Clone is a wireless data migration application provided by Huawei company. Using it, you can easily transfer contacts, SMS, photos, music, videos and applications from your old Android/iOS phone to Huawei phone without a network connection. If you transfer data from Huawei to Huawei, it provides more perfect solutions, for example, it supports to transfer application data, schedule, memo, alarm, reader bookmark and more without rooting your devices.
And, this super tool supports Android 5.0 and above and iOS 6.0 and later versions. You can freely download it from Google Play or Apple App Store.
How to use the Phone Clone properly?
1. Install and launch the Phone Clone on two devices. Then turn on Wi-Fi and Bluetooth features on both devices and place them close. (Notes: The receiving device has to be a Huawei phone.)
2. Mark This is the new phone on your target Huawei phone and This is the old phone on your source phone. Then give necessary permission to this app if you are the first time using it and select the old phone type as Android, iOS or Huawei. After that, use the camera of the sending device to scan the QR code on receiving the Huawei device to establish a connection between them.
3. Choose the file type you want to transfer and click Send on the sending phone.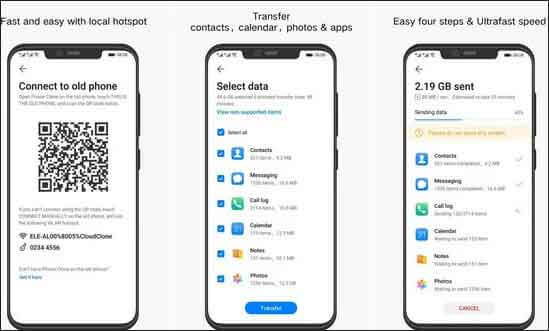 Further reading: If needed, you can click this link to check the cloning phone software. Then you can move data to a new phone with 1 click.
Part 2. Huawei Phone Clone Troubleshooting: How to Fix Phone Clone Not Working Problem?
Huawei Phone Clone can work well most of the time. But when it comes to Phone Clone not working issue, there may be all sorts of problems in relation to that. And here are some of the most common issues you may encounter during using Phone Clone and how to fix it.
Problem 1: Unable to Download the Phone Clone App on Your Device
The first problem that many users may encounter is that they cannot install the Phone Clone app on their phones successfully. To solve this, make sure that your two devices run Android 5.0 and above or iOS 6.0 and later versions, or the app may not support your devices. And if you have an outdated firmware, just update your device to the latest version.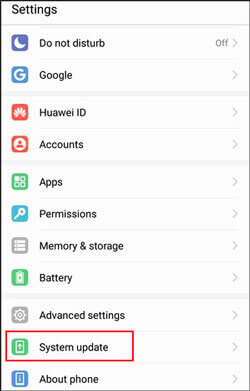 Problem 2: Huawei Phone Clone won't Connect
Does the phone Clone keep disconnecting after installation? If you meet this, place the two devices back to back and check if you have enabled Wi-Fi and Bluetooth beforehand. You can go to the Control Center or Settings or the drop-down screen to turn them on. Also, make sure that the target device is a Huawei phone and you have scanned the QR code in good time before it expires, or you cannot establish a secure connection between the two devices or Phone Clone is not connecting.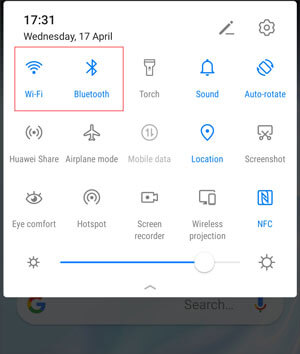 Problem 3: Phone Clone Is Not Transferring All Files in One Go
When transferring data from Android/iOS to Huawei phone, some users may discover that the connection continuously breaks or the app cannot transfer all data. To resolve this problem, ensure that you have placed both devices nearby and do not exit the app during the transfer process.
Also, you can go to the device Settings, and toggle on and off the Airplane mode if the connection between two devices still breaks. Afterward, using this app to transfer data again. Besides, make sure that there is no VPN installed or launched on your phone, since it will interfere with the transfer process.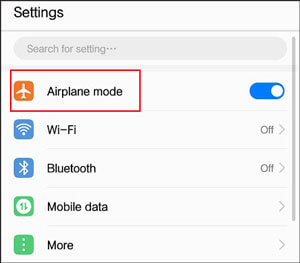 Problem 4: Phone Clone cannot Transfer WhatsApp Messages
Phone Clone does not support to transfer WhatsApp Messages, if you want to transfer this, you have to find a third-party tool to transfer WhatsApp messages from Android to Android or from iPhone to Android.
Problem 5: Phone Clone App Keeps Crashing on Devices
If this is the case, you can uninstall the app from your phone and reinstall it from Google Play or Apple App Store again. Alternatively, you can also go to the device Settings > Apps > Navigate to Phone Clone > Storage to select Clear Cache. After that, the Phone Clone will not crash anymore. However, if the app has bugs or is incompatible with your device, the problem may exist. In this case, you can contact the Huawei support team to report this problem.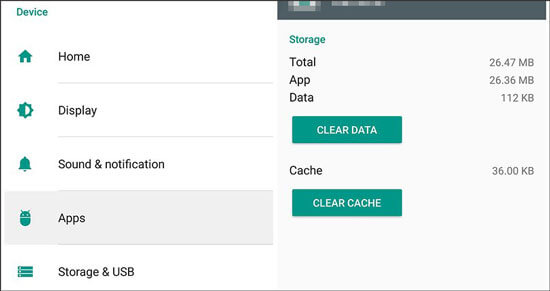 Part 3. Huawei Phone Clone Alternative: Samsung Data Transfer
As you can see, Huawei Phone Clone may suffer from rather nasty problems. If you are eager to transfer data and do not want to spend too much time fixing it, you can select a Huawei Phone Clone alternative to finish data migration. And here we are recommending the Samsung Data Transfer.
Samsung Data Transfer is a professional and popular phone to phone data transfer app resembling Phone Clone. And it supports Android 4.0 and above versions and all iPhone/iPad/iPod. With it, you can transfer music, photos, SMS, call logs, contacts, videos, eBooks and user apps from Android to Android, and transfer contacts, SMS, music, videos, photos and eBooks (PDFs & ePubs) from iOS to Android. Furthermore, you can also transfer data between iOS devices and from Android to iOS.
Well, it works well with almost all phone brands and types, like iPhone, iPad, iPod, Samsung, Sony, LG, Huawei, ZTE, Motorola, Google, OPPO, OnePlus, Lenovo, etc., and iPhone SE 2020/11/11 Pro/11 Pro Max/Xs Max/Xs/XR/X/8/8 Plus/7 Plus/7/6S Plus/6S/6/6 Plus/5S/5C/5/4S/4, Samsung Galaxy S20/S20+/S20 Ultra, Motorola Razr/G stylus/G power/One hyper, HTC U12 Plus/U12+/U12 Life, Huawei nova 7/nova 7 Pro/nova 7 SE/P40/P40 Pro, etc.
How to transfer data from other phones to Huawei phones?
1. Install and launch Samsung Data Transfer on your computer.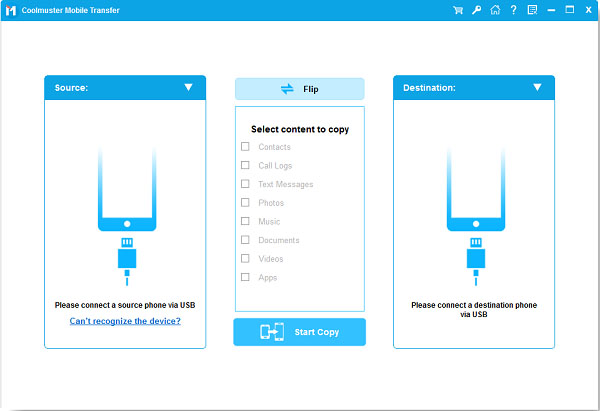 2. Connect two phones to the computer via suitable USB cables. Then enable USB debugging or grant permission on each phone as prompted. Make sure that the receiving Huawei device is in the target phone's position, if not, click Flip to make a change. After a successful connection, you will see Connected in two phones' positions on this program.
3. Check the file type you want to transfer to Huawei from the table and click Start Copy below to start to transfer data.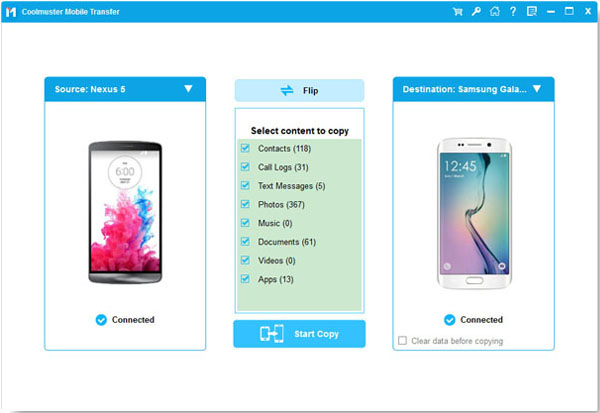 Final Thoughts
If you encounter Huawei Phone Clone not working issue, you can refer to the Phone Clone troubleshooting in this article to fix it to normal status. Or, you can select the Phone Clone alternative - Samsung Data Transfer to continue transferring data to Huawei phone, which is the one-click operation, fast to transfer, stable and highly secure. It is really worth a try.
Well, if you encounter any problem during fixing the Phone Clone problem or using the alternative app, feel free to leave a comment below.
Related Articles:
How to Fix Samsung Smart Switch Not Working?
How to Fix LG Mobile Switch Not Working Problem? (Proven & Effective)
How to Fix White Screen on Android Phone: Key Tips You Need to Know
4 Ways on How to Fix Black Screen on Android Phone (high success rate)
[Ultimate] How to Back Up Android Phone with Broken Screen in 4 Methods
How to Fix Samsung Black Screen in Minutes?