Summary
"I accidentally deleted contacts on my LG phone when playing a mobile game. Those phone numbers are really important for me. How do I retrieve deleted contacts on my LG phone? Are they removed completely?"
LG phones, one of the most cost-effective brands of Android mobile phones, are bestselling on the smartphone market. It is easy to use an LG phone, but mistakenly clicking the phone will also cause data loss. Thus, we have shared 4 ways on how to retrieve contacts from an LG phone with you. If needed, please keep on reading.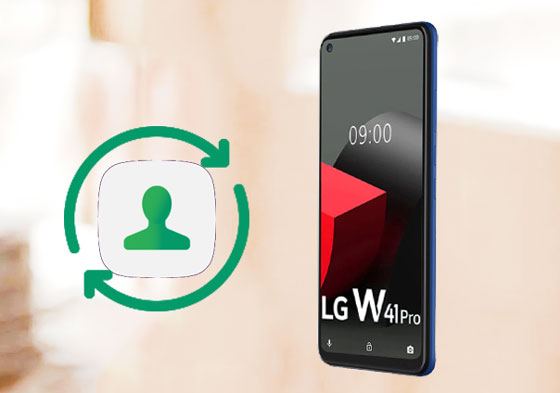 Part 1: How to Retrieve Contacts from LG Phone via LG Contact Recovery?
When you don't have backed up your contacts, how can you regain your lost LG contacts? The answer is to use this LG Contact Recovery software - Samsung Data Recovery. It can scan your LG phone and recover the deleted contacts without hassle. Of course, you can preview your contacts on the interface before recovery. Besides, it can restore other deleted data types on LG without backup.
This LG phone contact recovery also:
- Allows you to save your delete contacts to your computer after the recovery.
- Help you back up your existing contacts and other files to your computer.
- Recover deleted photos, documents, SMS, call logs, music, and more from internal storage.
- Retrieve deleted files from an SD card without root, including pictures, videos, songs, books, etc.
- Offer two scan modes to you, including Quick Scan and Deep Scan.
More powerfully, it works for lots of LG phones, like LG W41 Pro/W41/W31/W11, LG K92/K71/K62/K52/K42/K71/K31, LG Wing 5G/Velvet 5G UW/Stylo 6/Velvet, LG V60/V50/V40, LG G8/G7/G6/G5/G4, etc. Additionally, it supports other Android devices, such as Honor, Google, Samsung, Xiaomi, OnePlus, Sony, and the like.
Download the LG data recovery program for free below.
Tutorial on how to retrieve deleted contacts on the LG phone without backup:
Step 1. Open the Recovery Software
Please install the program on your computer, and open it on the desktop. Then connect your LG phone to the computer via a data cable.
Step 2. Select Data Types and a Scan Mode
Enable the USB debugging mode on LG, select the "Contacts" option, and click the "Next" icon. Then pick a scanning mode you want. Then the software will begin to search for contacts.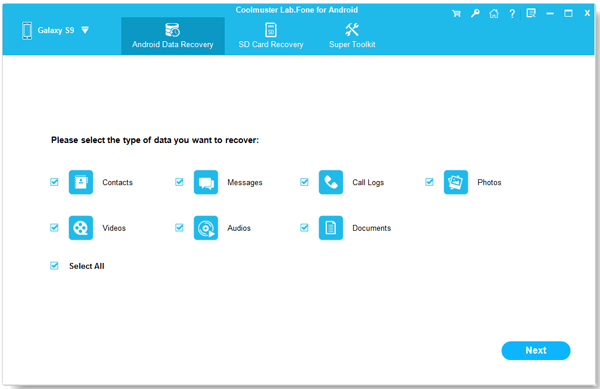 Step 3. Restore Deleted Contacts on LG
Please tick off the deleted contacts you want to recover, and tap the "Recover" icon to save them to your computer.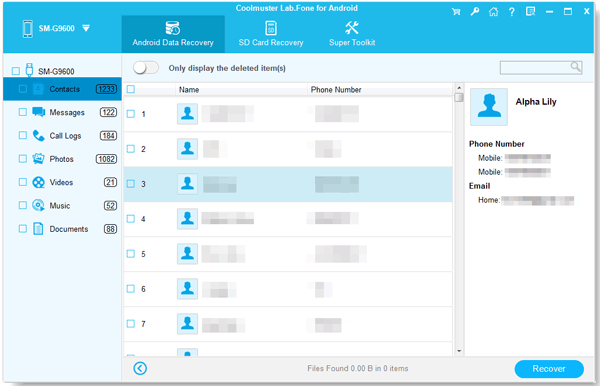 Bonus:
Are there many important text messages on your LG phone? If yes, please flick through this post to see how to transfer SMS from LG to a computer.
Where does WhatsApp store data? If you are eager to find it, please browse this post.
Part 2: How Do I Retrieve Deleted Contacts on My LG Phone from LG Cloud?
Every LG user has an LG account, and so do you. You can use the account to access LG cloud services. Of course, you can back up your LG contacts to your account directly. If so, you can now restore contacts from the LG cloud backup. Please log in to your LG account and make sure you have the contact backup.
Guide on how to restore contacts on LG G4 using LG cloud backup:
Step 1. Go to Settings
Please go to the homepage on your LG G4, and choose the "Apps" folder to open the Settings app.
Step 2. Find the Backup and Reset Option
Click the "General" tab, scroll down the screen, and find the "Backup & reset" option.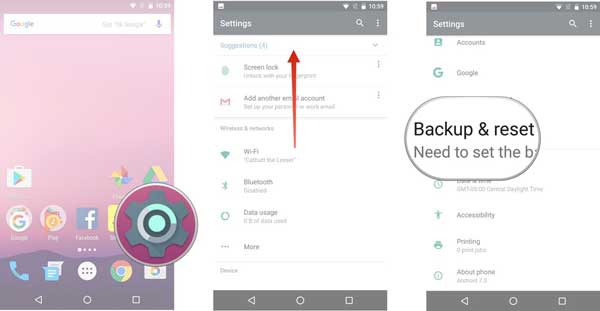 Step 3. Restore Contacts from LG Backup
Finally, hit the "Restore from backup" icon under the "LG Backup" mark. Then you will restore the deleted contacts via the LG cloud backup.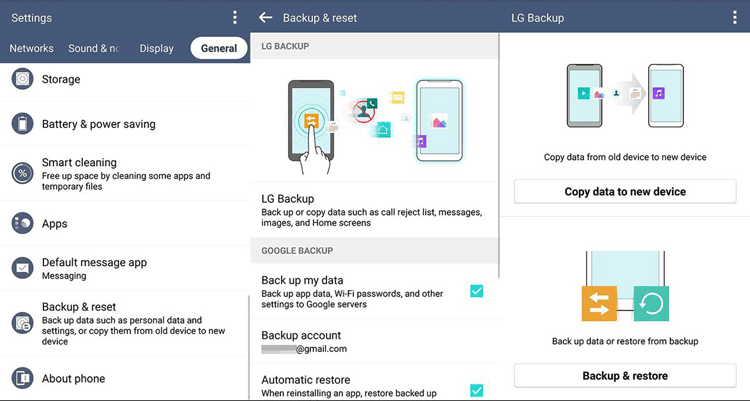 Read also:
You can seamlessly move your contacts from LG to a computer.
Are you interested in Xiaomi phone screen mirroring to a PC? If yes, browse this post.
Part 3: How to Retrieve Deleted Contacts on LG Phone via Google Backup?
In addition to LG account backup, you can utilize Google backup to restore the lost contacts on the LG phone. You can sync your contacts from the Google backup to the mobile phone via the Settings app. But the premise is that you have backed up your contacts to your Google account.
Here's how to recover deleted contacts from an LG Android phone from Google backup:
Step 1. Add Your Google Account
- Above all, please go to the Settings app, and tap the "System" > "Backup" > "Google backup" option.
- Then enable the "Back up to Google Drive" icon, and hit the "Account" icon to input your Google account. By the way, if you have typed your account, you can skip to the next.
Step 2. Sync Contacts to Your LG Phone
Please tap the Google account, and turn on the "Contacts" options. Then tap the "Sync now" button to retrieve the contacts.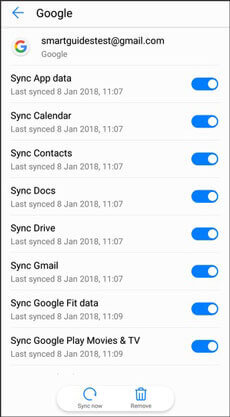 Further reading: Wonder how to transfer various files from LG to your PC? Please don't miss these 4 proven solutions.
Part 4: How to Find Disappeared Contacts from LG Phone via Contacts App?
Your contacts disappeared from the LG phone out of a sudden? In some cases, contacts are not deleted from the LG phone, but the phone doesn't display all your contacts. Therefore, you can check the contacts settings and find your disappeared contacts.
Here's how to get the disappeared contacts back from an LG phone via the Contacts app:
Step 1. Launch the Contacts App
Please go to the built-in Contacts app on your LG phone, and press the "Menu" icon on the upper.
Step 2. Display All Contacts
Choose the "Contacts to display" and "All contacts" option. Then your LG phone will display all contacts.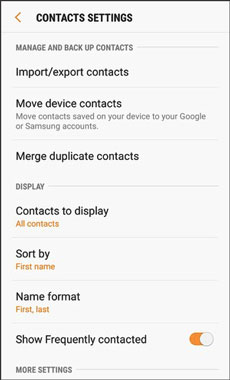 Conclusion
These 4 ways mentioned above are all helpful to retrieve contacts from an LG phone, but only using the LG contact recovery tool - Samsung Data recovery, can recover deleted phone numbers on LG phones without backup. After recovering your contacts, you can also use it to transfer all your contacts to your computer for backup. In this way, even though you lose your contacts again, you can restore them breezily.
Related Articles
Wonder How to Transfer Contacts from LG to Samsung? 5 Ways You Cannot Miss
How to Fix LG Mobile Switch Not Working Problem? (Proven & Effective)
4 Powerful Solutions on How to Download Music to LG Phone (Detailed Steps)
How to Transfer Data from LG to LG: 4 Practical Ways You Can Choose
LG Backup & Restore - How to Back Up & Restore My LG Device in 2022?
LG Data Recovery - How to Recover Deleted LG Data Effortlessly [4 Valid Ways]