Summary
Have you ever found yourself wondering where your WhatsApp messages are stored? Understandably, you might want to know this. After all, if the messages are deleted, it might be another problem. The good news is that these messages are not deleted but are instead stored elsewhere on your phone.
They are not deleted until you delete them manually. Not to worry, though – we've got all the answers you're looking for right here! We will help you know where WhatsApp messages are stored. So, continue reading to know more.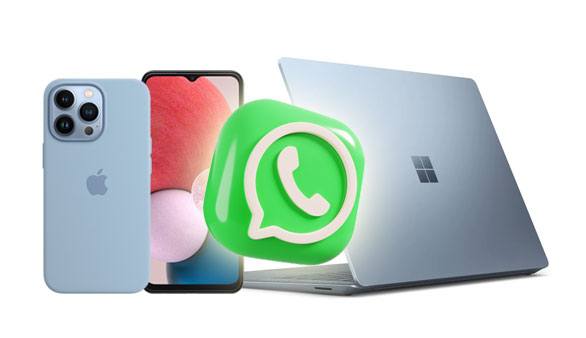 Part 1: Where are WhatsApp Messages Stored?
We have two locations where WhatsApp messages can be stored. The first is on Android, which is local storage and Google Drive. Local storage is mainly on the internal storage of your phone or SD card and Google Drive is on a cloud backup platform.
1.1 Where are WhatsApp Messages Stored on iPhone?
iPhone WhatsApp messages are stored on iTunes and iCloud. These platforms are easier to use when backing up and restoring WhatsApp messages.
- Using iTunes
This is a PC program that's used to perform administrative tasks on Apple gadgets. The disadvantage of iTunes is that it doesn't store only WhatsApp backups. Rather it backs up all the data on your device, thus taking a lot of time.
Here is how to backup WhatsApp messages on an iTunes:
Step 1: Connect iPhone to the computer using a USB cable, then launch iTunes.
Step 2: Tap on the iPhone tab on iTunes Window. Now, tap the "Summary" option.
Step 3: Choose "This Computer" tap the "Back Up Now" icon and wait for the backup to finish.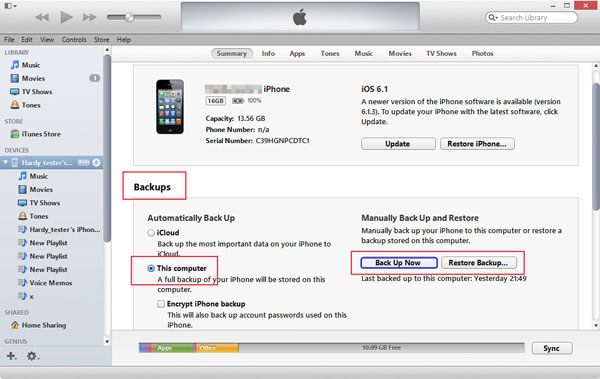 - Using iCloud
iCloud is a default platform you can backup your WhatsApp messages. The backed-up messages will be kept in a hidden folder for security purposes. The data is encrypted, and you cannot read or access it directly.
Here is how to store Whatsapp messages on iCloud:
Step 1: Open the Settings app, click on Apple ID, choose "iCloud", and toggle the switch to iCloud Drive forward.
Step 2: Then scroll down to the WhatsApp option then switch it on. On iPhone, open WhatsApp and navigate to Menu, then Settings, Chats, and lastly, Chats Backup.
Step 3: Click "Back Up Now" to start the process.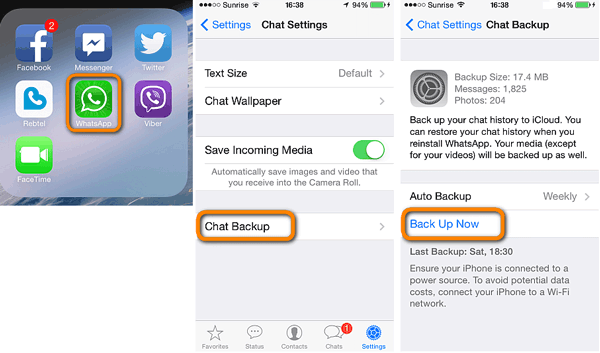 Read also: If you want to recover WhatsApp images from a Samsung phone, please don't miss these approaches.
1.2 Where Does WhatsApp Store Data on PC?
WhatsApp web and dedicated WhatsApp PC aren't the same as the mobile version since they can't store their backup in a certain location. But, they store data on logs and cache files. These are temporary storage locations to store WhatsApp data on PC.
Here is how to find the data stored on a PC:
Step 1: Open the File Explorer and tap the "This PC" option.
Step 2: In the search bar, type "WhatsApp" and press the "Enter" key option to begin.
Step 3: Wait for some time for the procedure to complete. Once done, you'll see the log or cache files if they are available.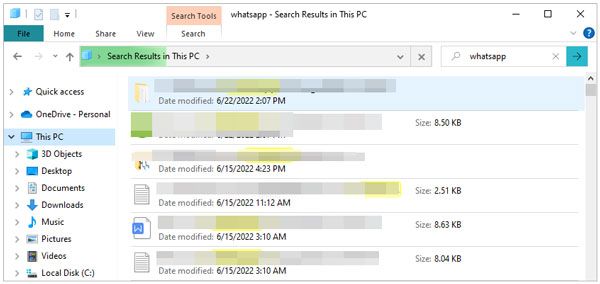 See more: It is easy to back up WhatsApp from Android to a Mac computer. Let's check it out.
1.3 Where is WhatsApp Chat History Stored on Android?
Chat History on WhatsApp is stored in Google Drive or locally on Android gadgets. Every time you send or receive a message from WhatsApp on Android, the respective text data is backed up to the drive or locally on your SD card.
To check your stored WhatsApp chats, do the following:
Go to the file manager app, and click "SD card" > "WhatsApp" > "Databases". However, when your chats aren't stored on an SD card, check the internal storage/main storage.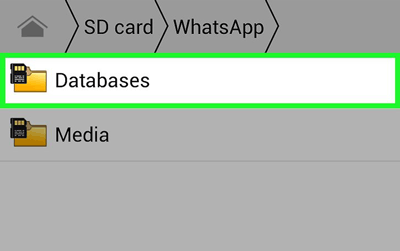 If you mainly backup your WhatsApp messages in Google Drive, just activate the Google account on the same device and then install Google Play Services.
This is how it goes:
Step 1: Open WhatsApp on your phone and click on the 3 dots on the screen.
Step 2: From there, navigate to "Settings" > "Chats" > "Chats backup", and choose the particular Google account you want to store your chat history. Then tap "Back Up to Google Drive" and choose the backup frequency.
Step 3: Select the Google account that you need to store the chat history, and click "Back up over" for selecting the network type you wish to use to do your backup.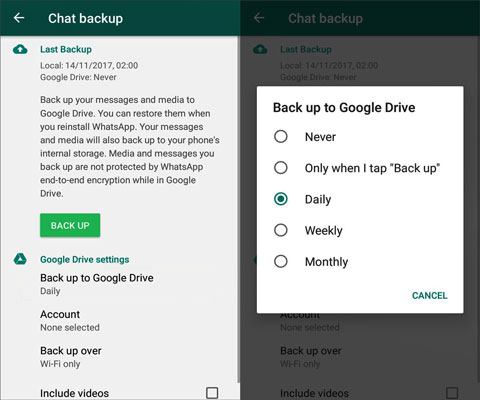 Bonus:
You can transfer WhatsApp files from an iPhone to Samsung via 4 efficient methods. Let's check it out.
Want to restore WhatsApp messages without backup? Here is the full guide.
Part 2: Safely Store All Your iPhone WhatsApp Data to Computer [Pro Way]
WhatsApp Transfer is a professional transfer tool for WhatsApp data, and thus it provides complete WhatsApp backup and restoration options. It is a simple and easy-to-use yet very efficient data transfer option. It is the best alternative to iTunes and iCloud.
If you want to store all your iPhone WhatsApp messages safely, make sure you don't miss this tool. It supports iOS 7.1 and above, Mac OS X 10.7 or above, and Windows 7 or above. It is also compatible with iOS and Android devices.
Main features and highlights of this WhatsApp transfer software:
- Transfer WhatsApp Chats between Android and iOS.
- Transfer data for WhatsApp and WhatsApp Business versions.
- Directly back up and WhatsApp data to a computer and restore the backup data to any Android/iOS devices.
Download this WhatsApp data backup software below.
How to use this WhatsApp data transfer tool to store iPhone WhatsApp data on a computer step by step:
Step 1: Launch the program on the computer and choose the "WhatsApp Transfer" option.
Step 2: Connect your iPhone device to the computer via a lightning USB cable, and start to back up your WhatsApp messages by tapping the "Backup WhatsApp messages" tab.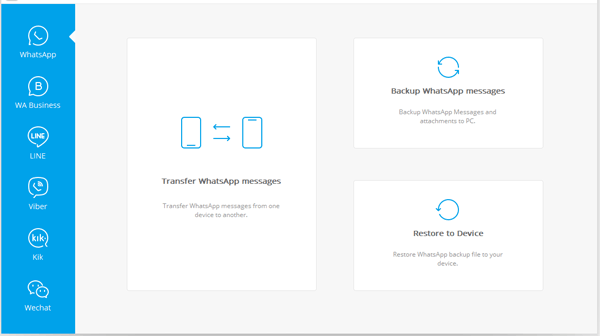 Step 3: After the backup is over, you can tap the "View it" icons to check your WhatsApp backup data.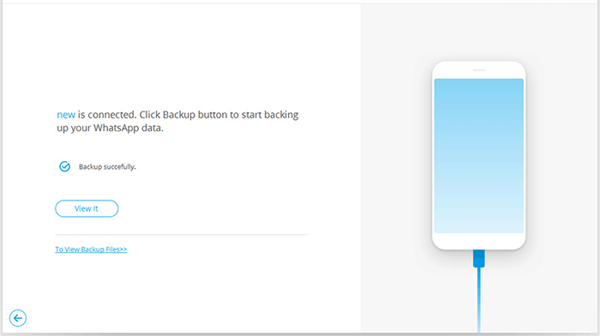 Read also: With this tutorial, you can move WeChat history to a new phone without effort.
Part 3: Hot FAQs on Storing WhatsApp Data
1. How to save your WhatsApp chat history?
WhatsApp chats are backed up and saved automatically daily to the memory of your phone. According to your settings, you may also back up your chats periodically to Google Drive.
2. How to restore your WhatsApp chat history?
To restore the backup from Google Drive, do the following:
Make sure your Android gadget is linked to a similar Google account you saved your backup.
Install then open WhatsApp and verify your phone number.
Click "RESTORE" if prompted to retrieve media and chats from Google Drive.
Once done, click "Next" and your chats will be shown after the initialization is complete.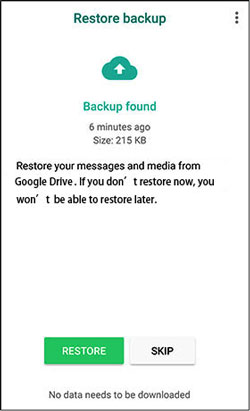 3. Does WhatsApp store the messages on its server?
No. WhatsApp only saves messages on the device memory or Google Drive. The data is erased from the device a couple of minutes after you read the message.
4. Are WhatsApp messages stored on the phone or SIM?
WhatsApp messages are stored on the device memory and not on the SIM card. This is why they aren't erased when you remove the SIM card from your phone.
5. How long are messages stored on WhatsApp?
WhatsApp messages are held on its server for 30 days if they are sent but not received. But, when the message is sent and received, the server automatically deletes it.
6. How can I permanently delete WhatsApp messages from the server?
Click the "WhatsApp" folder, and a list of all the sub-folders will be displayed. Long press the "Database" file. Then choose "Delete".
It is important to note that WhatsApp is a mobile messaging service. Thus, you might think that your messages are stored on your device. However, they're not. It just doesn't work that way. Your messages aren't permanently stored on any one device! Instead, you should back up your data regularly.
Conclusion
You now know where WhatsApp chats are stored. Moreover, having a backup of your WhatsApp chats is very important as these messages are deleted from the WhatsApp server immediately after they are received. The best part is that you can back up your WhatsApp messages to Google Drive or SD Card. And the WhatsApp Transfer software can back up, restore, and transfer WhatsApp data without losing quality. It's advisable to use this software if you don't want any of your data to get lost.
Related Articles
How to Change Your Location on Snapchat with Ease? (Android and iOS Supported)
How to Retrieve Text Messages from Old Phone Number without Difficulty
Export Text Messages from Android to PDF Handily (Advanced Tutorial)
How to Back Up Viber Messages on PC Swiftly | 5 Effective Solutions
My Text Messages Disappeared on My Android - Find the Cause and Fix It
How to Transfer Messages from Android to Mac Easily? 4 Helpful Tips Here