Summary
"I've lost my contacts on my Sony Xperia after my son played it for a while. Now I cannot phone my boss although I have an emergency to talk to him. Could anyone tell me how do I get my contacts back on my Sony Xperia? I really need your help, please!"
If you want to get in touch with your friends, colleagues, and family who are not around you, you will give them a call, right? But if you lost your important contacts from your Sony Xperia phone, what can you do? Unfortunately, many Sony users have encountered this case. Therefore, we will share 3 methods on how to restore contacts on Sony Xperia below, and hope that you can recover your Sony contacts quickly.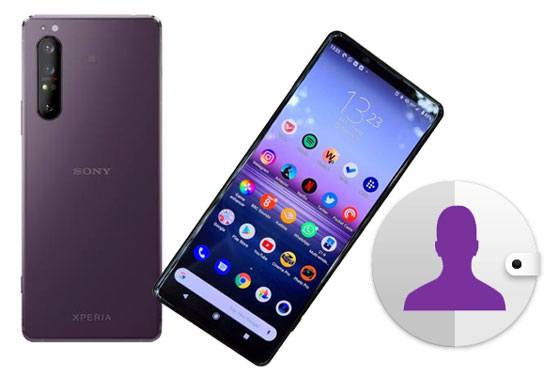 Tips: How do I find hidden contacts on my Sony Xperia? Please check the Contacts Settings first. Above all, access the Contacts app on your Sony phone, and click the "Menu" > "Settings" > "Contacts to display" option. Then opt for the "All contacts", and you will find the hidden contacts.
Part 1: How to Restore Contacts on Sony Xperia without Backup?
If your contact backup is unavailable, how to recover contacts on Sony without backup? Have you heard of this Sony Xperia recovery software - Samsung Data Recovery? It can effectively recover deleted contacts from SIM cards and internal storage space. Besides, it can also recover deleted data from your SD cards.
Key features of this Sony data recovery program:
- Recover deleted contact lists, SMS, photos, documents, and more from your Sony mobile device.
- Display deleted and existing contacts on the interface, allow you to select the contacts you want, and save them to your computer.
- Help you back up your existing contacts and other file types without the hassle.
- Restore deleted photos, videos, documents, and songs from your SD card without root.
- The Deep Mode can recover more files from the depths.
Additionally, this recovery software supports most Android phones and tablets, such as Sony Xperia 1 IV/1 III/5 III/10 III/1 II/5 II/10 II/L4/5/1/10/L3, HTC Desire 21/Desire 20 Pro/Desire 19s/Desire 12s, LG K92/K71/K62/K52/K42, Samsung Galaxy S21/S20/S10/S9/S8/S7, Xiaomi, Vivo, OPPO, OnePlus, and more.
Download the Sony contact recovery program for free below.
How do I get my contacts back on my Sony Xperia without backup?
Step 1. Install the Recovery Software
To begin with, download and install the software on a computer. Then launch it and choose the "Android Recovery" module.
Step 2. Connect Sony Xperia to Computer
- Use a USB cable to connect the Sony phone to the computer, and enable the USB debugging mode on Sony. Then the software will recognize your smartphone.
- Next, select the "Contacts" option and click the "Next" icon at the lower right.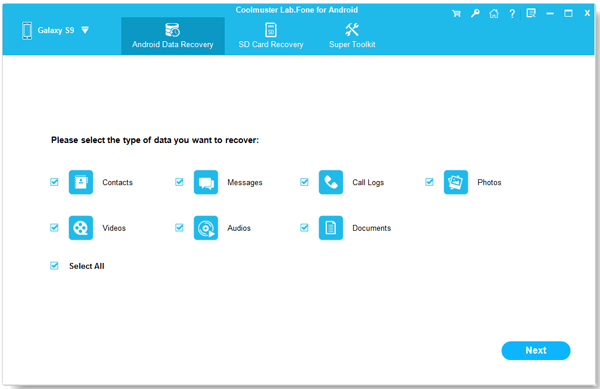 Step 3. Choose a Mode to Restore Contacts on Sony
- Pick a scanning mode on the window, tap the "Continue" button, and it will prompt you to root your Sony phone. This step is necessary if you want to recover contacts from your SIM card or Sony internal memory. Of course, you can skip it when intending to restore files from an SD card.
- Finally, click the "Contacts" category to select the lost contacts, and tap the "Recover" icon to save them on your computer.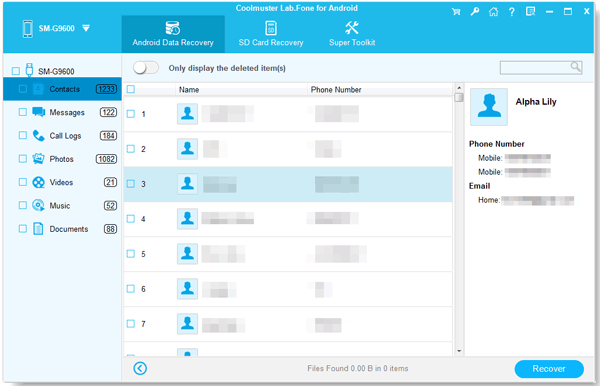 Further reading:
You can also check these 3 ways to copy Samsung data to Sony Xperia with ease.
Want to restore your pictures from Xiaomi Cloud to your mobile phone? Then, please don't miss this guide.
Part 2: How to Recover Contacts on Sony via Google Contacts Backup?
Google Contacts is an excellent synchronization choice for Sony users. As long as you sync your contacts from your Xperia to Google Contacts, you can find the contacts disappeared from Sony Xperia without effort. Furthermore, it will keep your deleted contacts in the Trash folder for 30 days, so that you can recover them easily within its validity period.
How do I recover my lost contacts list from Google Contacts?
Step 1. Login to Google Contacts
Go to the Google Contacts website, and log in with your Google account and password.
Step 2. Go to Trash
Tap the "Trash" option on the left panel. There are the removed contacts on the interface. Check the desired contacts, and hit the "Recover" icon to restore them immediately.
Step 3. Sync Recovered Contacts to Sony Xperia
Open the Settings app on your Sony phone, and choose the "System" > "Advanced" > "Backup" option. Then click your Google account, and tap the "Sync now" icon. Then you will see the recovered contacts on your cellphone.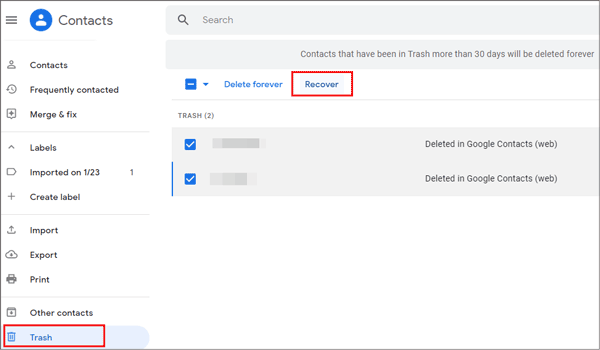 Read also:
Want to transfer files from an old iPhone to a new Sony phone? You can refer to these 6 approaches.
Learn these 6 useful solutions and you can unlock Sony mobile phones easily.
Part 3: How Do I Get My Contacts Back on My Sony Xperia via Xperia Companion Backup?
Xperia Companion is a program to back up and restore data, install new software, and solve many performance issues for Sony Xperia smartphones. Unluckily, this software cannot restore data to the Xperia phones released from 2019 onwards. You can check your phone's released data in advance.
How do I restore my Sony phone contacts via Xperia Companion?
Step 1. Set Up a Connection
Run the software on your computer, and link your Xperia phone to your computer via a data cable.
Step 2. Restore Contacts to Xperia Phone
- Tap the "Restore" icon, choose your backup contact file, and hit the "Next" icon. It will retrieve the phone file system information.
- Click the "Next" icon again to begin restoring the backup contacts to your Xperia device.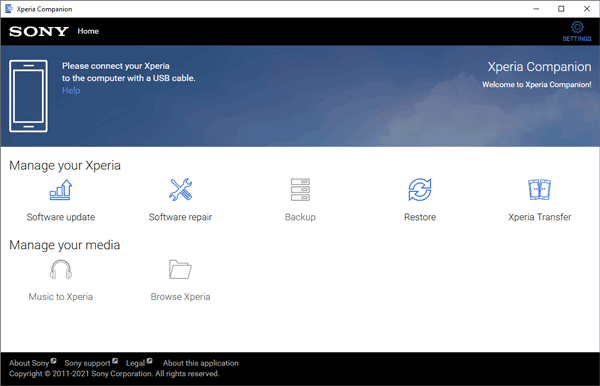 Bonus:
1. Where are contacts stored on Android Sony Xperia? Click this link to find out the answer.
2. How do you save contacts to a SIM card? You can utilize the built-in Contacts app. Launch it, and tap the "Menu" > "Settings" > "Export" > "Export to SIM card" > "EXPORT" icon. Then your contacts will be saved to your SIM card.
Words in the End
As you can see, if you have backed up your contacts on your Sony Xperia phone, you can restore from the backup without a hitch. Reversely, if you don't have a backup, the excellent contact recovery tool - Samsung Data Recovery, is your ideal choice. It is proven that this software can recover deleted contacts and other files on most Sony mobile devices.
Related Articles
How to Transfer Data from Sony to Huawei with 4 Pragmatic Approaches
Sony Backup and Restore: How to Back Up and Restore Sony Xperia in 3 Easy Ways?
How to Transfer Contacts from Sony Xperia to PC [Up-to-date Information]
How Do I Transfer Text Messages from My Sony Xperia to My Computer [3 Super Tips]
How to Transfer Data from Sony Xperia to Sony Xperia in 5 Ways [Overall Guide]
How to Transfer Photos from Sony Xperia to Computer? (4 Easy Ways)