Summary
"I want to directly copy the contact file from my Android phone to computer, but I can't find it in any folder. Where are my contacts stored on my Android phone? Who can tell me? Help, please!"
Contacts are not the same as photos on the mobile phone. We hardly view them via the File Manager. So, where are contacts stored on Android? Can we find them in a folder? If you want to find the location of your contacts, please don't miss this post. Furthermore, it will tell you how to back up your contacts without effort.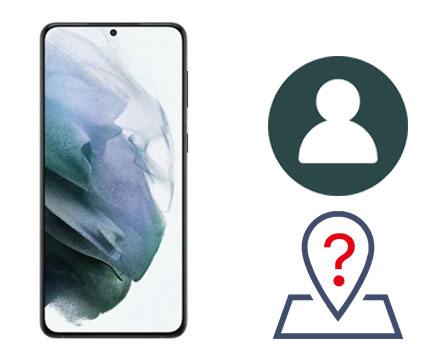 Part 1: Where Are Contacts Stored on Android?
Where are Android contacts stored? This section will tell you the answer. Generally speaking, most Android users will store contacts on their phones. In this case, the contacts will be stored on the internal storage. Also, part of users likes to save contacts to SIM card. Thus, your SIM card is another location for saving Android contacts. Finally, it is possible that you store your contacts on the SD card, if you insert a micro memory card into your mobile phone.
All in all, your contacts will be stored on the internal memory, SIM card, or SD card.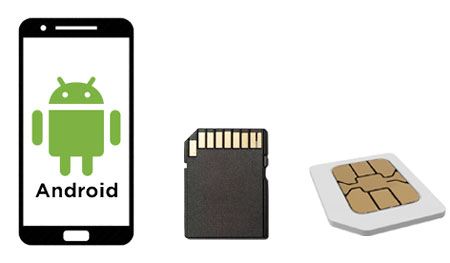 Bonus: Want to recover your deleted Samsung Galaxy contacts? Luckily, this post has listed 3 recovery tips for your reference.
Part 2: How to Check Where Android Contacts Are Stored?
Although you know the contact storage location, you don't know where your contacts are stored. So how do you check your Android contact file location? Let's follow this guide to find out your Android contacts.
Open your Contacts app, choose one contact, and click the "Edit" icon. Then you will know where your phone numbers are stored on Android. If your contacts are saved on:
1. Android internal storage
You can find them in this way: open File Manager, and choose the "data/data/com.Android.provider.contacts/databases/contacts.db." folder. Then you will see your contact files.
2. Your SIM card
If your contacts are saved on the SIM card, you cannot view it on any Android contacts folder. Undoubtedly, you can't access your SIM card. But if needed, you can export contacts to your SIM card: go to Contacts, click the "Menu" > "Settings" > "Export" option, and choose the SIM card.
3. Your SD card
How can you know if your contacts are stored on the SD card? It is simple. You can remove your memory card from your phone. Once the contacts disappear, it means that your contacts are saved on the external memory card.
Read also: Are there many duplicate contacts on your Android device? If yes, you can use these 5 ways to remove duplicate contacts with ease. Let's have a try.
Part 3: How to Export Contacts from Android
After finding out where the phone numbers are stored on Android, you can now learn how to export contacts from Android. In this part, you can follow the guide to breezily transfer contacts as a VCF file, back up them to your computer, and sync them to your Google account.
3.1 Export Contacts from Android as a VCF File
Saving your contacts as a VCF file on Android is a practical method to keep contacts from losing. Also, in this way, you can easily find your contacts from the internal storage space. Here's the guide:
Step 1: Open the Contacts app, and click the "Menu" icon on the top left.
Step 2: Scroll down the list, and tap the "Manage contacts" > "Import or export contacts" > "Export" option. Finally, you can export your contacts as a VCF file.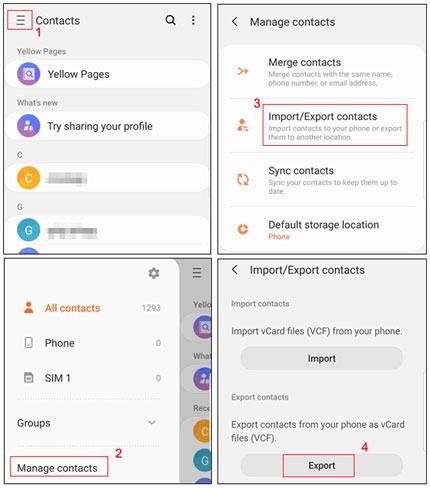 See also: What if you intend to copy contacts from an iPhone to an Android phone? If so, please open this link. It will tell you 6 effective methods.
3.2 Back Up Android Contacts to Computer
There is no doubt that backing up contacts on your computer is more secure than saving on your Android phone. But do you know how to back up and restore android contacts on a computer in 1 click? It is a piece of cake. As long as you use this Android data backup manager - Samsung Backup and Restore, you can copy all contacts, and other Android files to a computer at once.
Whenever you want to get your backup contacts back, you can use its restoration function to restore the whole contacts in 1 click. Let's see the guide:
Step 1: Download and install this program on your computer.
Step 2: Launch it, and connect your Android device to your computer via a USB cable. Then enable the USB debugging feature on the phone.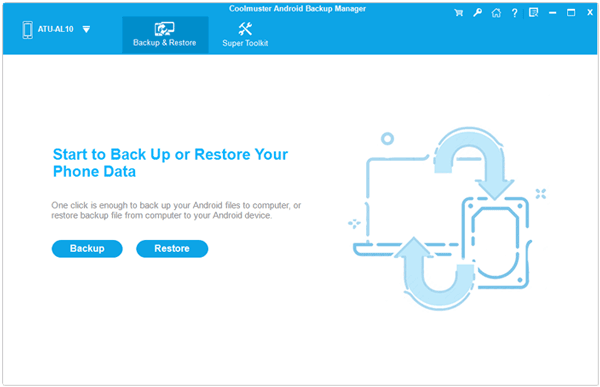 Step 3: Click the "Backup" > "Contacts" option, and tap the "Back Up" button to begin the transfer. Once done, you can view your contacts on the computer.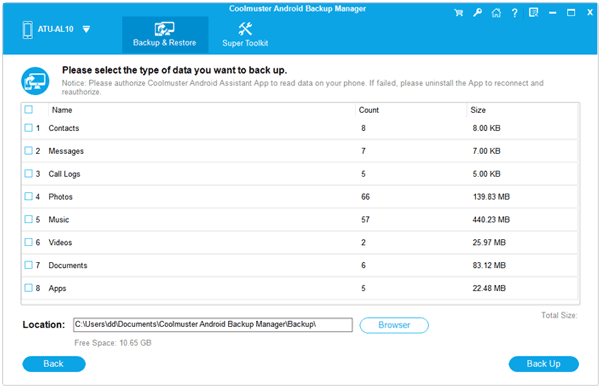 Tips:
So, where are messages stored on Android? If you find out the answer, you can easily transfer your SMS.
You can also back up your Android contacts to Mac without effort.
3.3 Transfer Contacts to Google Account
Every Google user has 15GB of free cloud storage, so do you. Thus, you can upload your Android contacts to your Google account. But if you run out of storage, you need to remove some uploaded files, or upgrade your storage plan. Besides, you can visit Google Contacts to check your contacts. Here's the tutorial:
Step 1: Go to Settings, tap the "Accounts and backup" > "Backup and restore" option, and toggle on the "Back up my data" icon.
Step 2: Choose the "Backup account" option to enter your Google account.
Step 3: Click your account, and you can turn on the "Contacts" icon only. Then it will automatically synchronize your contacts to the cloud space.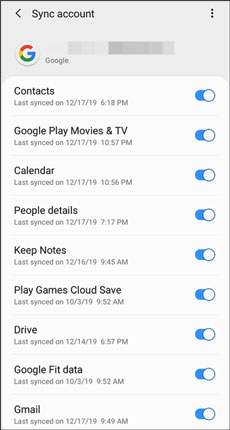 Final Thoughts
This article not only tells you where phone numbers are stored on Android, but also shares 3 methods to help you transfer contacts from the Android phone for backup. So, if you want to protect your Android contacts, please find and back them up with the approaches mentioned above right now.
Related Articles
How to Send Text to Multiple Contacts without Group Message on Android? (Solved)
How to Transfer Contacts from Android to Computer Swiftly? [3 Easy Ways]
[Updated] How to Fast Transfer Contacts from Samsung to Samsung?
[Fixed] 4 Ways to Transfer Contacts from Samsung to A Computer without a Hitch
How to Delete Contacts on Android Phone in 2021? 5 Smart Methods for You
Transfer Contacts from Android to Outlook via 3 Essential Ways