Summary
Data migration is an important consideration when you switch your old phone to the new one. Lately, many people about how to transfer data from Sony to Huawei. One of the most frequent issues is how to transfer apps to Huawei without downloading them again.
Indeed, if you don't transfer contacts, apps, messages, and other useful files from the old Sony phone to the new Huawei device, it will be inconvenient to use the new handset. Therefore, we offer 4 efficient and comprehensive ways in this post. You can use them to transfer Sony files to Huawei easily.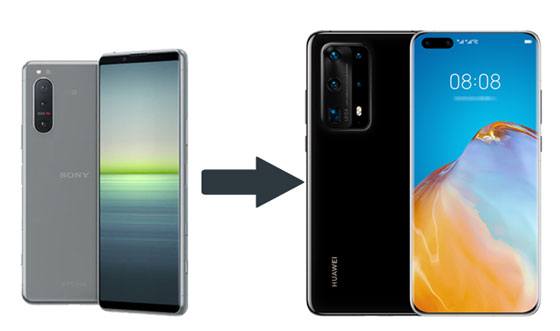 Part 1: How to Transfer Data from Sony to Huawei Using Huawei Transfer
This Huawei data transfer - Samsung Data Transfer, can send different kinds of data from Sony to Huawei in a tap. As long as you select files by category on the interface, it will automatically transfer them to the Huawei phone or tablets. Powerfully, it supports contacts, call logs, videos, music, applications, SMS, and more, including almost all essential file types.
Hallmarks and highlights of the Sony to Huawei transfer software:
- Copy files from Sony to Huawei and vice versa without effort.
- It's effective to transfer files from iPhone to iPhone, such as contacts, notes, calendars, bookmarks, and books.
- Also, support to transfer files from Android to iOS and vice versa.
- Allow you to connect both Android devices to the computer with USB and Wi-Fi.
Amazingly, it has good compatibility. It works with most Android and iOS devices, including Huawei Mate 40 Pro/Mate 40/Mate Xs/Mate 30 Pro/Mate 30/Mate 20 Pro, Sony Xperia 5 II/Xperia 5/Xperia 1 II/ Xperia 1/Xperia 10 II/Xperia 10/ Xperia L4, Samsung Galaxy S20/S10/S9/S8, iPhone 12 Pro/12/11/X/XS/XR/8/7/6, Google, OnePlus, ZTE, Xiaomi, etc.
Download the Huawei file transfer for free below.
Here's how to transfer data from Sony Xperia to Huawei P20 quickly:
Step 1. Download the Transfer Program
Download and install the file transfer software on the computer.
Step 2. Connect and Select File Types
Launch it and connect both smartphones to the PC with USB cables. Then enable USB debugging mode on two phones. After connecting, you can select file types on the interface.
Step 3. Start Data Transfer
- You can start the data transfer process by hitting the "Start Copy" icon. By the way, if needed, you can click the "Flip" icon to change your phones' sides.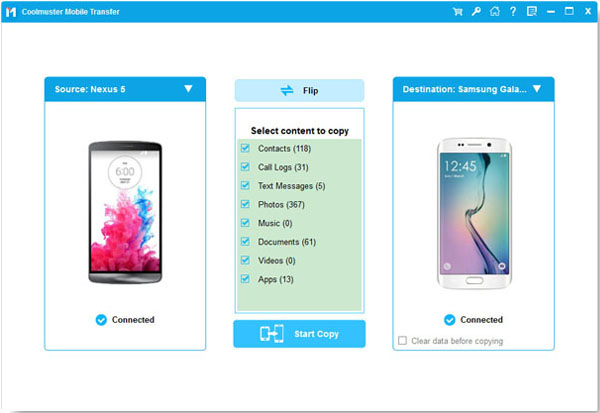 - A few minutes later, the transfer process will be finished. Please safely remove your phones from the computer.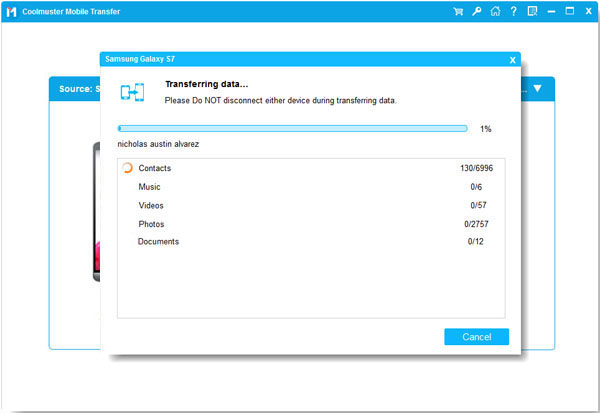 Check if you need:
Swiftly back up Huawei data? Please get these 4 powerful backup ways.
Wonder how to remove the lock on your Xperia phone? Please refer to these methods.
Part 2: How Do I Transfer Contacts from Sony Xperia to Huawei via Bluetooth
How do I transfer contacts from Sony Xperia to Huawei? Besides the first way, you can use Bluetooth. It is suitable to transfer several small files from one phone to another. It can transfer files wirelessly, but slowly to transfer big files.
Guide on how to transfer data from Sony to Huawei P30 lite with Bluetooth:
Step 1. Enable Bluetooth and Pair Phones
Open the Settings app and turn on Bluetooth on both smartphones. Then select your device from the available list and make them paired with each other.
Step 2. Select Contacts
Go to the Contacts app on Sony and tap the "Menu" > "Import/Export" > "Share namecard via" option. Then you can select contacts on the screen.
Step 3. Send Contacts from Sony to Huawei
Once selected, please choose the "Bluetooth" icon and pick your Huawei device as the receiver. Please click the "Accept" option on the Huawei device. The transfer will start.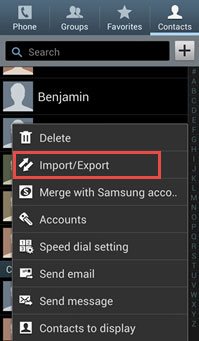 Read also: Want to transfer from Huawei to Mac? Check these helpful solutions, and you will experience the relaxing transfer process.
Part 3: How to Transfer Data from Sony Xperia to Huawei with Phone Clone
Huawei Phone Clone is a fast transfer tool for Huawei devices. So you can transfer Sony data to Huawei with it. Besides, it can move files via a local hotspot of the new phone, like photos, videos, contacts, and so on. As long as your phone is running Android 4.4 and upper, you can use it smoothly.
Steps on how to transfer data from Sony Xperia to Huawei with Phone Clone:
Step 1. Install the App
In general, you can run it on the new Huawei phone directly. But don't forget to download and install it on your Sony phone.
Step 2. Scan QR Code for Connection
Open it and tap the "This is the new phone" feature on Huawei, and "This is the old phone" on Sony. Then scan the on-screen QR code for connection.
Step 3. Send Sony Files to Huawei
Tick file types you would like to transfer and click the "Send data" icon to initiate the transfer.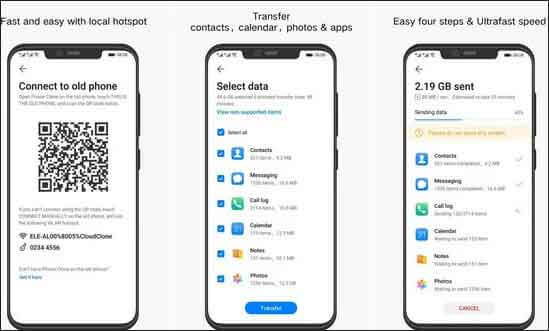 Further reading: This post is going to introduce 3 top ways to recover lost data from Huawei. If you want to find your deleted files, please have a look.
Part 4: How Do I Transfer Everything from Sony to Huawei with Google Account?
Using a Google account can sync your Sony files to Huawei via Google cloud storage. If you have signed up with a Google account, you can transfer with it effortlessly. But if your files are over 15 GB, you need to upgrade your cloud space in advance.
Here's how to transfer everything from Sony to Huawei with the Google account:
Step 1. Enable Google Backup on Sony
Enter the Settings app on Sony and select the "System" > "Advanced" > "Backup" option. Then enable the "Back up to Google Drive" icon, and click the "Account" option to input your Google Account.
Step 2. Sync Google Backup on Huawei
- To transfer your Sony data to Huawei, you need to add the same Google account on your Huawei phone. Navigate to the Settings app on Huawei, and click the "System" > "Backup & restore" > "Back up to Google" icon.
- Then switch it on and choose the "Backup account" option to import your Google account. It will automatically merge the Sony files to your Huawei device.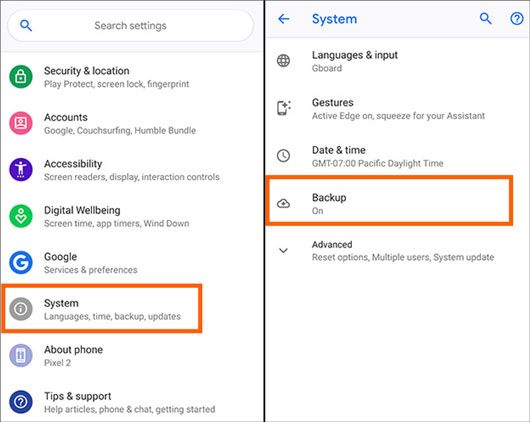 Maybe you need: Looking for a fast way to transfer photos from Sony Xperia to the computer? These 4 easy ways will give you a hand.
Extra: How do I transfer data from one Sony to another with Xperia Transfer 2
Xperia Transfer 2 can help you send data from an iPhone or an Android phone to a Sony Xperia. It works with multiple file types saved in the internal storage but not external storage.
Install the latest version from Google Play.
Temporarily set the app as the default SMS application on the new Xperia phone. Then connect both phones via USB or Wi-Fi.
Select files on the old phone and begin the sending process by tapping the "TRANSFER" button.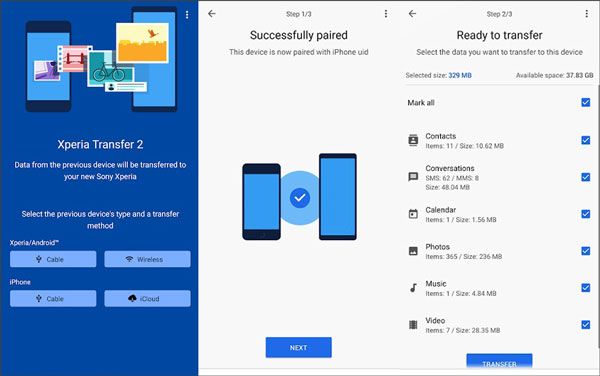 Conclusion
With the methods above, it's simple to transfer data from Sony to Huawei. Furthermore, you won't fret about the long time transfer if you choose the one-click transfer tool - Samsung Data Transfer. It can move all you want to the new Huawei phone seamlessly. Let's start the transfer.
Related Articles
4 Practical Methods: Transfer Data from Samsung to Huawei Quickly
[Effective] How to Retrieve Deleted Messages on Huawei Phone with 4 Options
How to Readily Transfer Data from Huawei to Xiaomi? Check These 6 Hany Ways
Transfer Contacts from Huawei to iPhone 12 with 5 Excellent Ways
How Do I Transfer Text Messages from My Sony Xperia to My Computer [3 Super Tips]
Sony Backup and Restore: How to Back Up and Restore Sony Xperia in 3 Easy Ways?