Summary
Deleted a useful contact when managing your contacts on your Google Pixel phone? You might get flurried at that moment. But you can calm down now because you can now recover deleted contacts on Google Pixel with ease. This article has listed 4 recovery solutions below. Please take a look and use them to get your deleted contacts back.
Before recovery, there are 2 points you need to know: First, although you cannot see the deleted contacts, they are still on your mobile phone before the new data overwrite them. Thus, it is possible to recover them. Second, to prevent the new data from overwriting them, you'd better stop using the Pixel phone, and turn off the Bluetooth, mobile data, and Wi-Fi.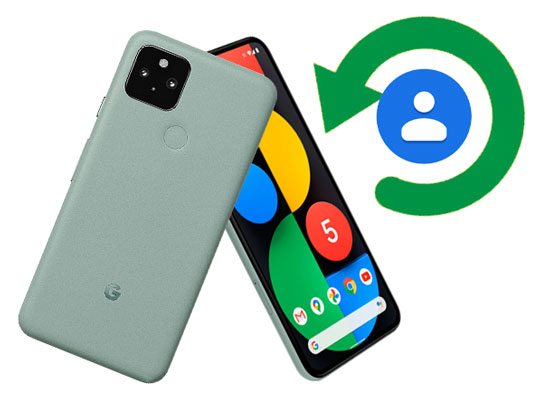 Part 1: Recover Deleted Contacts on Google Pixel via Contact Recovery (without Backup)
Is there any way to recover deleted contacts on Google Pixel without backup? Certainly, this contact recovery - Samsung Data Recovery, can quickly find your deleted contacts from your phone, even if you forget to back up contacts. With it, you can recover not only deleted contacts but also deleted photos, text messages, call logs, and more at the same time.
Main highlights of this Google Pixel data recovery tool:
- Recover deleted contacts from the internal storage without effort.
- Support you back up the existing and deleted contacts and other files to the computer at a time.
- Allow you to recover deleted music, videos, documents, call logs, etc.
- Effective in SD card data recovery without root, including different kinds of media files.
- Offer you 2 scanning modes: Quick Scan and Deep Scan.
- Work with most Android devices, such as Google Pixel 5/Pixel 4a/4 XL/4/3a XL/3a/3/2 XL/2, Vivo X60/X51/X50/X30, OnePlus 9 Pro/9/Nord N10 5G/Nord 100, Huawei Mate 40/Mate Xs/Mate 30/Mate 20/Mate X, Motorola, ZTE, OPPO, Sony, and the like.
Download the contact recovery software for free below.
Here's how to recover deleted contacts from Google Pixel:
Step 1. Install the Recovery Software
Please download and install the program on your computer, and connect your Pixel phone to the computer via USB.
Step 2. Select a Scanning Mode
- After it recognizes your mobile phone, please select data types you want to recover on the interface, and click the "Next" icon.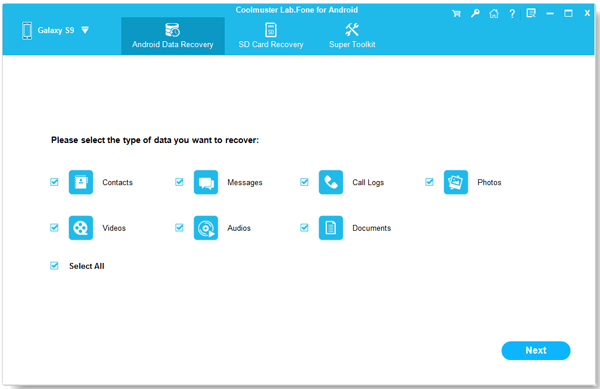 - Next, you can choose the "Quick Scan" or the "Deep Scan" mode, and tap the "Continue" button.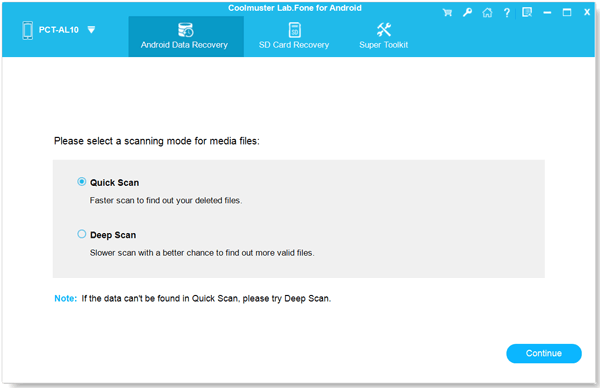 Step 3. Fast Recover Deleted Contacts
It will fast scan out the deleted contacts, and allow you to preview them on the computer. Then select the desired contacts, and hit the "Recover" icon to recover the deleted contacts from the Google Pixel phone.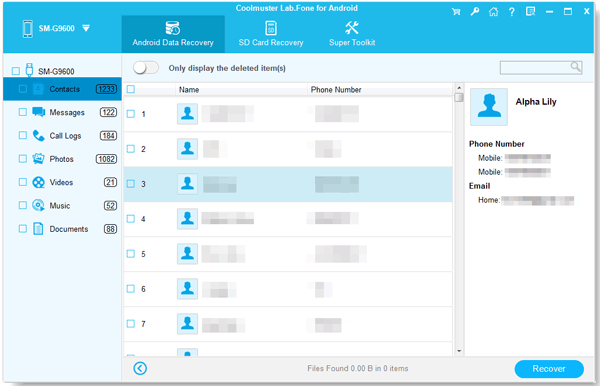 Tips:
If you haven't rooted your phone, it will prompt you to root your Android device. If needed, you can click the full guide to root your cellphone directly. By the way, if your deleted files were stored on the mobile phone external storage or the SIM card, you can recover them without root.
Want to recover deleted from your SD card? Please check this guide on Micro SD card recovery software.
Part 2: Restore Disappeared Pixel Contacts from Google Backup
Have you already backed up your contacts to Google cloud storage before the Pixel contacts disappeared? If yes, you can restore your contacts from your Google backup. And you can view the backup contacts on Google Contacts. However, you will fail to restore your contacts if you don't perform a backup before getting lost.
Guide on how to restore Disappeared Pixel contacts from Google Backup:
Step 1. Sign In to Google Contacts
Install Google Contacts on your Pixel smartphone, and sign in to your Google account used to back up your contacts.
Step 2. Export Backup Contacts
View and select the contacts you want on Google Contacts. Then click the "Menu" icon, and choose the "Export" option. It will save the contacts to your Google smartphone.
Step 3. Import Contacts on Pixel
Open Contacts app, and tap the "Menu" > "Settings" > "Import" > ".vcf files" option. Then you can select the contact file from the internal memory, and import contacts successfully.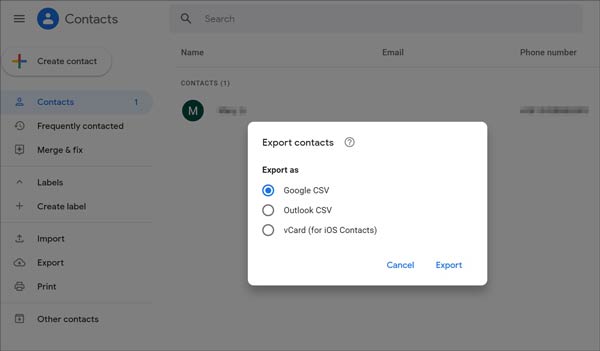 Read also:
Frettings about how to transfer photos from Google Pixel to the computer? Here are 4 ways that can help you.
How can you smoothly transfer contacts from an iPad to Android? Please take a look at this post, which contains 6 related tips.
Part 3: Retrieve Disappeared Contacts from Google Pixel via SD Card
Some people are accustomed to back up important files on their SD cards. If you are the same, maybe you can retrieve the disappeared Google pixel contacts from your SD card. As long as you confirm you have stored the contacts on the memory card, you can easily get the lost contacts back.
Steps on how to retrieve disappeared contacts from Google Pixel via an SD card:
Step 1. Insert the SD Card
Please insert the SD card into your Pixel smartphone, and open the Contacts app.
Step 2. Restore Contacts to Google Pixel
Tap the "Menu" > "Settings" > "Import" > ".vcf files" option. Then select the contact backup file from your external memory card. Once done, you will restore the disappeared contacts on the Pixel phone.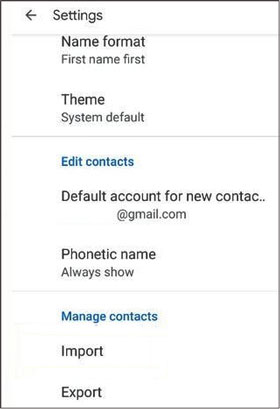 Further reading:
Is it possible to recover deleted text messages on Google Pixel? Certainly, these 4 methods are all effective in message recovery.
Want a comprehensive Pixel data transfer guide? Here it is! You can get useful methods from this article.
Part 4: Get Deleted Contacts Back from Google Pixel Internal Storage
It is also useful to get deleted contacts back from the internal storage if you have backed up your contacts on your mobile phone. The process is similar to restoring from the SD card: go to Contacts and import the VCF file from the internal memory. But there is another aspect many people often ignore. Probably, you didn't lose your contacts but set it as an error.
Here's how to find disappeared contacts from Google Pixel:
Step 1. Run the Contacts App
Go to Contacts, and directly click the "Menu" icon.
Step 2. Set Your Contacts
Choose the "Settings" and the "Contacts" options. Then tap the "Contacts to display" icon.
Step 3. Display All Contacts
Make sure you display all the contacts on your Google phone. Next, you can check your contact list.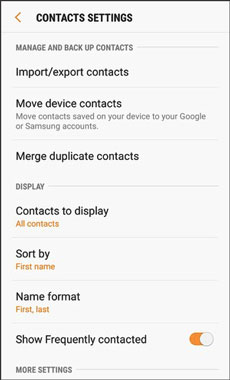 See also: Want to completely delete contacts on Android? Here are 5 smart methods for your reference.
Conclusion
We now have discussed 4 effective methods above on how to recover deleted contacts on Google Pixel. Even though you forget to back up your contacts before deletion, you still can use the Google Pixel data recovery tool - Samsung Data Recovery, to find your important contacts. And the other 3 solutions can let you restore contacts from backup without trouble. So, which method is the best for you?
Related Articles
Transfer from Pixel to Samsung with 4 Lightning-Fast Ways
How to Transfer Contacts from iPhone to Pixel 4? (Step-by-step Tutorial)
Switching from iPhone to Pixel: 3 Methods to Transfer Data from iPhone to Pixel
Back Up and Restore Google Pixel: 3 Ways Make It Easier
How to Transfer from Samsung to Pixel in Top 7 Ways? (Latest in 2023)
Google Pixel Data Recovery: Easily Recover Deleted Photos in 3 Ways