Summary
Switching to a new phone is easy, but data migration is not. At present, users like switching brands, and there are more and more transfer tools in the app market. However, they are not all safe. Therefore, it's vital to pick an easy and secure migration tool.
We will talk about how to transfer from Pixel to Samsung today. If you want to transfer data safely and quickly, please try these 4 transfer approaches in the following.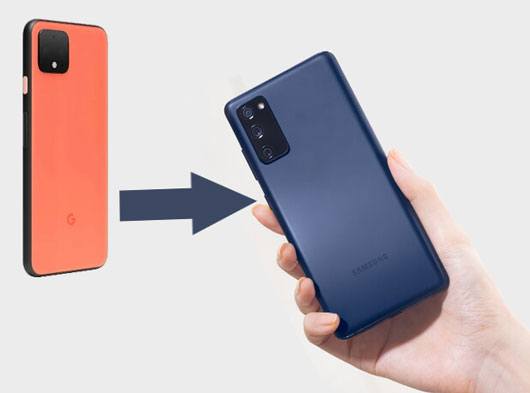 Part 1: Transfer from Pixel to Samsung in 1 Click – Samsung Data Transfer
This Samsung Data Transfer is always good at moving data. It can send contacts, messages, videos, apps, and more from Google Pixel to Samsung in 1 click. It supports USB and Wi-Fi connections between Android devices simultaneously, which is a convenient option for users. Want to know more about it? Please check its features out below.
Main features and advantages of the Pixel to Samsung migration tool:
- Transfer data from Pixel to Samsung seamlessly, including music, photos, documents, call logs, etc.
- Freely choose to clear existing data on your destination Android device.
- Allow you to send data types selectively.
- Transfer files from iPhone to iPhone, iPhone to Android, and Android to iPhone.
Powerfully, it is compatible with most Android and iOS devices, like Google Pixel 5/Pixel 4a/4 XL/4/3a XL/3a/3/2 XL/2/XL, Samsung Galaxy S20/S10/S9/S8/S7, Samsung Note series, Huawei, OnePlus, LG, Sony, Motorola, iPhone, iPad, iPod, and so on.
Download the Samsung file transfer software for free below.
Here's how to transfer data from Pixel to Samsung in 1 tap:
Step 1. Install the Program
Please download and install it on your computer.
Step 2. Connect Phones to the Computer
Launch it and connect both phones to the computer with USB cables. After enabling the USB debugging mode, it will recognize your devices and scan the data immediately.
Step 3. Send Data Swiftly
- Make sure your Samsung phone is on the Destination side, and select file types on the panel. To start the transfer, please click the "Start Copy" button.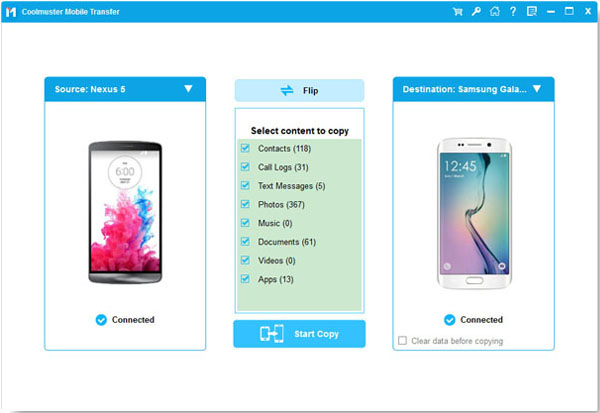 - It will send your selected files to the target device without data loss. After the end, please disconnect your phones from the computer.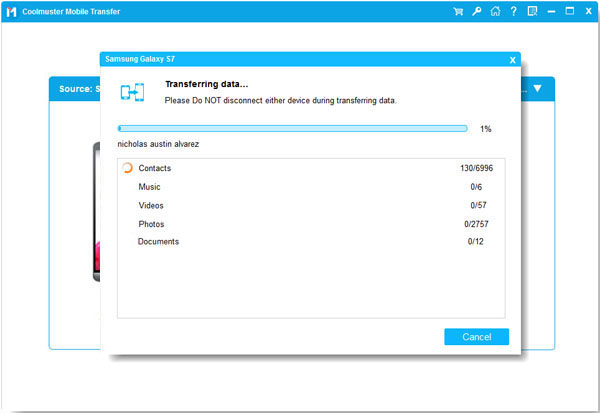 Maybe you need:
Have trouble in switching from iPhone to Pixel? Please get these 3 tips here. They will solve your problem.
If you upgrade your old Google Pixel phone to the latest model, you might want to transfer your data from the old Pixel gadget to the new one.
Part 2: Transfer Data from Pixel to Samsung via Samsung Smart Switch Mobile
Samsung Smart Switch Mobile can send files from one phone to a Samsung phone or tablet with USB or wirelessly. But it requires Windows 10 with the wireless transfer. It can help you send contacts, calendars, device settings, and more to the Samsung device. Moreover, it needn't a computer for file transfer.
Guide on how to transfer files from Google Pixel to Samsung via Smart Switch Mobile:
Step 1. Install the App
Please install and open it on your handsets.
Step 2. Connect Devices via USB
Tap the "Send data" > "Cable" option on the old phone, and click the "Receive data" > "Cable" option on the new phone. Make your Pixel connect to Samsung with a USB cable and a USB connector. They will be connected.
Step 3. Select and Transfer Pixel Data to Samsung
You can select what you want to bring on the new phone and hit the "Transfer" icon. Next, tap the "Copy" button on the sender. The app will begin sending files to the Samsung device.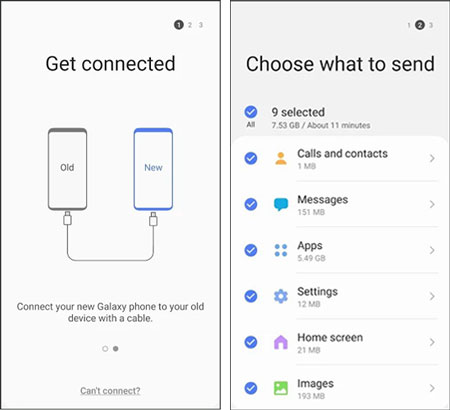 Read also: Want to know the practical Samsung Smart Switch alternative? In this case, please don't miss these 6 equivalents.
Part 3: Transfer Files from Google Pixel to Samsung via Google Drive
If you install Google Drive on your devices, please don't hesitate to use it for the data transfer. You can upload sorts of media files to it using cloud storage. To start with, it offers you 15 GB of free space. Also, you can enlarge the space by purchase at any time.
Here's how to synchronize files from Google Pixel to Samsung via Google Drive:
Step 1. Sign In
Please sign in with your Google account after installing and running Drive on both handsets.
Step 2. Upload Pixel Files to Drive
To upload Pixel data to Drive cloud space, please tap the "Plus" > "Upload" icon on the Pixel phone.
Step 3. View and Download Files to Samsung
Once uploaded, please refresh your Drive on Samsung, and you will see your Pixel files on the screen. Pick the desired files and download them to your Samsung device directly.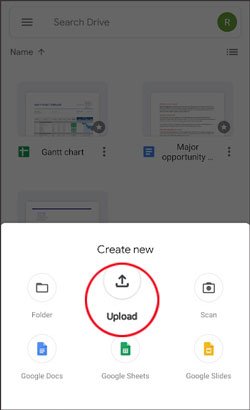 Further reading: Is there a way to transfer from Samsung to Pixel? Of course. You can get help from these latest methods.
Part 4: Transfer Stuff from Old Google Pixel to New Samsung via Content Transfer
Content Transfer, made by Verizon, is another wireless transfer tool for mobile devices. You can transfer your contacts, audios, calendars, and other content from your old phone to the new one. If you want it, please download and install it from Google Play to both devices.
Steps on how to transfer stuff from Pixel to Samsung using Content Transfer:
Step 1. Install Content Transfer App
Please install this application on your Pixel and Samsung smartphones/tablets.
Step 2. Set It Up for Connection
Next, please tap the "This is my old phone" option on Google Pixel, and "This is my new phone" on Samsung. Then click the "Next" > "Android to Android" > "Next" icon. You can scan the QR code shown on your other device now, and they will make a connection.
Step 3. Transfer Pixel Content to Samsung
Please select files you intend to transfer on the old phone and tap the "Transfer" button to start the procedure.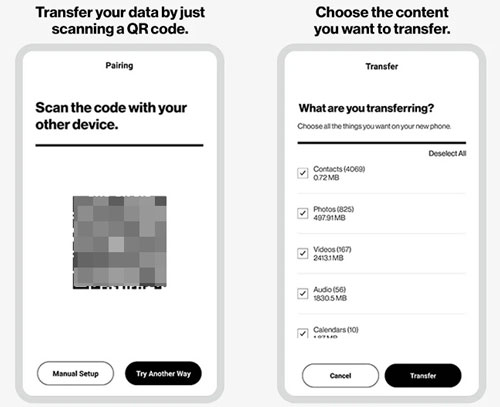 What's the Quick Switch Adapter? Can it transfer data from Google Pixel to Samsung?
Google Quick Switch Adapter is an OTG adapter to help you connect one phone to the Pixel phone. Then you can transfer data to the Google Pixel device. Unluckily, it cannot transfer files from Pixel to Samsung.
Conclusion
It won't be troublesome to transfer from Pixel to Samsung from now on. The previous transfer methods can move data quickly and without damages. If you utilize the Samsung Data Transfer, you can get the most smooth transfer without complicated steps. Anyway, choose one tool you like best.
Related Articles
How to Transfer Files from Pixel to PC with 4 Ways? (Newest Guide)
How to Transfer Contacts from iPhone to Pixel 4? (Step-by-step Tutorial)
Transfer Contacts from Samsung to Huawei in 4 Valid Ways
How to Transfer Contacts from Sony Xperia to Samsung? Try 4 Helpful Ways Below
How to Quickly Transfer Data from OnePlus to Samsung: 4 Best Ways You Can Try
How to Free Up Space on Samsung Tablet: Make it Faster Than Ever Before