Summary
"Hey, all - just purchased my Pixel 4 today and I am still getting used to many of the features and differences between Android and iOS. I initially synced my iPhone with Pixel via the USB-C adapter. However, none of my contacts transferred over. Any tips on what I can do?"
I came across this post when I randomly browse some reviews of Pixel 5 on Reddit.com. It soon occurred to me that many people seem to have this appeal when switching from iPhone to Pixel. That's why this post comes out. In this post, I will show you how to transfer contacts from iPhone to Pixel breezily.
Way 1. How to Transfer Contacts from iPhone to Pixel Using Android Data Transfer (One-click)
No matter you transfer data from iPhone to Pixel or visa verse, this Android data transfer tool - Samsung Data Transfer, will always help you do it safely and directly in seconds. The only thing you need to do is to install this powerful program on your computer and connect iPhone and Google Pixel to the computer via Wi-Fi or USB cable. Next, Android Data Transfer will automatically scan out the data which you can transfer from the iPhone and copy it to Google Pixel instantly.
At first, take a brief look at its main features:
* One-click to transfer data between two phones and it supports Android and iOS devices.
* Transfer contacts, SMS, call logs, music, videos, photos, eBooks, and user apps from Android to Android.
* Copy photos, music, videos, contacts, SMS, and eBooks (PDFs & ePubs) from iOS to Android.
* Migrate contacts and eBooks (PDFs & ePubs) from Android to iOS.
* Sync contacts, calendars, bookmarks, eBooks (PDFs & ePubs), and notes (not supported in iOS 11 or later versions) from iOS to iOS.
* Widely compatible with almost all types of Samsung, Sony, LG, HTC, Motorola, Google, iPhone, iPad and iPod, including iPhone 12/SE (2nd generation)/11/11 Pro/11 Pro Max/XS Max/XS/XR/X/8/8 Plus/7 Plus/7/SE (1st generation)/6S Plus/6S/6/6 Plus/5S/5C/5/4S/4, Google Pixel 5/4/4 XL/4a/3/3 XL/3a/3a XL/2/2 XL/X, etc.
Steps to transfer contacts from iPhone to Pixel with one click:
1. Launch Android Data Transfer after installing on your computer, and enter the Mobile Transfer module from the toolbox.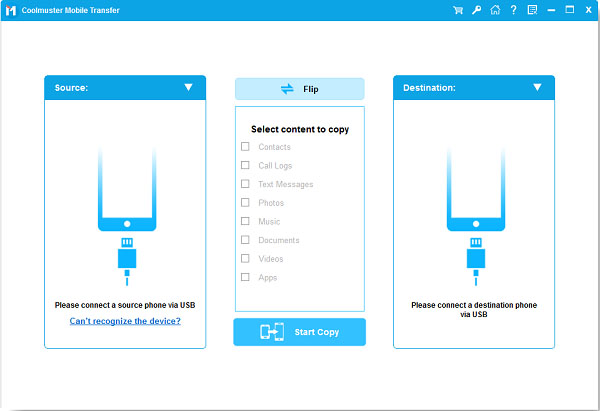 2. Connect the iPhone and Pixel to the computer with suitable USB cables and make them recognizable by the computer. Make sure that the iPhone is in the source device's position, if not, click Flip on this program to change their position. After a successful connection, you will see Connected under the device's image on this program.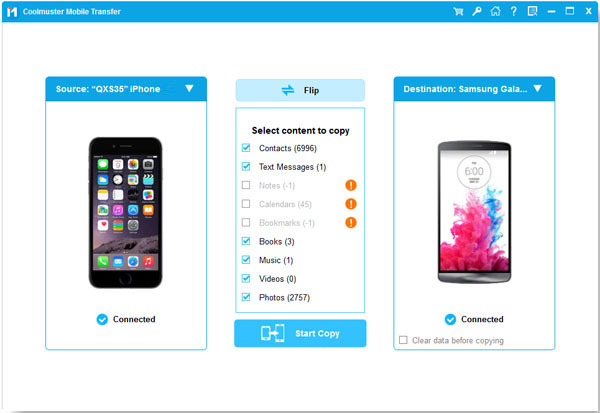 3. Transfer contacts from iPhone to Pixel. Select Contacts from all contents and hit Start Copy below to begin the transfer process. (Notes: To transfer text messages from iPhone X to Pixel 4, you can tick SMS > tap Start Copy.)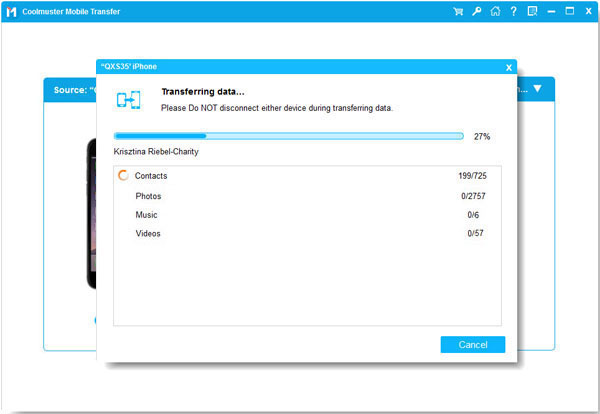 See also: Also wonder how to transfer from Samsung to Pixel? Here are 7 practical ways you can freely select.
Way 2. How to Transfer Contacts & Text Messages from iPhone to Pixel 4 with Quick Switch Adapter
Quick Switch Adapter, also named as OTG Adapter, is a device designed for new Pixel users to easily transfer all data to the Pixel phone from your old device. It supports most phones running Android 5 and up and iOS 8 and later versions. You can copy data, like contacts, text messages, photos, music, calendars, etc., from iPhone to Pixel using it without a computer easily.
Follow these steps to transfer contacts/messages from iPhone to Pixel 4 after setup:
1. Preparations:
A Quick Switch Adapter.
A USB cable that works with your iPhone.
The SIM card and SIM card pin.
Turn off iMessage and FaceTime on your iPhone.
Turn off Google Pixel and insert the SIM card into your phone.
2. On your Pixel phone, tap Start, connect your phone to Wi-Fi/cellular data, and tap Copy your data option. Next, switch on and unlock your iPhone, connect the iPhone to the Quick Switch Adapter using the USB cable, and tap Trust on iPhone.
3. Transfer contacts from iPhone to Pixel 5/4/4XL. Sign in to the Google account on your Google Pixel phone or create a new Google account if you forget. Then a list of data that you can move will display. Choose Contacts and Messages from the list and tap Copy.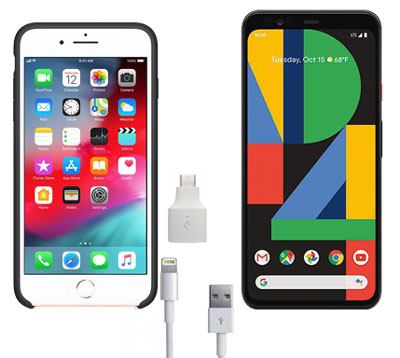 Further reading: These 3 tips about Google Pixel data recovery can let you recover the deleted files from your Pixel phone without effort.
Way 3. How to Import Contacts to Pixel from iPhone via iCloud (Complicated)
iCloud is another way you can choose. To transfer contacts from iPhone to Pixel with iCloud, you need to sync contacts to iCloud first, then export it from iCloud and save it to Google Pixel. The whole process is a bit complicated.
How do I transfer data from an old phone to Google Pixels?
Sync contacts from iPhone to iCloud. Unlock your iPhone and go to Settings > Tap your Apple ID > iCloud > Turn on Contacts.
Export contacts from iCloud to the computer. Visit the iCloud official website on your computer, and sign in with the same Apple ID that you used on your iPhone.
Click Contacts > All Contacts option, and hit the CTRL + A to select all contacts. Then tap the gear icon at the lower-left corner to choose the Export vCard feature. The contacts will be saved as a .vcf file on your computer.
Import contacts to Google Pixel. Connect your Pixel to the computer with a USB cable and copy and paste the .vcf file to the SD card of your phone.
Disconnect your Pixel, head over to Contacts app on Google Pixel, tap Menu icon (three dots) > Import/Export > Click Import from USB storage to add contacts to your Pixel phone.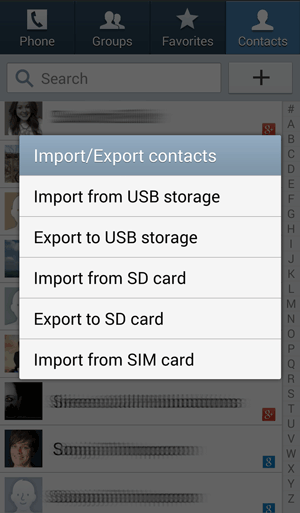 You might like: There are 3 different methods to back up and restore Google Pixel in this post. If needed, check it out.
Way 4. How to Transfer Data from iPhone to Pixel without Cable Using Google Drive
Google Drive is an online file storage service developed by Google. You can sync documents, photos, music, videos, contacts, etc. to Google Drive and it allows you to access uploaded files on all of your devices.
Here is how to do:
1. Install the Google Drive app on both iPhone and Google Pixel. Make sure that both devices are connected to Wi-Fi and power (this process may take a while).
2. Sync contacts from iPhone to Google Drive account. Open the Google Drive app on your iPhone, sign in with your Google account, and select Menu option > Settings > Backup > Contacts > Start Backup.
3. Access data on Google Pixel phone. Launch the Google Drive client app on your Pixel phone, sign in with the same Google account that you used to back up on iPhone, and find the contacts you've uploaded. If needed, you can tap the contacts and download them to your phone.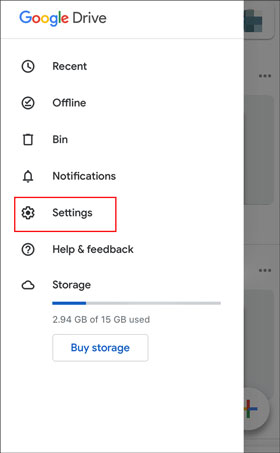 Words in the End
Above we provide you with 4 ways to transfer contacts from iPhone to Pixel. No matter you want to transfer contacts/messages from iPhone 12/11 Pro (Max)/11/XR/X to Pixel 5/4XL/4/3 or vice versa, Samsung Data Transfer is always easy and quick enough to do it. In addition, this read-only tool has a higher success rate of file transfer than any other method. Why not give it a try?
If you find this post helpful, please share it with more people; and, if you run into difficulties when using, feel free to let us know by leaving a comment below.
Related Articles:
Switching from iPhone to Pixel: 3 Methods to Transfer Data from iPhone to Pixel
How to Transfer Photos from iPad to iPad Quickly? (Easy & Safe)
Checklist on How to Transfer Contacts from Samsung to OPPO? (6 Easy Ways)
[Latest Guide] Rapidly Transfer HTC to iPhone with 4 Reliable Ways
Transfer iPhone Data to Xiaomi Swiftly with 5 Methods [Can't Miss]
How to Transfer Music from iPod to iPod with or without iTunes? (Top 5 Ways)