Summary
In case you deleted the important photos or other useful files on your Google Pixel, you'd better ensure whether they have backed up before losing. What's more, this post will supply 3 Google Pixel data recovery approaches for you to recover your files on Google Pixel without hassle, which contains recovery from backup and without backup.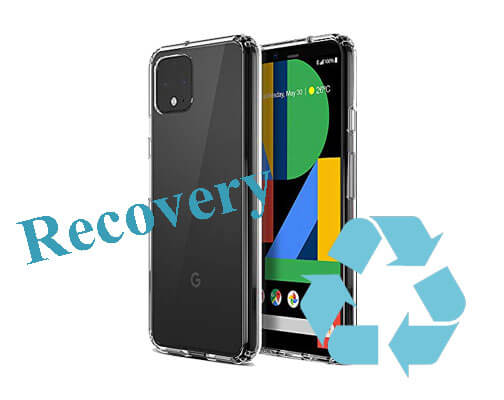 Part 1: How to Recover Deleted Photos from Google Pixel with Pixel Data Recovery (without Backup)
When you accidentally deleted photos that haven't backed up on Google Pixel smartphone, you can't recover them from the backup files, but you still have the possibility to get back them with the professional Google recovery software - Samsung Data Recovery. This app can recover multiple data types.
Key features and advantages of the Google Pixel recovery:
1. Recover deleted photos on Google Pixel with ease.
2. Recover deleted contacts, call logs, text messages, and documents from Google Pixel.
3. Preview and select the deleted and existing files on the computer before recovering.
4. You can also transfer the existing files from Google Pixel to the computer if you want.
5. Two scanning ways you can choose: Quick Scan and Deep Scan.
6. Not only recover deleted data from Google Pixel internal storage, but also from Android SD card and SIM card.
Besides, the powerful compatibility of this Google Pixel recovery app allows itself to work with almost all the Google Pixel phones and other brands of Android phone, including Google Pixel 4 XL/4/3a XL/3a/3/2 XL/2/XL, Samsung Galaxy S20/S10/S9/S8, HTC Wildfire R70/Wildfire X/Desire 19s, Huawei, Xiaomi, Oppo, Motorola, LG, ZTE, Vivo, etc.
Download the Pixel data recovery for free below.
Guide on how to recover deleted photos from Google Pixel:
Step 1: Download Google Pixel Data Recovery
First of all, you need to download and install this data recovery on the computer, and then open the program on the PC.
Step 2: Connect Google Pixel to Computer
Please connect your Google Pixel to the computer with a USB cable and enable USB debugging mode. Then the program will quickly check your mobile phone, and you can click on the "Next" icon.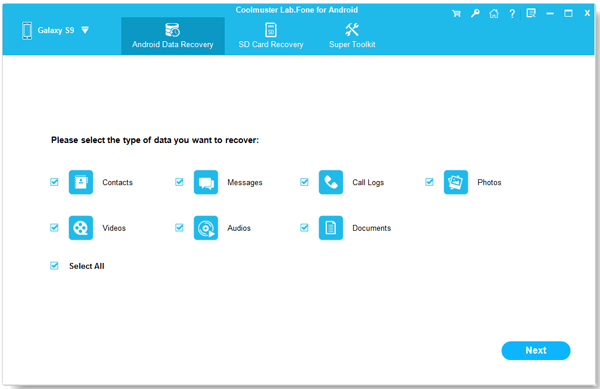 Step 3: Recover Deleted Photos from Google Pixel
- Now, you can choose one scanning mode on the interface and tap on the "Continue" icon.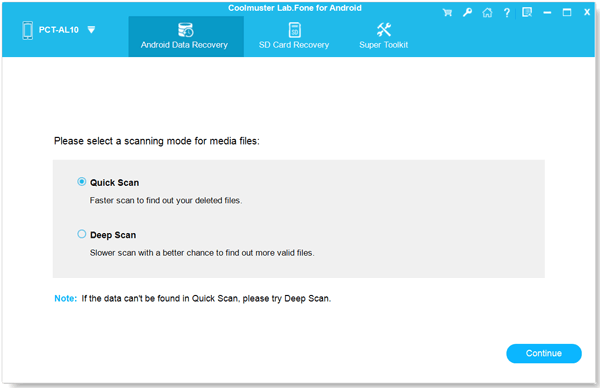 - After rooting your Google Pixel, you can click the "Photos" category to preview and select the deleted photos. Once selected, you need to hit on the "Recover" button to start the photos recovery.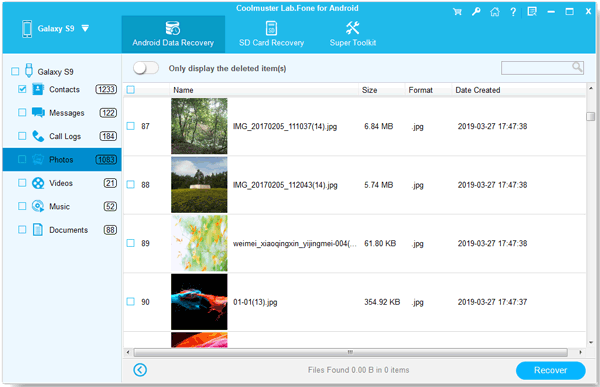 Tips: How do I recover deleted text in Google Pixels? To Recover deleted messages is really easy, as long as you have these effective methods.
Part 2: How Do I Get My Pictures Back from Google Pixels via Google Backup
On your Google Pixel, there is a built-in feature that you can get your pictures back, which is Google backup function. You can restore your deleted photos from Google Pixel via your Google backup files. It is a direct and simple recovery step but if you haven't backed up your photos on it, you cannot successfully recover your photos in this way.
Here's how do I get my pictures back from Google Pixels using Google backup:
Step 1: Navigate to Settings App
Please navigate to the Settings app on your Google Pixel. Then you will find the "System" option and select the "Backup" option.
Step 2; Rest and Add Your Google Account
- Tap on the "Reset" icon in the Settings app. It will begin to reset your Google Pixel. Next, tap on the "Copy apps & data" and the "Next" icons.
- Choosing the "Can't use old phone" icon, you need to tap on the "OK" button. After that, please tap on the "backup from cloud" to log in to your Google account.
Step 3: Restore Pictures to Google Pixel
Select the "Photos" option and tap on the "Restore' icon to recover your deleted pictures on Google Pixel.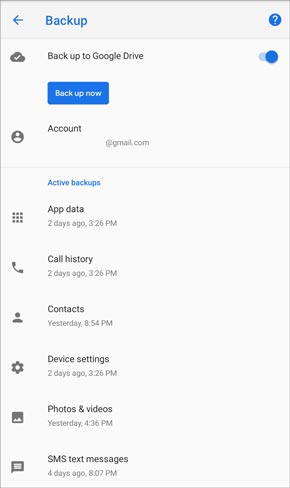 Read also: Want to get some useful tips to retrieve contacts from SIM card? Let's check it out to recover your contacts.
Part 3: How to Recover Deleted Files on Pixel with Google Drive
If you want to view your backup files on the Google Pixel phone direct, you can choose to use Google Drive. You can back up and recover the photos and other data from Google Pixel to it conveniently. In addition, your deleted photo and other files will be kept in its trash bin for 30 days.
Steps on how to recover deleted files Pixel 2/3/4 with Google Drive:
Step 1: Install Google Drive on Pixel Phone
Download and install Google Drive from the app store to your Pixel cell phone. and then log in to Google Drive with your Google account which you want to recover the deleted files.
Step 2: Select the Deleted Files to Recover
When entering the Google Drive, please tap on the "Menu" icon and go to the "Trash" option. You will see your deleted files here. You can select the desired files by touching and holding.
Step 3: Recover Deleted Files on Pixel
Once selected, tap on the "Restore" icon on the top menu. Then your deleted files will be back soon.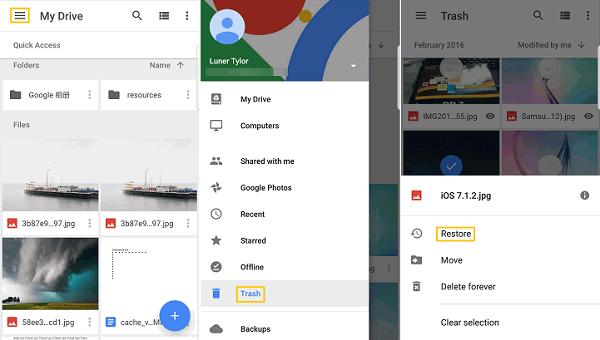 You might like: These 4 methods will help you fast recover deleted contacts from Google Pixel. If needed, please take a look.
Conclusion
If you get the useful solutions to recover your deleted photos and other data on Google Pixel, it will be easy to make it. Therefore, the tips about Google Pixel data recovery mentioned above will be helpful as you would like to recover data on Google Pixel. If you need the professional recovery tool, don't forget Samsung Data Recovery, which can retrieve multiple file types from the Google Pixel.
Related Articles
How to Transfer Photos from Google Pixel to Computer? Top 4 Ways You Need to Know
[Incredibly Easy] Recover Deleted Photos on Android with 3 Effective Methods
How to Transfer Photos from Android to Android
5 Useful Methods on Android Backup to PC [You Can't Miss]
7 Methods to Back Up Photos on Android Effortlessly [Proven]
Samsung SD Card Data Recovery: Recover Data from Samsung SD Card (Latest & Proven)