Summary
"How do I sync my Samsung phone to my computer? I want to view my files on both devices, but there are a myriad of files on my Samsung phone? So I need a tool to sync all my files efficiently."
We have met this case recently in some discussion forums. To work it out, we then spent some time searching for effective methods and testing them. Now, we share these synchronization methods in this article, and hope that the people in need will meet this article to get some help.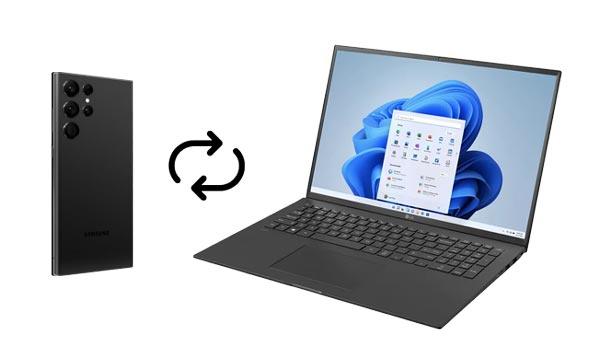 Part 1: How Do I Sync My Samsung Phone to My Computer via Samsung Messages Backup?
There is a program capable of synchronizing almost all data from a Samsung phone to a computer. It is Samsung Messages Backup. Please don't be confused by its name. This software not only transfers text messages from Samsung to a computer, but also syncs contacts, music, videos, apps, photos, and more. Besides, there is no quantity or size limit for transferring data.
Key features and highlights of this Samsung data backup software:
- Back up all file types from Samsung to PC in 1 click.
- Allow you to selectively sync Samsung files.
- Display your data on the interface, so you can view them directly.
- Effectively restore your backup files from your computer to your Samsung device.
- Support most Samsung Android devices, such as Samsung Galaxy S23/S22 Ultra/S22/S21/S20/S10/S9/S8/S7, Samsung Galaxy A73/A72/A71/A70/A53/A52/A51/A50/A33/A32/A31, Samsung Galaxy Tab S8 Ultra/Tab S8/Tab S7/Tab S6, etc.
- There are multiple features to help you manage your Samsung files on the computer, like copying, deleting, editing, moving, etc.
Download the Samsung Messages Backup software for free below.
Here's how to sync a Samsung phone to a computer via this program:
Step 1. Install the Software
Please download and install this program on your computer, and choose the "Android Assistant" tab on the interface.
Step 2. Connect Your Samsung Phone to the Computer
Plug your USB cable into the Samsung device and the computer for connection. Then enable the USB debugging mode on Samsung. Next, you will see the connected interface as below.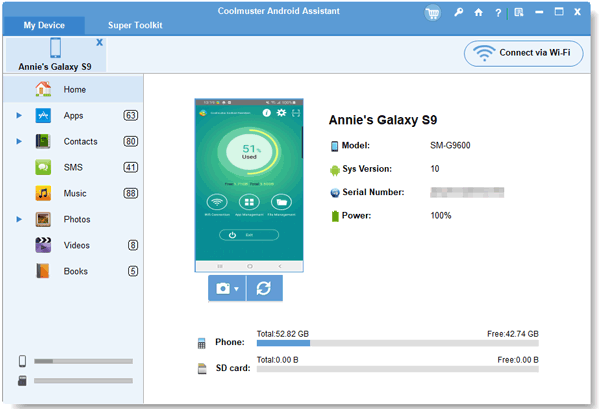 Step 3. Sync Samsung Data to the Computer
- To sync all data in 1 click, you need to click the "Super Toolkit" > "Backup" icon. Then you will see a pop-up window, displaying all file types.
- Please select the items you want, and choose a location to save the data. Then click "Back Up" to begin the synchronization. Once done, you can view your Samsung data on your PC/Mac.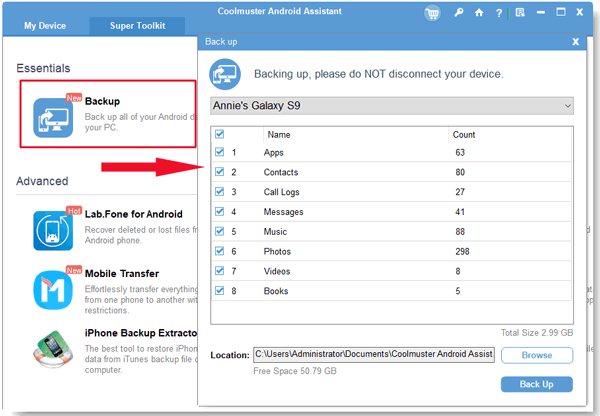 Bonus: Which way can you select to connect your Samsung phone to a PC? This guide will tell you 5 different ways.
Part 2: How to Sync Samsung Phone to Computer via Link to Windows?
Link to Windows, previously named Your Phone Companion, is a wireless transfer app to sync a Samsung device to a Windows PC. Plus, with it, you can instantly access your mobile device on your PC to reply to text messages, make calls, answer the phone, etc. However, it only allows you to transfer photos between your devices.
Steps on syncing Samsung Galaxy with PC via Link to Windows:
Step 1. Install the App
- Please make sure your Samsung phone runs Android OS 7.0 or higher and your computer runs Windows 10 updated in May 2020 or later.
- Then install the app on your Samsung device, and find the "Link your phone" on the Settings of your computer.
Step 2. Establish the Connection
Enable Bluetooth and launch the app on both devices. Then choose "Android" and tap "Continue" on the PC. Next, scroll down the phone screen to turn on the "Link to Windows" feature, and use the phone to scan the QR code on the PC.
Step 3. Sync Samsung to PC
Once connected, you can access your Samsung phone on the PC, including listening to the music stored on your phone, transferring pictures from Samsung to PC via drag and drop, etc.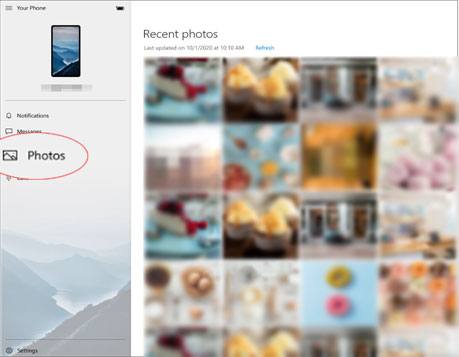 Read also: Want to sync contacts from an iPhone to an iPad? Here are 5 seamless methods for your reference.
Part 3: How to Sync Samsung to PC via OneDrive?
OneDrive is a helpful app to sync a Samsung mobile device to a PC, supporting you to sync your images, documents, and other media files. But it requires you to use its cloud services to sync files. If you run out of 5GB of free storage space, you can subscribe to a Microsoft plan to get more space.
Guide on how to sync Samsung to a PC via OneDrive:
Step 1. Download OneDrive
Please download OneDrive on your Samsung smartphone, sign up for a Microsoft account, or sign in with your existing account.
Step 2. Upload Samsung Files to OneDrive
Tap the "Plus" icon to select the files you want from the phone, and upload them to your Microsoft cloud space.
Step 3. Download Samsung Files on PC
Open the OneDrive web on your computer, and log in to the same account. Then save the files uploaded from your Samsung phone on your computer.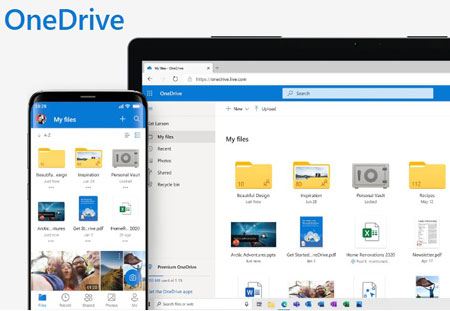 Further reading: You can copy groups of photos from Samsung to Mac with ease. Let's check it out.
Part 4: How Can You Sync Your Samsung Device to PC via SideSync?
SideSync is an old program for Samsung devices to share screens and data to PCs. Its features are similar to Link to Windows, like sharing photos, sending messages and emails, and so on. Unfortunately, it is unavailable to download on the official website. Thus, you need to download it from other third-party app stores.
Here's how to sync a Samsung device to a PC via SideSync:
Step 1. Install SideSync
From the beginning, please download and install this app on your Samsung device and PC.
Step 2. Connect Both Devices
Connect your Samsung phone and your PC via an identical Wi-Fi network, and open the app on both devices. Then the app will automatically detect and connect to another available device.
Step 3. Sync Samsung Device to PC
You can access your Samsung device on the PC after the connection. If needed, you can directly drag your files from Samsung to the desktop.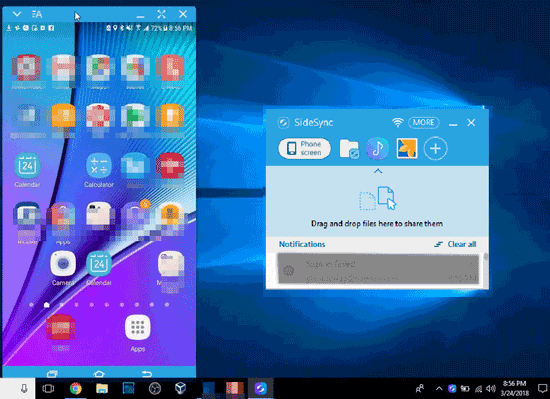 Part 5: How to Sync Samsung Phone to PC via AutoPlay?
Using AutoPlay can help you decide on a default action when connecting your Samsung phone to a PC via USB. For example, you can choose the "Sync digital media files to this device (Windows Media Player)" as the default. Then it will do this automatically when the connection is established.
Here's how to sync a Samsung phone to a PC via AutoPlay:
Step 1. Set AutoPlay on PC
Search for AutoPlay Settings on your PC, and enable this feature. Then choose an option as default, such as "Open folder to view files" or "Configure this drive for backup (File History)".
Step 2. Make a Connection
Connect your Samsung cellphone to the PC via a data cable, and choose the "MTP" option on the phone.
Step 3. Sync Samsung Files to PC
- Your computer will automatically access your connected device and execute your command. If you order it to open your folders, you can directly view them after the connection.
- Then you can easily select and transfer the files to your PC.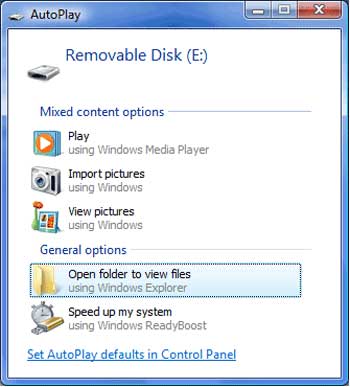 Note: Why my Samsung phone is not connecting to PC via USB cable? First of all, please check the USB cable and port. You can use another cable to connect your device again. Then make sure you choose the "MTP" or "File transfer" option on your phone. If it still fail to connect to the PC, update software and restart it.
Conclusion
Congrats! You can now efficiently sync your Samsung phone to your computer. These methods can save you time on data synchronization, in particular Samsung Messages Backup. This software can sync almost all your Samsung data to your computer at once, and you can restore the backup data to your phone without hassle.
Related Articles
[Fast] 4 Ways to Transfer Contacts from Samsung to A Computer
How to Print Text Messages from Samsung Galaxy? 3 Effective Ways
Excellent Samsung Backup Apps and Software: Back Up All Data Easily
Samsung File Transfer for Mac - How to Transfer Samsung Files on Mac?
How to Recover Deleted Files from Phone Memory on Samsung (3 Ideas)
Samsung Tablet Data Recovery - 3 Best Ways to Recover Deleted Data on Samsung Tablet