Summary
"This has been bugging me for a while. I can't explain why my iPhone and iPad contacts haven't synced for about 6 months. In this time, I've had both a new iPad (Pro) and a new iPhone, which show the same discrepancies. I'm in a pickle, and if anyone could help, that would be great."
Like him, if you wonder how to sync contacts from iPhone to iPad, you are in the right place. This guide shows you how to sync iPhone and iPad contacts with iCloud, AirDrop, iTunes, Google account, and the simplest iPhone to iPad transfer tool.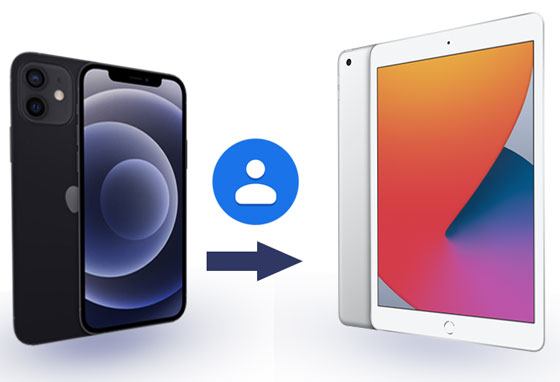 Part 1. How to Sync Contacts from iPhone to iPad in One Click Using iPhone to iPad Transfer (Easiest)
There are many iOS to iOS Transfer tools globally, and you cannot miss the iPhone to iPad transfer - Samsung Data Transfer. This all-around app helps you transfer contacts and other files from your iPhone to iPad, Android to Android, and between iOS and Android devices in one click.
Here are the highlights of iPhone to iPad Transfer:
Copy contacts from iPhone to iPad directly in one click, and various formats are supported, like CSV, VCF, etc.
Highly secure, easy to use, fast, and simple interface app.
Automatically recognize your iOS device and allow you to switch the device position freely.
USB and Wi-Fi connection for you to choose from.
Transfer not only contacts but also calendars, bookmarks, eBooks (PDFs & ePubs), and notes (not supported in iOS 11 or later) from your iPhone to your iPad.
Widely compatible with all generations of iPhone, iPad, and iPod, such as iPhone 12 Pro Max/12 Pro/12/12 mini/SE/11/11 Pro/11 Pro Max/XS Max/XS/XR/X, iPad Pro, iPad mini 4/3/2/1, iPad Air 4/3/2/1, iPad 4/3/2/1, etc.
Follow the 3 steps below to sync contacts from iPhone to iPad:
Step 1. Launch iPhone to iPad Transfer on your computer after installing it and enter the Mobile Transfer module.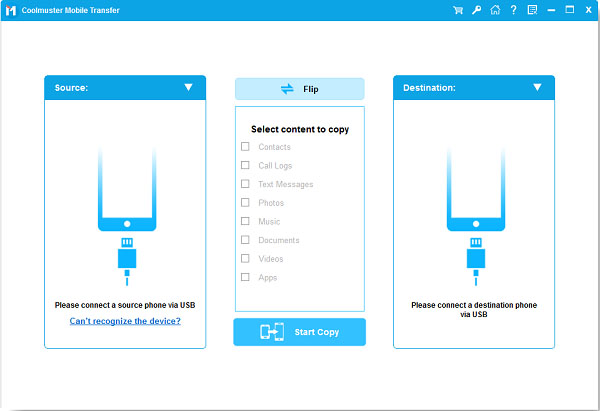 Step 2. Use two working USB cables to connect your iPhone and iPad to the computer. This program will then automatically detect your iDevices, and you will see Connected under your iDevice after a successful connection.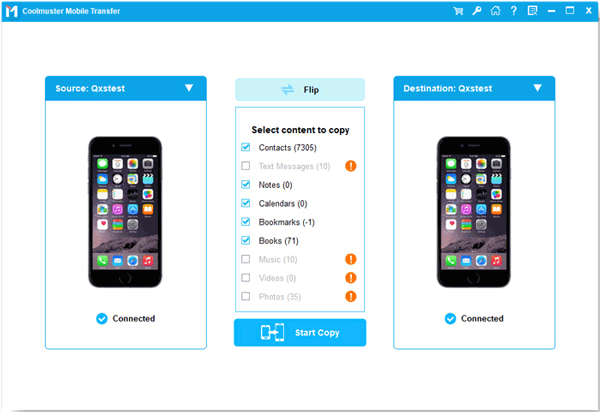 Note: The two iDevices are in the wrong order? You can click Flip in the middle to put the iPhone in the Source Device's position.
Step 3. Choose Contacts from the content list and hit Start Copy to start the transferring process.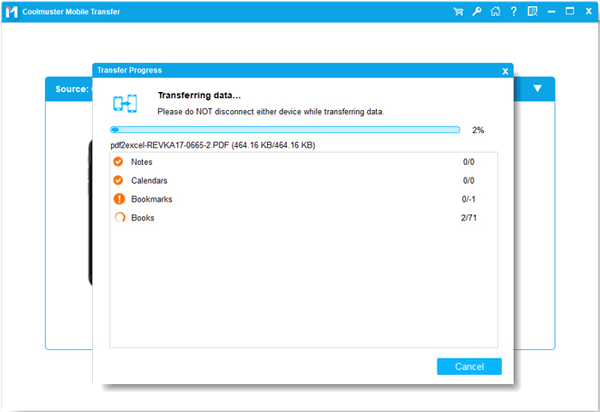 You might like:
Want to find practical ways to transfer files from Android to the iPhone? Please don't miss these 8 tips.
Besides using AirDrop, you can also send iBooks from one iPad to another with other tools.
Part 2. How to Share Contacts from iPhone to iPad via iCloud
iCloud is one of the common ways you may consider when it comes to transferring contacts from iPhone to iPad. You don't need to use iTunes or any other third-party apps during syncing. All you need is to ensure that your iCloud account gets enough storage for syncing. Then you can share contacts from iPhone to iPad with the following tips:
On your iPhone, open Settings, choose iCloud, and sign in with your Apple ID and password.
Switch the button next to Contacts to turn it on, and tap Merge when it asks you whether to Merge or Cancel the existing contacts. Wait for a while until all contacts are uploaded to iCloud.
Repeat the above operations on your iPad. After enabling contacts, iCloud will automatically download contacts to your iPad.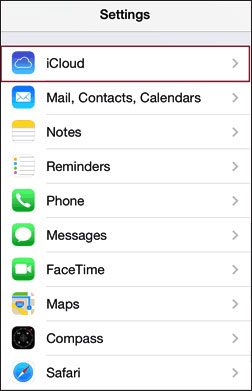 See also:
These 5 seamless transfer ways can help you transfer iPhone data to Xiaomi without hassle.
Is there freeware to transfer music from an iPhone to a computer? Yes, of course, there is. You can pick one from this guide.
Part 3. How to Import Contacts from iPhone to iPad Using AirDrop
You can also share iPhone contacts with iPad via AirDrop. This way is probably the most hassle-free way - you can selectively transfer wanted contacts without connecting your iPhone and iPad to a computer.
How do I transfer my contacts from iPhone to iPad?
Toggle AirDrop, Wi-Fi, and Bluetooth on the iPhone. You can do it by going to Settings, find and enable AirDrop, Bluetooth, and Wi-Fi, or pull up the screen to activate the Control Center and turn on them.
Enable Them on the iPad. You can switch them on from System Preferences and Finder. After that, make your devices discoverable by each other by selecting Everyone or Contacts Only and establish a connection between the two devices.
Head over to the Contacts app on your iPhone, choose the contacts you want to transfer and tap Share.
Select AirDrop from the pop-up, tap your iPad name and hit Accept on your iPad to start the transfer process.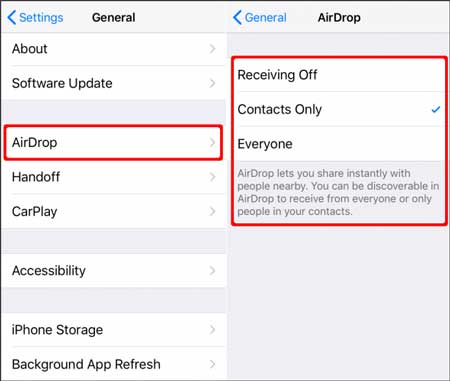 Tips:
Upgrade your old iPad recently? And want to transfer data from the old iPad to the new one? Let's make use of these fully-fledged ways to achieve data migration.
Why are your messages not transferring to your new iPhone? Solve this problem without hassle.
Part 4. How to Sync Contacts between iPhone and iPad with iTunes
There must be iTunes's way when transferring contacts from iPhone to iPad. iTunes transfers contacts from your iPhone to your iPad on a computer. But you need to know that the syncing process will erase the existing data on your iPad.
The operations below indicate how you can sync contacts from iPhone to iPad via iTunes.
Plug your iPhone into a computer and launch iTunes.
Once connected, tap the iPhone icon at the upper-left corner, click Info, check Sync Contacts, and tap Apply. This will sync the iPhone contacts to the computer.
Disconnect your iPhone and plug your iPad into the computer. Choose the iPad's icon in iTunes and tick Sync Contacts under Info. After that, navigate to the Advanced section, check Contacts under Replace information on this iPhone, and hit Apply to transfer contacts to your iPad.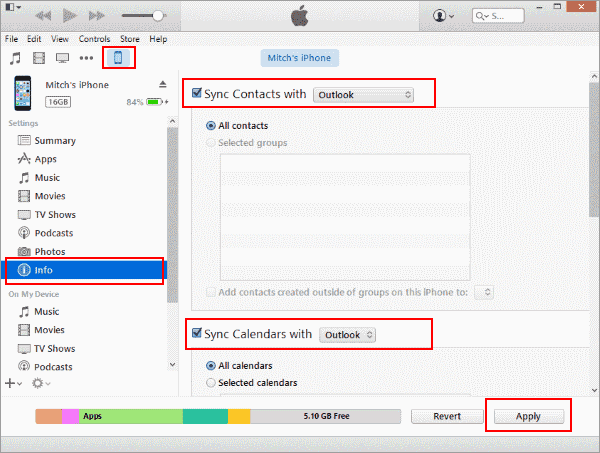 Check if you need: Dislike using iCloud to transfer data from an iPhone to another? Luckily, you can select other ways to finish the transfer without iCloud.
Part 5. How to Sync Contacts from iPhone to iPad via a Google Account
In this part, we will teach you how to sync contacts from iPhone to iPad using a Google account, and you can do it from the Settings menu directly. The Settings menu slightly varies on different iOS versions.
Check the operations below to transfer iPhone contacts to iPad:
Go to Settings on your iPhone and tap Accounts & Password > Add Accounts > Google.
Log in to Google with a valid Google account, press Next, and turn on Contacts followed by Save at the screen's top-right corner to sync iPhone contacts to Google.
On your iPad, open Settings > scroll down to choose Accounts & Passwords > press Add Account > Google > enter the same Gmail address in the relevant field.
Then click Next > type in the password > Next > ensure that you have enabled the Contacts option. In doing so, the contacts will be automatically synced to your iPad.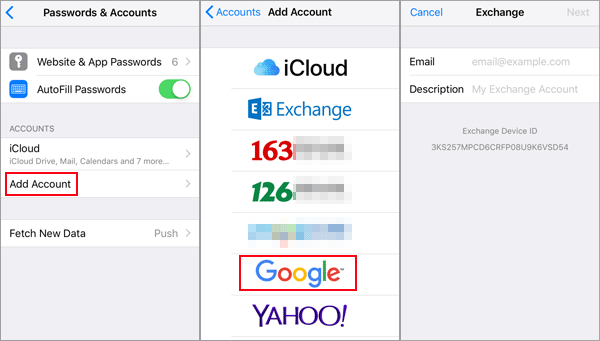 Wrapping Up
Contacts are one kind of vital information for us that we do not want to lose even when we change a new device. After reading this post, now you have known how to transfer contacts from iPhone to iPad. If you cannot decide which way to choose, I recommend trying this iPhone to iPad transfer software - Samsung Data Transfer. It is the easiest and safest way to transfer all contact list in one click without data loss. The operation is so simple that everyone can handle it without difficulty.
That's it! If you need any help, please leave a comment below.
Related Articles:
How to Transfer Contacts from iPhone to iPad Fast [4 Ways]
Transfer Contacts from Huawei to iPhone 12 with 5 Excellent Ways
[Fast Transfer] How to Transfer Your Photos from iPhone to Android Effectively?
How to Transfer Contacts from Samsung to iPhone Effectively? - 5 Ways
iCloud Contacts to Android - How to Transfer Contacts from iCloud to Android
How to Transfer Contacts from iPhone to iPhone Effectively?