Summary
In this age of smartphones and their undeniable importance, losing text messages is not pleasure. In addition to making soft-copy backups, you might even need to save them in physical form. Whether to keep track of a certain portion of a conversation, to save a whole or to secure some specific information for legal purposes, it's important to know how to print text messages from Samsung Galaxy and that's what we're going to deal with in this article.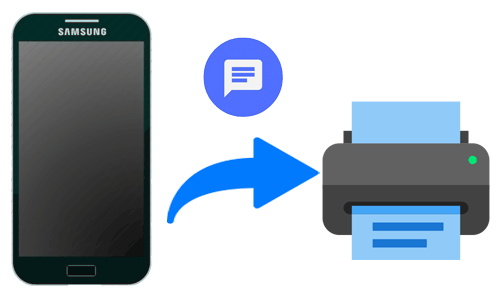 Tip 1. How to Print Out Text Messages from Samsung Galaxy with Professional Android Assistant?
In the first method, we're going to make use of an Android Assistant - Samsung Messages Backup. Here, you'll first need to transfer the texts from your Samsung Galaxy S23/S20/S10/S9/S8/S7/Note 9/8/7/6 to your computer and print out the SMS for free.
Why Choose Samsung Messages Backup?
(1) Transfer text messages from Samsung Galaxy to computer easily.
(2) The transferred SMS can be saved in HTML/Text/CSV/Back Files/XML File formats. The CSV format allows you to arrange the text conversations in Excel so that you can print out the conversations clearly.
(3) You can send/read a text message on the computer directly.
(4) Transfer all kinds of data between Android phone and computer easily. The software supports text messages, contacts, call logs, photos, music, videos, apps, and documents.
(5) Back up and restore your Android devices.
(6) Story compatibility makes the program works perfectly on all of the Android phones on the market, including Samsung Galaxy S23/S20/S10/S9/S7/S6, Galaxy Note 20/10/9/8/7/6, Galaxy A9/A8/A7/A6, HUAWEI, LG, Xiaomi, OPPO, OnePlus, Motorola, HTC, etc.
How to Transfer & Print Out SMS from Your Samsung Galaxy?
To do that, you need to export your wanted text conversations to a computer in CSV format and print out the SMS with Excel.
Connect your Samsung Galaxy to a computer via USB cable.
Preview and select the SMS you wanted.
Transfer text messages from Samsung to your computer.
Open the CSV format file with Excel and print it out.
Here are the details:
Step 1. Connect your Samsung phone to a computer.
Download and install the program on your computer and then run it. The original interface will be empty and ask you to connect your phone. Just connect your Samsung to your computer using a USB cable. You need to enable USB debugging on your Samsung phone.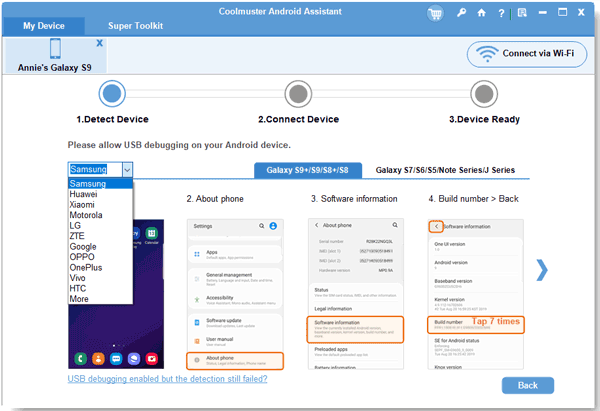 Step 2. Make your Galaxy be detected successfully.
Follow the on-screen prompts to let your device be recognized. Once that's done, the new interface of the program will display various information about your phone like the model, serial number and memory status.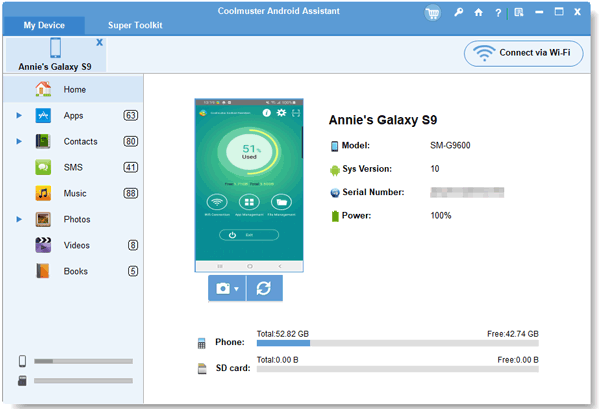 Step 3. Preview and select your wanted text conversations.
It displays all the different categories on the left panel. Find and click on SMS. Now the right panel will display all the conversation you have saved on your phone. Just check the boxes of the individual conversations you want to print.
Step 4. Transfer text messages from Samsung Galaxy to PC/Mac.
After making a selection, click "Export" and select "Export to CSV". Then select a local folder to save the CSV file.
Step 5. Print out the text messages from Samsung.
Open and arrange text conversations with Excel. After that, on the Excel, find "Print" under "Files" from the upper-left corner. After setting the necessary criteria (number of copies, page range, etc.), click the "Print" button to have your text messages printed.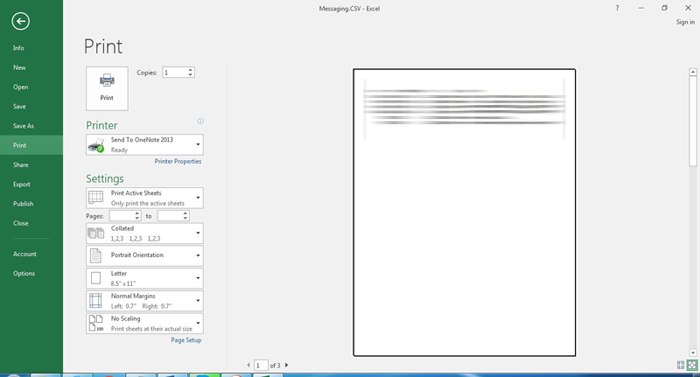 Apart from printing out SMS, you can also use this software to:
Transfer Files Between Huawei and Computer? (2 Ways)
Transfer Videos Between Samsung Phone and Computer [2 Ways]
Tip 2. Print The Screenshots of Your Samsung Text Messages
If you don't want to use an intermediary software then instead of printing the messages from your Galaxy as actual texts, you can have them printed in image form. In this way, you won't need a computer if your Samsung device is equipped with an OTG feature. It's obviously the more practical choice if you want to print a single portion of a conversation or a conversation that can be wholly displayed in a single screen.
To do that:
On your Samsung Galaxy, go to the "Messages" and find the conversation you want to print.
Take a screenshot of your text. Simultaneously press and hold "Power" + "Home"/"Power" + "Volume Down".
Connect your Samsung Galaxy to a printer via OTG.
Send your screenshot to the printer and print it out.
It's a pretty quick way to make a printout of your text messages but the problem is, to make a hard-copy of a long conversation, you'd have to take a lot of screenshots. So it's best that you stick with short text with this one.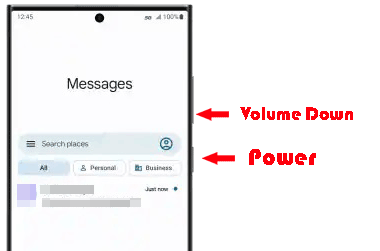 Read Alos:
How to Take A Screenshot on Android [3 Solutions]
WeChat Backup and Restore: Effective Methods
Tip 3. How to Print Out Text Messages from Samsung with Free Apps?
If you don't want to use a computer but still need to print out long conversations and text messages from a Samsung phone, there are free apps available on Play Store that you can use. Since there are quite a few such apps, we'll just stick to SMS Backup & Print.
SMS Backup, Print & Restore, which is called SMS Share 2 previously, lets you share your text messages from your phone using any sharing method available on your Samsung phone. Whether it's Facebook, email or Whatsapp, you can use the sharing medium through this app to essentially create a copy of your text messages at a source that you can easily access from another device (computer) or your phone itself and download it as an imported file.
It allows you to print out the SMS and MMS from your Samsung Galaxy directly or you can send the text conversations to an Email for printing.
The methods listed here are not the only ways to create a hardcopy of your text messages. Any program or application, like SMS Backup+, that can back up your messages externally can be used as an intermediary to take the printout. SMS Backup+, for instance, can be synced to your Gmail account, which will then act as the storage for your SMS.
These messages can then be viewed by clicking on the "SMS" tab on the left panel of your account along with "Inbox". You can then download any text from there on your computer or your phone and print it out.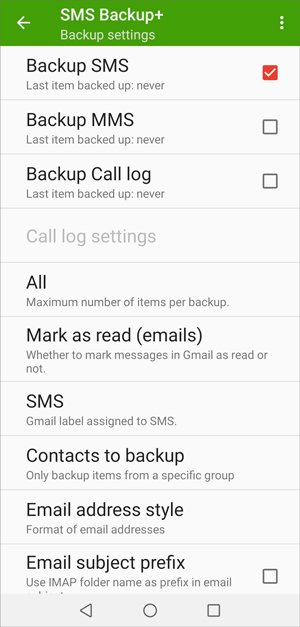 Words in The End:
Now, please pick one way as you like to print out your wanted text messages from Samsung Galaxy. What do you think about them? Which one do you prefer to? You can leave your comments and share your experience with us.
Related Articles:
How to Print Out Text Messages from Android Phone? [4 Methods]
How to Transfer Contacts from Android to Computer in 2023? [3 Easy Ways]
How to Transfer Files Between Samsung Phone and Computer?
How to Transfer Apps from Android to Another Android?
Find My Disappeared Text Messages on My Android and Fix this Issue
How to Retrieve Deleted Texts on Samsung? - 4 Easy Ways in 2023