Location:
Home
>
Resources
> Print Out SMS Messages from Samsung Notes/Galaxy S2/3/4
How to Print Text Messages from Samsung Galaxy Series?
Text messages have always been a crucial part of our mobile life. And with the popularity of all kinds of smart phones, text messages also has a more convenient user experience in nowadays. Then have you ever met the below situations in the daily life:
1. You saved a lot of precious text messages on your Samsung smartphone and not willing to delete them. But the capacity of your phone is limited, so you must delete some vital messages to ensure your phone can normally receive and send new messages.
2. You're always communicate with your boy or girlfriends by text messages, so it is undeniable that you have received and saved lots of sweet messages on your Samsung phones. Then you want to print out these messages from your Samsung Galaxy S3 as a kind of memories.
3. ...
No matter what circumstances you are, you can follow the method in this article to achieve your goal by printing out text messages from Samsung Galaxy/Notes or other Android-based smart phones. Of course, you can take a screenshot and email the images to your computer for printing, but this method is only suitable for a very short conversation. So if the conversation is very long, what will you do?
Here, you can choose a reliable SMS Exporter software as your assistant. If there is no clear ideal in your mind, you can take this Samsung Messages Backup into your consideration. With it, you can export SMS messages from Samsung to PC and save them in .xml or .txt format. Then you can open these files and print them out directly.
Below is the detailed instructions, just follow the steps on your own PC.
Print Text Message Conversations from Samsung Phones in 3 Steps for Mac/Win
Step 1. Launch the Program and Connect Galaxy S2/3/4 to PC
Link the Samsung phone from which you want to print text messages to an empty USB port on your computer and wait until the phone appears as a removable storage device in "My Computer". Install and run the program on your computer and then your mobile phones will be displayed as below: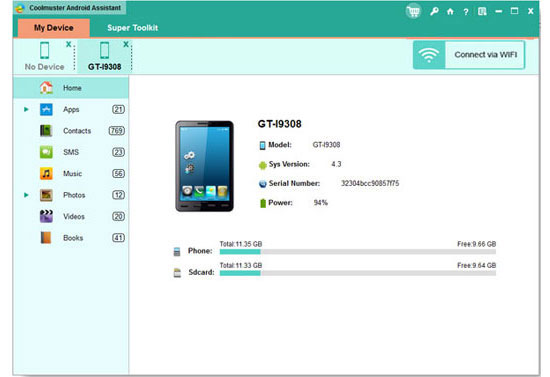 Step 2. Trasnfer SMS from Samsung Notes/Galaxy to Computer
Click on the "SMS" button in the left panel, then the program will show all text messages on your Samsung phones one by one. You're enabled to preview these conversations on the program until find the one you want to export. Then click "Import/Export" to finish the exporting process.
Tips: You can select a batch of messages and export them at one time.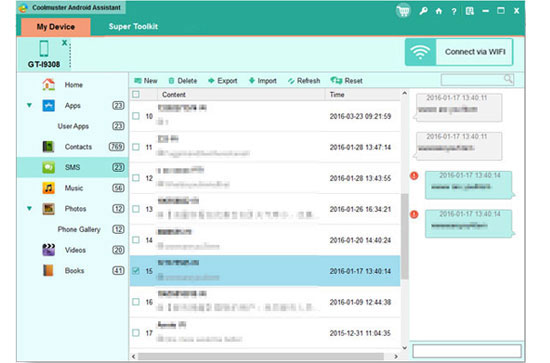 Step 3. Print Out Text Messages
Find the exported message files and open it, then you can print them out through the local Printer easily. If your computer is not connected with a Printer, you can copy these files to a PC which is connected and print them out.
Related Article:
How to Transfer Text Messages from Galaxy S2/3/4 to Computer