Summary
Years back, you couldn't have predicted that sharing a screen on Zoom could be something possible. But it is now an important skill in this modern life. This video chatting application has become quite popular over the past few years since most people are now transitioning to work from home, and families must stay in touch remotely.
Now, in-person meetings can be conducted effectively with Zoom group videoconferencing. It provides crisp audio and videos for smooth communication during meetings. Apart from that, you can also share a screen while on a call. You can use Zoom to show presentations, documents, photos, or spreadsheets to your other attendees. It is truly a versatile app. If you wish to know how to share screen on Zoom, then this guide is for you.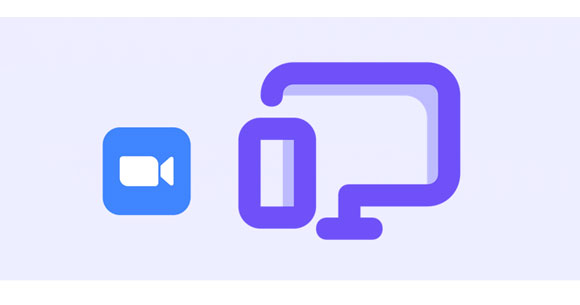 Part 1: What Types of Content to Share on Zoom
It is very easy to share a screen on Zoom. There are various content categories you can share while on Zoom including:
Whiteboard.
- Mobile screen.
- iPhone/iPad screen.
- One window or an app.
- A portion of your screen.
- Powerpoint slides.
- Audio or video files are stored on the mobile or PC.
Part 2: How to Share Screen on Zoom [for PC/Mac/Mobile Phone]
Whether you are planning to run a workshop or do a presentation, sharing a screen during a Zoom meeting is something you should know. Fortunately, we will show you how to allow screen share on Zoom. Continue reading to know how to do that on computer, Android, and iPhone devices.
2.1 How to Share Your Screen on Zoom on PC
If you want an easier way to share a screen to Zoom on a PC, use Phone Mirror. It is a piece of powerful and reliable software that directly mirrors iPhones or Androids to the computer. After sharing the screen, you can freely stream media, make calls and do much more. Also, it comes with various features like video clip recording.
Besides, there is no quality loss when you cast your device screen to a PC. It enables you to connect multiple devices and supports the latest iOS 16 and Android 13. You can establish connections between devices and computers with Wi-Fi and a USB cable. After connecting successfully, you can mirror your phone's screen to the computer without effort and connect with others on Zoom.
Key features of Phone Mirror:
- Support Zoom screen share from Android/iOS to Windows PC.
- Control mobile devices with a computer.
- Support both Android and iOS screen casting to PC.
- Allow you to smoothly manage social media apps and games on a PC.
- Stream in-app displays to the conferencing apps conveniently.
Download the mirroring software.

Steps on how to share iPad screen on Zoom to a PC:
Step 1: Start by installing the app on your PC. After that, select the "iOS Mirror" if you are screen-sharing an iPhone. Choose the "Android Mirror" option if it is an Android.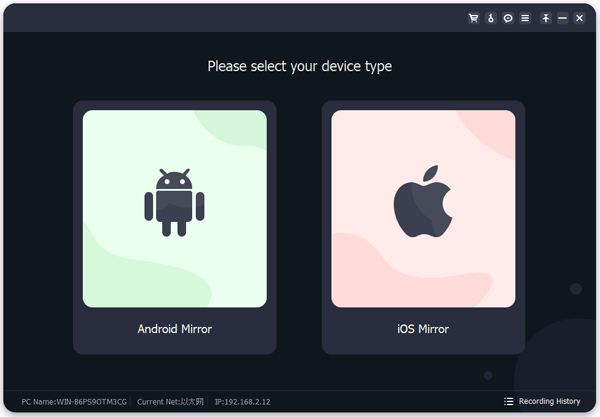 Step 2: Choose "WiFi Connection" or "USB Connection". For instance, for the wireless connection between your iPad and PC, please choose "WiFi Connection" and "Screen mirroring". Then enable the "Screen Mirroring" feature on your iPhone, and choose the Phone Mirror app.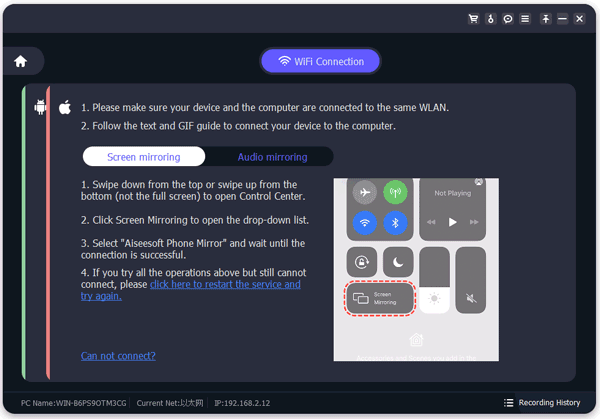 Step 3: Wait for some seconds, and the connection will be ready. You can share your Zoom screen from the iPad to the Windows computer.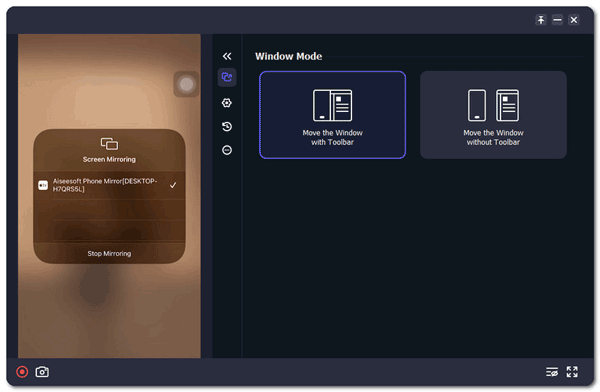 You might need: How can you control your Android screen on a PC? Read this guide here to learn about powerful approaches.
2.2 How to Share Screen on Zoom on Mac
Sharing screens on Zoom on a computer is very easy. However, before you start, ensure your Macbook runs on macOS X with macOS 10.10 or above. After that, you can start screen sharing on Zoom.
Below are steps how to share screen on Zoom on Mac:
Step 1: Download the Zoom app on your Mac computer and install it. Click on the "New Meeting" icon to set up a meeting Room.
Step 2: After that, tap on the "Share Screen" button at the lower section of the meeting window.
Step 3: Select a screen to share. It can be an entire desktop, an app window, or a whiteboard. You can also share the computer audio by clicking the "Share Sound" checkbox in the lower left corner.
Step 4: Finally, tap "Share" to begin sharing.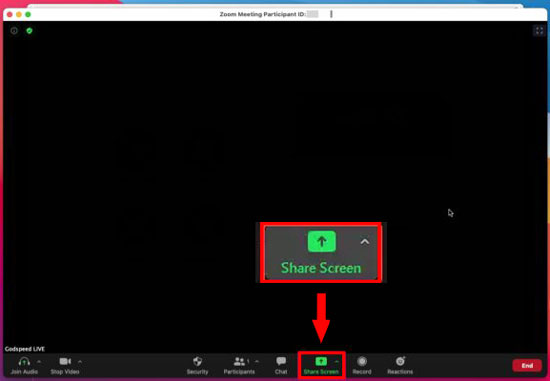 2.3 How to Allow Screen Share on Zoom on Android
Zoom also offers apps for Android devices to allow people to join meetings with their mobile phones. But your Android phone should be version 10.0 and above with at least 3GB RAM.
But note that things are entirely different when screen sharing a mobile phone because your team members will see everything on your phone.. So, be cautious.
Here are the steps for the Android Zoom share screen:
Step 1: Install the Zoom app on your Android phone, then log into your account.
Step 2: Share the link you use for Zoom meetings with other members and start the meeting. Tap on the screen to show the meeting control. Click on "Share".
Step 3: Choose the "Screen" option from the sharing options on the list.
Step 4: Click on the "Start Now" button to start screen sharing. Grant the necessary permissions to share screens for the Zoom app. Follow the prompts on the screen to grant permissions.
Step 5: When you shart screen sharing, you may go to an app or content you want to share with the participants.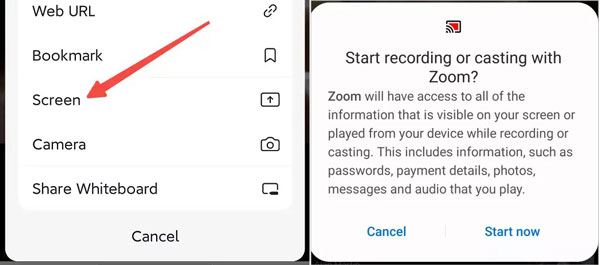 Guess you like: Learn About AnyDesk and Get Alternative to AnyDesk
2.4 How to Share Screen on Zoom on iPhone/iPad
Wondering how to share iOS screen on Zoom? iOS users can also screen share on Zoom conveniently. However, your device's version must be compatible with the Zoom application. iPhone should be version 8.0 and above, while iPad should be on version 13.0 and above. The Zoom application installed should be 5.0.0 or above. After that, you can start your screen-sharing session.
Here's how to share screen on Zoom on iPhone or iPad:
Step 1: Launch the Zoom application, create a Room, then start a meeting. You will get pop ups on your device to allow Zoom access camera. Click "OK" to grant permissions.
Step 2: Click on "Share Content" icon at the bottom, then select the "Screen" option. Click "Start Broadcast" to share the iOS screen on Zoom.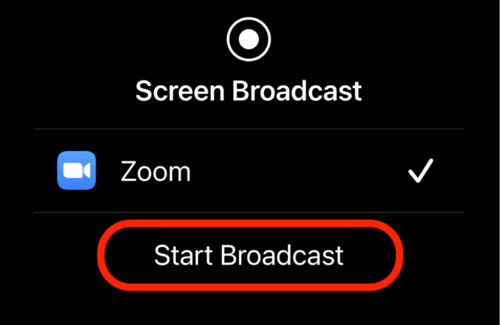 Read also: Easily Use Snapchat on PC with Reliable Methods [Advanced]
Part 3: FAQs on Screen Sharing on Zoom
Sometimes, you may not share the screen on Zoom. It could either be permissions, devices' versions, or other causes. Here's why you can't share your screen on Zoom:
Host permissions: Only the host of a meeting can enable the screen-sharing option for all participants. So, if the permissions aren't granted, or you are not a host, then you may not share your device's screen. So, check if the host enabled screen sharing.
A version of Zoom app: Ensure you install the latest version of the Zoom app on your device. If you're using an older version, you may be unable to share the screen on Zoom.
Permissions: Ensure you've granted Zoom permission to access your device's screen. Check for the device's settings, then ensure the app is allowed to use the camera and microphone.
Antivirus software: Antivirus or firewall software may block the Zoom app from sharing the screen.
Network: A poor network can lead to screen-sharing problems. Your internet connection should be stable and strong.
Bonus: Why Can't I Share My Screen on Zoom?
Q1. Will other members see me when I share my screen?
No. While sharing a screen on Zoom, other people can't see you unless you open a video camera. The video camera lets people see you when in a meeting.
Q2: Is it possible to share a screen and camera on Zoom simultaneously?
Yes. When sharing the screen, you can also turn on your camera from the meeting controls at the upper section of the screen. You'll see a popup window on the right where you will see yourself. So, you can share your device's screen on Zoom and still share the camera.
Conclusion
Screen sharing on Zoom is an important feature that enables you to give presentations, offer tech support, and collaborate on various projects. You can share a screen of various devices on Zoom and proceed with your meetings remotely without moving an inch. This comprehensive guide has enlightened you on how to share screen zoom on computers, Android, and iPhone/iPad devices.
Also, you can cast your Zoom screen from your mobile device to a PC via Phone Mirror without trouble. This software supports most Android and iOS devices, and mirror all screen directly. Thus, you can easily share your meeting screen, game screen, or others.
Related Articles
How to Mirror iPhone to iPad with Ease? Show You All Details
How to Transfer Apps from Samsung to Samsung in 2023? 7 Effective Ways for You
How to Recover Audio Files from WhatsApp: Easy Methods for Data Retrieval
How to Transfer Music from Android to Android? 5 Ways to Fix It
How to Recover Deleted Photos from Lenovo Phone via 3 Reputable Methods
Manage Android with 5 Best iTunes Alternative for Android [Updated]