Summary
In this digital era, screen sharing has become an increasingly popular activity for iPhone and Android users. Taking a snapshot of your phone's screen is one quick way to share what you're doing on the device; however, this method does not provide detailed information if you want to troubleshoot or create instructional guides. In that case, you should share or read your device's screen. Screen sharing is a way of sharing the content on your screen with other devices.
It is possible to share the device's screen with others through the screen share app. However, there are many apps, and finding the right one for your needs can be tricky. But we have made things easier for you. Here is a list of some of the best apps to share screens and audio.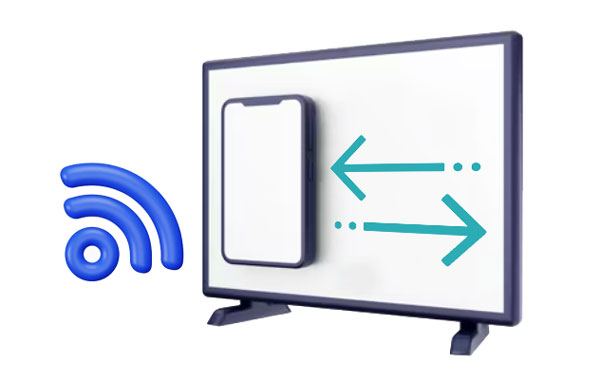 Part 1: What's Screen Sharing? Is It Safe?
Screen sharing is a way of sharing the screen of your device onto a computer. The apps used to screen share use different techniques to enable screen sharing remotely. With the recent rise of online meetings and webinars, there is high demand for screen sharing apps. Nonetheless, these apps have implemented standards.
For example, Zoom introduced end-to-end encryption that will ensure privacy and security. No matter the video conferencing service you choose, some measures should be taken to guarantee your data is safe and secure during video conferences and screen-sharing sessions.
To guarantee the safety of your video meetings, select a tool that features end-to-end encryption and two-factor authentication. Set a password for virtual rooms and employ host controls to prevent participants from controlling their screens without permission. This is especially effective at avoiding scenarios where unwelcome guests try to show offensive or disruptive content. In addition, be sure to use an app's legal requirements.
Part 2: What Makes a Great Screen-sharing App
When selecting the best screen-sharing software for your needs, there are a few key factors to consider. Not only does it need to allow users to share their screens with others online easily, but the top applications also offer much more than that. With webinar presentations and sales calls becoming increasingly common in today's digital world and the need to check on designs or ideas with colleagues, having an efficient and reliable platform is essential. After extensive research into these components, here is what makes the best app to share screen and audio:
Collaborative features: Include joint annotation, presenter-switching, co-browsing, and collaborative document editing.
Mobile user experience: With the best screen-sharing software, you can enjoy an experience similar to that of using a desktop. Whether in-app or through your browser, you can access top-tier features.
Integrations: These can be a game-changer in streamlining tedious tasks like scheduling appointments and uploading recordings. Automating these processes makes them easier and helps alleviate much of the stress associated with running an efficient business.
Cost-effective: A good screen-sharing app should not break the bank in exchange for features, participants, and reasonable time limits.
Read also: Where can you get more info on AnyDesk? Don't worry. Here's a complete review of AnyDesk with its features, advantages, disadvantages, etc.
Part 3: Best Screen Sharing Apps
There are various apps to share screen with friends; here are some of them:
App 1. Zoom - A Popular Screen Sharing App for Large Group Meetings
Zoom is one of the best screen share apps that has seen remarkable success since its launch, becoming one of the most sought-after video conferencing tools. It is a leading mobile screen sharing application that works on all platforms - Android, iOS, and computers.
With Zoom, you can now connect with your team from virtually anywhere. All participants directly connect to Zoom meetings using the app. Zoom offers multiple ways to share your device screens, such as displaying a specific portion of it, using sliders, and presenting an interactive whiteboard or PowerPoint slides.
Besides video conferencing, Zoom allows you to share screens, but this feature depends on the plan. For those with a basic Zoom account, host users are the only ones to share their device's screen. But if you have one of the higher level plans such as Pro, Enterprise, or Business accounts, then any participant can show their screen as long as it is allowed by the host.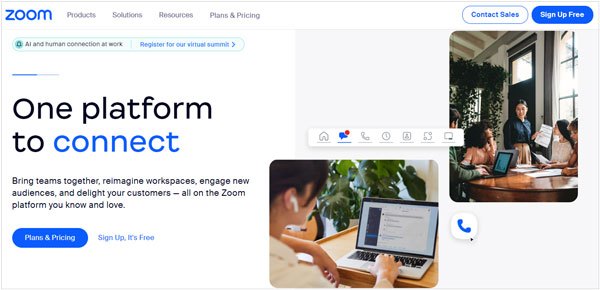 Key features:
- In-built collaboration tools.
- Webinar hosting features.
- HD video & audio.
- Conferencing-room features for large teams.
- Allow recording and transcripts.
Pros:
- Many useful features.
- Video and audio of high quality.
- Easy to use.
Cons:
- The free version has limited features.
- It may take more time to learn using all tools.
Supported OS:
- iOS, Android, Windows, Mac, Linux.
Pricing:
- A free basic plan for personal meetings.
- Pro plan for smaller teams at $149.9 per year with 100 attendees.
- Business plan for small and medium-sized companies at $199.9 annually with 300 attendees.
- Enterprise plan for large enterprises at $250.0 yearly with 1000 attendees).
Perhaps you need: An Authentic List of Virtual Meeting Apps [Trustworthy Guide]
App 2. AnyMeeting Video Conferencing - Best for Business Video Conferencing
Our next recommendation is AnyMeeting, an affordable and versatile software that can be used for video conferencing, online meetings, webinars - you name it. For businesses not looking to break the bank but still want quality share screen apps, look no further than AnyMeeting. Its magical integration with other apps popular among remote teams, such as Outlook and Slack, makes this program a must-have for business uses.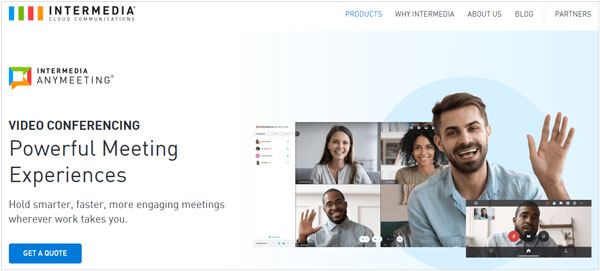 Key features:
- Integrate with Outlook, Slack, MS Teams, etc.
- Meeting transcript.
- Video conferencing with 30 webcams.
- Screen annotation.
Pros:
- Cost-effective.
- You can use company logos and backgrounds that are personalized on your screen.
Cons:
- Only 200 participants at the conference, which isn't enough for big meetings.
OS:
- Mac, Linux, Windows.
Pricing:
- Free with limited features.
- Plans start from $9.99 to $17.99 per month.
App 3. Google Meet - Best for Google Ecosystem Users
Google Meet is the perfect business solution that comes directly into your Gmail inbox. It's a huge upgrade from its predecessor, Hangouts. With its generous free plan of unlimited one-hour-long meetings with up to 100 participants, Google Meet offers unbeatable value for money if you have already subscribed to Google Workspace.
You can effortlessly join or host a meeting with only two clicks from your Gmail inbox. Besides, you will instantly share your screen with everybody in the meeting. The mobile app offers the same convenience, just follow the same steps and start sharing. Furthermore, this app will remind you to turn on Do Not Disturb mode when it's time for screen-sharing. To join the meeting, just click on the link provided.
Plus, Google Meet integrates well with Zapier, allowing you to distribute Google Meet links to new leads or generate a meeting link from a task. This way, when it's time for your team gathering or one-on-one client session, start screen sharing and get down to business.

Key features:
- Many participants in a meeting, up to 500.
- Visual effects.
- Integrate well with some Google apps.
- Whiteboarding.
- Meeting recording.
Pros:
- Allow sharing the whole screen, a tab, or a window.
- Those in meetings can share their screens.
Cons:
- No annotations tool.
- Some features are only in the paid version.
OS:
- Web-based (Mozilla Firefox, Chrome, Microsoft Edge, Safari).
Pricing:
- Free with limited features.
- The individual plan starts at $7.99 per month.
Guess what you like: Do you want to chat with your friends with Snapchat on a computer? If yes, you can follow this guide to get useful tools.
App 4. Screenleap - Best for Quick Screen Sharing
Screenleap is an excellent share screen software, easy to use, and perfect when you want to share your screen with sound. And the best part? It has a free version that features all the fundamental capabilities you'll need. Thanks to its web-based format, which requires no download, it only takes less time until you're up and running with Screenleap.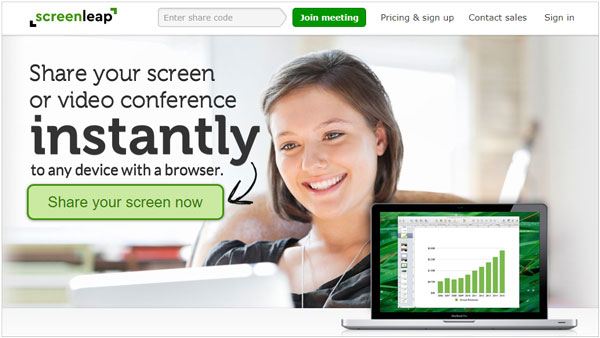 Key features:
- Meeting recording.
- Share the screen with 150 people.
- Private and public broadcasts.
- Presenter swap
Pros:
- An easier start.
- You can screen share with custom branding.
- Affordable.
Cons:
- Doesn't have features such as a whiteboard and annotations.
- Limited features in the free version.
OS:
- Web-based like Chrome, Firefox, Microsoft Edge, Internet Explorer, and Safari.
Pricing:
- Free with limited features.
- Plan starts at $15-39 each month.
App 5. Slack - Best for Internal Meetings
Slack is the perfect destination to create an environment of collaboration and discussion with teammates. Its compatibility with various other applications makes it a control center that has all your vital data in one place.
Slack is also the ultimate collaboration hub for businesses. You can host private sessions or keep them open to members of a channel, and all recordings are archived in their respective channels, making them easily accessible and searchable!
Users can take advantage of host switching, annotation capabilities that allow collaboration, and individual cursors on the host's display. All it takes is a single click on the cursor icon by the person hosting their screen to enable access.
Although both mobile and Linux users have restricted access to certain features, like the lack of screen shares with video elements on mobile or remote access being disabled for the Linux desktop app, Slack recently released a brand new feature that bridges this gap. Their newly added video recording functionality makes asynchronous screen sharing simpler.
Fey features:
- Allow voice and video calls.
- Support chat and sending messages.
- Allow file sharing.
- It has customizable sections to use when in meetings.
- Searchable history.
- Support workspaces.
Pros:
- Many features and integrations.
- Provide guest accounts.
Cons:
- Costly for large teams.
- Only 15 participants are allowed in a group call.
OS:
- Web, Windows, Linux, Mac, iOS, Android)
Pricing:
- The standard plan starts at $6.67 each month
- Plus, plan for $12.50 each month.
- Enterprise Grid plan, contact Slack for the pricing details.
Read more: Recover Deleted Screen Recording Videos on Android via 3 Safe Ways
App 6. Microsoft Teams - Best for All Businesses
If you are looking for an upgraded version of Google Meet but want to pay less, Microsoft Teams is a great alternative. This screen sharing app has all the features that you need and more! Its intuitive interface and comprehensive tools make it perfect for any online meeting or conference. Get started with Microsoft Teams today and experience what sets it apart from other video conferencing apps at no additional cost.
In addition to screen share, you will also gain access to annotation features when leading training or brainstorming meetings. Besides, built-in recording options are helpful too. Truly, Microsoft Teams provides your team with increased collaboration capabilities for any project.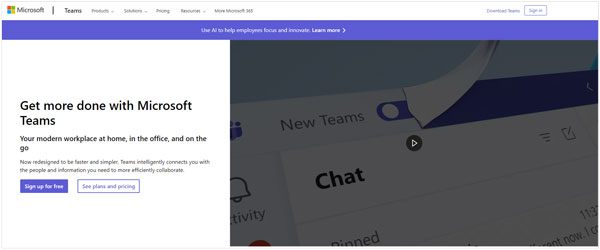 Key features:
- Store and share files remotely.
- Support mobile phones and desktops.
- Integrated chat for easier communication.
- Screen share with recording option.
Pros:
- It has a dashboard view to show an overview of data.
- Guests can access the group chats.
- The meetings are scheduled.
- Allow meeting recording.
Cons:
- The interface isn't user-friendly.
OS:
- Windows, Mac, iOS, Android.
Pricing:
- Free for those with Office 365 subscriptions.
- Paid plans start from $6.99 to $12.50 every month.
App 7. GoTo Meeting - Best for Any Business
GoTo Meeting is a free screen share app that's ideal for small team meetings, providing powerful sharing capabilities and unified communications. GoTo Meeting's revolutionary audio and video calling capabilities are perfect for collaboration, with up to 250 participants able to attend each meeting. As the host, you can easily share your screen or videos while writing on it using their convenient "marker" feature - making all your projects come together.
This highly efficient desktop sharing software allows you to record calls, both locally and in the cloud, and provides unlimited content storage! Additionally, its transcription feature allows you to transform your call recordings into text for easier review or dissemination amongst your workforce.
Being one of the best apps to share screens, it allows users to seamlessly integrate various third-party apps, including Podio, Zapier, etc. Plus, there's a convenient Google Calendar plugin that makes scheduling meetings in advance effortless. As if that wasn't enough, GoTo Meeting even supports Microsoft Office 365.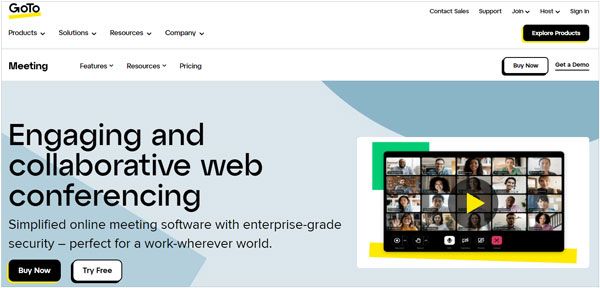 Key features:
- Personal rooms for meetings.
- Breakout room.
- Automated transcripts.
- Hand raising.
- Smart Assistant.
- Integrate with Slack.
Pros:
- Support up to 3000 people.
- It has a note-taking tool.
- Google Calendar plugin, which makes scheduling meetings easier.
Cons:
- The free trial only lasts for 14 days.
OS:
- Windows, Mac, iOS, Android.
Pricing:
- Free trial.
- Professional plan for $12 per month
- Business plan for $16 per month
- Enterprise plan (contact sales to know the price)
App 8. Skype - Best for Small Group Calls
Skype has been one of the world's most used communication tools for years. With cutting-edge video and audio calls, messaging capabilities, file attachment options, and more, it is ideal for businesses. And with the preinstalled version on Windows 10/11 computers, you can take advantage of this incredible app from your laptop.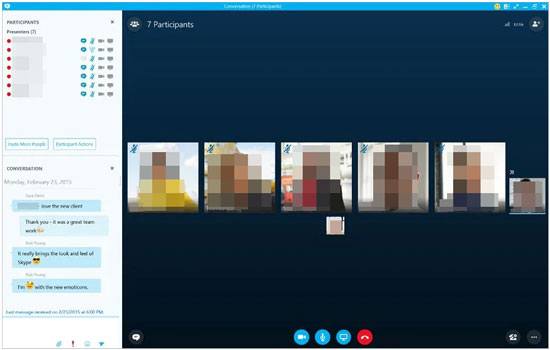 Key features:
- Support voice calls and messages.
- Video conferencing.
- File sharing option.
- Phone calling.
- Background images.
- Live subtitles.
Pros:
- There are options to send call reactions.
- Many features are in the free version.
Cons:
- Only 100 people in a group call.
OS:
- Mac, Windows, Linux, iOS, Android, web-based version
Pricing:
- Free version and paid plans for calls.
App 9. TeamViewer - Best for Remote Access to Devices
TeamViewer is the go-to software for millions worldwide who need to share their screens. It offers remote access, and you can also control other devices directly from your device, perfect for business operations such as customer service. It's available on both PCs and Macs plus mobile platforms.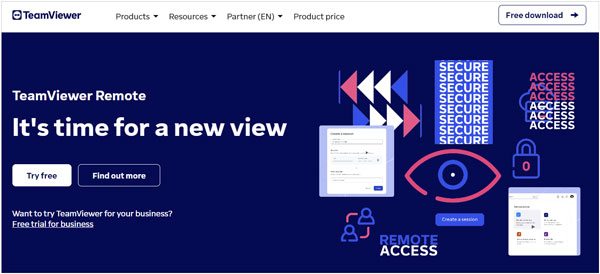 Key features:
- Remote device control.
- Cross-platform access.
- Useful shortcuts.
- Custom branding.
- Session recording.
- Remote data backup.
Pros:
- Control your devices from any remote location.
- Cross-platform accessibility.
- Useful shortcuts that simplify the process and session recordings for a more personalized experience.
- Remote data backup assures all information is securely retained to prevent irreversible losses.
- Secure access.
- Flexible.
- Support most desktop and mobile platforms.
Cons:
- No video conferencing in the free version.
OS:
- Windows, Linux, Mac, Chrome, Android, iOS
Pricing:
- Free for non-commercial use.
- A basic plan for $24.90 per month.
- Business plan for $50.90 monthly.
- The premium of $102.90 per month.
- Corporate for $206.90 per month.
Further reading:
Part 4: How to Share Screen to PC
With so many screen sharing software applications on the market, it can take time to know which one is right for you. Here's a general guide to using an app for screen sharing that should apply across most programs; while certain steps may vary depending on the program, these are some key steps to use.
Step 1: Easily download and install the software onto your computer, or access it online via a web application. You may be prompted to create an account, so log in when necessary.
Step 2: Now join or start the video call.
Step 3: Locate the button that can activate screen sharing and click on it. Choose a tab or a window you would like to share. Other applications can allow you to give other participants the right to control your screen.
Bonus Tip: Best Way to Screen Share Android/iOS on PC
Phone Mirror is one of the best screen mirroring software that allows users to share their Android or iOS screens onto a PC. With its simple-to-use interface, you can mirror your display in minutes. The best thing is that you can play mobile games fluently on the PC with a mouse and keyboard. It also allows the transfer of files from a PC to an Android device.
Key features:
- Screen shares most Android and iOS devices with the PC.
- You can control your phone from a large screen.
- Stream application displays and audio to conferencing software with ease.
- Play mobile games the way you want.
- Faster file transfer from Android to PC.
Download Phone Mirror on your PC.

How to screen share Android phone to PC with Phone Mirror:
Step 1: Install and launch this mirroring software on a PC, and choose "Android Mirror".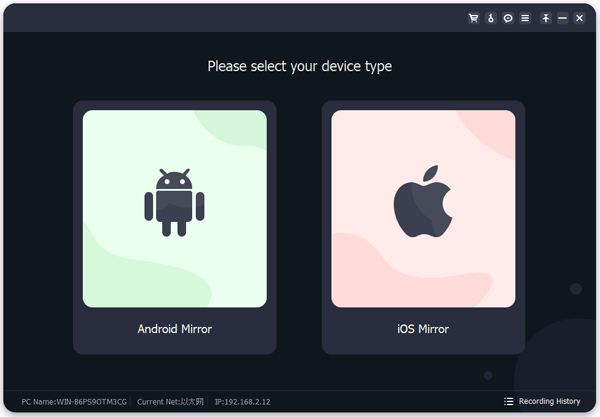 Step 2: If you want a wireless connection, choose "WiFi Connection" and install the mirroring app on your phone according to the guide on the interface.
Step 3: Make sure your Android phone and PC are connected to the same network, and select "Detect" to build up the connection.
Step 4: Once done, your phone screen will be displayed on your PC, and you can control your phone with a large screen.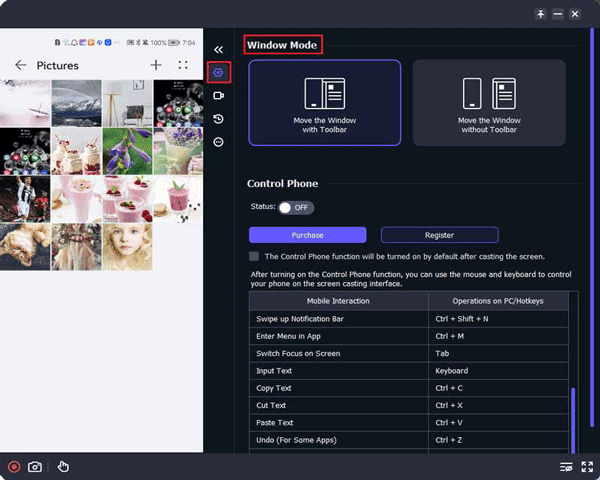 Conclusion
You now have a list of apps to share screen and audio with friends with their respective pros and cons to help make your decision easier. Before downloading or purchasing any program, read each to identify what best meets your needs. With this article as an informative guide, selecting will no longer be time-consuming; instead, it will become an enjoyable process that gives you what you are looking for.
By the way, Phone Mirror is an effective tool to help you cast your Android phone to a computer, and allows you to manage your phone with multiple features. Download it, and you can enjoy a large screen by mirroring.
Related Articles
Bypass Android Lock Screen with Detailed Tutorial [Crack the Lock Safely]
Is Android Touch Screen Not Working and You Can't Unlock It? 9 Solutions
Is Touch Screen Not Working on Samsung Phones or Tablets? Repair It
Which Is the Best WhatsApp Recovery App? Take A Look At These Options
Fantastic Android SMS Recovery Apps | Easily Recover Deleted Texts from Android
How to Recover Deleted PDF Files on Android | 3 Approaches and Extra Tips