Summary
Are you interested in Samsung's latest flagship mobile phone Galaxy S20/Note 20? And planning to switch from Xiaomi to Samsung? Well, please don't forgot to transfer data from Xiaomi to Samsung, including contacts, photos, text messages, apps, and more. The transfer is different from backup, but you still can get 6 effective methods for Xiaomi to Samsung data migration in this article.
The introductions and usage operations of these ways are listed below so that you can browse them directly.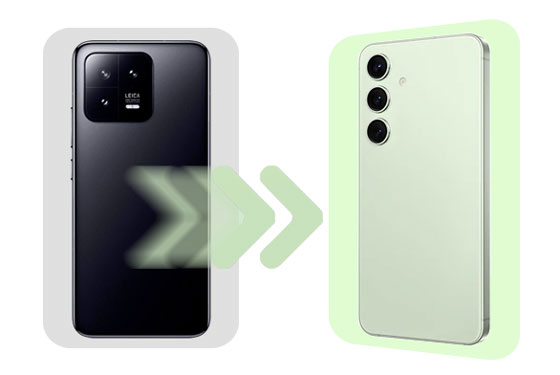 Method 1: Transfer Data from Xiaomi to Samsung via Samsung Data Transfer
Who can transfer all data from Xiaomi to Samsung in 1 click? One of the most outstanding tools is Samsung Data Transfer, which can copy contacts, videos, apps, call logs, text messages, etc., from one Android phone to another. You can move Xiaomi data to Samsung via USB and Wi-Fi connections. Additionally, it works with iOS devices. More features are as follows.
Main characteristics and highlights of the Samsung Data Transfer:
- Allow you to choose to clear data on the Samsung phone before transferring.
- It can also transfer contacts, books, videos, music, and photos from iOS to Android in 1 tap.
- Fast send files from iPhone to iPhone/iPad/iPod and Android to iPhone.
- Never damage your phone data.
- No technical skills required.
Furthermore, it is highly compatible with most Xiaomi, Samsung, iOS, and other Android devices, like Xiaomi 10/9/8, Xiaomi Mix 3/2S/2/1, Redmi Note 9/10X/K30/Note 8, Samsung Galaxy S20/S10/S9/S8, Samsung Note 20/Note 10/Note 9/Note 8, Samsung Galaxy Tab S/Galaxy Tab 4/Galaxy Tab S5e, Huawei, Sony, OnePlus, Google, ZTE, iPhone, iPad, iPod, and so on.
Download this phone data transfer software for free below.
How do I transfer data from the Mi phone to Samsung in 1 click:
Step 1. Install It
Please install, and launch the software on the desktop after downloading the package.
Step 2. Connect Both Phones to Computer
- Use their respective USB cables to connect the phones to the computer and enable the USB debugging mode on them.
- Then you can freely select data types on the interface.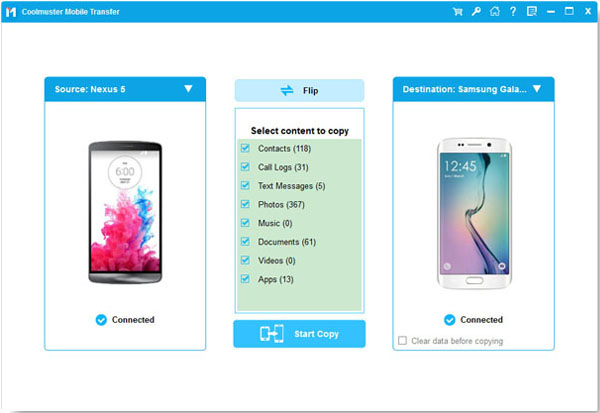 Step 3. Transfer Mi Files to Samsung
You can begin the transfer process by tapping the "Start Copy" icon. It will automatically copy selected data to the target device.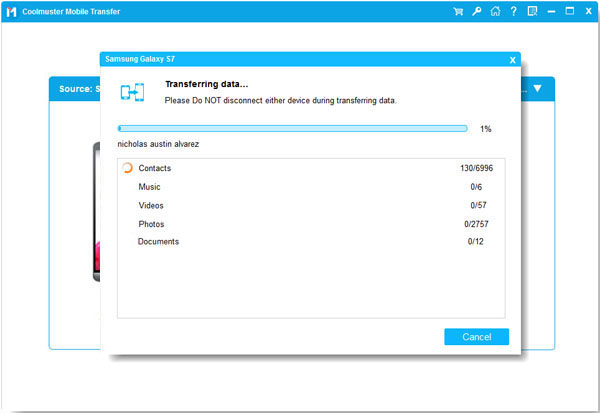 You might like:
Want to make your Samsung tablet faster than before? Please free up space on the Samsung tablet with these tips. They will help you out.
If you are eager to retrieve your deleted voice messages from your Galaxy phone, you can read this guide. It will show you the approaches with detailed steps.
Method 2: Transfer Data from Mi Phone to Samsung with Smart Switch
Transferring data to Samsung via Smart Switch is a normal way for many Samsung users. Its computer version can back up and restore data, and the mobile version can move data from one phone to the Samsung handset without a computer. USB and Wi-Fi connections are available, and it works with Android 4.3 and iOS 5.0.
Move data from the Mi phone to Samsung via Smart Switch:
Step 1. Download the App
Please download and install the app on your phones. In general, you can download it from the app store.
Step 2. Connect Two Phones
Enter it and click on the "Send data" option on Xiaomi and the "Receive data" option on Samsung. Then choose the "Cable" feature, and connect your phones with a data cable and a USB OTG adapter.
Step 3. Pick Desired Data and Start the Transfer
You can tick off the required data and tap the "Transfer" button to boot the procedure.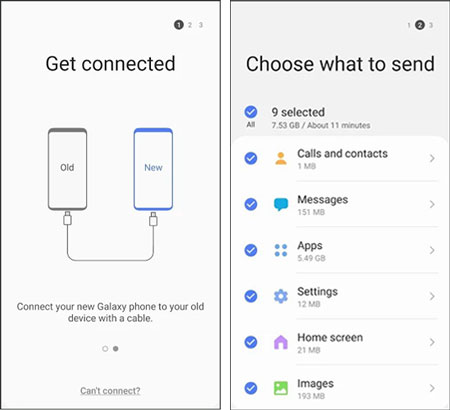 Read also: A music lover cannot lose their songs even they switch to a new phone. Please check how to transfer music from Samsung to Samsung, and you can enjoy your music on the new Samsung device without download.
Method 3: Move Files from Xiaomi to Samsung Using SHAREit
SHAREit is also an excellent file transfer app for mobile devices. You can share videos, audios, wallpapers, and so on with it. Besides, it is convenient to watch popular online videos now after updating. However, it is inevitable to view some ads on the interface.
Share data from Xiaomi to Samsung via SHAREit:
Step 1. Run the Application
Once installed, please run it on both mobile phones.
Step 2. Select Mi Data
Please tap the "Send" icon on the top of the Mi phone, and you can choose what you want to transfer. Next, press the "SEND" button. It will begin searching for the receiver.
Step 3. Link and Transfer Xiaomi to Samsung
- To make your phones connected, please hit the "Receive" option on the Samsung phone. As you see the avatar of another device show up on the searching screen, please tap on it for connection.
- Then it will immediately send the target files to the Samsung device.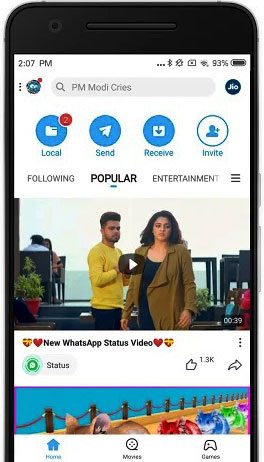 Further reading: Is it troublesome to back up Samsung to the PC? The answer is no. If you know these 7 backup methods, you can make it easy.
Method 4: Share Data from Mi Phone to Samsung via CLONEit
Like the former, CLONEit is also a file migration app. Differently, its interfaces are brief than SHAREit, although it contains ads as well. If sometimes it cannot detect your receiver or sender, please try it again. After all, it is just a simple mobile utility.
Copy data from the Xiaomi phone to Samsung using CLONEit:
Step 1. Install CLONEit
Please find and download it from Google Play. Open it, choose the "Sender" button on the Mi device, and the "Receiver" on the Samsung phone.
Step 2. Scan the QR Code for Connection
Next, click your device on the searching screen and press the "Tap to Scan" icon to scan the QR code for connection.
Step 3. Send Files to Samsung
- Once connected, you can select Xiaomi data on your Samsung phone. If needed, you can view detailed files by tapping the "Click here to choose details" icon.
- Then click the "Start" button to initiate the sending process. As it finishes, please click the "Finish" icon on both devices.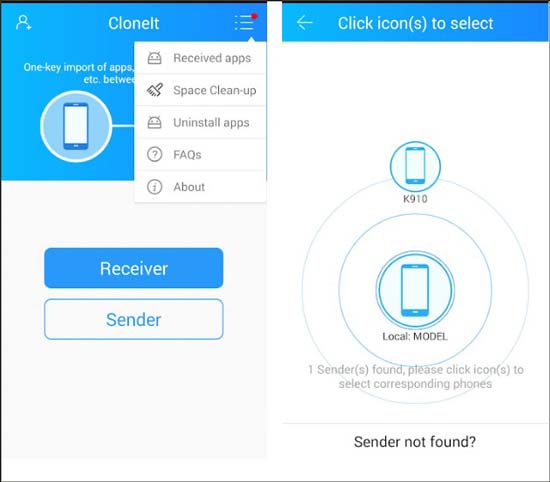 Maybe you need: Wonder some practical tips about Mi backup and restore? This post has listed 5 related approaches. Let's get it.
Method 5: Send Files from Xiaomi to Samsung Using Bluetooth
When using Bluetooth to send files between Android devices, you will find it time-consuming. Therefore, we don't recommend that you use it to transfer big files from Xiaomi to Samsung. If you just want to share multiple photos or other small documents, Bluetooth is a nice choice.
Send Mi files to Samsung via Bluetooth:
Step 1. Turn on Bluetooth
Scroll down the screen and you can see the Bluetooth icon on it, and turn it on. Or you can enter the Settings app and switch it on.
Step 2. Pair Xiaomi with Samsung
Please select your device on the Bluetooth list and pair your mobile phones.
Step 3. Select Files from File Manager
Open the File Manager on the Mi phone and find the data you plan to send. Then tap the "Share" > "Bluetooth" option and choose your Samsung cell phone. Bluetooth will send the files to Samsung.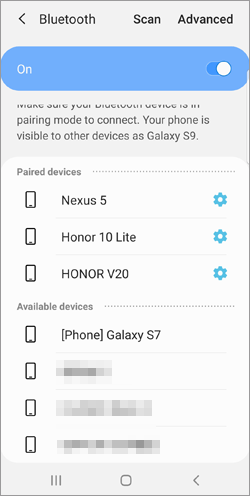 You might like: Is there a powerful Mi PC Suite to manage Xiaomi phones? Of course. Click it and you can get 5 handy tools.
Method 6: Copy Mi Data to Samsung with USB Cable
If you want to copy and paste Mi data to Samsung with a USB cable, you will need a computer. You don't need to download any program on Windows PC, but you need to install Android File Transfer on Mac. In this way, you can move your media files, but contacts, call logs, and messages are unsupported.
Copy Xiaomi files to Samsung via a USB cable:
Step 1. Connect Mobile Devices to the PC
Connect your handsets to the computer via USB cables. Then choose the "MTP" option on both of them.
Step 2. Open Mi Folder
To select Mi files on the computer, please go to the "This PC" and double-click your Mi phone. Then you can pick out the files you need and copy them without hassle.
Step 3. Paste Them to Samsung
Open a Samsung folder, and you can paste the copied data to it directly. You can remove your phones from the computer until the transferring process is over.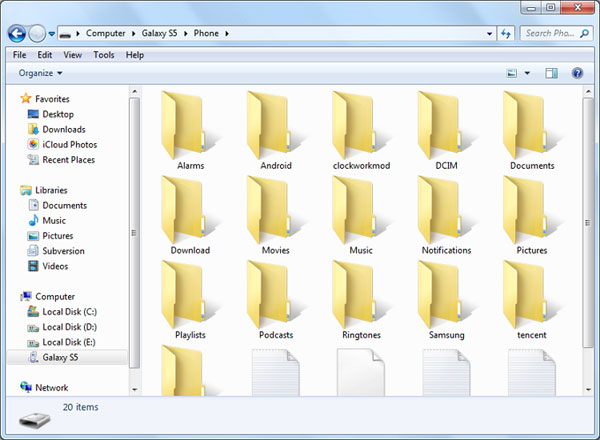 Tips: Does Samsung Kies support Samsung Galaxy S20/Note 20? Maybe you still want to use this old software to back up your Galaxy S20/Note 20, but it only supports Android OS 4.3 or former. According to the test, it cannot detect the non-compliant Samsung devices. Anyway, you can choose the alternative to Samsung Kies.
Conclusion
It feels good to master 6 help transfer ways, right? It is easy to transfer data from Xiaomi to Samsung, as long as you try. Certainly, Samsung Data Transfer is the first option because it can copy data efficiently and has strong compatibility. So, please don't miss this chance and download it now.
Related Articles
Transfer iPhone Data to Xiaomi Swiftly with 5 Methods [Can't Miss]
Xiaomi File Transfer - How to Transfer Xiaomi Files Effectively? [6 Methods]
How to Readily Transfer Data from Huawei to Xiaomi? Check These 6 Hany Ways
Samsung Smart Switch Alternative: 6 Equivalents Worth Pursuing
How to Retrieve Deleted Texts on Samsung? - 4 Easy Ways
Transfer from Pixel to Samsung with 4 Lightning-Fast Ways