Summary
As a free messaging app, WhatsApp is really popular with most people of all ages. It can help you message your friends, share photos, videos, and more media files with others, and make calls using mobile data or Wi-Fi. Perhaps you have many precious files on your WhatsApp on the Android phone, so do I.
This post will show you 4 methods to back up WhatsApp from Android to Mac without hassle. Then, you can keep your WhatsApp history safe. Let's check it out.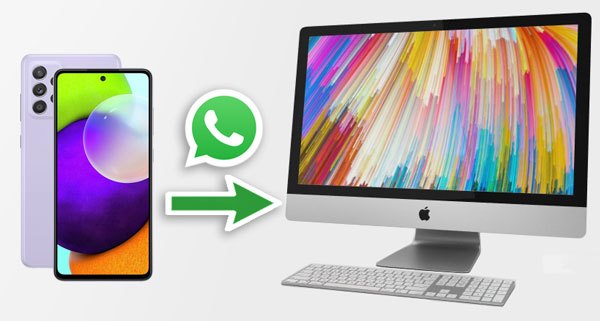 Part 1: How to Back Up Android WhatsApp to Mac via WhatsApp Transfer
This WhatsApp Transfer software allows you to back up Android WhatsApp to Mac in simple clicks. Certainly, it will transfer text messages, attachments, and more to the computer at a time. Furthermore, it also works with WhatsApp Business version, and supports transferring WhatsApp data from Android to an iPhone.
Highlights of this Android WhatsApp transfer for Mac:
- Fast back up WhatsApp chats from Android to Mac.
- Easily restore the backup WhatsApp to your Android device.
- Send WhatsApp history between Android and iOS.
- Back up WeChat, LINE, Kik, and Viber as well.
- Allow you to view the backup files on Mac directly.
What's more, it can work for most Android and iOS phones and tablets, like Google Pixel 5/4/3, LG Q92 5G/Q52/Q31, Samsung Galaxy S21/S20/S10, ZTE Blade 20 5G/Blade A7s 2020/Blade Max View, Huawei P40/P30/P20/P10, Xiaomi, OnePlus, HTC, and more.
Download the WhatsApp backup software for free below.
Here's how to back up WhatsApp messages from Android to Mac:
Step 1. Install the Program on Mac
After downloading the package, please double-click the application file, agree to the terms, and drag it to the "Applications" folder.
Step 2. Connect Android to Mac
Launch the program and use a USB cable to connect your Android device to Mac. Then click the "Backup WhatsApp messages" tab.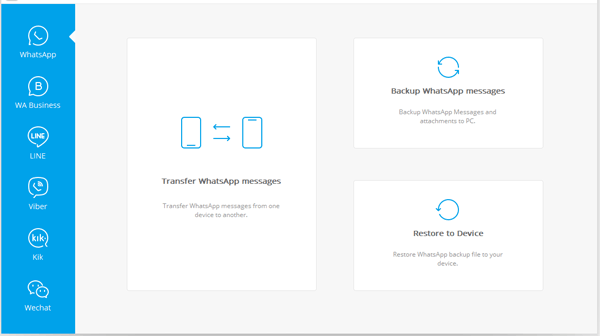 Step 3. Back Up Android WhatsApp
As it detects your Android phone, it will start backing up the WhatsApp data to your Mac computer. Once done, you can check the WhatsApp history on Mac.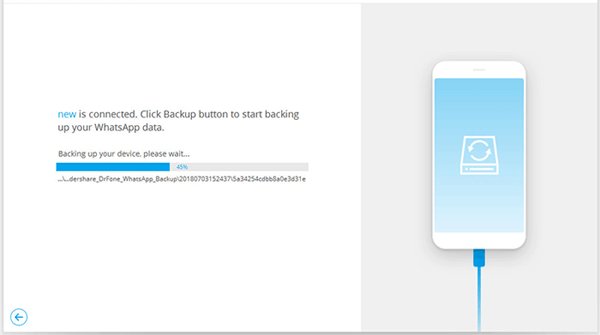 Tips: How to Restore WhatsApp Messages? This tool can also help you. After connected, you can tap the "Restore to Device" tab, and select the WhatsApp backup file you want. Then click the "Next" > "Restore" > "Continue" icon. The WhatsApp messages will show up on your device soon.
Part 2: How to Back Up WhatsApp from Android to Mac via Email
In fact, it is not difficult to back up your WhatsApp from Android to Mac via Email. You can also seamlessly download and save WhatsApp files to Mac. But the point is that you need to transfer the WhatsApp chats manually, and you cannot restore the backups to your WhatsApp anymore.
Guide on how to back up WhatsApp from an Android device to Mac via Email:
Step 1. Select a Conversation
Open WhatsApp on your Android device and select a conversation you want.
Step 2. Send WhatsApp via Email
Click the "Menu" > "More" > "Export chat" option, and you can choose the "WITHOUT MEDIA" or "INCLUDE MEDIA" icon. Then you can choose your mail app, and send the WhatsApp chats via email.
Step 3. Download WhatsApp Chats on Mac
Log in to your email account on the Mac computer, and open the email containing the WhatsApp chats. Next, download the file to Mac, and you can back up the WhatsApp data on Mac.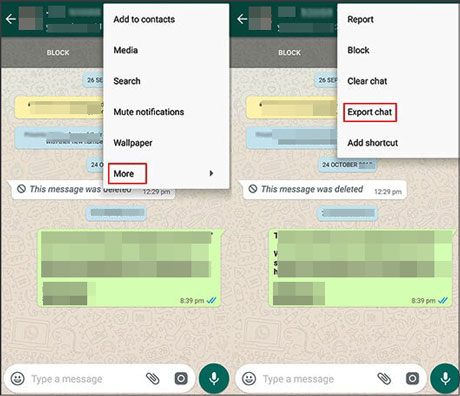 Bonus: How can I back up WhatsApp from Android to Apple? Don't worry. With this post, you can transfer WhatsApp history from Android to iOS breezily.
Part 3: How to Back Up WhatsApp Messages from Android to Mac Using Google Drive
As long as there is sufficient storage space on your Google account, you can back up WhatsApp messages from Android to Mac using Google Drive. In this way, you can transfer all chats at a time without effort. Additionally, you can restore to the original phone or other devices.
Tutorial on transferring Android WhatsApp to Mac via Google Drive:
Step 1. Open WhatsApp on Android
Run the WhatsApp app, and tap the "More" > "Settings" > "Chats" > "Chat backup" > "BACK UP" > "Back up to Google Drive" feature.
Step 2. Enter Your Google Account
You are required to select a backup frequency, and click the "Google Account" option to enter your Google account. Then click the "BACK UP" button to begin transferring WhatsApp data to Google Drive.
Step 3. Browse Google Drive on Mac
Please browse the Google Drive web and sign in with your account on Mac. Then you can see the backup WhatsApp data. If needed, you can download it to the computer for backup.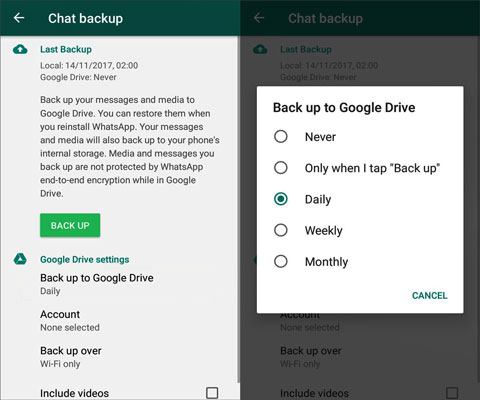 Further reading: Want to back up and restore the Android device? Here are 5 powerful ways for your reference.
Part 4: How to Transfer Android WhatsApp to Mac via Android File Transfer
Have you tried to look for WhatsApp data on your Android phone? Anyway, WhatsApp will store the data on your handset automatically so that you can back up these files to your Mac using Android File Transfer. However, you can't access or read these files directly. If you copy them to another phone, and reinstall the app, you can restore them to WhatsApp.
Here's how to transfer WhatsApp from Android to Mac with Android File Transfer:
Step 1. Find WhatsApp Data
Please launch the File Manager app on Android, and hit the "Internal Storage" > "WhatsApp" option. Then you can see the "Databases" and "Media" folders.
Step 2. Install Android File Transfer
To smoothly move Android data to Mac, you need to install the Android File Transfer program on Mac.
Step 3. Move WhatsApp Data to Mac
Connect Android to Mac via USB, access it, and choose the "WhatsApp" folder. Then copy and paste the data to the desktop. After finished, you will back up WhatsApp from Android to Mac.
See also: What can you do with Android File Transfer not working? Please don't miss these helpful tips.
Conclusion
This article is about to end, but not your Android WhatsApp backup. You now have mastered 4 methods to back up WhatsApp from Android to Mac. Therefore, you can effectively avoid losing your WhatsApp data. More importantly, the WhatsApp Transfer program can back up and restore chats without losing any data. So, give it a chance?
Related Articles
How to Restore Deleted WhatsApp Messages without Backup [3 Helpful Ways]
How to Transfer Text Messages from Android to Android? [4 Easy Ways]
How to Transfer Messages from Android to Mac Easily? 4 Helpful Tips Here
Transfer Photos from Android to Mac Wirelessly [6 Fabulous Methods]
How to Back Up WhatsApp Messages from Android to PC Fast [4 Great Ways]
Transfer Music from Mac to Android -- 5 Simple Ways Enough