Summary
WhatsApp is the most well-received mobile application around the word. The users of this application did up to 1.5 billion monthly in October 2018! People use it to send text messages, pictures, voice calls, other media files and documents conveniently, so sometimes you need to backup and restore WhatsApp. This page gives 4 methods to backup and restore WhatsApp for Android.
Part 1. Backup And Restore WhatsApp with WhatsApp Data Transfer Easily
Sometimes you may delete WhatsApp messages due to careless operation. To avoid WhatsApp data loss, you need to backup WhatsApp messages and its attachments so that when losing data by accident, you can restore the files from backups.
WhatsApp Data Transfer is a professional software to transfer WhatsApp data from Android to a computer. With it, you can backup and restore your WhatsApp data. What's more, it allows you to manage popular social apps data on a computer.
The Key Features of WhatsApp Data Transfer You'd Like to Know:
Backup Android/iOS WhatsApp chat history and attachments to PC/Mac.
Restore WhatsApp data from previous backups to your Android phone/iPhone.
Preview the detailed items before WhatsApp data transfer.
The exported files can be saved as HTML for reading and printing.
Backup LINE/Kik/Viber/Wechat chat history from iDevices to a computer.
It supports many brands with Android OS from Android 2 to Android 9.0, including Samsung Galaxy, LG, Huawei, Motorola, HTC, Xiaomi, OPPO, OnePlus, and more. For iOS, it can work on iOS 9 to iOS 12.
Now please go ahead and see how it works.
Step 1. Launch the program and select "Restore Social App" on the toolbox.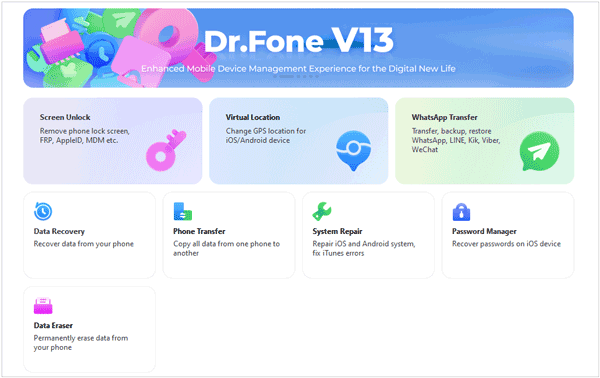 Step 2. Click on the "WhatsApp" tab and you will see the main interface of WhatsApp Data Transfer.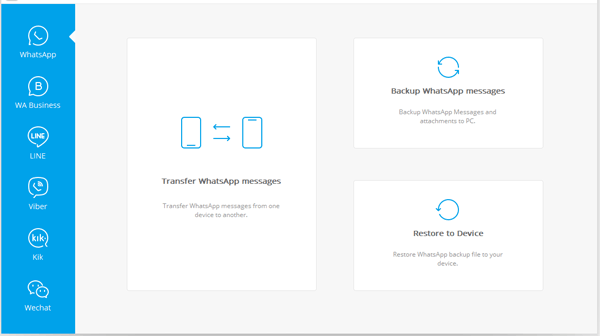 Step 3. On the main interface of WhatsApp Data Transfer, tap on "Backup WhatsApp Messages" and connect your Android phone to your computer via a USB cable.
Step 4. Once connected successfully, the backup process will start automatically. You need to wait for the process to finish.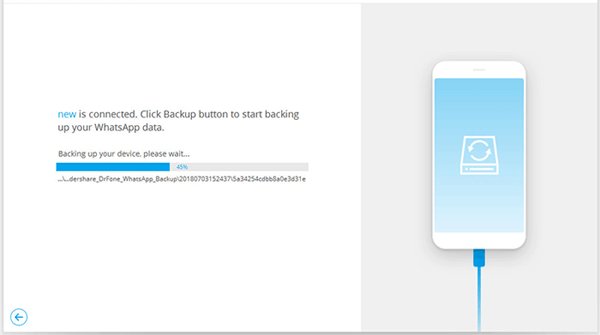 Step 5. When the backup process is finished, click the "View it" button to preview the detailed items.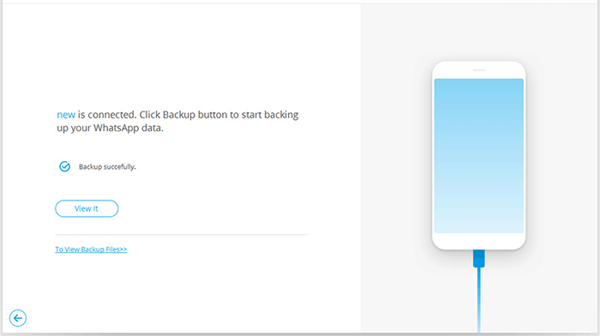 Step 6. Choose the backup file as you like if you have more than one backup. Then tap on "View".
Note: When you need to restore the entire WhatsApp backup to your Android device, click "Next" here to directly restore it.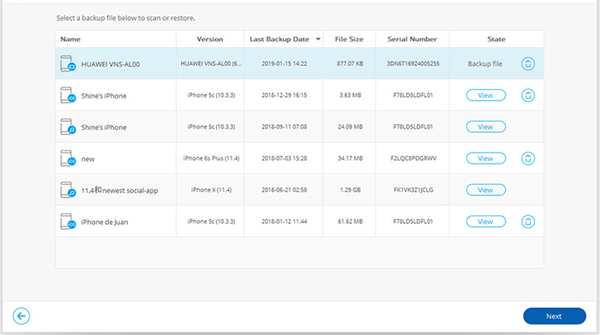 Step 7. You can preview all the WhatsApp messages and attachments. Checkmark the one as you like and tap on "Export to PC" to backup your WhatsApp. And when you need to restore the WhatsApp data, go through the same steps and click the "Restore to Device" option to restore the selected WhatsApp data to your Android device.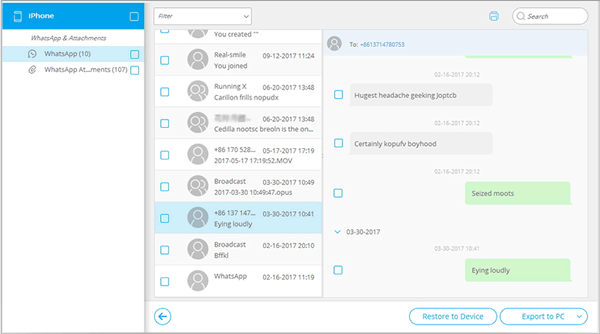 Further reading:
Do you have trouble saving WhatsApp photos on Android? If yes, please click this link and learn 3 effective approaches.
Choose a WhatsApp backup viewer in this post, and you can view them on the computer without hassle.
Part 2. How to Backup WhatsApp to Google Drive?
A backup function within the WhatsApp application can be used to backup and restore WhatsApp messages and chat history, as well as its attachments. If you do not have a Google account, the WhatsApp can automatically backup data to your SD card or internal storage at 2 a.m. every day. And you can restore them from the local files.
But the first choice is to backup WhatsApp to Google Drive because it will be much easier to restore from Google Drive than from local files. In this way, you can set a backup frequency at daily, weekly, monthly and whenever you tap on "Back Up".
Please have a quick look see how to backup WhatsApp to Google Drive:
Step 1. Download WhatsApp from Google Play, install and run it on your phone.
Step 2. Please go to Menu > Settings > Chats > Chat backup, then select "Backup to Google Drive" to set a backup frequency.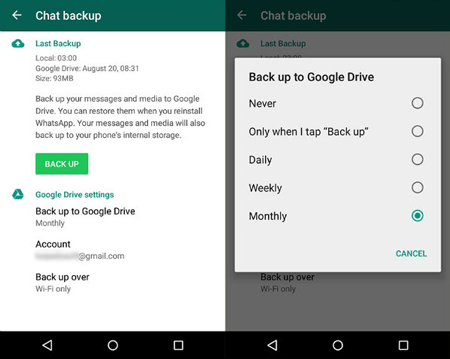 See also:
If you want to recover 1-year-old WhatsApp messages without backup, you'd better don't miss these recovery methods.
Wonder how to save WhatsApp chats in PDF? Don't worry. You can use these 4 ways to make it.
Part 3. How to Restore WhatsApp Backup from Google Drive? (Android to Android)
What can you do if you delete your WhatsApp messages carelessly? Or do you want to transfer your WhatsApp chat history from an old Android to a new one?
The problem can be resolved by using the simplest way - restoring WhatsApp backup from Google Drive. Of course, the precondition is that you have synced your WhatsApp to Google.
See how to restore WhatsApp messages from Google Drive:
Step 1. Please uninstall WhatsApp from your Android phone.
Step 2. Reinstall this application and sign in it. If you want to transfer WhatsApp data to a new Android device, you can take step 2 and step 3 on your new phone.
Step 3. Run the reinstalled WhatsApp and a prompt will pop up to let you restore messages and media from Google Drive. Just simply click "RESTORE", otherwise, you can never restore deleted messages later.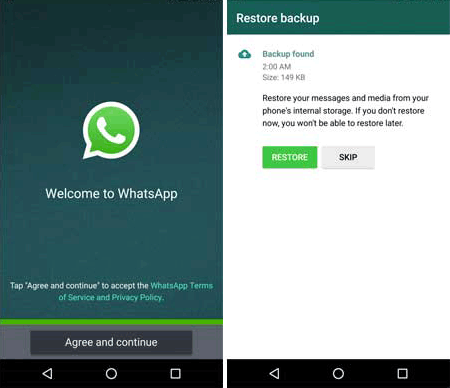 Notice:
1. Please connect your phone to a stable network or WiFi during the data transferring.
2. Use the same phone number and Google account that you backup your WhatsApp to restore files.
3. With no selection, it will only download all the backup files. So please make sure the internal storage space is enough.
4. If you have not backup your WhatsApp before the data deletion that you can not get them back by this way.
5. You can visit WhatsApp official website for more FAQ.
You might like: How to Back Up Viber Messages on PC Swiftly | 5 Effective Solutions
Part 4. Use Local Files to Restore WhatsApp Backup (Android to Android)
Does not have a Google account associated with WhatsApp? Thankfully, WhatsApp can automatically backup data to your SD card or internal storage at 2 a.m. every day. It supports recovering messages from local files within 7 days.
You can find your backups from SD card > WhatsApp or internal storage.
Step 1. Install a file manager and run it on your phone.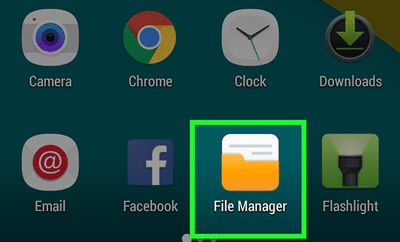 Step 2. Click "SD card" > "WhatsApp" > "Databases". If you can not find this folder on your SD card, you can click "Phone storage" instead.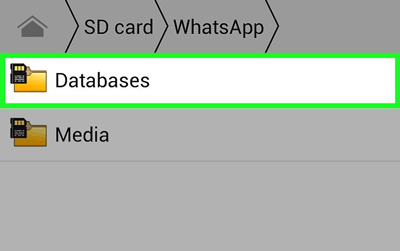 Step 3. Rename the files you like to restore from msgstore-YYYY-MM-DD.1.db.crypt12 to msgstore.db.crypt12.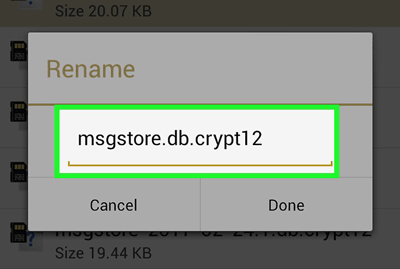 Step 4. Uninstall and reinstall WhatsApp from Google Play, please specify the phone number you have used before.
Step 5. Click "Restore" in the "Restore chat history" window, and the job is done.
Additional:
If you wish to transfer WhatsApp chat history from Android to Android, you can either reinstall and run the app, click "Restore" on the Android device which you like to transfer files to, or put your SD card off and inset it to your new Android device.
Related Articles:
[Fixed] How to Recover WhatsApp Data from Samsung Galaxy
How to Backup and Restore Android Phone/Tablet on Computer? (4 Ways)
How to Backup Android Device without Rooting?
Fast Back Up WhatsApp Chats from Samsung to iPhone
How to Transfer Apps to New Android Phone
How to Transfer WhatsApp from iPhone to Huawei with 3 Viable Solutions