Summary
Are there plenty of valuable pictures on your WhatsApp app? Wonder how to save WhatsApp photos on Android without hassle? Perhaps many WhatsApp users are annoyed at this problem. So, we will talk about it today in this article.
We will provide 3 viable solutions to help you save your WhatsApp photos as well as detailed steps below. Besides, we will share 2 related tips with you, and you can manage the photos easier than before.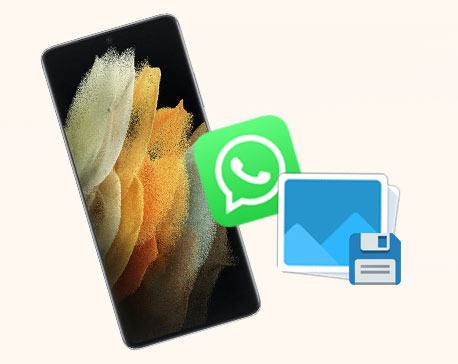 Tips: Why can't I save pictures from WhatsApp?
Sometimes you find that you cannot save pictures from WhatsApp, and don't know the reason. In general, multiple reasons listed below will lead to this matter.
First of all, when your network is unstable, you will probably fail to save pictures. Second, an error occurs on WhatsApp. You can close the app and reopen it. If it still has problems, you need to reinstall it. Third, your SD card has some issues. You can remove the card from your device.
Part 1: How to Save WhatsApp Photos on Android via Gmail
Gmail is a common option for Android users to save their WhatsApp photos. As long as you add your Gmail account to the app, you can easily upload the pictures from WhatsApp to your Google Drive. But please check if your cloud storage is sufficient. If not, you will fail to back up your photos.
Here's how to save WhatsApp photos on Android via Gmail:
Step 1: Open WhatsApp on Android
Please launch the app on your Android device, and click the "More" > "Settings" > "Chats" > "Chat backup" option.
Step 2: Add Your Gmail Account
Click the "Back up to Google Drive" icon, and select a backup frequency. Then tap the "Add account" option to enter your account.
Step 3: Save Photos from WhatsApp to Google Drive
Hit the "Back up over" icon to select a network you want to use for uploading files. Once done, you can log in to your Google Drive to check the pictures.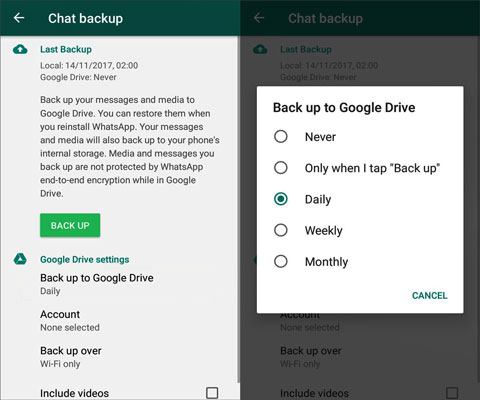 Bonus: Planning to move photos from Android to a computer? Use these 4 proven methods, and you can achieve the transfer expeditiously.
Part 2: How to Save Photos from WhatsApp to Gallery on Android (Manually)
Do you want to download some specific pictures from WhatsApp to your local gallery? It is a piece of cake. Generally speaking, this app will automatically store the photos you receive on the WhatsApp folder. Thus, you can access your gallery to find WhatsApp photos easily.
Guide on how to save pictures from WhatsApp to the gallery on Android manually:
Step 1: Save Photos from WhatsApp
Please go to WhatsApp and choose a conversation where your pictures are. Then touch a photo, and tap the "Download" icon to save it on your Android gallery.
Step 2: Run the Gallery App to Check Your Photos
Open the gallery app on Android, and navigate to the folder called WhatsApp Images. If you cannot see it, please go to the "Other" option, and you can see the folder. Open it, and you will get your photos.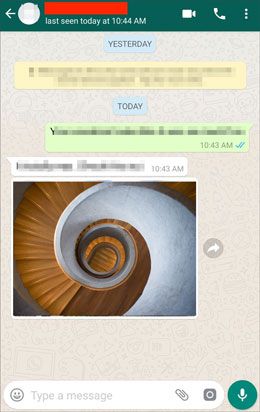 Read also: Lost your memorable photos from Android? Don't panic. This guide will tell you how to effectively recover deleted Android photos.
Part 3: How to Download Photos from WhatsApp to Computer via WhatsApp Transfer (1 Click)
What if you want to save photos from WhatsApp to your computer? How can you make it? In this case, you can make use of this WhatsApp Transfer software, which can back up all WhatsApp pictures and other WhatsApp files to a computer in 1 click. Besides, it can also help you transfer WhatsApp data from one phone to another without effort.
It can also help you:
- Save all the WhatsApp files to the computer without losing quality, including photos, texts, videos, attachments, and more.
- Easily transfer WhatsApp data from Android to an iPhone and vice versa.
- Restore your WhatsApp files from the computer to your mobile device.
- Back up LINE, Kik, WeChat, and Viber chat history from iOS devices to the computer.
- View the backup WhatsApp files on the computer without a hitch.
Moreover, it supports a lot of Android and iOS mobile devices. Thus, you can use it on Samsung Galaxy S21/S20/S10/S9, Huawei P40/30/P20, OnePlus 9 Pro/9/8/7/6, Xiaomi, Google, Sony, Motorola, LG, Vivo, iPhone, iPad, and so on.
Please download the WhatsApp data transfer program for free below.
Tutorial on how to save WhatsApp photos on Android in 1 click:
Step 1: Install the Software
After downloading, please install and launch it on your computer. Then choose the "WhatsApp Transfer" tab.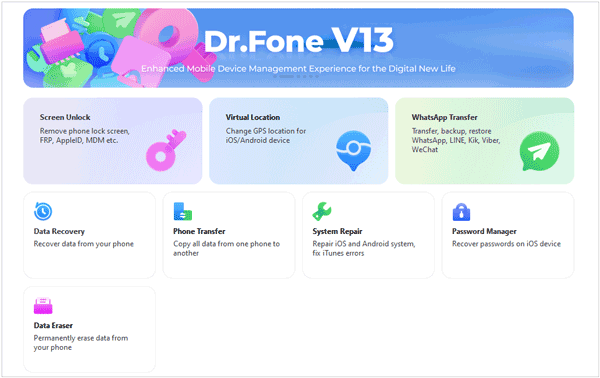 Step 2: Connect Android Device to Computer
Use a data cable to connect your Android device to your computer. The program will detect it immediately.
Step 3: Transfer WhatsApp Photos to Computer
- Finally, tap the "Backup WhatsApp messages" option to start the process.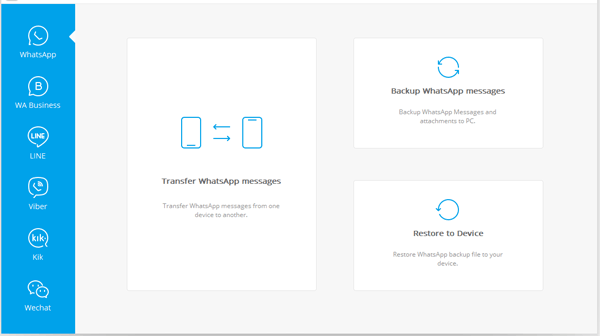 - It will save your WhatsApp pictures to your computer.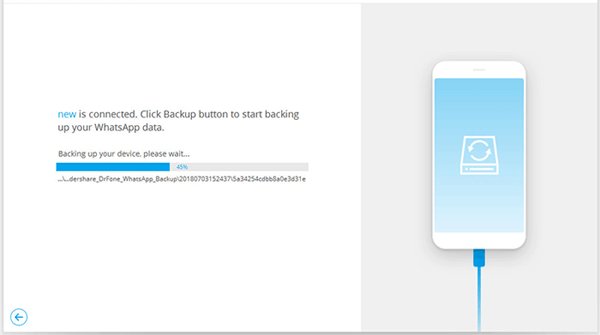 Notes: How to prevent WhatsApp from downloading photos on Android? To stop WhatsApp from automatically saving your photos to your device, you can open the app, click the "Settings" > "Chats" option, and turn off the "Save to Camera Roll" icon.
Wrapping Up
With these 3 methods introduced above, you can easily download photos from WhatsApp. Amazingly, no matter how many photos on WhatsApp, the WhatsApp transfer program can save all WhatsApp files at a time. So, please catch this opportunity to download and try it. Thanks for reading.
Related Articles
WhatsApp Backup & Restore - How to Back Up And Restore WhatsApp from Android?
[Can't-Miss!] How to Transfer WhatsApp Messages from Android to Android?
4 Proven Ways on How to Transfer Photos from Computer to Android (Step-by-step)
[Fast Transfer] How to Transfer Your Photos from iPhone to Android Effectively?
How to Back Up WhatsApp Messages from Android to PC Efficiently [4 Ways]
How to Back Up WhatsApp Photos on Android and iPhone [4 Approaches]