Summary
"I'm using Samsung Galaxy S21 Ultra now, but I accidentally deleted all my photos, including the WhatsApp photos! I just wanted to delete a few photos I didn't want, but I carelessly hit the 'Delete All' button. I really want to recover my WhatsApp images, because they are memorable to me. How can I recover deleted WhatsApp photos from my Samsung phone?"
Like most Samsung Galaxy users, sometimes it is inevitable that you accidentally delete important files by yourself. Besides, data loss also often happens due to viral infections, system updates, jailbreaks, etc. If you are experiencing the loss of WhatsApp pictures on Samsung, there is no need to panic, as this article will teach you how to recover deleted WhatsApp images on Samsung. Let's take a look at these ways and start your WhatsApp image recovery.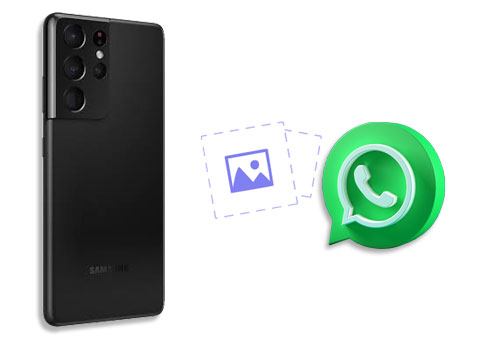 Part 1: How to Recover Deleted WhatsApp Images on Samsung via WhatsApp Recovery (Advanced)
In case you haven't backed up your WhatsApp photos, it is impossible to restore them from backup. Then, how to recover deleted photos from WhatsApp on a Samsung mobile device without backup? Please use this WhatsApp Image Recovery Software, a program capable of data recovery on most Samsung Android devices.
In other words, it effectively recovers not only WhatsApp photos but also other files on Samsung, like contacts, SMS, documents, music, and so on. What's more, it highly supports many Samsung devices, including Samsung Galaxy S21 Ultra/S21/S20/S10/Note 20/Note 10/Tab S7/Tab S6/Tab A7, etc. Certainly, it also works for other Android smartphones and tablets, such as Google, OnePlus, Xiaomi, Honor, Sony, LG, ZTE, and more.
Key features of this WhatsApp photo recovery program:
- Recover deleted photos in WhatsApp with a high success rate.
- Support photo preview and selection before you save them.
- Recover other WhatsApp files on Samsung seamlessly, including messages, videos, documents, etc.
- Back up Samsung data to your computer, including existing and lost files.
- SD card recovery on Samsung is available.
Download the Samsung WhatsApp image recovery software for free below.
Here's how to recover deleted WhatsApp images on a Samsung phone via this software:
Step 1. Launch the Software
After installing the program on your computer, please run it, and connect your Samsung device to the computer via USB.
Step 2. Select WhatsApp Photos
It will remind you to enable USB debugging mode on Samsung. Once done, it will recognize your mobile device. Please select the "WhatsApp Attachments" category on the interface, and click "Next."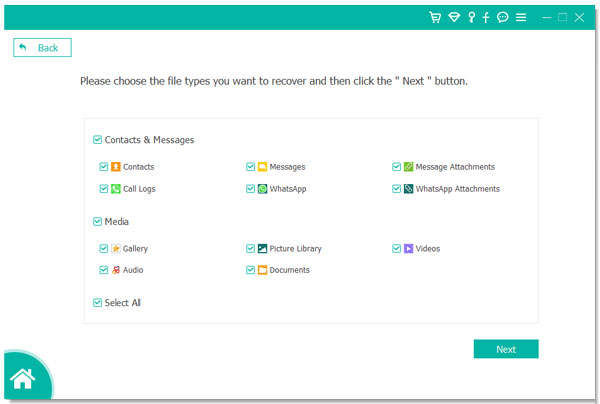 Step 3. Get Deleted Photos from WhatsApp
The program will start scanning your WhatsApp media files, including images. After that, please tap the WhatsApp Attachments on the left, and select the images you want on the right. Finally, hit the "Recover" icon to save them to your computer.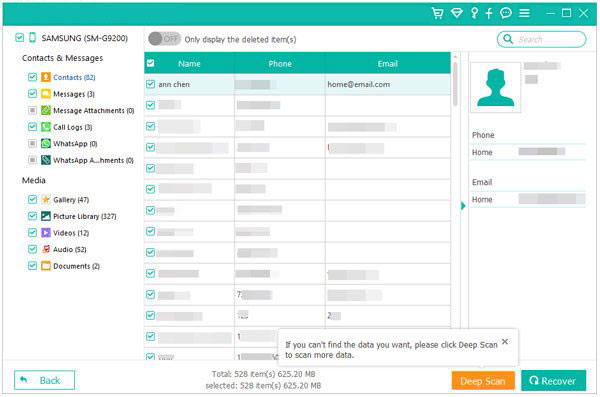 Bonus:
How can you seamlessly back up your WhatsApp photos? Please don't miss these ways.
Your Samsung phone keeps restarting? You can fix it easily.
Part 2: How to Download Deleted Photos from WhatsApp Chat
Currently, the latest WhatsApp app will store media data on the cloud space, so that you can download deleted photos from WhatsApp again. But you'd better know that you cannot access the photo anymore if you haven't opened it within 2 weeks. Of course, you cannot re-download the view-once pictures from WhatsApp, either. By the way, if the sender is your friend, you can ask him to send you the photo again.
Guide on how to get deleted photos in WhatsApp chats via re-downloading:
Step 1. Go to the WhatsApp Chat
Please access WhatsApp and open the WhatsApp chat having your deleted photos.
Step 2. Save the Photos Again
Browse the chat history, find the image you want, then save it to your Samsung phone.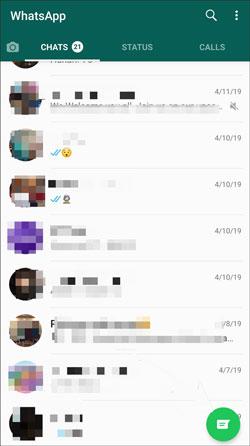 Read also:
Planning to back up WhatsApp from Android to Mac? Please refer to these efficient methods.
If WhatsApp chat backup is frozen, how can you fix it on your own? Actually, it's easy. Read this guide and you will understand the solution.
Part 3: How to Recover Deleted WhatsApp Images via Cloud Backup
On Samsung devices, you can see the Google Drive backup feature on WhatsApp. So, have you enabled it to back up your WhatsApp files? If yes, you can get back deleted photos from WhatsApp via your cloud backup. In addition, please check your last backup date. For example, you have done a backup on WhatsApp, but you deleted some photos and performed a backup again. In this case, the second backup will overwrite the first one, so that you cannot restore your deleted WhatsApp images.
Here's how to take deleted photos in WhatsApp from the cloud backup:
Step 1. Check the Last Backup Date and Time
Run WhatsApp on Samsung, and click the "More" option on the upper right corner. Then tap the "Settings" > "Chats" > "Chat backup" option. Now, you can see the date and time under the "Last Backup" icon.
Step 2. Restore Deleted WhatsApp Images
If you are sure that the last backup contains the photos you deleted, you can reinstall WhatsApp. When you see the "Backup found" screen, please tap the "RESTORE" icon to get the deleted images onto your Samsung phone.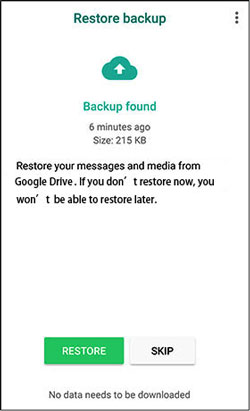 Further reading:
Use an excellent Samsung manager, then you can manage your Samsung data effortlessly.
This guide will help you transfer Samsung WhatsApp data to an iPhone via 3 methods.
Part 4: How to Get Deleted Photos from WhatsApp Folder
Another way that you might find deleted WhatsApp photos is to check the WhatsApp folder. Sometimes you have downloaded those photos on Samsung, but you forget. If so, although you eliminate the chat, the photos are still on your smartphone.
Here's how to find deleted WhatsApp photos from a local WhatsApp folder:
Step 1. Launch File Manager
Please access the My Files app on your Samsung device, and click the "Internal storage" option.
Step 2. Navigate to WhatsApp Images Folder
Scroll down and find a folder named WhatsApp. Then go to the "Media" > "WhatsApp Images" folder, and check if there are the photos you want.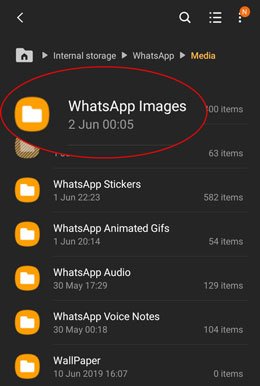 Maybe you need:
Conveniently, you can now move WhatsApp data from an old Samsung to a new one with 4 easy methods.
It is easy to retrieve WhatsApp images on Android phones. You can use this guide to make it.
Part 5: How to Restore WhatsApp Images via Third-party Photo Recovery Apps
We can also ask those third-party photo recovery apps for help, and they are available on Google Play Store. In general, these applications are capable of internal and external restoration. Because most of them don't require you to root your Samsung device, the recovery rate is not high. Anyway, you can get many image recovery apps from the Store. Please read their introductions and check their reviews carefully.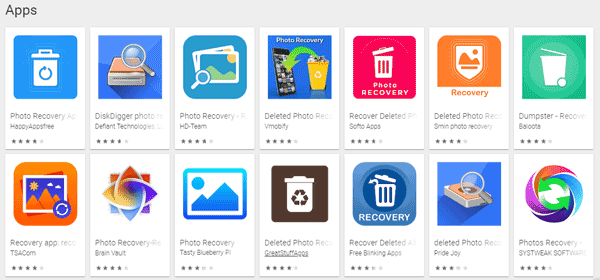 Final Thoughts
If you utilize a professional WhatsApp data recovery tool, you can recover your deleted WhatsApp images on Samsung without hassle. Whether it is worth a try depends on how precious your photos are in your mind. But we believe that backup is the most effective solution. Thus, please back up your WhatsApp images regularly.
Related Articles
How to Back Up Android Phone before Rooting With Ease | Check the Full Guide
Samsung Contacts Recovery - How to Recover Deleted Contacts from My Samsung Galaxy Phone?
3 Ways to Quickly Transfer Messages from iPhone to Samsung (Latest)
How to Transfer Data from Vivo to Samsung Seamlessly: Try 4 Solutions
How to Transfer Data from Samsung to OnePlus? Gain 5 Clever Methods Here
How to Free Up Space on Samsung Tablet: Make it Faster Than Ever Before