Summary
In current society, more and more people love using media apps for communications. WhatsApp is one of the most popular instant messaging applications, so there are many important messages on it generally. If you want to keep the messages on WhatsApp, it is necessary for you to learn how to back up WhatsApp messages from Android to PC. But luckily, this post offers you 4 excellent approaches for WhatsApp messages backup. If needed, go ahead and have a try.
Part 1: How to Back Up WhatsApp Messages from Android to PC with WhatsApp Transfer
As a professional WhatsApp messages backup app, WhatsApp Transfer can make the backup of your WhatsApp chat history easier. In addition to backup, it can also restore the WhatsApp messages to another mobile phone fast. With it, you can backup and restore your WhatsApp messages conveniently.
Highlighted features of WhatsApp Transfer:
- Transfer WhatsApp chat from Android to PC in 1 click;
- Transfer your WhatsApp history from one Android phone to another cell phone;
- Easy to use and transfer data quickly;
- It can backup the LINE, Kik, Viber, WeChat on iOS device as well;
- It not only supports Android device but also iOS device, such as Samsung Galaxy S20/S10/S9/S8/S7, Sony Xperia 10/5/4/3, LG G9/G8/G7/G6, Motorola G Stylus/Moto G Powerful/Razr/E6, Huawei, Google, OnePlus, Xiaomi, iPhone 11 Pro/11/XS/X/8/7, and so on.
Download WhatsApp Transfer for free below.
Guide on how to backup WhatsApp to PC:
Step 1: Download WhatsApp Transfer
First of all, please download and install WhatsApp Transfer on the computer. Then launch it directly.
Step 2: Connect Android to PC
Next, connect your Android phone to the PC with a USB cable and click the "WhatsApp" module on the interface.
Step 3: Backup WhatsApp Chat to PC
- Tap on the "Backup WhatsApp Messages" tab.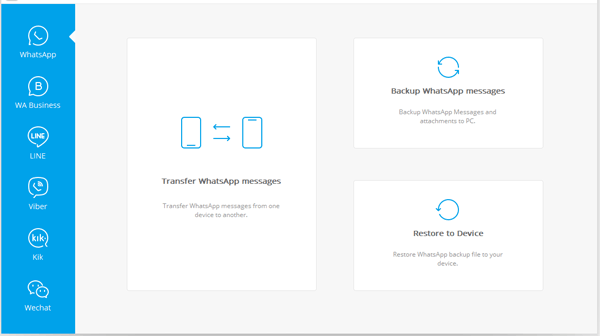 - The program will begin to back up your WhatsApp chat from Android to the PC. After a while, the backup process will be finished.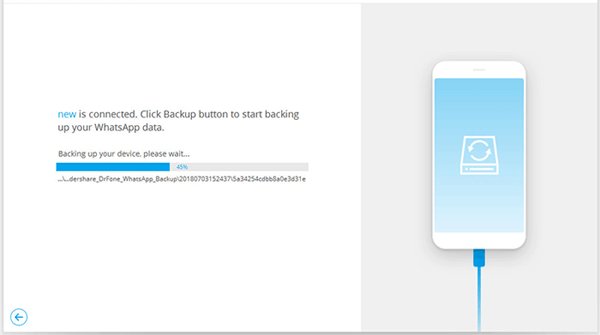 You might like:
If you want to backup Android data on the computer, here are 5 useful ways for your inference.
Want to transfer WhatsApp from the iPhone to Huawei? Please don't miss these 3 viable solutions.
Part 2: How to Save WhatsApp Chat on PC with Email
Using the built-in feature can save the WhatsApp chat on the PC. With the following steps, you can solve how to save WhatsApp chat to the PC via email without hassle.
Here's how to backup WhatsApp to computer via email:
Step 1: Enter WhatsApp
On your Android phone, please enter the WhatsApp app, and then hit on the "Settings" icon on the screen.
Step 2: Email Chat
Next, tap on the "Chat" option and choose the "Chat history" icon. You will see the "Email chat" option on the interface. Please click on it. And you can select the WhatsApp messages you want for backup.
Step 3: Login Email Account on Computer
On your computer, you need to log in to the email account that you backed up the WhatsApp chat just now. Finally, download the attached messages on the PC.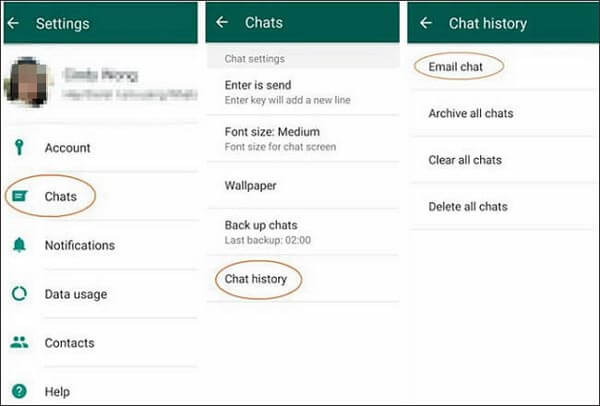 Read also:
Use Android phone and Mac computer in the work? Don't worry. You can backup Android to Mac with these 5 methods.
Surprisingly, you can easily transfer WhatsApp from Samsung to Samsung with these 3 approaches.
Part 3: How to Back Up WhatsApp to PC from Android Phone Manually
As a matter of fact, you can find the WhatsApp messages on your Android phone and back up them to the PC with a USB cable by yourself. So, the whole process is without an app. Just with a USB cable, you can make a WhatsApp chat history backup from Android to the PC.
Tutorial on how to backup WhatsApp on computer manually:
Step 1: Link Android Phone to the PC
In the beginning, please link your Android phone to the PC via a USB cable and keep the connection stable.
Step 2: Navigate to WhatsApp Folder
On the PC, open the "This PC" program, and you will find your Android device under the "Devices and drives" option. Then navigate to the "WhatsApp" folder.
Step 3: Backup WhatsApp to PC
Now, please copy the files in the "WhatsApp" folder and paste them to a location on the computer for saving the WhatsApp chat. Wait for a while and the backup will be over.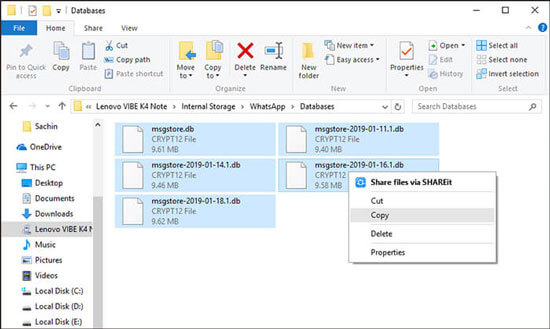 Further reading:
Apps are difficult to back up? Please read this post and you will get 2 great ways to backup Android apps on the computer.
What if you want to download WhatsApp photos on your Android phone? Don't worry. This post will tell you 3 ways.
Part 4: How to Transfer WhatsApp Messages from Android to PC Online
With the WhatsApp web on the computer, you can transfer your WhatsApp messages from Android to PC online. However, if you need to back up a large number of WhatsApp messages, the process will be time-consuming.
Steps on how to take WhatsApp backup on PC:
Step 1: Go to WhatsApp Web
First, go to WhatsApp web on the browser of the computer. You will see the QR code on the screen.
Step 2: Scan the QR Code for Logging
Enter WhatsApp on the Android phone and click the Menu icon to choose the "WhatsApp Web" option. Then scan the QR code and you will log in to your WhatsApp on the browser.
Step 3: Select and Backup WhatsApp Messages to PC
Select the conversation you want to backup. Then touch and hold one message, and you can click the "Download" icon on the top right corner. Your WhatsApp messages will be backed up on the PC.

Comparison Chart of the Four Approaches
Conclusion
With the 4 backup methods about WhatsApp from Android to PC mentioned above, is it easier to work out how to save WhatsApp messages from Android to PC? If you desire the fastest WhatsApp backup app, don't miss WhatsApp Transfer. This app can back up your WhatsApp messages in 1 click. At last, please feel free to leave your opinions and questions on the comments part.
Related Articles
How to Transfer Photos from Android to Mac in 6 Simple Ways
Transfer Text Messages from Android to iPhone Effortlessly [3 Ways]
[Can't-Miss!] How to Transfer WhatsApp Messages from Android to Android in 2021?
Deleted Folder Recovery - How to Recover Deleted Folder on Android?
How to Delete WhatsApp Contacts on Android/iPhone?
4 Effective Ways for Backup SD Card on Android [Best Guide]