Summary
Do you need the best spoofing app for pokemon go? Well, do not worry since there's a solution to your issue. In this guide, you will know the best spoofing apps for Pokemon Go. Besides, you will get to know their pros and cons to help you decide the best one for you.
As you might know, Pokemon Go is a known game that cannot be played by sitting at home. The game expects you to get out of the comfort of your home and find new Pokemons. Imagine the case where you need to enjoy Pokemon Go just in your room? As a Pokemon Go enthusiast, you will be required to make some arrangements to allow you to play the game without necessarily leaving your home.
This is where the spoofing app for Pokemon Go comes in handy. Here, you will find the best spoofing app for Pokemon Go (Android/iOS) you can use. So, let's get started.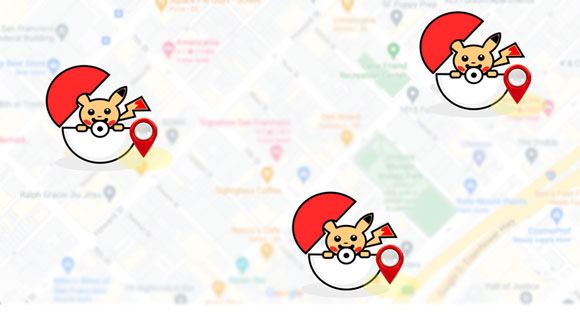 Part 1: Can You Still Spoof in Pokemon Go in 2022?
Pokemon Go is not only a game of strategy but also challenging. With the spoofing apps, you may easily change the game's location and play with novice trainers all over the world.
But, with each new update, this game will identify those players using the spoofing software, leading to the closure of their accounts. The best thing to do is to use a reliable spoofing app.
Part 2: What's the Best GPS Spoofing App for Pokemon Go on Android/iOS?
With thousands of GPS spoofing Pokemon Go applications, deciding on the best appears daunting. But, we have made that easier for you since we've rounded up the best apps you can use for spoofing on Pokemon Go. Therefore, read till the end to know in detail.
1. Best Pokemon Go Spoofer
You might not have heard about this fantastic location spoofer before; however, as a completely new tool, it's proven as the best spoofing app for Pokemon go. This Pokemon Go Spoofer is capable of supporting both Android and iOS.
What is more, the tool can also support 5 iOS gadgets simultaneously. This application will allow you to take control fully and flexibly fake your location on Pokemon Go anytime and anywhere.
Here is how to use this spoofing tool to fake your location:
Step 1: Setup the Fake GPS Software
Install the software on the computer. After that, open it and tap the "Get Started" icon. Then connect the device to the computer using a USB cable. Next, tap the "Trust" icon on your iPhone.
Tips: For Android devices, you can connect your phone to the computer via a data cable, choose the MTP option, and enable the USB debugging feature on Android.
Step 2: Choose the Teleport Mode
Once the map loads, your location will be shown on the map by default. Select the "Teleport Mode" on the right corner at the top.
Step 3: Choose the address for the Pokémon Go Spoofing
On the map, pinpoint the place where you want to be. The Pogo spoofer will then show the coordinates, distance, and address. You just zoom in and out to locate your place. Now tap on the "Move" icon to see your location change.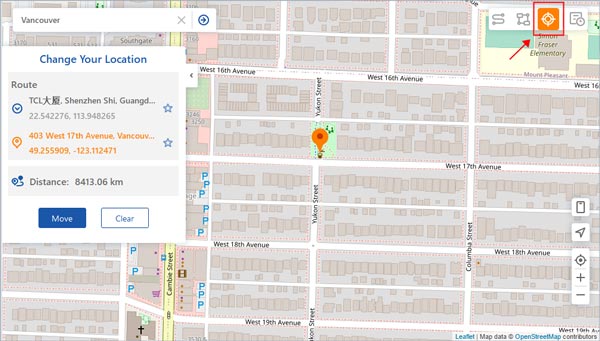 Pros:
- Changes the GPS location to anyplace in the world.
- Plans the route to move with a customized speed.
- Simulates the movement of GPS freely.
- Works with some of the local-based apps like AR games.
- Supports both Android and iOS devices.
Cons:
- Requires jailbreak on iOS devices.
See also:
It is easy to mock locations on Huawei in these 5 ways. Let's take a look.
Here are 10 practical options on android and iOS location spoofers. You can check it out if needed.
2. Tweakzilla
If you wish to get to any place, then the Tweakzilla app is your choice. This resourceful app can drop your location pin anywhere on the map. Selecting the location is quite easy when using Tweakzilla, and it enables one to simulate the GPS movement by choosing map routes.
Pros:
- Easy to use.
- Allows GPS movement.
Cons:
- Frequent use can lead to a ban.
3. iPokeGo for Pokemon GO
This is another essential app made specifically for the spoofing location on Pokemon Go. Due to its additional features, iPokeGo has become one of the popular choices for players who wish to catch Pokemon.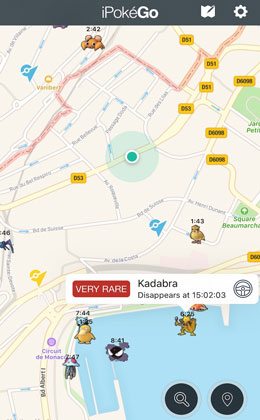 Pros:
- No jailbreak is needed.
- Many servers with built-in themes.
- Run the spoofer location in the background.
Cons:
- Most of its useful features are only accessible to premium users.
- The risk of getting banned is high.
Read it if you need: Want to get an efficient app to transfer data from Android to iPhone? Here is a comprehensive guide that can help you.
4. Fake GPS Location
This app enables one to teleport the gadget to a location easily. It's among the best location spoofing apps since it's highly effective, easy to use, and very low chance of being caught. Even if you're using the Fake GPS Location for the first time, you will find it very easy to spoof your location. The app makes it easier for one to find the location to use. After spoofing to that location, you may save it and find it later.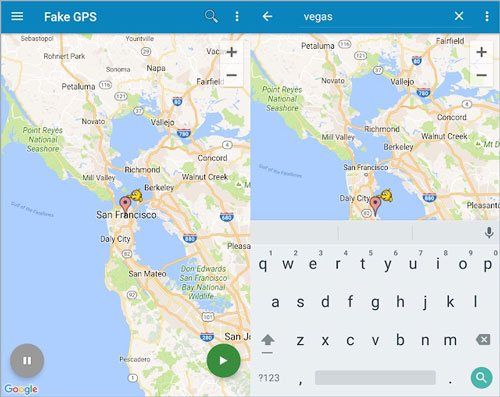 Pros:
- It's free.
- Works with multiple apps.
- Have user-friendly interfaces.
Cons:
- Rooting is needed.
5. PokeGo++
If you wish to have a unique spoofing app for Pokemon Go, you may go for PokeGo++. This is a reputable app due to the many features it makes the game fun to play and user-friendly.
Pros:
- No physical movement is needed.
- Enable joystick operation for easier movement.
- It only affects the game's location.
- Increase the avatar speed.
- Allows teleportation.
Cons:
- Contain ads.
Learn more: Want a detailed review of Jihosoft Android Phone Recovery? Here it is.
6. PGSharp
If you're worried about the Pokemon Go knowing your spoofing activities as well banning or blocking your account, then the best app to use is the PGSharp. You do not need to root the device before using the PGSharp for location spoofing. Besides, there is no need to install additional applications to support it.
What is required of you is to install PGSharp's latest version on your gadget, choose the location you want to use on the map then play Pokemon Go.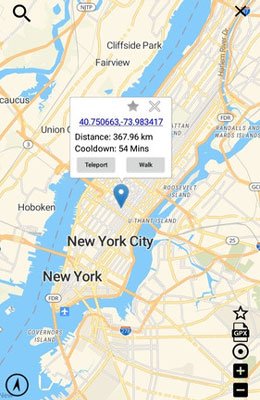 Pros:
- Installing the PGSharp is easy.
- It's safe to use.
- It's simple to spoof to different locations.
- No rooting is needed.
Cons:
- Works on Android only.
- It's a paid app.
7. Nord VPN
This is one of the best spoofing apps you will ever find. Normally, the VPN masks your location by running an important proxy server application which makes the IP address not be identified to your location. Actually, this is important as you won't see the effects of spoofing.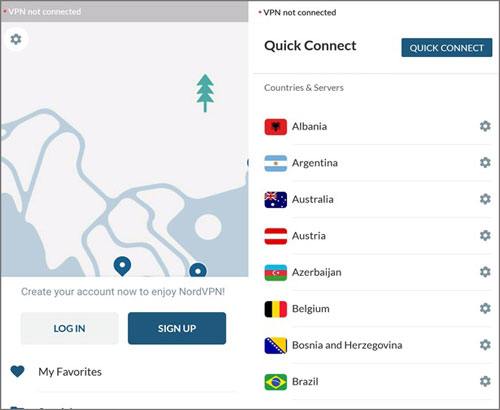 Pros:
- Keeps one safe due to encryption technology.
- Operates on six connections simultaneously.
- Provided benefits to more than 5000 global servers.
- It doesn't restrict the bandwidth.
Cons:
- It is a paid app.
Maybe you like: Please don't miss this article if you want to quickly transfer photos from an iPhone to an Android device.
8. EaseUS MobiAnyGo
If you're looking for a great way to spoof the Pokemon Go without jailbreak, then EaseUS MobiAnyGo is your app. Because this tool can be installed on the computer, there is no need to jailbreak the phone. All that is required of you is to connect the iOS gadget to your computer and select the spoof location. Also, you may set your gadget to move in two or more spots which are essential when playing this game.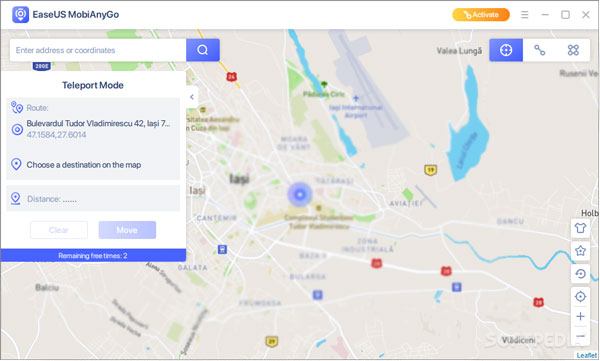 Pros:
- It can easily change the iOS location to any place.
- Works with other location-based apps such as Pokemon Go.
- Supports the latest iOS and iPhone.
Cons:
- Only supports iOS devices.
9. iSpoofer
This application that has skyrocketed into popularity via its joystick and teleporting abilities. Because of its ease of use, this app is popular in rural and remote populations.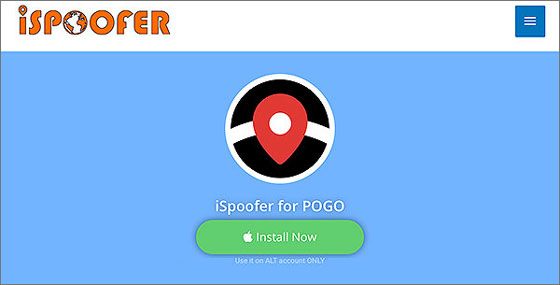 Pros:
- Easy to use.
- Live maps that support your surroundings.
- Teleportation abilities.
Cons:
- High chances of getting banned
Further reading: You can spoof Pokemon Go on Android without a hitch, so long as you browse this guide.
10. Dr.Fone Virtual Location
The Dr.Fone Virtual Location is your choice if you want the best spoofing Pokemon Go app. It is an ideal app for all iOS devices. This app is reliable and trustworthy that can spoof Pokemon Go. With this stunning application, you won't have to anywhere to find new Pokemon since changing the location and looking for them is very easy.
Dr.Fone Virtual Location has amazing features that enthusiasts of Pokemon Go love to use. This application provides a joystick to freely move GPS location. The good thing is that you can also fake the real-time progress by selecting the route and speed you like.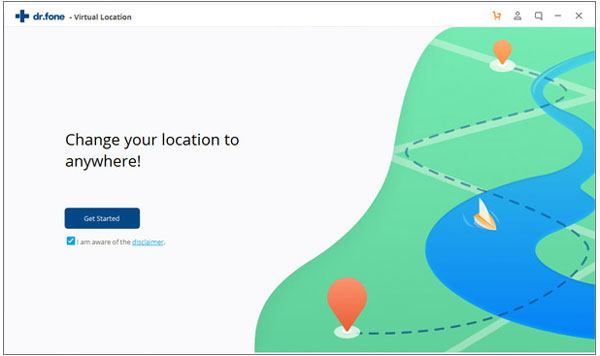 Pros:
- Offers joystick to move GPS location freely.
- You can easily fake your real-time progress.
- Easy to use.
Cons:
- Contain ads.
11. FGL Pro
This is an outstanding app that can do wonders when spoofing Pokemon Go. This app stands out for its advances and important Pokemon Go spoofing highlights.
The app enables one to employ the fake GPS as if you are strolling or driving. Besides, it works well with area-based applications. But, it has a few challenges, such as the ads, that become frustrating.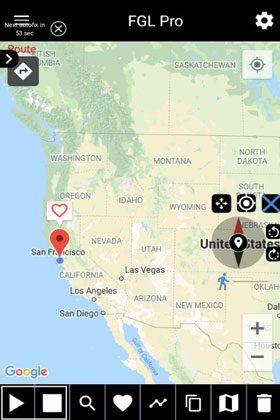 Pros:
- It's free.
- Easy to download and use.
- Works well with other apps.
Cons:
- Contains ads.
- The setup process is lengthy.
Read more: This informative post is about Recuva software for Android. If needed, check it out.
12. Fake GPS GO Location Spoofer Free
This is a free spoofing app that is free for Android gadgets. It does not need root access for it to work. Besides, it's a simple solution that offers a real-time location on your smartphone. It can also integrate with other applications and share its fake location with others. The only issue with the Fake GPS GO Location Spoofer Free is that it can easily be detected, thus increasing your banning chances.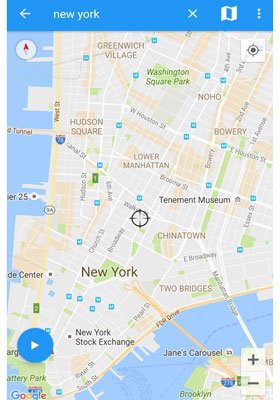 Pros:
- No root is needed.
- It's easy to use and install.
- It has a user-friendly interface.
Cons:
- High chances of getting banned.
Part 3: FAQs, Risks and Rules for Pokemon Go Spoofing
Spoofing of Pokemon Go has lately been prevalent since its release. The major risk that comes with spoofing Pokemon Go is banning. But certain rules must be followed to ensure the banning is fair. Below are some of the rules
Three strikes are given to users:
A warning message will be issued on your first strike, and nothing else will happen, and you'll play just fine.
You won't play for one month on your second strike since your account will have been banned.
On your third strike, your account will be banned permanently.
FAQs:
1. How do I change the location of GPS on Pokemon Go?
The steps vary depending on the device you're using; however, you have to download the GPS spoofing application to bypass the restrictions of Pokemon Go.
2. Can one play Pokemon Go without walking?
Yes. You may use the spoofer on Pokemon Go to customize your route and make the phone move the location.
3. Can I use a free VPN to spoof the location on Pokemon Go?
It is possible; however, free VPNs aren't very reliable. They might give your information the third parties. So, use a reliable VPN.
Recap
From this guide, you can easily deduce the best spoofing app for Pokemon Go. Ensure you get a Pokemon Go Spoofer that is the best for you. If you want a spoofing app that can work on Android and iOS devices, the first Pokemon Go Spoofer software can meet your needs. With it, you can fast fake GPS on Pokemon Go and change your location on Snapchat and other social platforms. Start enjoying Pokemon Go at the comfort of your home!
Related Articles
[5 Best Ways] How to Transfer Music from iPhone to Android in Ease
WhatsApp Backup Extractor: Top 6 Options to Extract WhatsApp Easily
Effortlessly Transfer SIM Card Data to Computer without Data Loss
How to Transfer Contacts from Android to Outlook via 3 Essential Ways
6 Ways to Transfer Videos from PC to Android Seamlessly
How to Transfer Messages from Android to Mac Easily? 4 Helpful Tips Here