Summary
A great number of people have installed WhatsApp on mobile phones and message friends with it. They usually send media attachments during chatting, especially photos. If you want to keep them safe, backup is the best option. How to back up WhatsApp photos? WhatsApp has a built-in backup feature so that you can use it to back up your photos. If you want other backup ways, please skim through this article.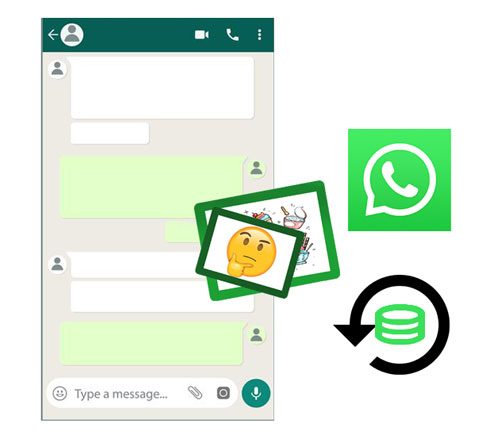 Part 1: How to Back Up WhatsApp Photos via WhatsApp Media Backup Tool
Want to back up WhatsApp images swiftly? Please choose this WhatsApp Backup software, which can back up, restore, and transfer WhatsApp history in 1 click, including photos, videos, texts, and other attachments. It works for Android and iOS devices, like iPhone 12 Pro/12/11/X, iPad Pro, iPad Air 2, iPad Air, Samsung Galaxy S20/S10/S9/S8, LG Wing 5G/Velvet 5G UW, Huawei, Sony, Google, and so on.
Main characteristics and advantages of the WhatsApp Backup program:
- Back up all WhatsApp photos and other chat histories from the smartphone to the PC in 1 click.
- Transfer WhatsApp history from Android to iPhone, and vice versa.
- Support you to back up LINE/Viber/Kik/WeChat.
- Restore the backup data to any mobile devices.
- Allow you to view the WhatsApp backup files you want after finishing the backup.
Download the WhatsApp photo backup tool for free below.
Here's how to perform WhatsApp media backup with this tool:
Step 1. Download the Program
Please download the program on your computer, and then install and run it on the desktop.
Step 2. Select the Backup Tab
Select the "Backup WhatsApp messages" module on the interface.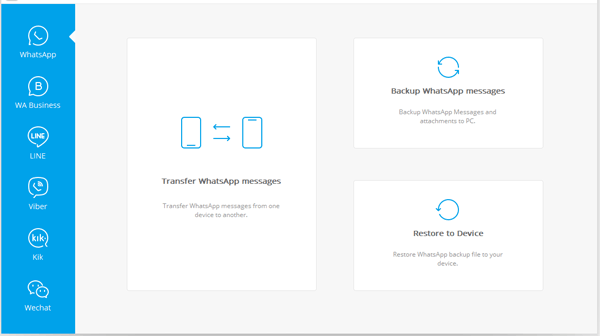 Step 3. Start Backup and View the Files
You can begin the backup procedure by clicking the "Backup" icon. After finished, you can view the backup photos on the computer.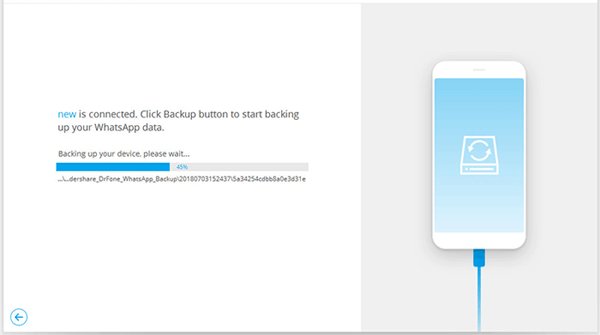 You may need:
After switching from iPhone to Android, you would like to move your important data, such as photos. This link will show you how to transfer photos from iPhone to Android. Let's check it out.
With these approaches, you can transfer your photos from your iPhone to an SD card and vice versa without trouble.
Part 2: How to Back Up WhatsApp Images on Android via Chat Backup Feature
How to start the WhatsApp video call backup? Luckily, the built-in backup feature can back up your chat history, including video, images, call records, and more, to Google Drive. In this way, you can freely choose a backup frequency and a network type.
Back up your WhatsApp pictures, videos, and more with the chat backup feature:
Step 1. Go to WhatsApp
Please launch WhatsApp on the phone, and tap on the "More" > "Settings" > "Chat" > "Chat backup" option.
Step 2. Add Your Google Account
To back up your WhatsApp media files, you need to tap the "Back up to Google Drive" button and select a backup frequency. Then click the "Google Account" to add your account.
Step 3. Back Up WhatsApp Images on Android
Hit on the "BACK UP" icon to start backing up your images. If you also want to back up videos, please enable the "Include videos" icon.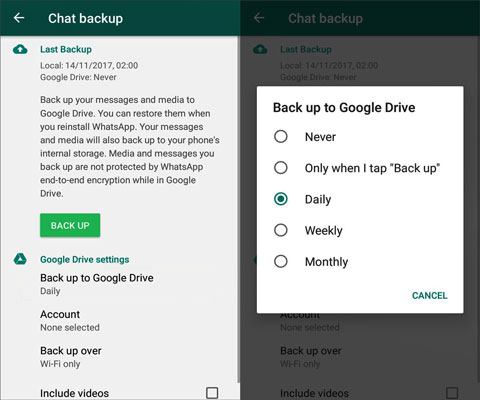 Read also: Want to recover deleted photos in Redmi? There are 4 effective tips for your inference.
Part 3: How to Back Up WhatsApp Media files on iPhone via iCloud
For iPhone users, there is a way to back up WhatsApp media files - using iCloud. If you are using an iPhone and want to back up your WhatsApp photos and other data, you can get help in this section.
Back up WhatsApp media data on iPhone:
Step 1. Turn on iCloud Drive
- To make the backup smooth, please enable iCloud Drive in advance. Go to the Settings app, and tap your name. Then choose the "iCloud" option, and toggle on the "WhatsApp" and "iCloud Drive" icons.
- Next, turn on the "iCloud Backup" icon.
Step 2. Launch WhatsApp App
- Run the WhatsApp app and select the "Settings" tab. Then click the "Chat" > "Chat Backup" option. Tap on the "Back Up Now" button to activate the backup process. It will back up your all chat history.
- You can also set it to automatic backup, as long as you choose the "Auto Backup" and select a backup frequency.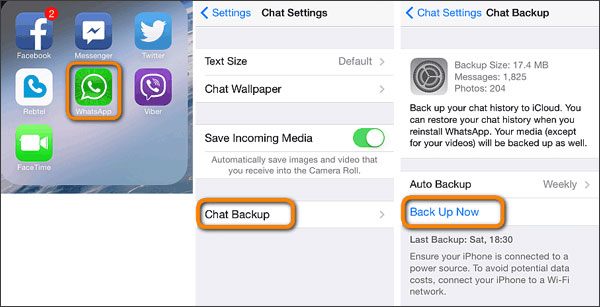 Further reading: You can transfer photos from a phone to a laptop without USB if you know these 5 ways. Do you want to have a look? Besides, you can also transfer photos from a computer to Android without a hitch.
Part 4: How to Back Up WhatsApp Photos with Google Photos
Did you notice that Google Photos can back up your device folders automatically? If you just want to back up WhatsApp photos, you can choose Google Photos. After you set it up, it will assist you in photo backup like a secretary. What's more, it won't miss any pictures.
Tutorial on how to back up WhatsApp photos with Google Photos:
Step 1. Download Google Photos
Please download Google Photos on your smartphone, and sign in with your Google account.
Step 2. Enable WhatsApp Images Backup Feature
- After signing in, please tap the "Menu" icon, and choose the "Settings" > "Back up & sync" > "Back up device folders" option. Then scroll down the screen and turn on the "WhatsApp Images" icon.
- Then Google Photos will back up the WhatsApp photos immediately.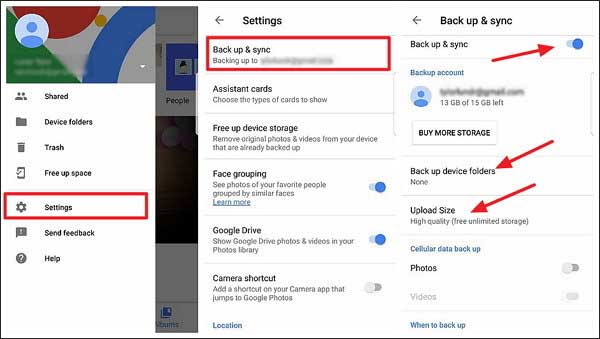 If you want: These 4 ways will teach you to delete photos on Android completely. Then nobody can recover the removed pictures.

How can I get my old WhatsApp pictures back?
To get your old WhatsApp pictures back, you can restore them from your backup if you back them up to Google Drive before deletion. If you haven't performed the backup, you can select a professional photo recovery tool, which will help you recover deleted photos.
Conclusion
The approaches mentioned above not only tell you how to back up WhatsApp photos but also how to perform a full backup of your WhatsApp chats. Anyway, you can easily back up all WhatsApp images and keep them safe now. Particularly, this WhatsApp photo backup program can back up all media files in WhatsApp in a tap on both Android and iOS devices. Please don't miss this opportunity and try this tool.
Related Articles
How to Recover Deleted Photos from SD Card on Android Phone with or without Backup? (2023 Updated)
Transfer Photos from Android to Mac Wirelessly [6 Fabulous Methods]
[Can't-Miss!] How to Transfer WhatsApp Messages from Android to Android in 2023?
How to Back Up WhatsApp Messages from Android to PC Fast [4 Great Ways]
How to Transfer Photos from Samsung Phone to Tablet in 2023? - 3 Easy Ways
How to Transfer Photos from iPhone to Huawei in 5 Effective Ways?