Summary
Millions of people like using WhatsApp to chat and share photos and other media files with friends. It is actually a handy social app. But sometimes, you might unintentionally delete your useful photos from WhatsApp. If so, you can go through the following methods. They will tell how to recover WhatsApp photos in Android. Hope that you will get back your deleted photos from WhatsApp as soon as possible.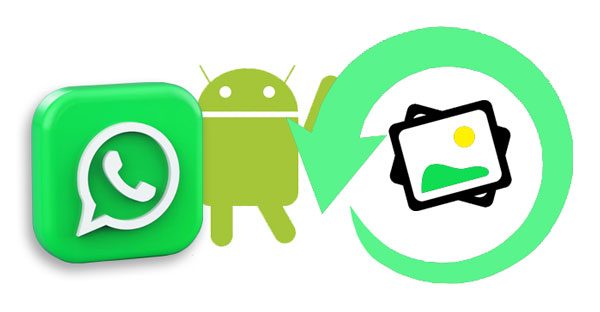 Part 1: How to Recover WhatsApp Photos in Android via Internal Storage
Do you know WhatsApp automatically downloads pictures to the local folder of your Android phone? Thus, you can probably find your deleted WhatsApp images from your Android internal storage.
Here's how to retrieve deleted WhatsApp images from the Android WhatsApp folder:
Step 1. Go to File Manager
Please open the File Manager on your Android, and click the "Phone Storage" > "WhatsApp" option.
Step 2. Find the WhatsApp Images Folder
Choose the "Media" > "WhatsApp Images" folder, and you will see your WhatsApp photos. Then you can move these images to another folder to avoid removing them when clearing WhatsApp caches.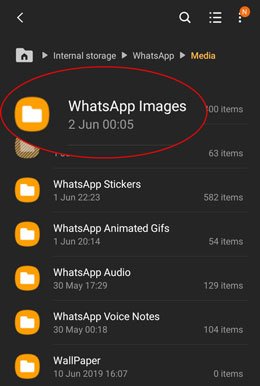 Bonus: How to Fast Transfer Photos from Android to A Computer?
Part 2: How to Recover WhatsApp Images in Android Using Google Drive Backup
You can also retrieve deleted WhatsApp pictures on Android using your Google Drive backup, but please make sure you have enabled the Google Drive backup on your WhatsApp app. You can log in to Google Drive with your account to confirm it in advance.
Guide on how to restore WhatsApp images from the Android phone via Google Drive backup:
Step 1. Reinstall WhatsApp
Unlock your Android phone, and uninstall the WhatsApp app. Then reinstall it.
Step 2. Sign In with Your Phone Number
Please enter your WhatsApp account to sign in, and follow the popups to verify your information.
Step 3. Restore Backup from Google Drive
When getting to the "Restore backup" screen, please tap the "RESTORE" icon to get your photos back. After that, you can view your images in different conversations on WhatsApp.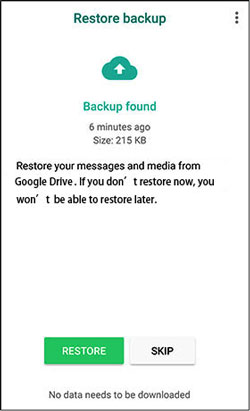 Read also: With this guide, you can recover your deleted photos from an SD card on Android without backup. Let's check it out.
Part 3: How to Retrieve Deleted WhatsApp Images from Android Local Backup
Some people will back up their WhatsApp data to the local location on Android. If you are in the same case, you can restore your deleted images from your local backup. In addition to your backup images, you can also restore your other data simultaneously.
Steps on how to get deleted photos from WhatsApp using Android local backup:
Step 1. Install WhatsApp Again
Please remove the WhatsApp app from your Android phone first, and then install it from the App Store.
Step 2. Login and Restore Backup
Run the app and type your information on the screen. Then you can tap the "RESTORE" button to retrieve your chats and media files from the local backup. Once done, your photos will come back.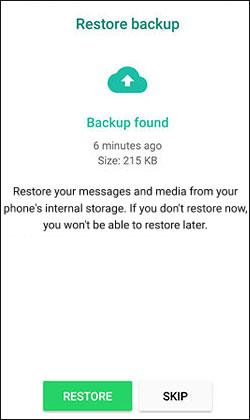 Further reading: You can easily copy photos from an iPhone to an iPad in 6 simple ways.
Part 4: How to Recover Deleted WhatsApp Photos on Android Phone via WhatsApp Image Recovery
What if you don't have any backup of your WhatsApp photos? In this case, you can use this WhatsApp image recovery software. It can recover deleted WhatsApp pictures from Android without backup. Besides, this program can recover your deleted Android files on a computer with high quality.
Main features of this recovery software:
- Effectively recover WhatsApp photos and other WhatsApp files from Android.
- Handily recover Android contacts, photos, music, SMS, and more.
- Allow you to export your deleted and existing files from Android to your computer.
- Highly compatible with many Android devices, such as Samsung Galaxy S22 Ultra/S22/S21/S20/S10/S9/S8, OnePlus 10 Pro/9 Pro/9/8/7/6, ZTE, HTC, LG, OPPO, Google, Vivo, and more.
Download this WhatsApp data recovery software.

Here's how to recover deleted WhatsApp photos on your Android phone via this software:
Step 1. Install the Recovery Software
From the beginning, please download and install this program on your PC, and connect your Android phone to the PC via a USB cable.
Step 2. Choose the WhatsApp Category
Allow the USB debugging on your Android phone, and the program will swiftly recognize your device. Then check the "WhatsApp" and "WhatsApp Attachments" items.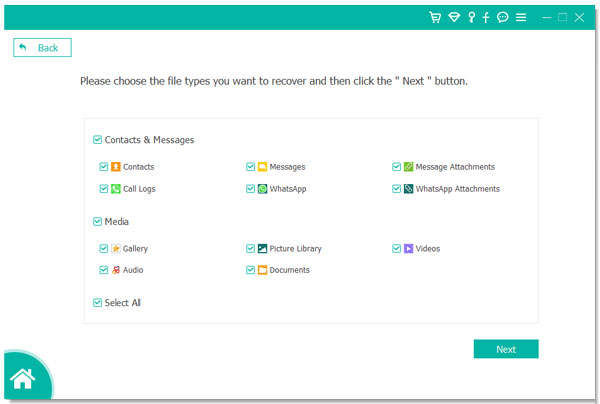 Step 3. Select and Recover WhatsApp Photos
The software will scan your WhatsApp data from the connected Android phone. Then you can preview your WhatsApp photos on the interface. To recover them, please tick the images you want, and tap the "Recover" icon.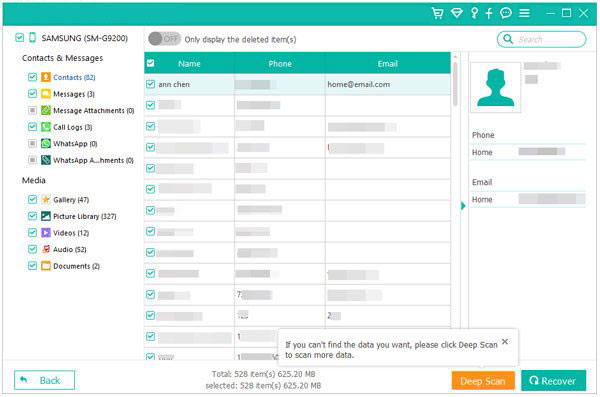 Tips: How to recover 1 year old WhatsApp messages without backup? You can get a comprehensive tutorial to complete the recovery on your Android and iOS devices.
Bonus: How Can You Avoid Losing WhatsApp Photos Completely?
Even though many powerful recovery tools can help you recover your lost WhatsApp photos, anyway, you still need to protect your memorable photos, because you cannot ensure that you will get them back every time. So how can you protect your WhatsApp photos from loss? The best way is to backup. Complete the regular backup on your Android device, such as local or cloud backup.
If you don't want to store so much data, you can save those specific pictures to your folder instead of the default WhatsApp folder. Then you will not lose them even if you clear app caches. If needed, you can click this full guide on WhatsApp backup and restoration.
Conclusion
These 4 ways help recover WhatsApp photos on Android. But if you don't have backed up your WhatsApp data, please select the recovery software, it is professional to recover your WhatsApp files without backup. Furthermore, it will not damage your Android data, so it is worth a try.
Related Articles
7 Methods to Back Up Photos on Android Effortlessly [Proven]
How to Transfer Photos from Android Phone to USB Flash Drive with 3 Practical Ways
How to Transfer Photos from Mac to Android in 5 Expeditious Ways
How to Recover Deleted Photos from LG Phone with 3 Professional Solutions
3 Ways to Quickly Transfer Messages from iPhone to Samsung (Latest)
Export Text Messages from Android to PDF Handily (Advanced Tutorial)